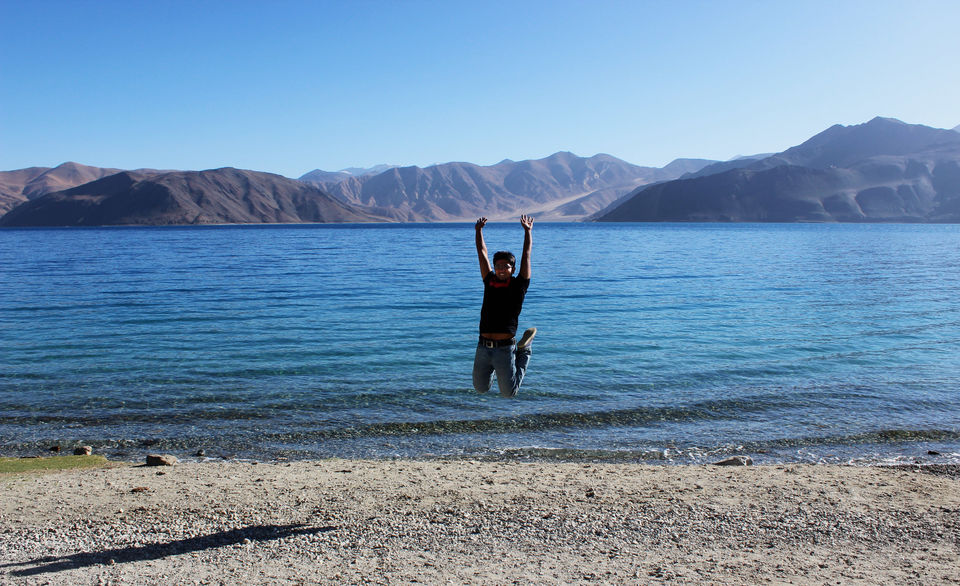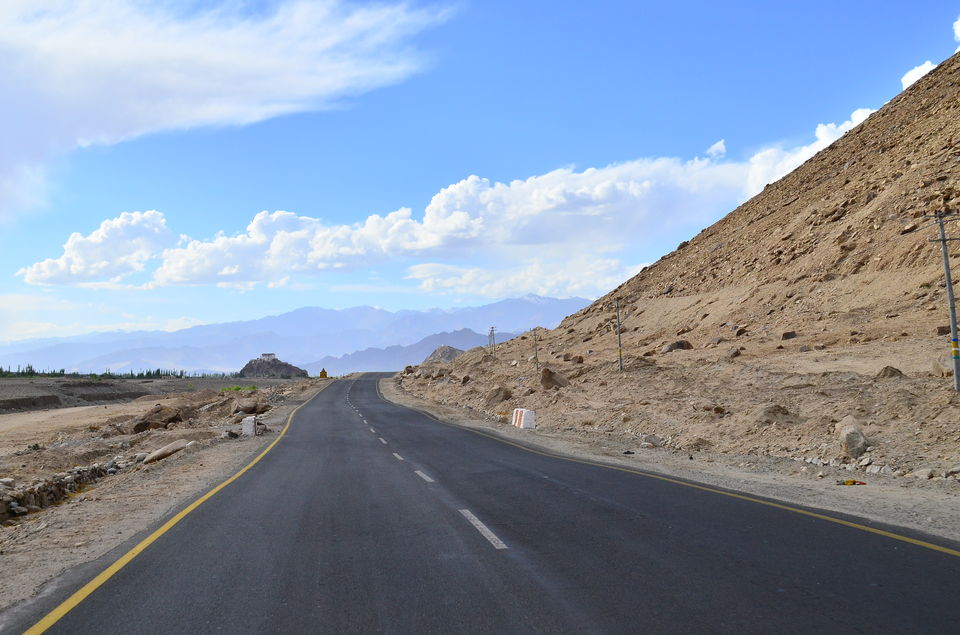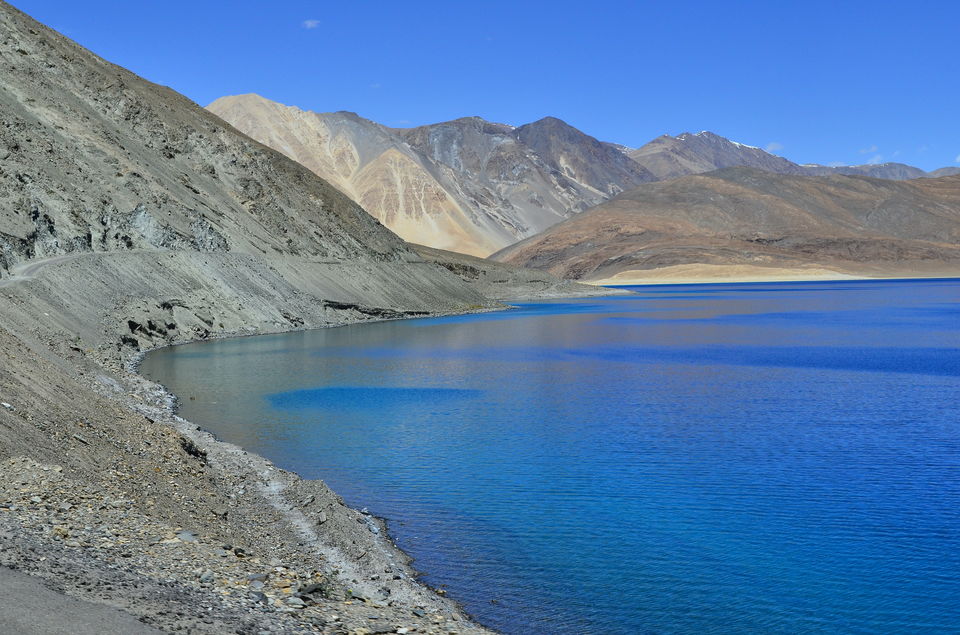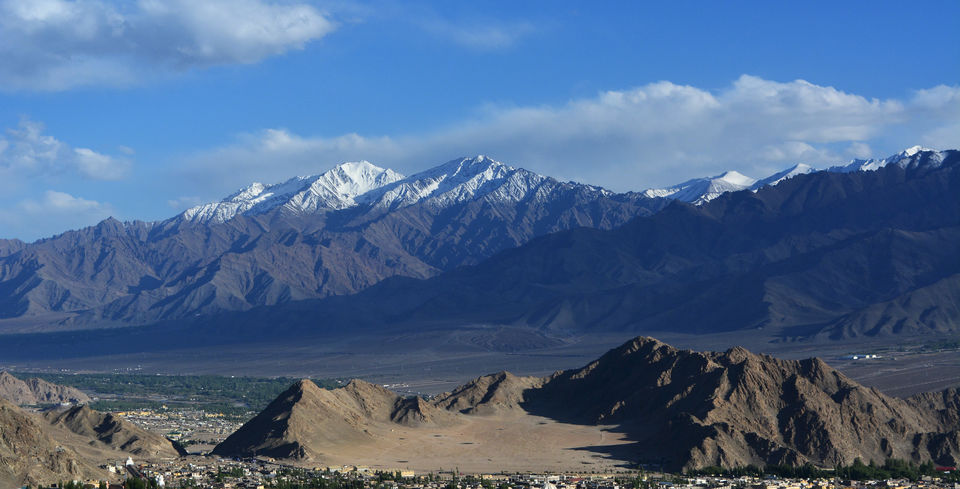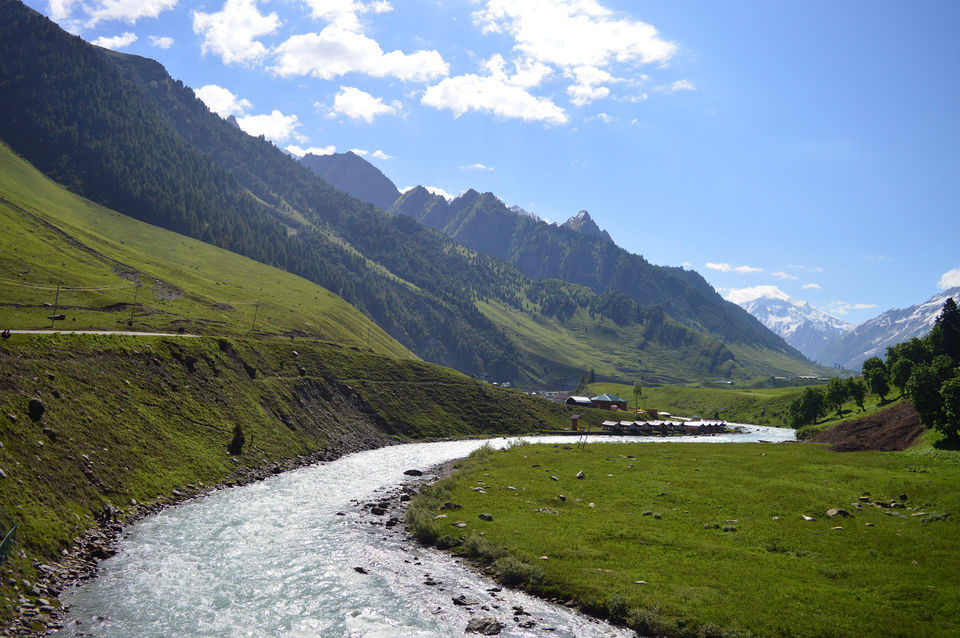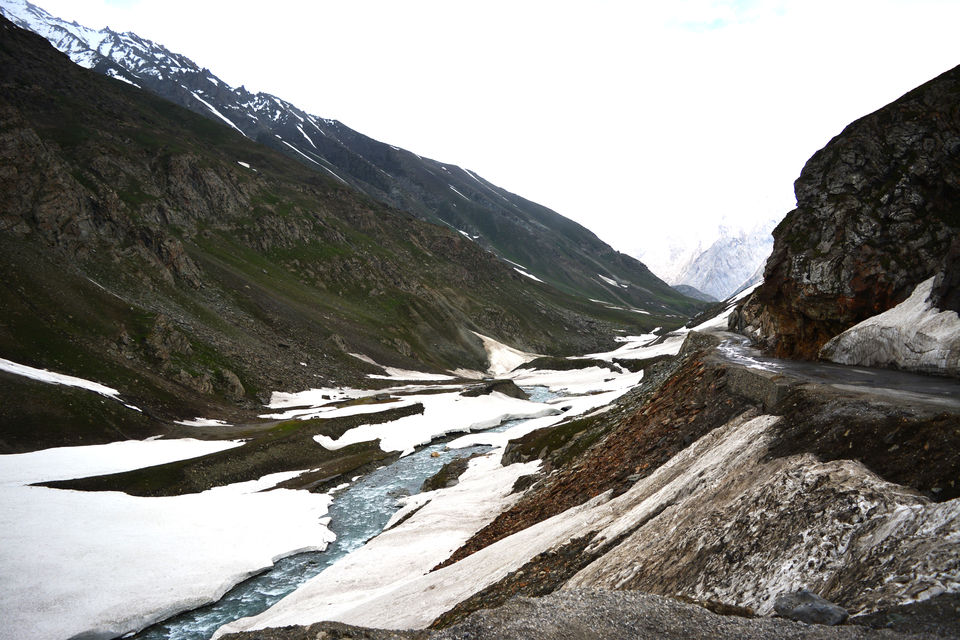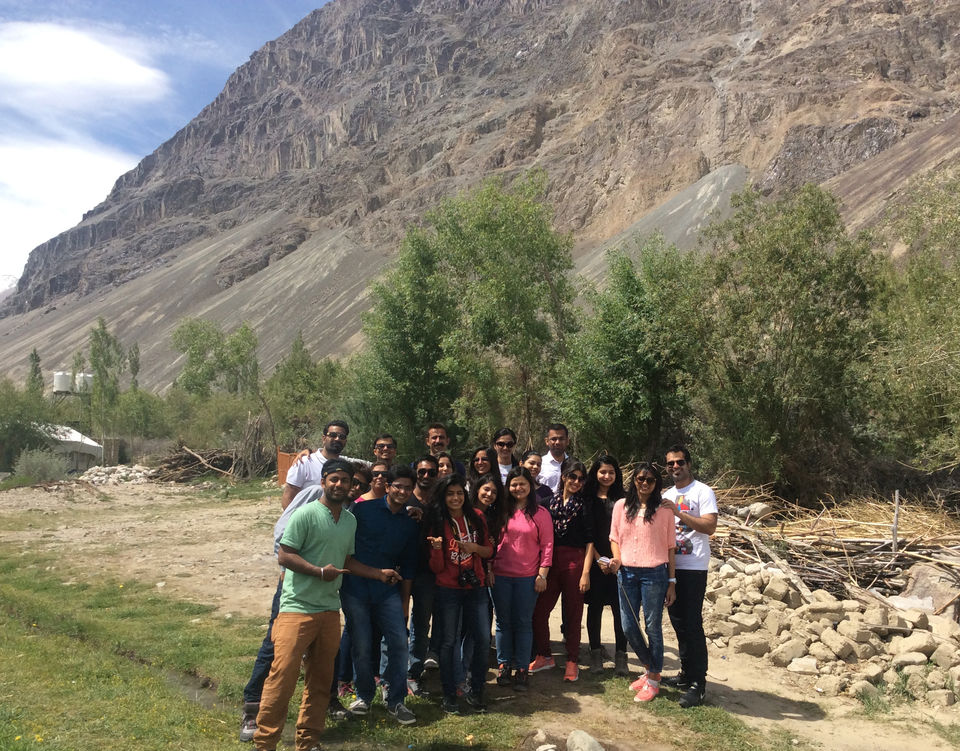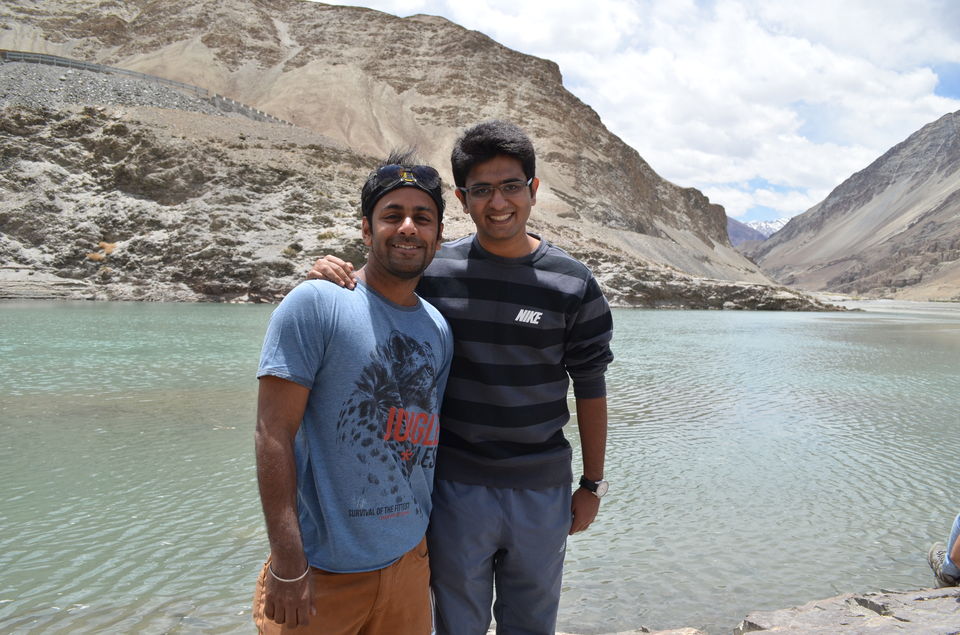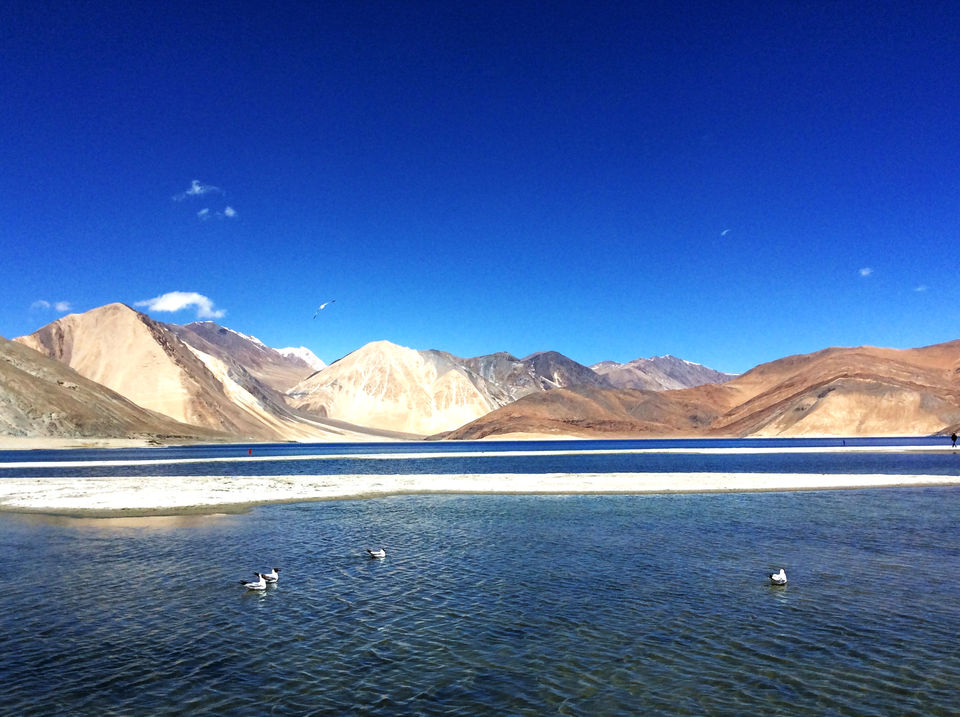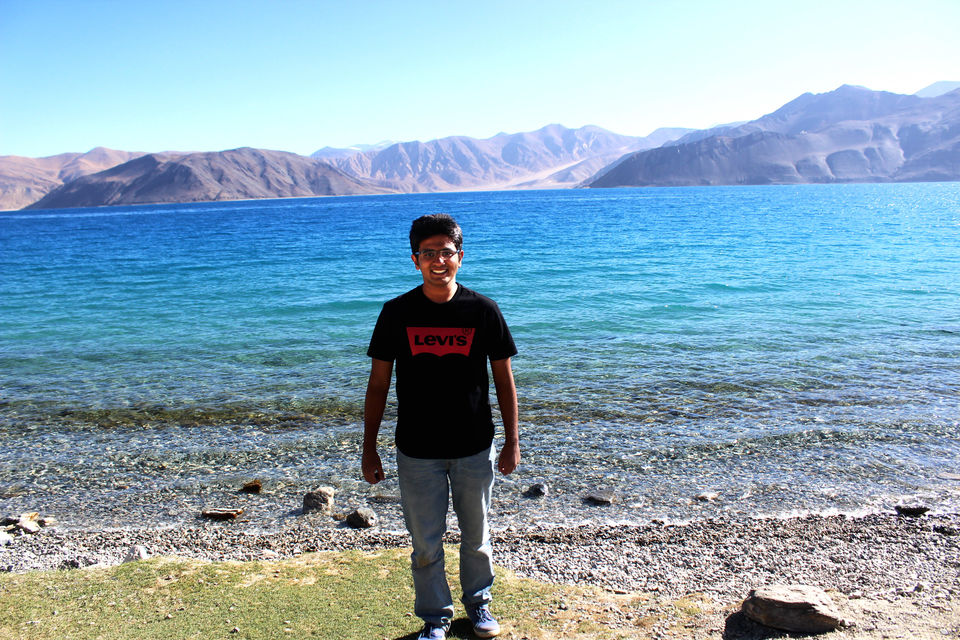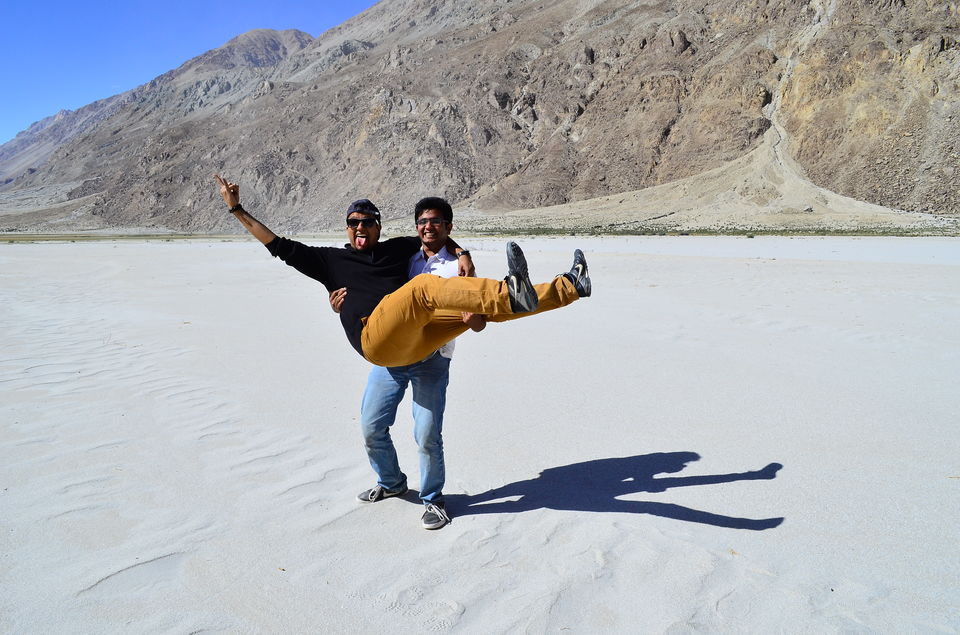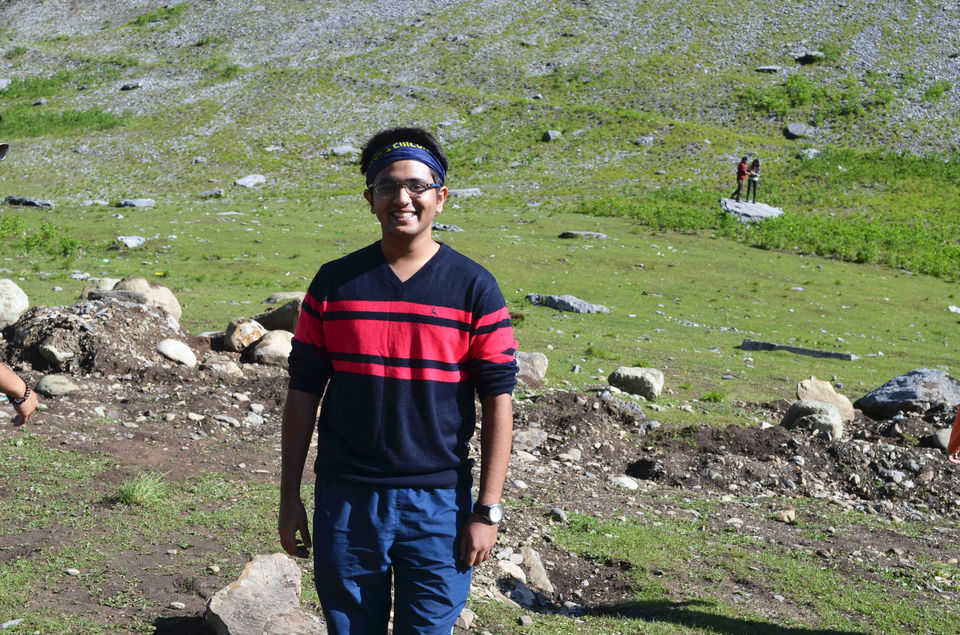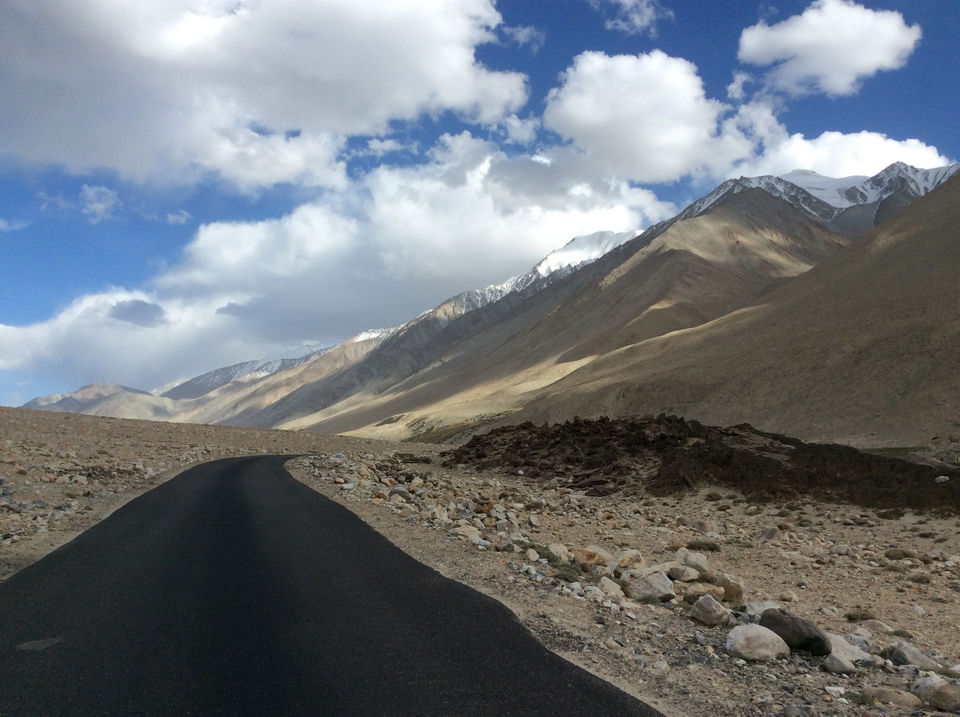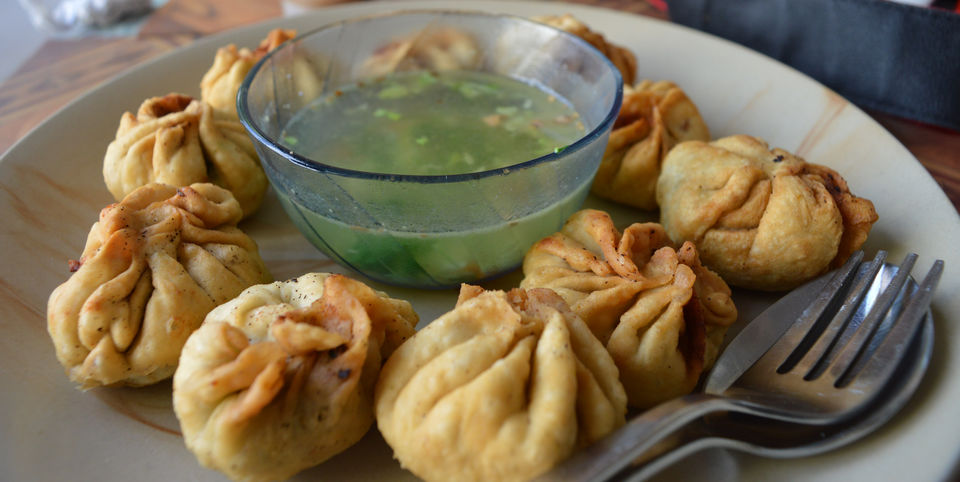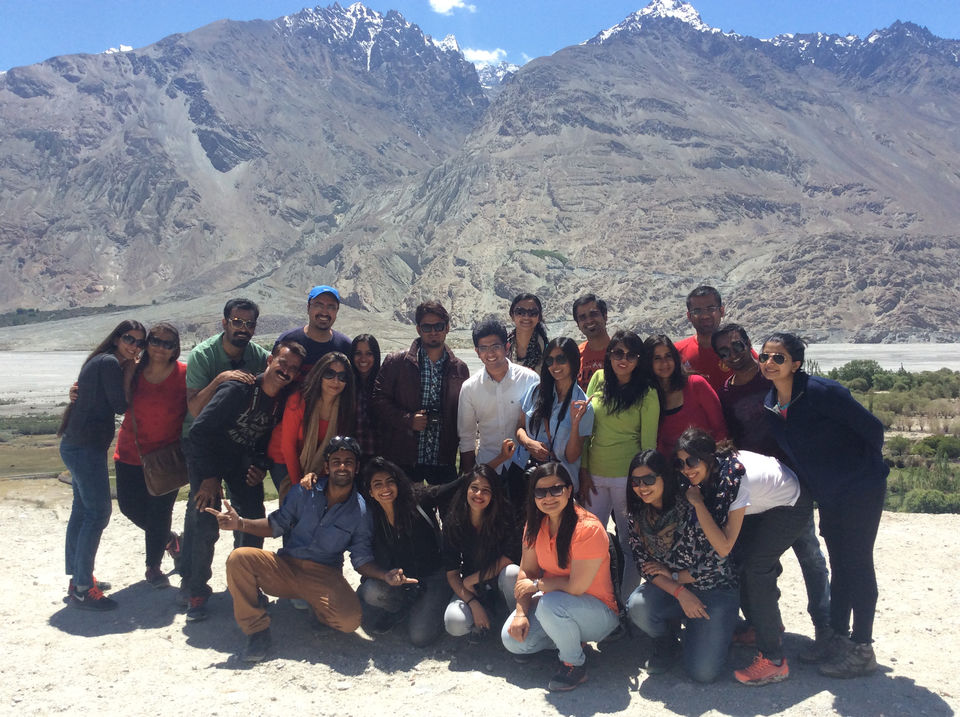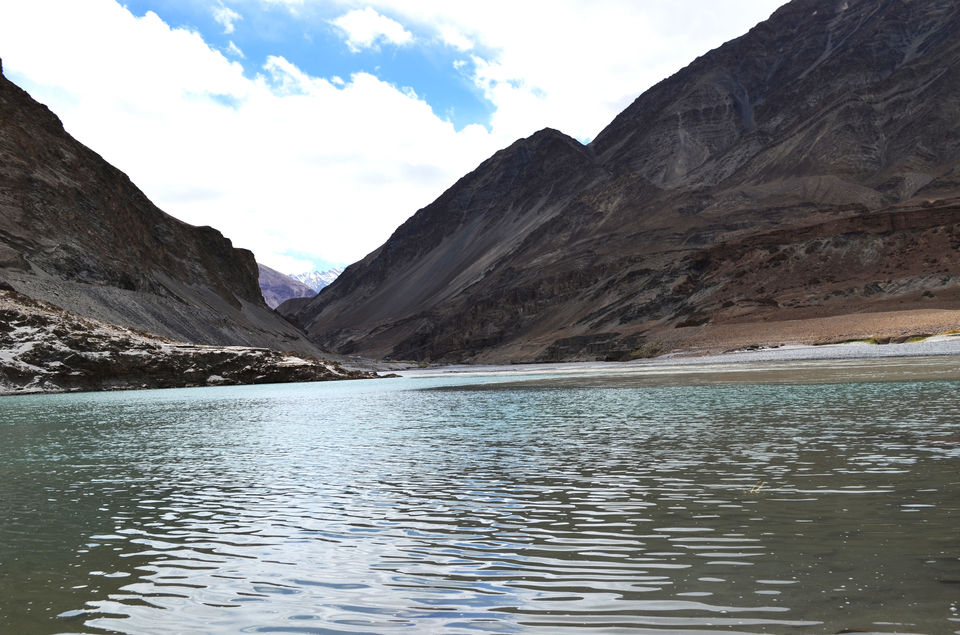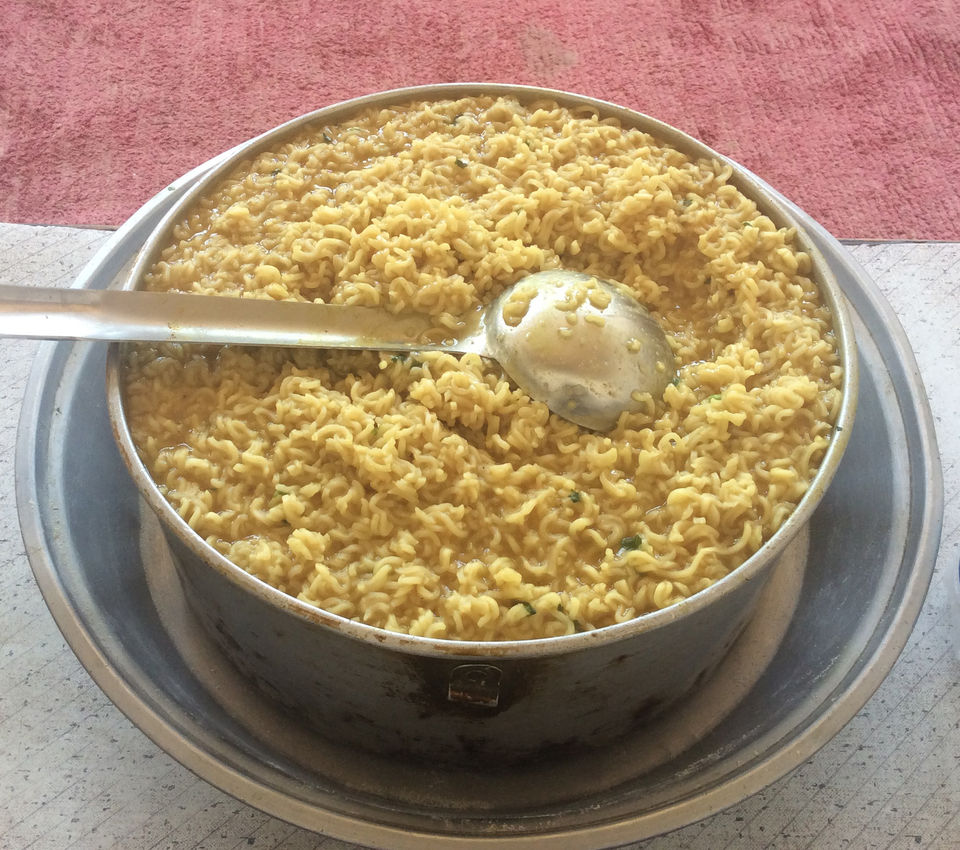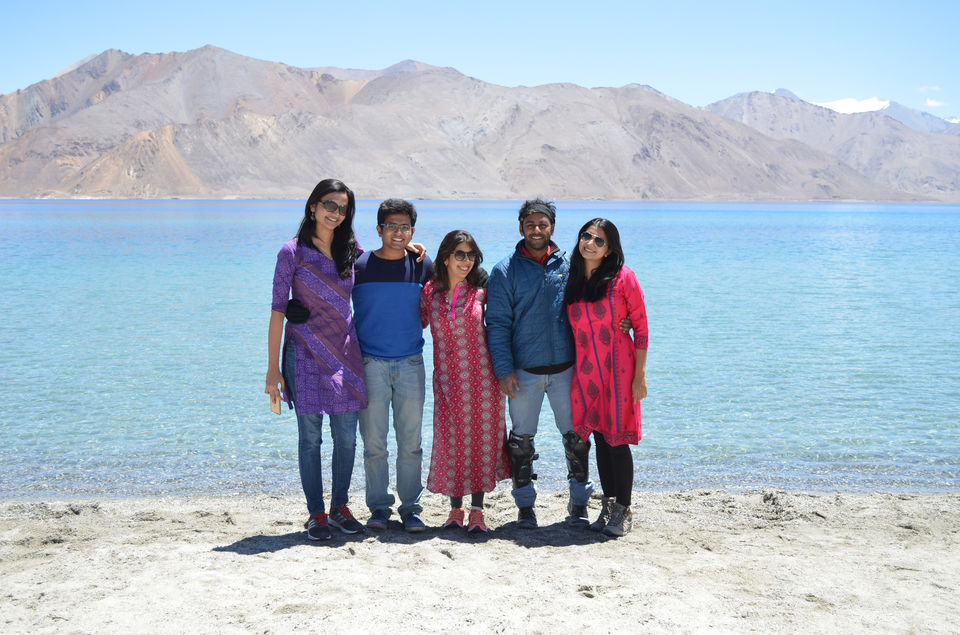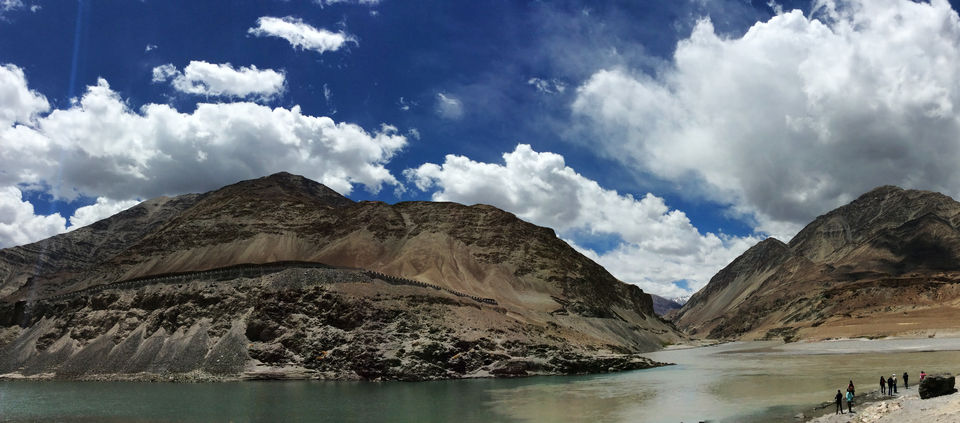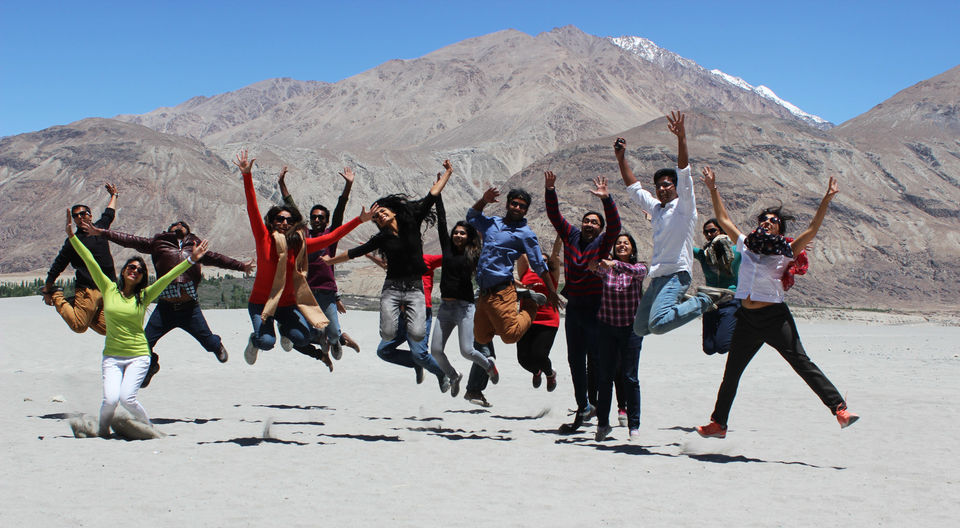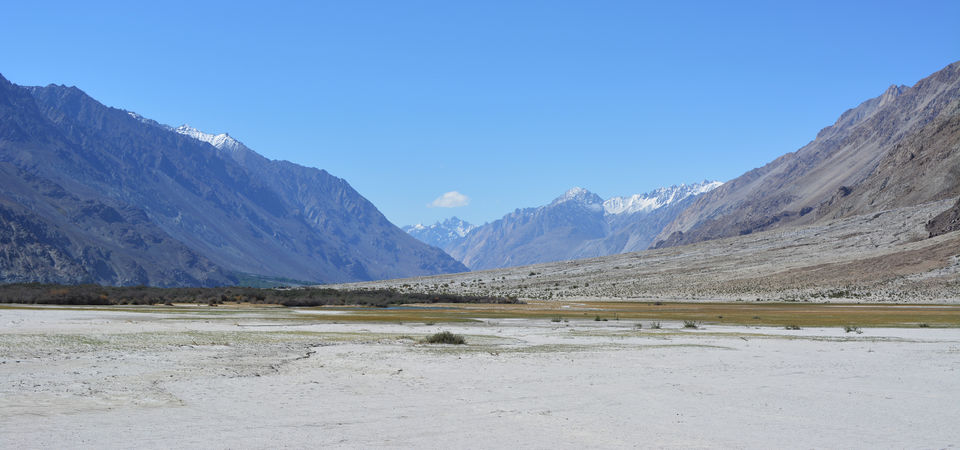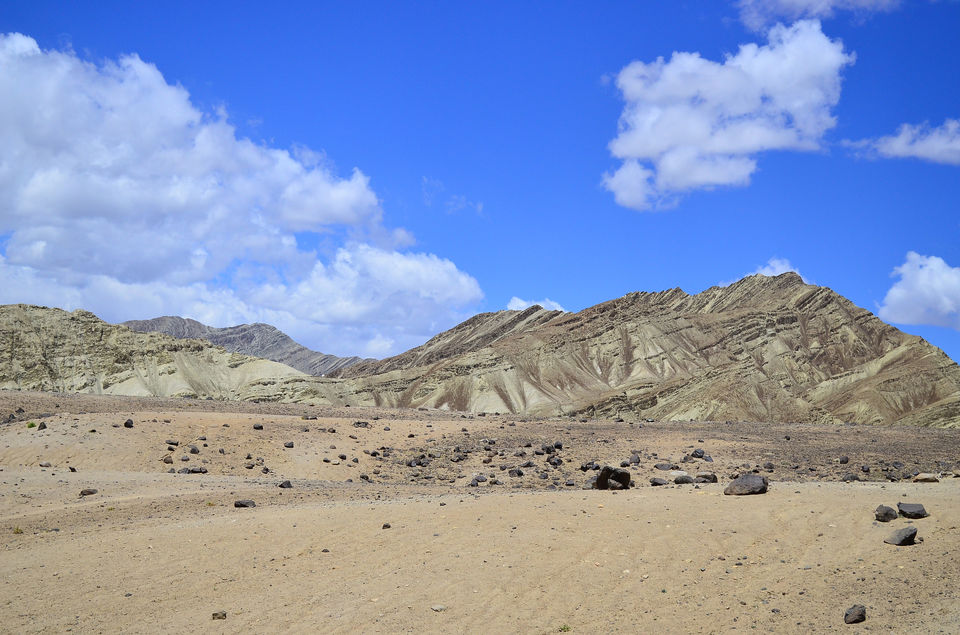 Julley!
(Julley (Hello, Hi and Namaste) is a magical greeting in Ladakh which instantly brings a smile on the face of the other person.)
"I'm so jealous of you!"
"You're such a loner."
"This trip might just change your life!"
"Get Leh'd."
These were some of the common reactions that I got when I told people around me that I was going on a solo trip. Well, not exactly solo; I had booked with 'Nero' (What/Who is Nero? You'll know towards the end!) and was travelling with 23 unknown people from different parts of the country, most of whom were probably going to be a few years elder to me.
Day 1 (28th May '16): Delhi to Srinagar

As I boarded 6E 554, I had a mixed bag of emotions. While one part of me was bubbling with excitement to meet new people and to explore one of the most beautiful region in the world, I was equally nervous and anxious about what lay ahead.

From awkward introductions to getting to know each other, Day 1 of our trip was a relatively relaxed day. The first thing that fascinated me about the 23 people around me was the diversity in their backgrounds and their profession; we had travellers, writers, dancers, architects, software developers, consultants, fashionistas, BD experts, FMCG gurus, freelancers, merchant navy officers, businessmen etc. - all on a 10-day long break from their strenuous lifestyle with the sole aim of relaxing in the arms of nature and meeting new people.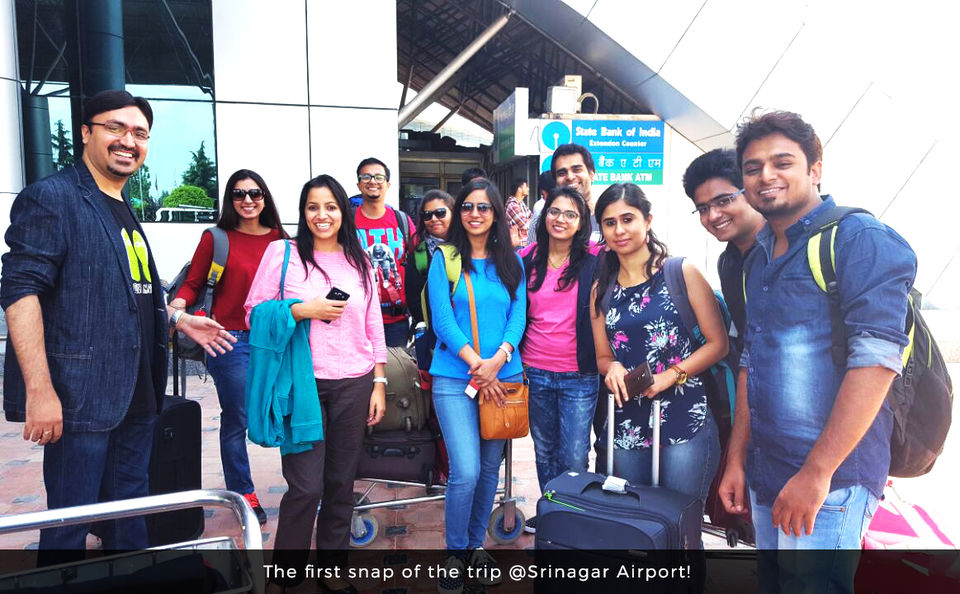 We reached Srinagar around 1 PM, transferred to our hotel and barged into the first restaurant that we could spot for lunch. Srinagar is a commercialized town that is hustling with tourists all-day long. The weather at Srinagar is highly unpredictable - During the day time, the scorching heat can be extremely harsh while the evenings are relatively pleasant and windy. The city witnesses heavy traffic during the peak season, especially around the famous touristy spots.
We took a refreshing power nap in the afternoon and headed towards the Dal Lake (the most famous tourist spot in Srinagar) in the evening to take a Shikara Ride. The Shikara Ride takes you for a 30-45 minute round the lake and is a one-time experience. Though the quality of the 'famous' Dal Lake has deteriorated over time, it is still one of the prime tourist attractions due to the pleasant breeze and the blissful experience of walking besides the lake during sunset hours.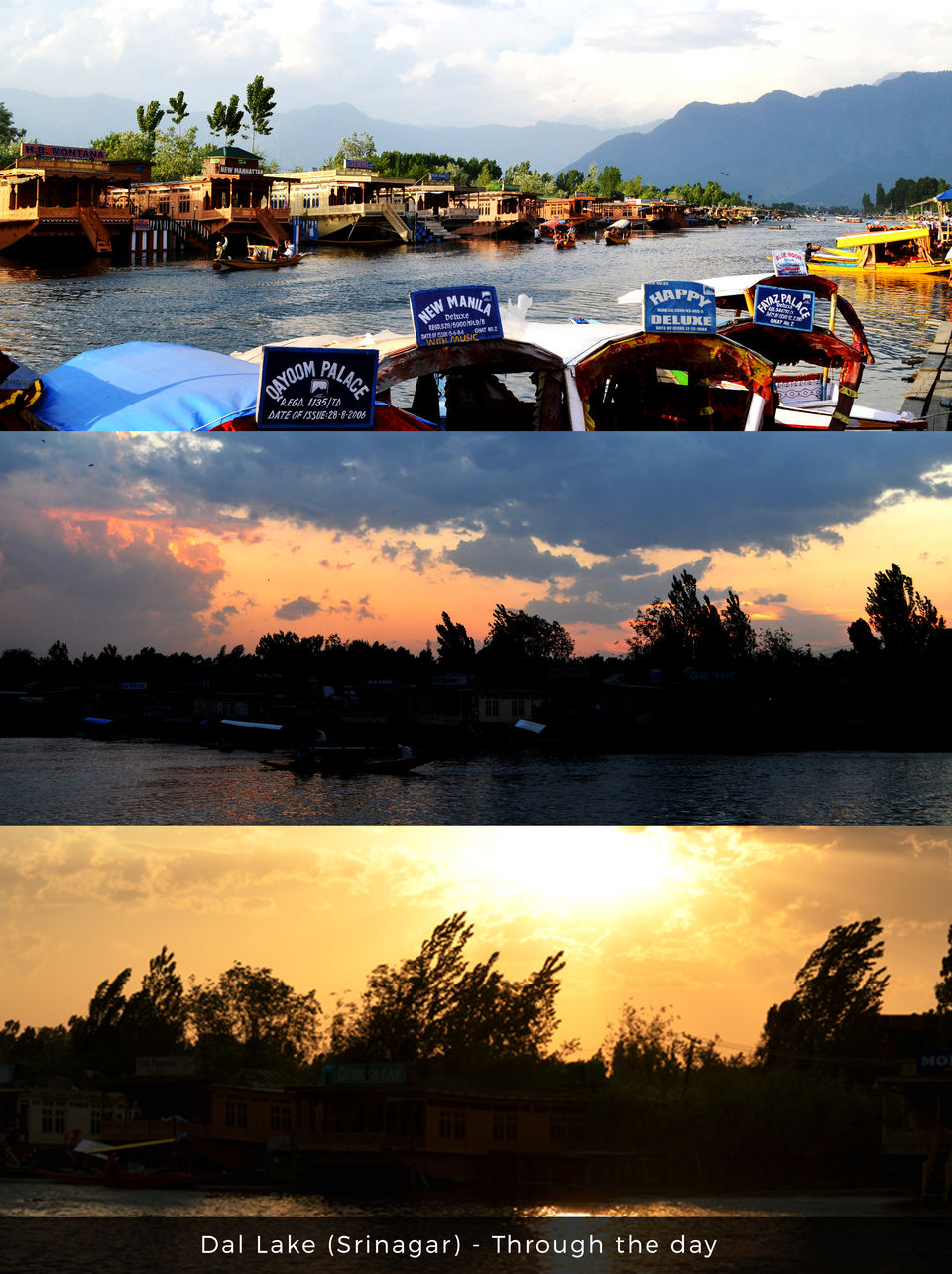 For dinner, we headed to Mughal Darbar, a famous restaurant in Srinagar where we tried some Kashmiri delicacies and enjoyed some light conversations over a delicious meal. We took another short stroll around the Dal Lake post dinner before heading back to sleep.
Day 2: Travel! (Srinagar to Uleh)
(Srinagar to Leh is a long journey (420 KMs) with bumpy and uneven roads at some of the initial stretches and some really sharp curves on the hills. If you book your trip with a travel agency, you'd probably cover this distance in a single day, tiring every single nerve in your body. Thankfully, Nero had planned our itinerary in such a way that we get to cover majority of the distance on the same day while also letting us spend the night at a very beautiful resort built on the banks of the Zanskar river.)
We headed towards the beautiful city of Ladakh early in the morning (around 5 AM) and stopped at Sonamarg for Breakfast. Sonamarg is a small and pleasant town with scenic hills and a number of hotels/restaurants. The weather was relatively chilly at Sonamarg and we had to spend 4 hours at this place due to one-way traffic restrictions by the authorities at specific hours (Sheer bad luck!).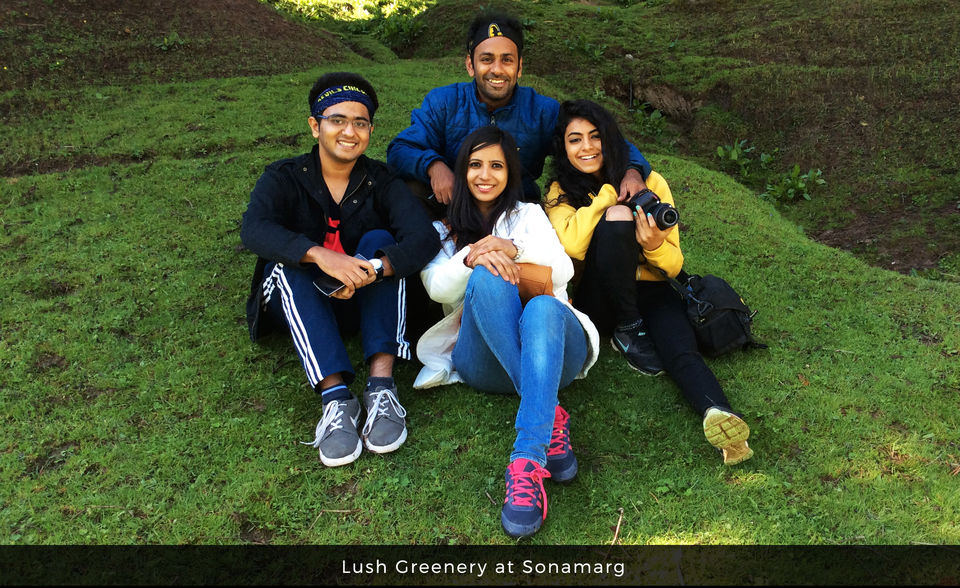 We finally left Sonamarg at 11 AM and went through an extremely uneven and rough (yet surrounded by snow-cappee mountains) patch of road for about 100 KMs before stopping for lunch at Drass, the 2nd coldest inhabited land on this world. The drive till this point had been a bumpy and rather unpleasant one and all of us were exhausted by this point. However, we had a long distance to cover and we reluctantly got back on the road after spending about 45-60 minutes at Drass.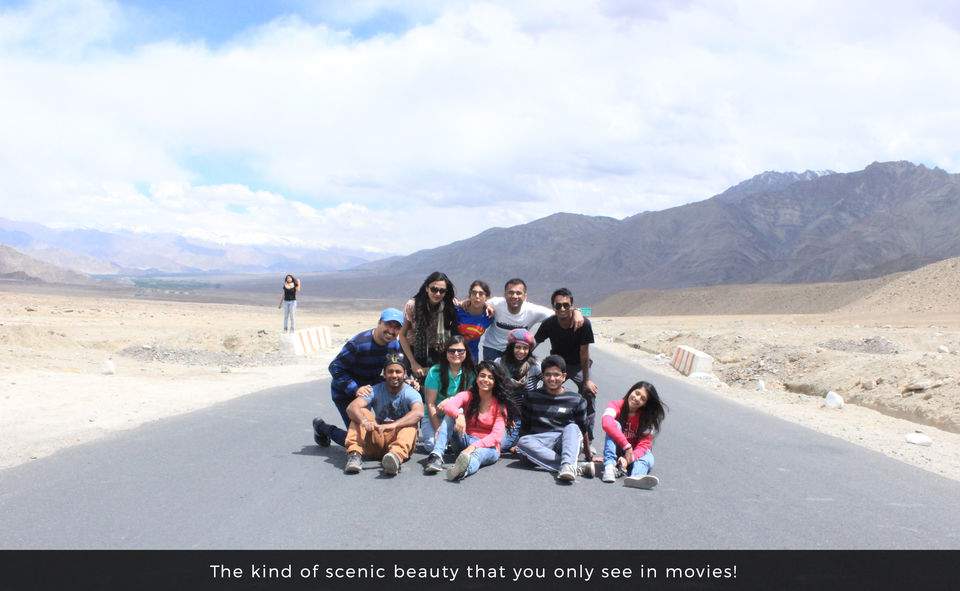 For evening tea, we stopped at Kargil, a commercialized town with stringent security checks. Towards the last 100 KMs, our driver picked up some speed and we finally reached Uleh Eco Resort at 9 PM, after a hectic 16 hour journey. Uleh is a small yet beautiful township situated about 50 KMs before the capital city of Leh. The Uleh Eco Resort is nothing less than a 4 star property in Delhi. The resort has been tastefully designed with elegant interiors and luxurious wooden cottages for all its guests. We hogged onto the buffet dinner spread, which exceeded our expectations before finally bidding farewell to the day!
Condition of Road: The initial distance between Srinagar and Drass (about 150 KMs) consists of a number of uneven patches and bumpy/rocky roads. Beyond Drass, the drive upto Uleh is quite comfortable. While the stretch has some sharp curves, the road is well-built and the barren land of mountains around are a sight of serendipity. There is a certain stretch of about 35 KMs which gives you a purely ecstatic feeling. It is similar to what you see in Bollywood movies - barren land on both the side, mountains on the far-away sides, a beautiful straight grey road and a clear blue sky (Picture above)!
Day 3: Uleh to Leh!
We woke up to the soothing sound of the Zanskar river flowing right next to us. The river was surrounded by mountains on one side and our resort on the other. The water had a gentle flow, was crystal clear and extremely cold.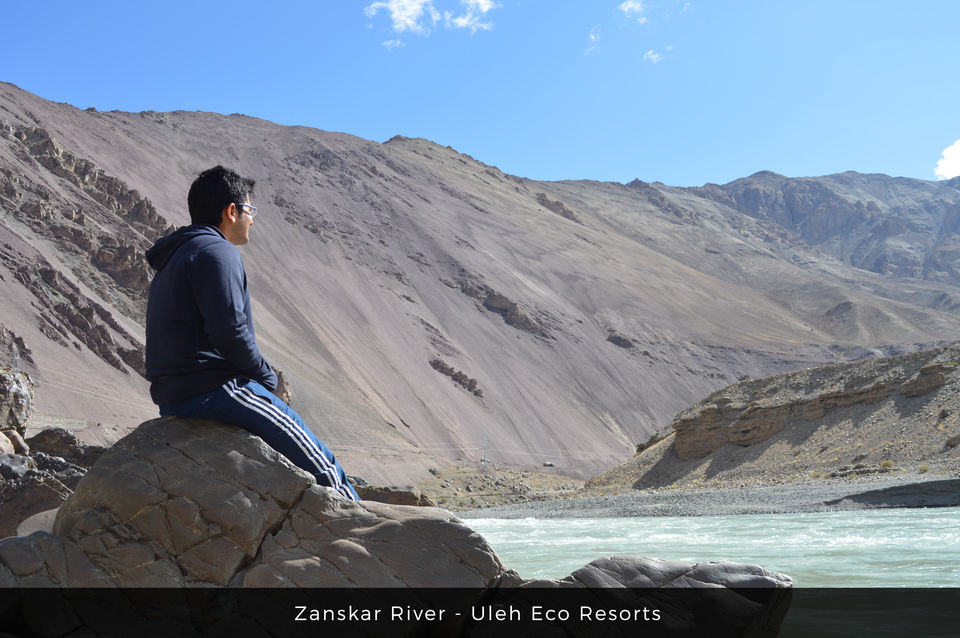 We had a delicious breakfast spread prepared by the chef at the resort. After filling our tummy till the last bite, we got moving towards Leh. The small stretch of about 60 KMs accounted for one of the most beautiful road journey that I have taken till date. The serenity of the mountains on both sides was a rapturous experience for all of us.
Enroute Leh, we took a small stop at the Confluence point (where the Indus and Zanskar river merge). Here, one can literally see the 2 contrasting colours amalgamate into each other. We spent about an hour at this scenic place clicking pictures and admiring the beauty of nature.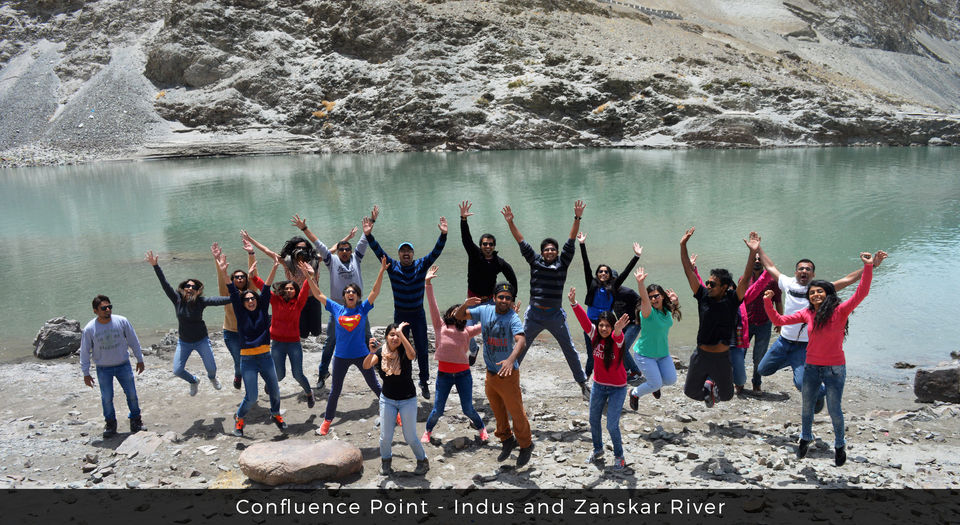 We finally reached Leh around 1 PM, checked into our hotel and headed to a cute little restaurant called Bon Appetite (French Bakery) for lunch. We tried the famous Thukpa and the Momos (filled with Yak Cheese). While the momos were mouth-watering, I personally did not relish the Thukpa at all. The soup was bland and the noodles seemed under-cooked. Post-lunch, we spent some time in the Leh Market to glance around some of the famous shopping attractions of Leh. Oh, I also sent my first ever postcard from here!
Towards the evening, we decided to visit Shanti Stupa. The Shanti Stupa is a Buddhist hemispherical structure located on a hilltop. Thanks to the absurd distance/time sense of the localites, it took us 45 minutes to cover the 3 KMs distance via Chanspa Road. Our sigh of relief was broken by the realization that we had 600 steps to climb before reaching the Stupa. It was a tiring experience but we somehow managed to reach the top to a breathtaking view. The Stupa is situated at over 4000 meters and overlooks the entire city providing a great panoramic view of the surrounding landscape. Our journey uphill had exhausted us till the last breath and a nice family was kind enough to offer us a lift back to the Leh market, at a time when there was absolutely no other means of transport available. We spent the night having a few drinks and snacks at the alluring lawns of our hotel before dozing goodbye to a rather hectic but fun day!
Day 4: Leh to Nubra Valley (Via Khardungla Pass)
I woke up to a splendid view at Leh to witness an early scenic sunrise, at around 5 AM. Our hotel was situated at a decent height and I could spot the Shanti Stupa far away as the orange-shade of the sun came rising from the mountains behind it.
We had heavy breakfast and left for Nubra Valley around 10 AM. The route from Leh to Nubra Valley (125 KMs) takes about 5 hours and passes through Khardungla Pass, the highest motorable road in the world situated at 18380 ft. The air at Khardungla Pass is extremely thin and a lot of people find it difficult to breathe out there. We spent about 30 minutes at the pass, sliding and playing in the snow before continuing on our journey towards Nubra Valley.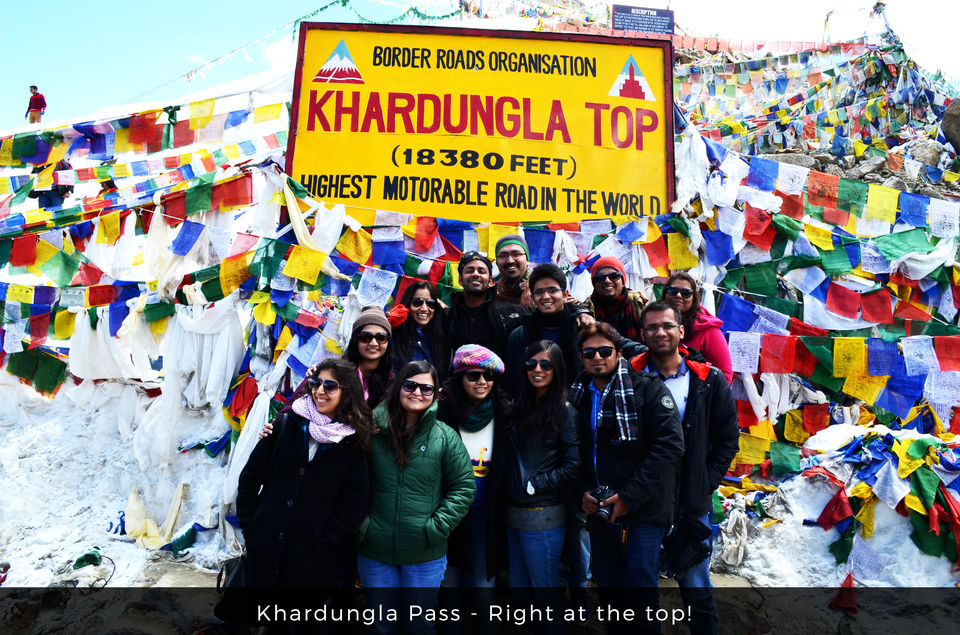 The roads on this route were bumpy and uneven and the journey was not an easy one. We reached our Swiss Luxury Camps at Nubra Valley around 4 PM.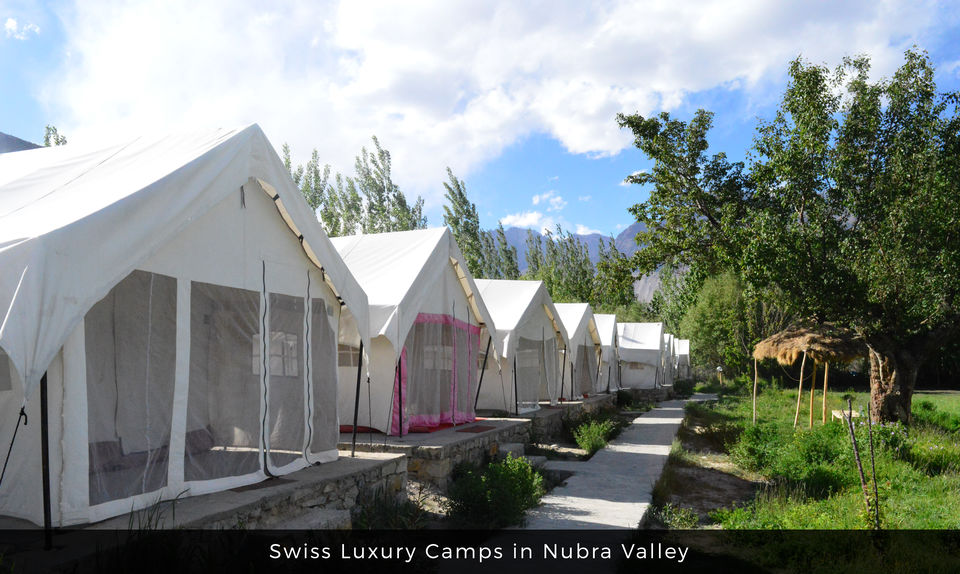 Nubra Valley (10000 ft.) is situated between snow-covered mountains and it feels heavenly to spend quality camping time at such a beautiful place. The weather here was similar to that of Leh; the afternoons were hot while the evenings got extremely chilly. We spent the evening playing interactive ice-breaker games around a cozy bonfire and getting to know each other before heading back to sleep in the luxurious tents!
Day 5: Exploring Nubra Valley
Though I'm not a morning person at all, I woke up before 7 AM for the 5th consecutive day of this trip to enjoy the beautiful landscape. The sky was crystal blue and the clouds formed a magical view along with the hills on both sides. After breakfast, we proceeded to explore the famous attractions around Nubra Valley.
Our first stop was for quad-biking in the gorgeous sand dunes. For those of you who are passionate about driving (like me!), quad-biking in the sand dunes is a heavenly experience.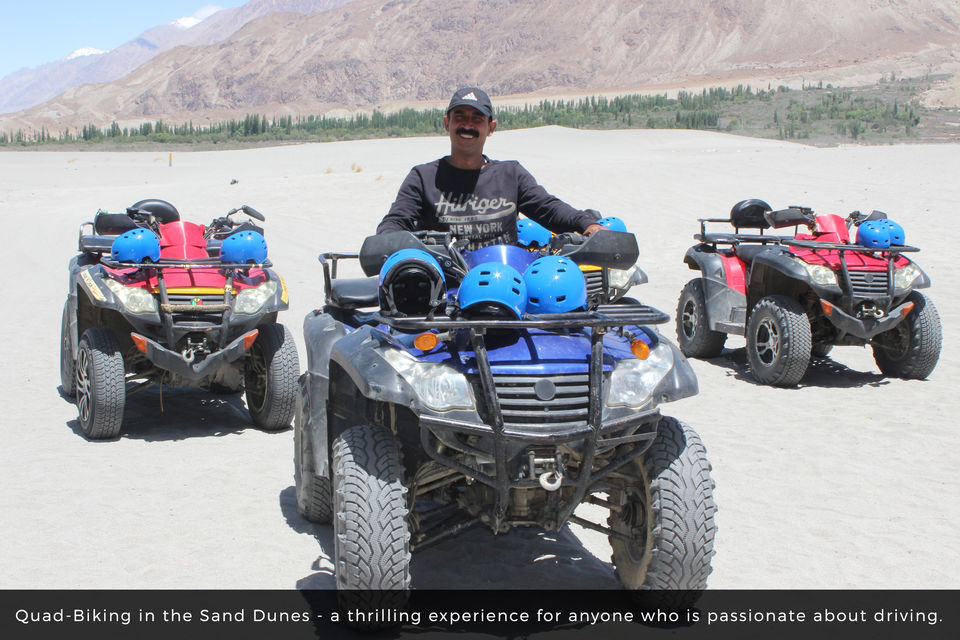 Next, we headed towards the Panamik Hot Springs. The spring water (which is burning hot!) contains high amount of sulphur and it is believed best for curing almost any ailment. The scenic beauty, sulphur springs and the proximity to Siachen glacier make it a must visit destination.
Towards the evening, we stopped by Yarab Tso Lake, a sacred and secret lake situated right between some of the hills in the vicinity. Yarab Tso Lake is considered to be holy and is also often referred to as the hidden lake. It is one of Nero's favourite places in Ladakh and offers a magnificent serene surrounding that will truly capture the heart and mind of any visitor.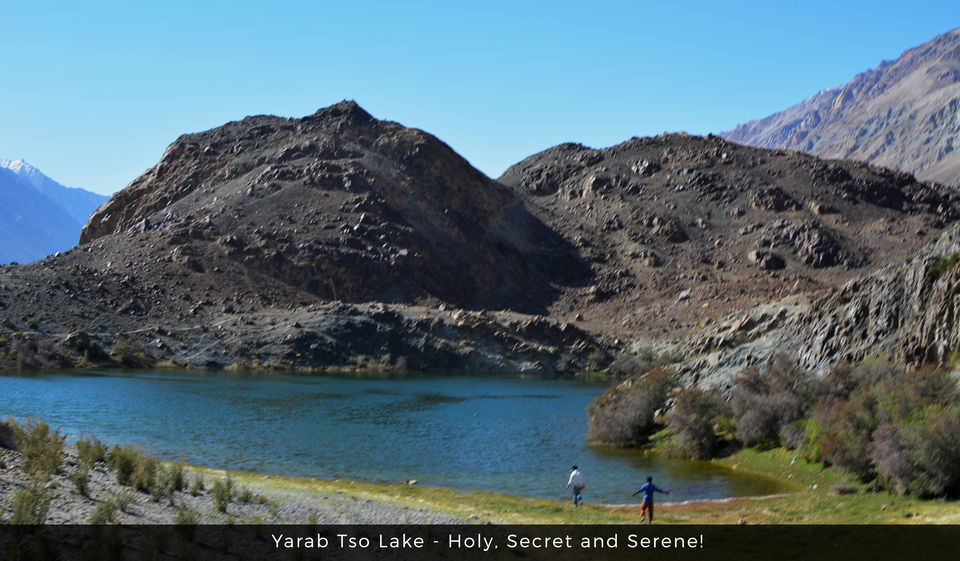 Since it was getting late, our last stop in the evening was for a camel-ride experience on the unique Bactrian Camels in the sand dunes. The most distinctive feature of the Bactrian camel is their double-humps. These humps, contrary to popular belief, are designed to store fat and not water. There are less than 300 Bactrian Camels alive in the whole world and Nubra Valley is the only place in India where you can still find some of them.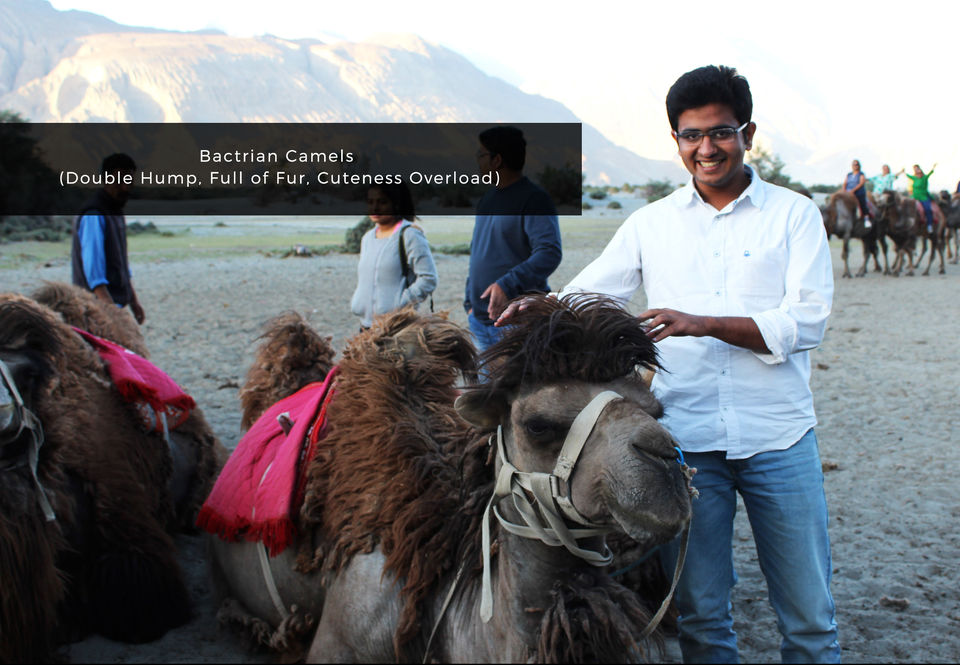 A hectic and eventful day at Nubra Valley ended in a late evening over drinks and snacks followed by sound sleep in the arms of nature!
Day 6: Nubra Valley to Leh
Another bright and early sunrise was followed by a light breakfast! The last 5 days had been tiring but action-packed. All of us were pumped up for a light day ahead as we headed back to Leh. The idea was to partially cover the distance to Pangong Lake and to acclimatize to the rapidly changing altitudes.
On our journey back, we stopped by at the Diskit Monastery, one of the oldest monasteries in Nubra Valley. The approach to the monastery is through a flight of steps made of stones, which lead to the prayer hall of the monastery. The cultural significance of the 15th century Tibetan monastery lies in the fact that it was set up by the 1st Dalai Lama in 1447. In the main prayer hall, the magnificent statue of Maitreya Buddha and numerous sculptured guardian deities have been enshrined.

We took the same scenic (and bumpy!) route through Khardungla Pass and reached Leh around 5 PM. We spent the evening in the Leh market shopping for souvenirs and trying to understand the culture and tradition of the city. For dinner, we headed to German Bakery, one of the most famous café in the vicinity before going off to bed relatively early, in an attempt to rejuvenate our energy for the next day!
Day 7: Leh to Pangong Lake!
We started early in the morning towards our last destination, Pangong Lake. All of us were excited to visit this beautiful place which has become increasingly famous in recent times thanks to a couple of Bollywood movies.
About 70 KMs into the journey, we were interrupted by a flat tire. After the small technical snag, we got back on the road and crossed the steep ascent of Changla Pass, the third highest motorable road situated at an altitude of 17,590 ft. The pass has snow-capped peaks, barren landscape and a serene view all around. Another 10 KMs into the journey, we were extremely unfortunate to face another flat tire. (Try to visualize the scenario: Our second vehicle is running a few KMs ahead of us, we are at a height of 15000 ft. where the air is extremely thin, we have nothing to eat and there are no cellular networks whatsoever.) The first priority was food, to ensure that everyone remains in the best of health. 2 people from our vehicle made their way back to Changla Pass to scout for something to eat. They brought back maggi and eggs and all of us hogged like we hadn't eaten since months (Turn back to your school days, when mom used to give Maggi for lunch and it became all dry and cold till the break-time, yet we still loved it! That's the kind of Maggi we had during our halt and it tasted heavenly!). During this time, our bikes caught up with the other vehicle and brought it back for help. After spending almost 120 minutes at the high altitude, we finally got moving!
The last 30 KMs stretch from Leh to Pangong Tso cannot be described in words. Mountains on both sides, the crystal clear blue lake visible far away, everyone humming the tune of 'Behti Hawa Sa Tha Voh' and a beautiful drive through the hills was nothing short of eternal bliss.

We stopped for a bit at the sight of Himalayan Marmots, large (and cute!) squirrel-like creatures who are swift to retreat into their burrows at the slightest hint of human approach. After admiring the gorgeous landscape for 20-25 minutes (which felt like hours!), we finally reached out camp-site which was situated right at the bank of the Pangong Tso.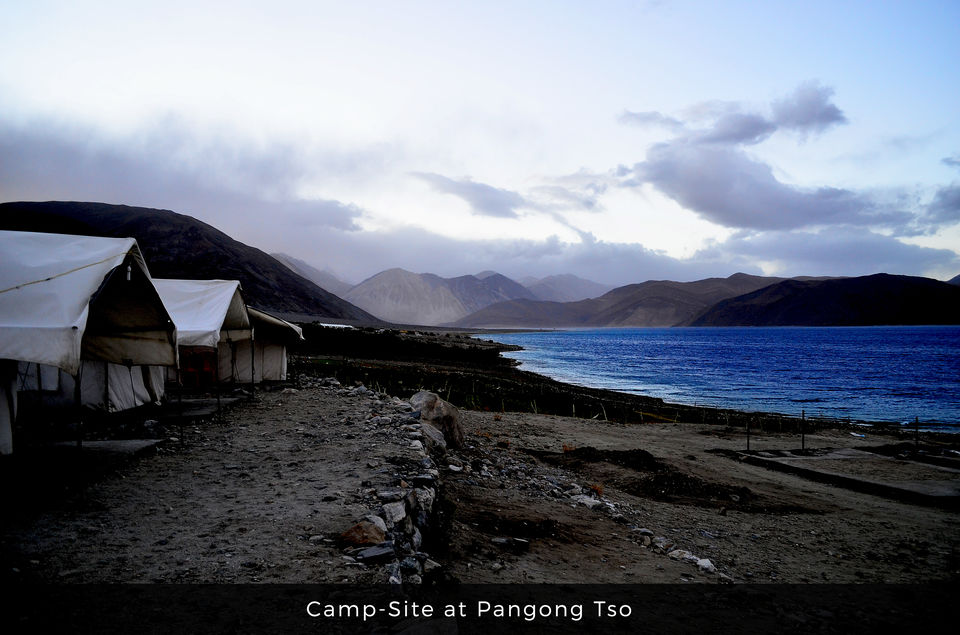 The wind breeze was exceptionally strong which made the camp-site frosty and chilly. We moved to the indoor common area, had tea followed by dinner and immediately crawled into our tents. Conversations, confessions, revelations - we didn't realise how time flew by. At 4 AM, we pushed our body to get some sleep so that we could make the most of the next day!
Day 8: Pangong Lake
A trip to Pangong Lake is incomplete without witnessing the early sunrise. With barely 75 minutes of sleep, I got up at 5.15 AM to take a mental snap of this paradise on earth. If you observe carefully, you will be marvelled to see that no two waves on the Pangong Tso will be of the same colour. This endorheic lake has different shades of green, orange and blue coloured crystal-clear water (void of any aquatic life) and the shadows of the clouds forming unique shapes on the Tibetan mountains on the other side of the lake left us in a state of oblivion.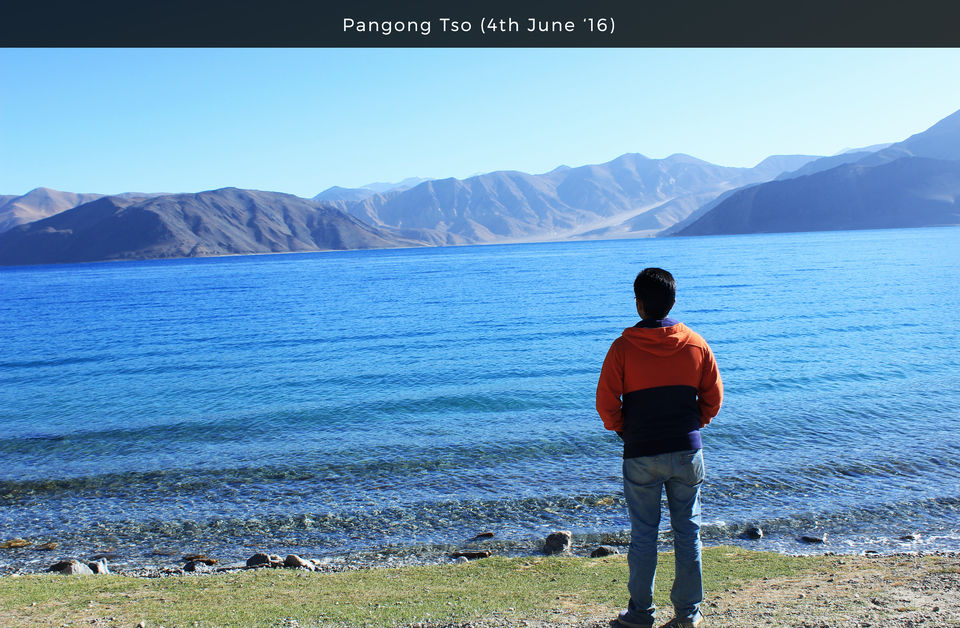 After breakfast, the daring ones decided to take a dip in the freezing lake. Water in the lake was so cold that it was difficult to keep your feet submerged in it for 5 continuous seconds. Mentally, I was sure that a dip in the lake would subject me to hypothermia and make me sick. But, a dip in the lake was on my checklist since a long time and there was no turning back at the last moment.
The initial attempts of walking into the lake (with the water-level till the waist) gave me an idea of what I was in for. I could not feel my legs already and was shivering. With chants of 'Jai Mata Di' ringing in my head, I took a deep breath and pulled my head under the water. From what I remember next, barely a few seconds later, I was running out of the lake eagerly searching for a towel. Yes, I had done it! After that, I was so excited that I took 2 more dips within the next 15 minutes.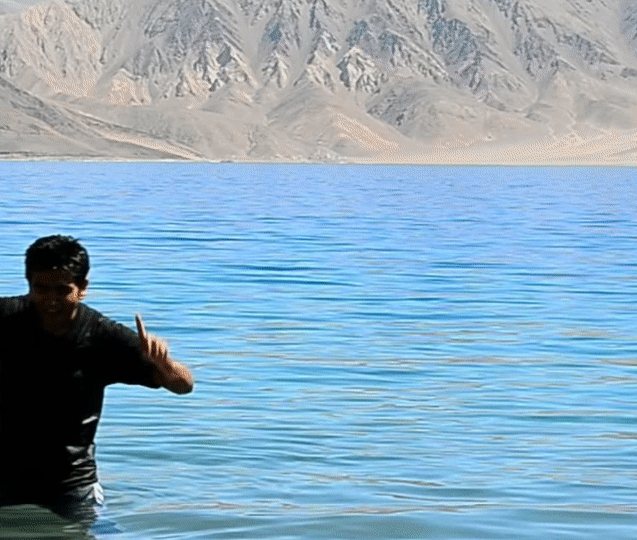 On our way back from Pangong Tso to Leh, we stopped by at the famous '3 Idiots point', where the last scene of the movie has been shot. We clicked some snaps, gaped at the beauty of the scenery and reminisced at the beautiful memories made during the trip.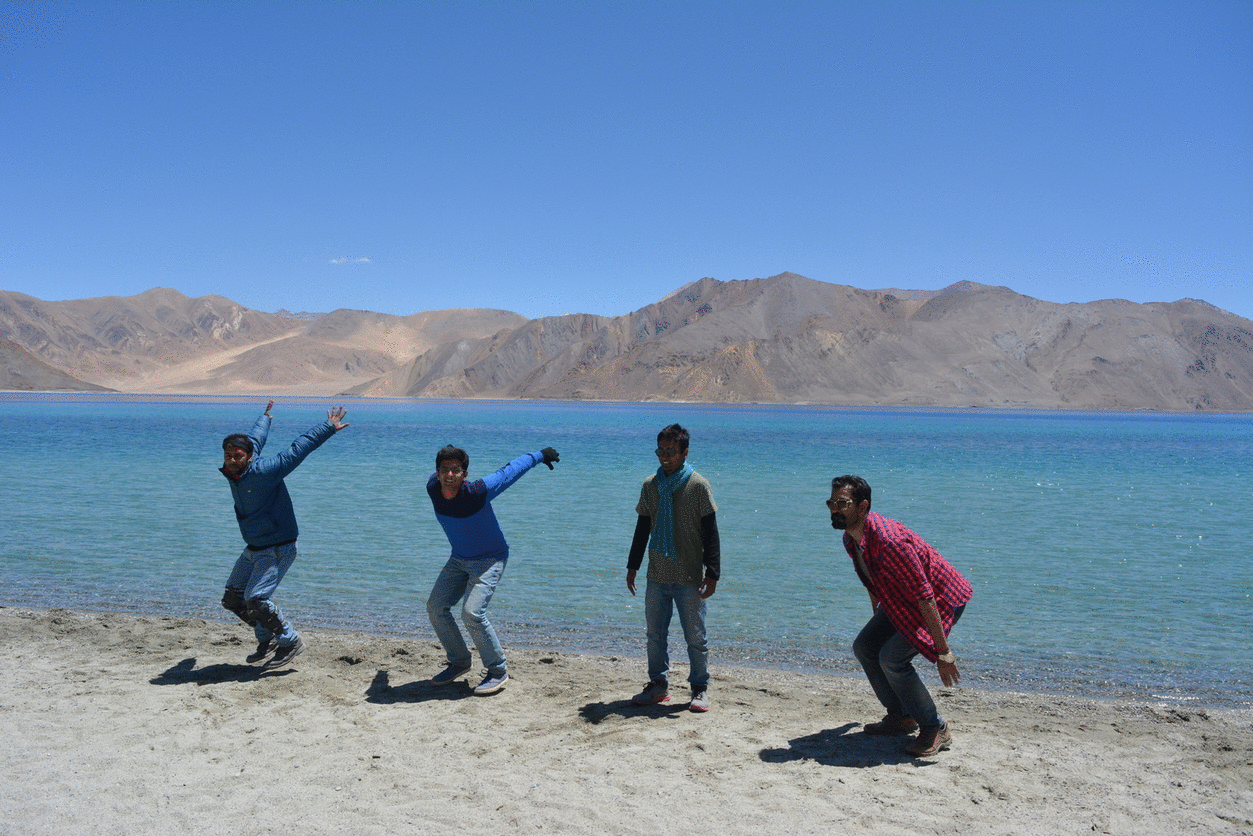 Next up, we stopped at the Thiksey Monastery. Built in the 14th century, it is the largest monastery in the state of J&K spreading over 12 storeys. One of the main points of interest in the monastery is the Maitreya (future Buddha) Temple erected to commemorate visit of the 14th Dalai Lama to this monastery in 1970.
Our last stop was at Rancho's school (Yes, the very same place where Chatur (Silencer) from '3 Idiots' was electrocuted while doing mutra-visarjan ;)). The school had souvenirs related to the movie such as t-shirts, coffee-mugs, notebooks etc. for sale and a very famous 'Rancho's Cafe'.
We reached Leh late in the evening, and had dinner at Apple Tree, a very nice fine-dining restaurant situated right in the heart of the market. We spent the night recollecting the bonds and the memories that we had made over the span of 8 days, promising to stay in touch with one and all.
Having learnt the one-way regulation timings of the authorities, we left back for Srinagar at 2 AM on the same night to avoid getting stuck at Drass/Sonamarg. The journey back to Srinagar took a total of 14 hours marking the end of an adventurous, hectic, action-packed, fun-filled 9-day trip!
Are you planning a trip to Leh/Ladakh? Here are a few tips and tricks you must keep in mind:
Be ready for an adventurous journey. It's not going to be your usual leisure vacation!
It is one of the most beautiful places that you will ever visit (especially Pangong Lake), carry a camera (with extra batteries and memory) and make the most of it.
A lot of people face health-issues due to the high altitudes, rapidly changing weather and tiring journeys. It's normal. Take precautions and carry all that you might need.
Drink lots and lots and lots of water - that's what helped me ace the journey without taking a single medicine.
The roads will be bumpy, rocky and uneven at a lot of points. Be ready for one hell of a ride.
The idea is to get lost in the arms of nature and Airtel/Vodafone ensure that you leave no stone unturned by offering the most erratic network services in the region. If you still wish to ruin your vacation by staying in touch with your daily life, carry a BSNL sim or buy one from Leh. BSNL has a pretty strong monopoly out there.
There will be certain stretches/areas/landscapes where you will feel like you are in a state of oblivion. Live the moment and make the most of such places.
ATM facilities are available in Leh and Srinagar only. Carry sufficient cash and keep some buffer handy, just in case.
Go with a group of atleast 7-8 people. Apart from the serenity, there is not much to do out there and you'll need company.
Keep rest days in between for your body to acclimatize to the weather and the altitudes.
Mountains, snow, barren land, sand dunes, lakes, crystal-blue sky, clouds, hills, valleys - Ladakh has them all. It takes time to explore everything and you should ideally plan atleast a week's trip.
The people in Kashmir are simple and kind-hearted and are always up for a nice conversation.
Who is Nero?
If you read through the whole article, you must have encountered the term 'Nero' a number of times. Nero a.k.a Cap'n Nero is the guy who made this trip happen for all of us. He's a solo-traveller who has been leading group trips for over 2 years. Unlike any travel agency, all his trips are customized to ensure that you have the most amazing time. Follow him on https://www.facebook.com/onhisowntrip/ to book his next trip!
Photography Credits: Madhvi Singh, Pooja Sundrani, Sahil Kalra, Soumya Arora