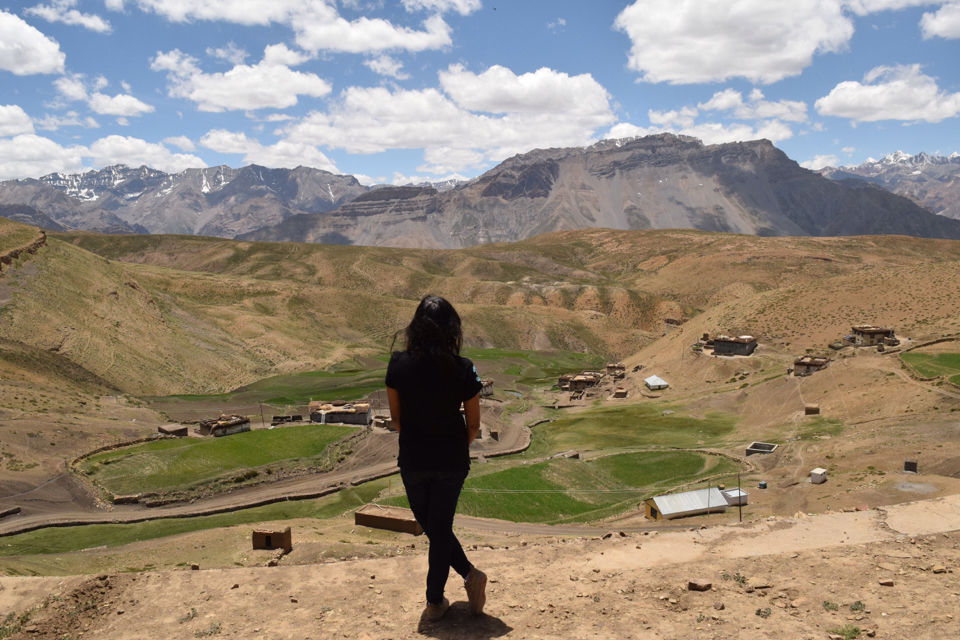 As someone has rightly said, "Human beings are made of stories and not atoms"
And here's another story right from the magical, surreal, mystical Spiti, an enigmatic example of how humans and nature thrive in the most joyful way, a place which reiterates one's belief that the world is still humane.
I love my volunteer travels especially coz they are slow, longer in duration and make me feel more connected to life and local culture. And as it goes, i decided to spend my 3 weeks in Spiti exploring and volunteering for a mental health project at Ecosphere, which works for sustainable development of spitians.
The journey from Manali to Spiti is perfect for adrenaline junkies for once you cross Rohtang, the landscape gets wilder with dense fog, no proper roads, deep ridges and endless blind curves. The landscape mystically changes in nature and form endlessly through the 12hr journey with curvy roads opening to lush green meadows to snowcapped mountains to barren meadows to waterfalls.
With the ever changing formation of mountains and the sun constantly playing games, I felt the mountains depicted their various moods. We were welcomed to Kaza with an alluring rainbow and Kee village in the backdrop. The sight of unblemished landscapes left me absolutely spellbound.
Spiti has around 62 villages and every village has a different story to tell. Most villages are an hour or two drive from Kaza and one can explore them by road or short treks. The drive to these villages is incredibly enchanting. I mostly explored villages taking the buses or the shared jeep which leave from Kaza every evening and return the next day. In addition to Khibber, Kee, Hikim, Komic and Tabo; the lesser explored Mudd, Lalung and Langza are awe-inspiring. Homestay options are available in most of the villages and it was an experience of a lifetime listening to local tales, looking around, enjoying the silence, feeling the fresh air peck on my cheeks and sipping endless cups of chai.
Considering the limited food options everywhere else, Kaza can be a food lovers delight with a variety of food options like Deysor for its Spinach Quiche, Sol café (I almost loved everything there), Yolmo for its veg. cheese fried momos, German bakery, a Punjabi dhaba by the ATM (can't get the name though!!) and Taste of Spiti.
There is something enigmatic about each monastery from the lego like structure of the Ki monastery to the breath taking views of the Pin and Spiti rivers from the Dhankar monastery to the muddy structure of the Tabo monastery and paintings on the walls of Lhalung gompa. The lesser known nunneries in Pangmo and Morang are definitely worth a visit.
Spiti almost felt like being in a transient world soaked in picturesque landscapes, houses wrapped in buddhist prayer flags, star spangled nights, trekking from one village to another interviewing people for my volunteering programme, ever smiling faces of people who are an epitome of compassion and kindness, thupkas, momos and arak (locally brewed alcohol) and not to miss that most conversations with people were incomplete without chai.
Spiti is for the ones who like to take the road less travelled with tough terrains and harsh living conditions with minimal needs. As a traveller one always takes back experiences, but when these are soaked with working for others happiness and love for humanity and of course the mountains, one's happiness becomes infectious!!