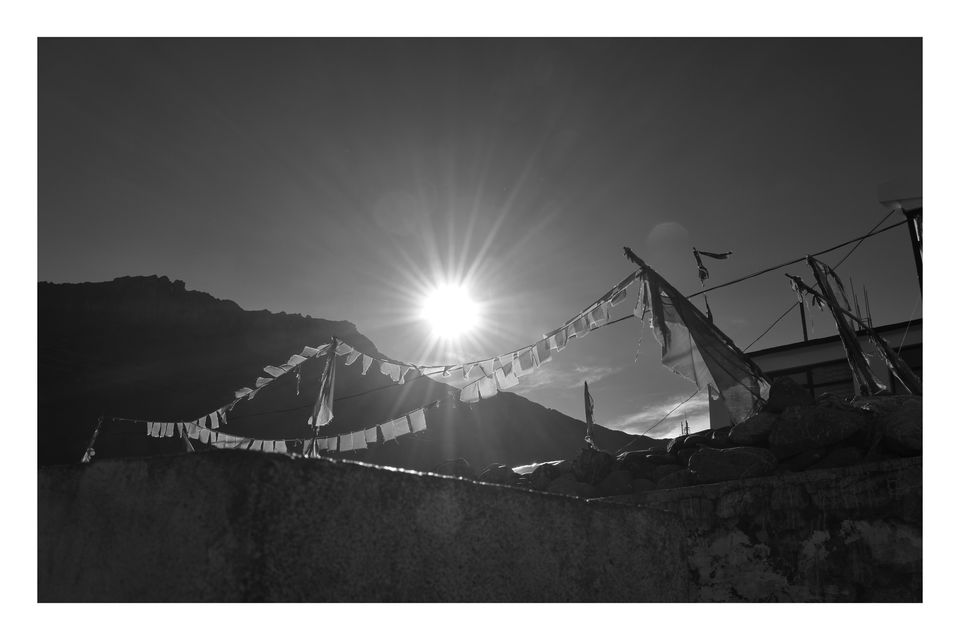 Sometimes you just have to listen to your inner soul..it will lead you to the place where you can find yourself. I had seen a Monastery in a middle of deserted place and scattered river is flowing near it.. this monastery is Key Monastery in Spiti Valley. And when you want something from the bottom of your heart, the whole world leads you to that place. Spiti for me, was like that...
I started searching but then drop that idea and want that this trip comprise a lot of interaction and a minimum use of mobile. The only information I know that there is a bus from Manali to Kaza(Spiti Valley) at 6`o clock in the morning and this information was sufficient for me.
I took a bus to Manali from Chandigarh, in the evening. And reached Manali next morning.
I reached Manali around 5`o clock in the evening and after that had breakfast on roadside stalls. After that I took a bus to Kaza.
The bus ride was going to be the biggest adventure of my life. I had heard somewhere this is one of the dangerous bus rides in the world. The bus was having variety of people from Monks, hikers, locals, Youtubers, bloggers and many more, each of us having some purpose in Spiti. After passing the Rohtang Pass, the width of road and the greenery on mountains decreases gradually. It was a very bumpy ride, and I was literally feeling it because I was sitting on the last seat and when a bump came, I was in the air for few microseconds. The bus was turning through the sharp turns, giving goosebumps to all the window passengers of valley sided. It always forced you to think about how this road was founded, how can people live in such an isolated place.
Spiti valley for me was like a Grand Canyon, giant deserted mountains of irregular shape and with deep valleys with small villages in around every 10 kms. Every moment of that journey was captivating. It keeps wondering who created this and after all how can the people survived here in so much isolated place.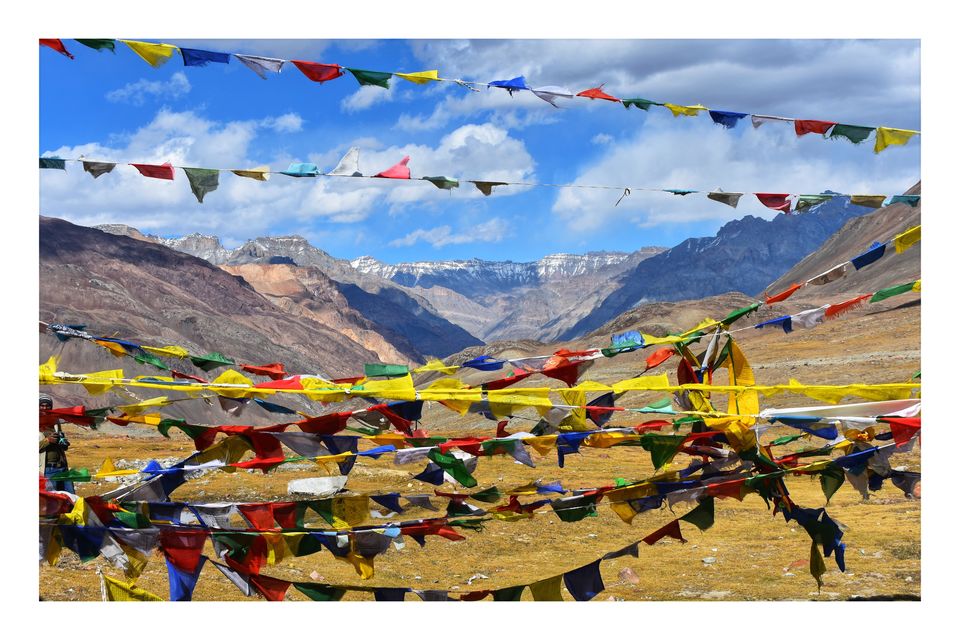 I reached Kaza, capital of Spiti valley and pitch my tent in Zostel. This was the first time I am pitching my tent in backpackers hostel, I was fully exhausted after that bumpy bus ride, I had dinner a small walk in the market and slept in my tent.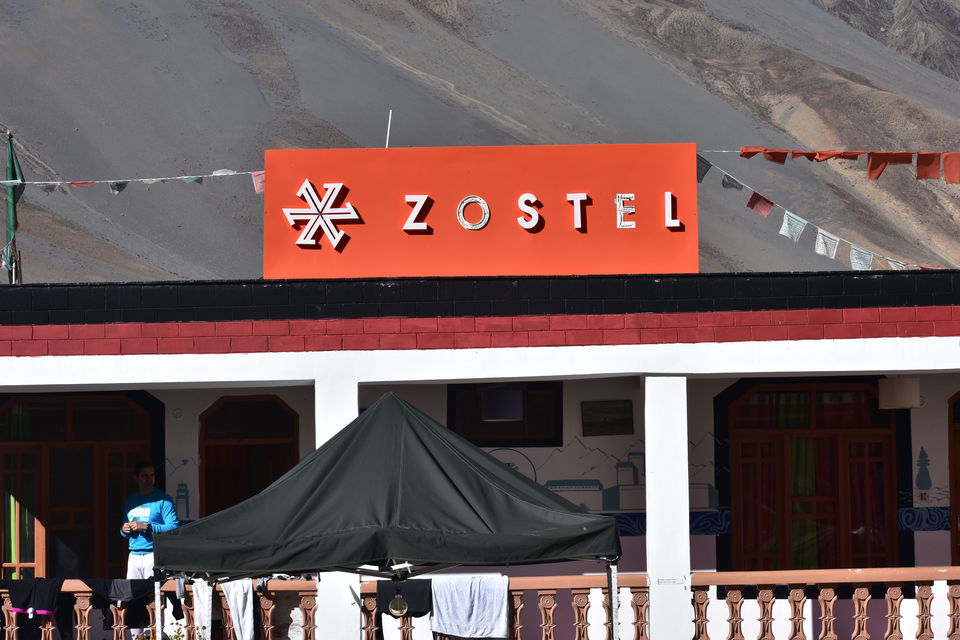 This was my first morning in the Spiti Valley, shadows on the mountains of the mountains were moving continuously entire day. I had breakfast and decided to leave for Key Monastery but to know the valley better I decided to go by foot. It was around 15 kms from Zostel. I filled up bottle, packed my DSLR and left for Key.
It was a proper, well constructed asphalt road, not very steep. Many bikers, cars and jeeps having explorers in it, locals were overtaking me. I was in a mixed feeling of serendipity and peace. Although I was alone but I was not feeling it. I met some locals by the side of the roads, we talk, we laugh, I offered them chocolates, they offered me tea. At last, I reached Key village which was just below the Key Monastery but if I took the motor-able road I had to walk another 4 kms for Monastery.
I decided to take a shortcut to Monastery and left the road. The trek was just around 80 meters but it took me one and half and hour because I never trek on deserted mountains, these mountains did not have herbs on it which did not hold the surface for trekking hence become loose. I finally reached Key Monastery.
It happens so fast for me, I was in Key Monastery, the place which was in my bucket list and I was there. I explore the Monastery, interact with Monks, families, travellers there. Some of them also know me because they had seen me walking on that road. I had a tea in the Monastery kitchen which was quite a different experience. The view of valley from key Monastery which very beautiful.
I met a German guy, who was creating the GPS route for the treks of India. He was coming from Srinagar to Key via Leh Ladakh. We left the Monastery, sharing our experiences, talking about each other countries and many other topics. After that I told him my plan of crossing the Valley and go to Rangrik Village. He appreciates me for my plan, we left each other on that road, he went to Kaza and I descended into the valley.
The Biggest Adventure.
Descending in the deserted Mountains was far much easier than walking up. After few moments, I found myself in the middle of the valley, alone. It was the first time I was in the middle of the Valley and decided to cross the river. When I put my foot in the stream, it took me less than a second to know that I can`t cross the river. The water of the stream was numbing cold I can keep my foot into it for more than a second. And the another factor was that the fast flow of the stream, if I slip there I would go through the valley in the stream and the result would not be good. I further tried to cross the river for from another location but the result was same.
Now the sun was hide behind the mountains, and surroundings feels like it was evening. My heart was pounding fast, and at that time I was all alone with no food but plenty of water. I made my mind up to ascend the mountain and get back the road which I had left.
Ascending the arid mountains was so difficult, I was totally exhausted because I had walked so much and then climb up to Key Monastery and then this, and had only breakfast and some cups of tea from locals. I started ascending and luckily found a shepherd`s trail which was having a very small inclination. I took that path after some minutes I found it was leading to a huge crevice, I left that path and choose the steep ascend of approximately 50 meters. It was more difficult to climb up deserted mountain because I had done it few hours before to Key Monastery.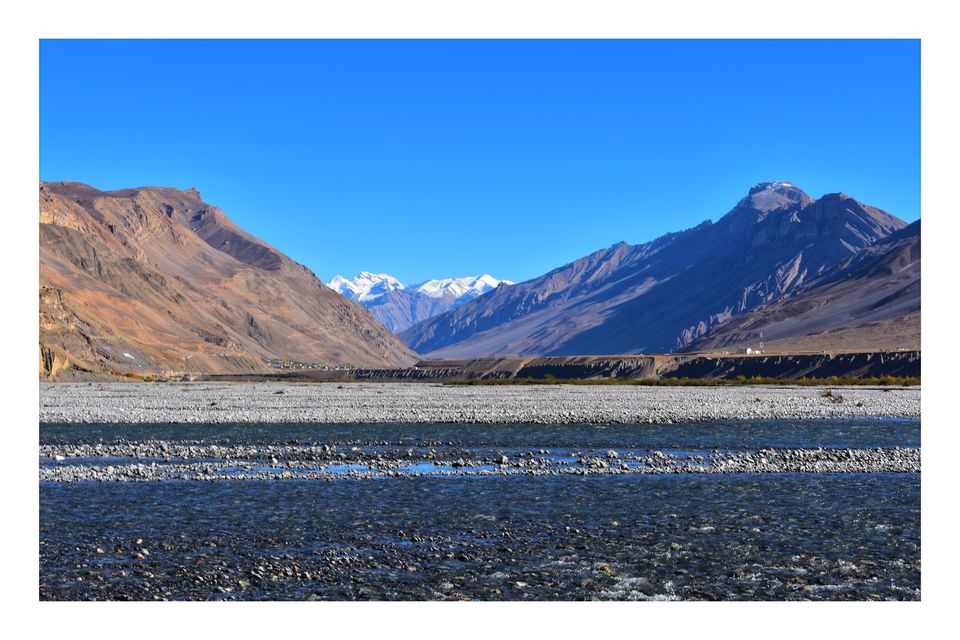 After trekking some minutes I found a snakeskin near me, my heart was bumping so badly, I paced up my trekking. When just few meters were left I took a rest and found three snakes on that path that I traversed, I thanked god, because it was the only thing I could do. Until I reached the road, I was thinking "how lucky I am", it was the fastest ascend of my life that I had done, I just want one thing just to reach that road, and go back to home. This was the time I know how precious my life for me, how it values for me. I stepped up on the road, exhausted, numbed, tired, panting, sweat on my back, aching on my shoulders, I laid on the roadside. Luckily the local man wake me up and took me to Kaza in his car. I slept....
Previously I planned for Hikkim, which is having the highest Post office in the world. But after the yesterday adventure I did not want to do anything. So I took a rest, explore Kaza, have Thupka(local dish), teas, discussion with locals, playing with people in Zostel.
I bought ticket in the evening, because when the bus came from Manali to Kaza, then bus Conductor sold the tickets of morning bus.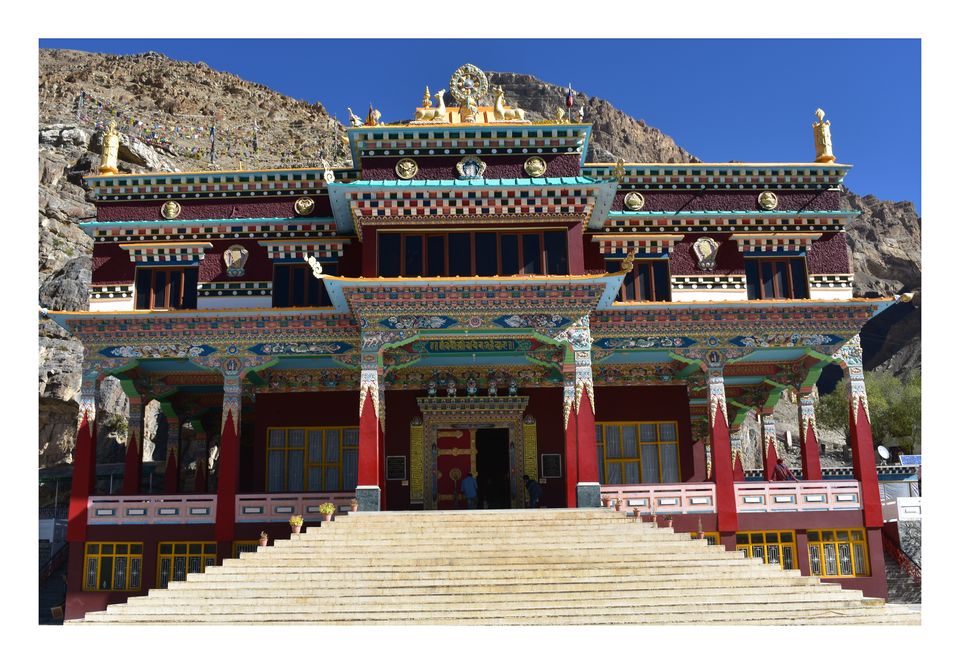 This trip had given me the biggest adventure, but when I woke up at 3`o clock, the moon was hided behind the mountains, I found what I want, A Sky full of Stars, so many stars, I can easily the galaxy, a golden one. Shooting stars in every few seconds. A proper dark sky which jewels like stars embedded on it. The path from Zostel to Bus stand my head was all up. This was probably the best ending for the trip.