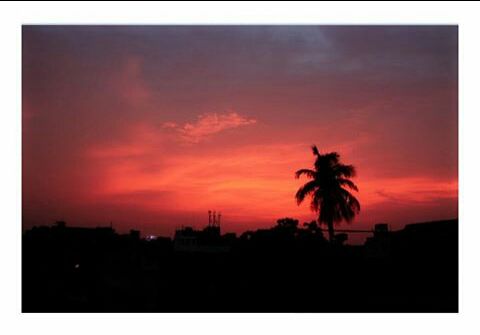 Sunsets have an unsaid charisma that teleport you to a different world for a few moments.
      Who doesn't love a sunset? Sitting alone by the side of your balcony on that very squishy old couch or sitting on a rock by the side of the river or standing near a hill-from where ever you gaze at the miraculous sky,it changes your mind. You seek peace,you seek freshness, gazing at the red orb changing its shades rapidly. From dark purple to blue and then finally into scarlet. This is what nature is all about.This is what lies within a sunset. This is what sunsets are all about. Solace,bliss are just mere words that describe your feelings while watching a sunset.Nobody has ever perfectly described their own feelings regarding a sunset. It's quite impossible as there are only a few adjectives to do so.
             Sometimes sunsets tell you about your past stories. Sometimes it tells you about what could have been done . And sometimes it tells you about your regrets. But on the other hand, as the sun sinks beneath the horizon leaving us a sweet breezy evening filled with solitude,our problems,our regrets and everything also sinks with that sinking sun giving us all hope and faith for our future. People say we miss our loved ones while watching a sunset,isn't it right?We really do. Just think how it would be like if you were watching these sunsets with your loved ones-you'ld must have felt that life has many things to offer. So,keep aside all your regrets and live your life to the fullest and keep chasing sunsets.