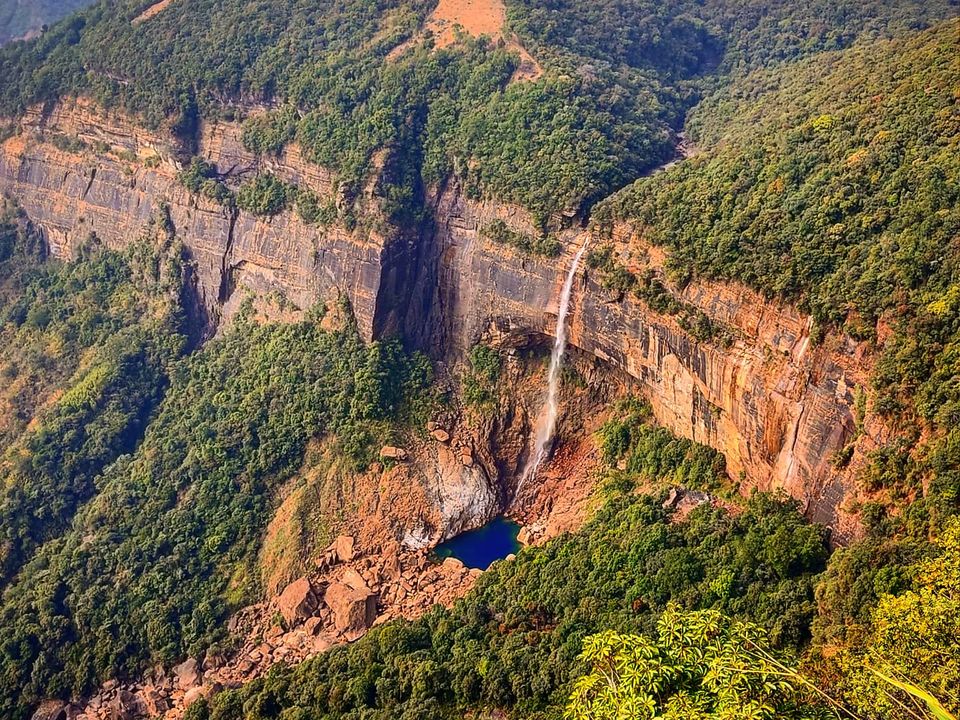 After looking at the waterfall from the top, we decided to go down and touch the sparkling bluish water (Trekking Bug🥴😅).
Jungle Trek to Nohkalikai falls Cherrapunji #throwback
1440hrs: We started the trek. We took the stairs for the next 10 minutes. To our surprise, there were no stairs or proper trails afterwards.
So, we did the next 75% of the trek on a jungle trail in the Khasi hills.
1600hrs:Descending was easy and took around 80 minutes to reach the bottom of waterfall.
That day was full of surprises.Two of our hostel mates(from Gibbon backpacker Guwahati) were already there, stuck.
We were able to spend only 40 minutes down there,as it started getting dark(it gets dark quite early in Cherrapunji).
1645hrs: We started heading back to the top. It got dark after 30 minutes of hiking(still a long way to go).It became quite tricky because of the confusing jungle trails and darkness (which played its role well😅). I had a torch(thank god😄).
At some points, it was literally a straight climb and our friend Mary had to struggle to get through. It was a dense dark jungle-so we decided to stick together and move slowly. Apart from us, there were certainly no signs of human being(can't tell about the wildlife though).
The plants with thorns, spines, and prickles were unforgiving.I accidentally touched them for a grip while ascending only to end up having painful sensations. (Later numb hands🥴)
2000hrs: Finally, after a strenuous hike of about 3hrs in the jungle, we reached the top, covered in sweat(&blood😅).