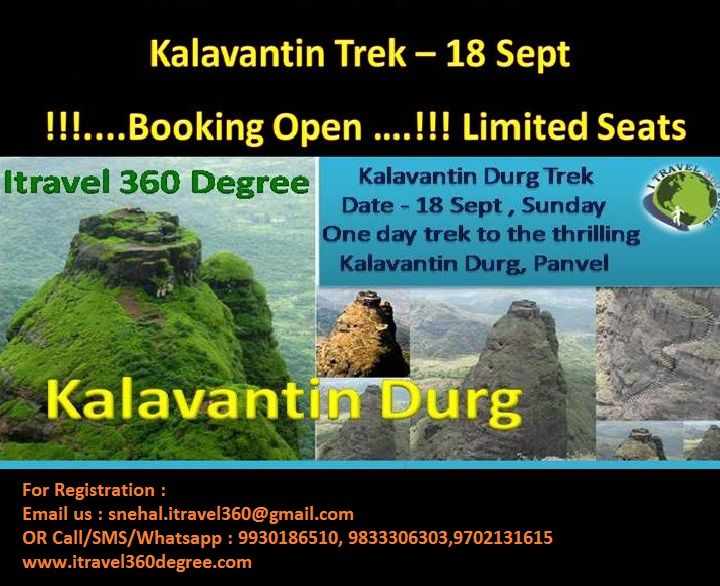 Hola amigos,
We at Itravel360Degree invite you all for One Day Monsoon Trek to KalavantinDurg on Sunday 18th September
KalavantinDurg is situated on northeast side of Panvel, on Mumbai-Pune road. Can see it from the express highway a V-Shaped one.
From top Matheran, Chanderi, Shrimallang, Irshal Karnala, Manikgad, etc. can be easily identified.
Kalavantin durg is an adjoining hill (pinnacle) to Prabalgad.
Type: Hill Fort
Height: 2330 Feet above MSL (Approx)
Grade: Medium
Base Village: Thakurwadi
Region: Panvel
Trek Leader :Dattatray Adarkar.
• Train Timing :
• CST – Panvel Slow Local
• CST –6:28 AM
• Vadala Road – 06:46AM
• Kurla – 06:56am
• Vashi – 07:15am
• Panvel – 07:45am
• Thane – Panvel Slow Local
• Thane – 07:06am
• Koparkhairne – 07:23am
• Nerul – 07:36am
• Belapur CBD – 07:43am
• Panvel – 07:58am
Western Side participants can catch train From Vadala 06.46am same as given above
If you miss the train you miss the trek so make sure you are on time to catch the train.
Members are requested to take return ticket till Panvel on their own.
People may board the same train from the station of their convenience and meet us in the train directly. (Get into second boggy from Panvel side)
Meeting Point for Mumbai and Pune People Panvel Station at 8:00 AM
Move to Base Village by tumtum 09.00
Introduction, instructions and start the trek
Reach the plateau 10.30 Breakfast tea
Rest for a while.
Start Ascend towards Kalavantin Fort
Reach atop by 12:00 pm
• Explore & Start Descend
• Back to the plateau by 02:00 pm.
• Lunch
• Descend back till base 04:30pm
• Start our return journey and Reach Panvel by 05:00 pm
• Reach Mumbai Around 06:30
The cost for the trek will be INR 600/- per head,
Includes
• Travelling from Panvel to Panvel
• Morning Tea Breakfast and lunch
• Washrooms& Changing room facilities
• Expertise charges
• First Aid
Exclusions:
1. Mineral water, Softdrinks etc.
2. Anything other than above mentioned inclusions
For Registration:
Email US : snehal.itravel360@gmail.com
OR
Call/SMS/Whatsapp :
9930186510,
9833306303,
9702131615
Payment :
DattatrayAdarkar
Saving act HDFC bank
10191000012378
Branch – Jogeshwari east
RTGS/NEFT IFSC codeHDFC0001019
website : www.itravel360degree.com
Important things to carry:
1. Carry some Ready to eat snacks like biscuits, chips.
2. Water Bottle (2 liters compulsory)
3. Electoral Or Glucon D.
4. windcheater
5. Optional Camera , cap
6. Medicines if required.
7. Good Trekking shoes must.
Rules & Regulations:
Smoking, Alcohol, Drugs, Narcotics and any kind of intoxication, firearms and gambling strictly prohibited. Please do not litter, we believe in the saying,
"When you go to the mountain leave only your footprints and bring back only memories" The leader's decision will be final and binding on all members.
No Arguments will be entertained. Hiking / Trekking / Rock climbing is an adventurous activity and accidents can happen in spite of taking utmost caution
and care. The club will not be responsible for injury / accident / death to the participant while on the trek.
Medical Disclaimer: It's Important to be fit before going for Treks. It is Important to have a medical fitness check-up done. If suffering from any
allergy or ailment, please bring prescribed medicines to prevent serious health problem including heatstroke, severe headache, cough, dehydration,andhypothermia. Participants suffering from chronic conditions like asthma bronchitis, blood pressure, migraine, diabetes etc. should take permission from their physicians before treks.