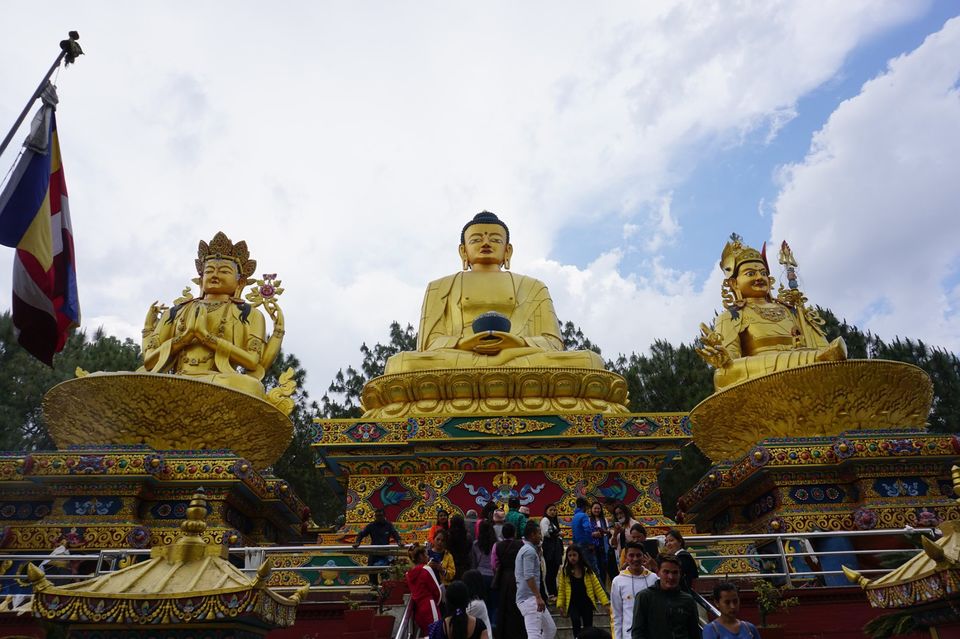 If you are a bong kid of 90's then most probably your introduction to Kathmandu is through the classic detective novel of Satyajit Ray; যত কান্ড কাঠমান্ডুতে - The Criminals of Kathmandu. In between the epic battle between FeluDa and villain Maganlal Meghraj, Ray has tucked in vivid descriptions of the city in his own brilliant way. So, this visit was redemption of old images of Kathmandu painted in our minds and we were excited!
This would be third and final leg of our Nepal trip.
Click here to read
Part 1: Pokhara, the jewel of Nepal
Part 2: Exploring wilderness of Terai at Chitwan National Park, Nepal
Day 5: Start from Chitwan
Manoj picked up us from resort and we headed towards Kathmandu. Then came the shock for us. Some influential opposition party called for 5-day long Nepal strike! And it was no less than thunder strike on us!
On our way we played hide and seek with Trishuli river and its beautiful valley. There are number of picturesque hanging bridges on the river. We stopped to explore one such bridge and clicked lots of snaps. Wide view of valley and mountain from the middle of the bridge, free flowing Trishuli below and absolute silence but sound of water, cool breeze made us glued there. The scene was quite serene and stunning.
Initially we were sceptical about our travel during strike. But appears tourist vehicles are allowed to travel freely. Tourism is main source of earning in Nepal and thus everyone make sure tourists are by and large unaffected by political activities. During our trip we found only cable car of Manokamana Temple was closed for strike; we could visit all other tourist places without any problem.
As much desired cable car ride was not possible, we decided to cover Nagarkot that afternoon. This place is very famous for view of wide Himalayan range including Mt.Everest. But that is around 40 km from Kathmandu and may take more than one and half hour due to traffic and winding hilly roads. So, we just checked into our hotel, dropped our luggage and headed towards Nagarkot.
We reached to the top around 5.30 pm and 6 pm was the sunset time. There is a watch tower atop from which most stunning view is seen. We bought tickets and rushed towards it. The climb to top of watchtower by steep ladder was challenging but we made it. Though result was not so rewarding as due to cloud and haze mountains were not clearly visible.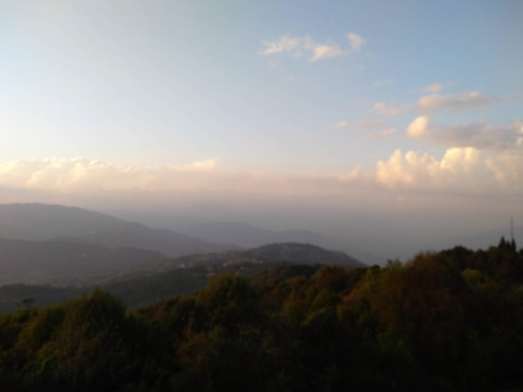 We spent some time and came down from the tower as it was freezing cold and windy up there.
Upon coming back to hotel, me, wify and kiddo decided to go out for a walk and have dinner outside. I booked Hotel Shankar for our Kathmandu stay. This is a Heritage Palace turned into a boutique hotel and located in the posh area of Thamel, which is the most popular tourist district of Kathmandu.
But to our surprise we found Kathmandu sleeps early. In most of the hill stations people turnoff lights early, but I never expected same here being capital of a country. But maybe this help them to live a happy and peaceful life.
We walked for some time and found all shops are either closed or doing so. There we found one local restaurant which serves authentic Nepali food. We sat relaxed and feasted on Nepali Thali and Khukri rum.
Daal-Bhat is absolute yumm and we completely have fallen in love with that food. And Kukhri rum with coke was like a medicine to ease of the tiredness.
Day-6 ( Getting around Kathmandu)
All woke up early morning as our car had come at 6.15 to pickup from hotel for Mt. Everest flight. We all were super excited as this would surely be our most fascinating event of this trip!
A day before we got confirmation and tickets from KJ. There are multiple airlines operating such flight and ours was Buddha Air. Instead of booking by ourselves we preferred to go with Kailash Journey. They took INR 9000 per head, but everything was seamless.
We went to domestic terminals of Thribhuban airport and had to go through usual security process.
These mountain flights are small ones with 2×2 seating arrangements but only the window seats are sold to make sure everyone has a view. Soon our plane took off and so was our excitement. For last few days luck had not always been to our side in terms of getting clear view of mountains, so we kept our fingers crossed.
Once the peaks started appearing everyone was like going crazy! Soon we reached much near to the mountains and could see all the famous peaks! It was unbelievable sight! Air Hostesses helped us to identify the mountains by their names and allowed us to visit cockpit one by one. The view from cockpit made me speechless, it was white snow-capped mountains in every direction!
As I came back from cockpit one of the air hostess asked me to look outside the window, she pointed and said "you see that one sir? that pointed peak with a little ledge below? That's Mt. Everest". I was like completely awestruck! Mount Everest, in front of my eyes! I felt lucky, extremely lucky.
Not only the mighty Everest but every peak and mountain of Himalaya is so special for their own reasons! For example, these twin peaks of Gauri-Shankar indeed look like a couple in arms and dedicated to Lord Shiva and his beloved Goddess Parvathy! Due to religious reasons, scaling of this mountain is completely prohibited.
Not everything was happy up there for me. I could see this glacier (name is not known to me) and one can see clear effect of global warming on it. Just see, front part of the glacier has melted and left nothing but rock bed for few kilometres.
After coming down we received certificates from Airline which will be souvenir for lifetime! I would strongly recommend taking this mountain flight if you are in Nepal. It will be out of the world experience for sure.
This was our last day at Nepal and there were lots of things to see. So, we headed straight to Pasupatinath Temple from airport. Before entering temple, we had lip smacking breakfast with puri, sabzi, jalebi and tea at a local restaurant. I would say try that when you visit this place.
Pasupatinath is dedicated to Lord Shiva and it is one of the most sacred Hindu temples in the world. Situated on the banks of Baghmati river, this site was declared as UNESCO heritage site since 1979. There is no reliable date of establishment of the main Shiva Temple, but it was rebuilt in 5 th century by Prachnada Dev of Licchabi dynasty which is good enough to say how ancient this place is! There are several other smaller temples in the same complex of Rama, Guheswari and Kaal Bhairav which were erected at different times.
The first thing to grab attention as you enter the complex is huge statue of Nandi! Thousands of devotees in queue, their chants, smell of incandescence, giganticness of the temple building make it an overwhelming scene for even the non believers. We stood in the queue and had a glimpse of the holy statue. Then visited every corner of the complex to make sure nothing is missed.
This place is a great example why Nepal is confluence of Oriental and Indian cultures and architectures. I visited several Buddhist and Shinto temples in Japan, Korea and China and I could clearly see the oriental influence here. Temples are structures are like pagodas which is uncommon for most Hindu temples in other part of the subcontinent. There are murals and carvings based on Hindu Puranas (Mythology) everywhere, but the art forms bear clear influence of China.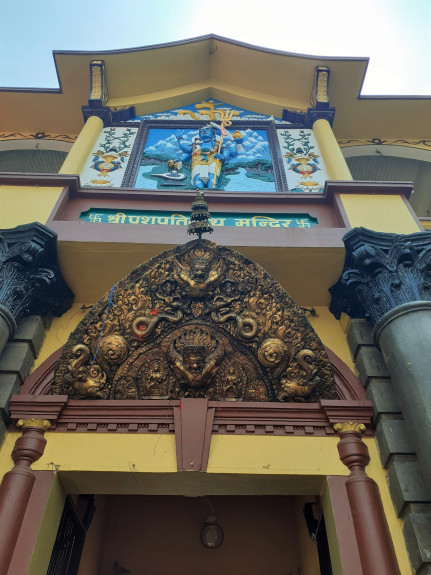 Unfortunately, photography is not allowed inside so I could not take any picture, otherwise some of those would have surely been worthy of being framed.
Next destination of the day was Swayambhunath , from most holy Hindu temple to most sacred place of Tibetan Buddhism.
Swayambhunath Stupa is situated on a hill top and there is a wide motorable road till the main entrance and one need to climb by steps to the top. But on our date of visit; the road was closed for vehicles due to a major religious festival. Hence, we had walked all the way up along thousand and thousands of pilgrims. KJ guys warned us about this and suggested not to go. But being in Kathmandu but not visiting Swayamabhunath is no less than a crime!
Swayambhu in Sanskrit means "self-manifested"; something that was not created by human beings. This is one of the oldest (probably the oldest) Buddhist stupas, where worship is done still now. Recorded history says, King Ashoka visited this place in 300 BCE but current stupa is believed to be erected somewhere between late 400 or early 500 CE; by King Manadeva. Since then, Swayambhunath has been renovated under patronage of various Hindu kings. Even today this place is visited by both Hindus and Buddhists in large numbers.
We had to walk a lot dozing through thousands of people to reach the top. But that place also was crowded like anything. They were mostly devotees offering prayers and performing rituals. We also lit some candles. I could not take a clear shot of the Stupa because of so much crowd but nevertheless got some nice snaps of various subjects.
All of us were very much tired and hungry by the time we came down. But there was not much time left for us to cover Durbar Squares, so we skipped lunch, had ice cream and proceeded.
Durbar Square is a UNESCO heritage site which has series of royal palaces, temples and other royal establishments. Most of the major royal events like coronation take place here. Unfortunately, this site was heavily damaged during earthquake. Nepal Government is making some serious effort towards restoration with international help.
We bought tickets (which I found hefty) and entered the square. It was like walking through lanes of history! We visited Kaal Bhairav, Hanuman and other temples, Kumari palace, Palace of Queen and other royal buildings. I must say Durbar Square is a fabulous place and one must not miss it during visit of Kathmandu. If you are into Street or Architectural Photography; this is goldmine for you.
On our way back we encountered heavy downpour and terrible traffic. By the time we reached hotel everyone was tired. Some of us went to Thamel for little shopping but had to make it really quick as all of the shops were closing down. But we could see Thamel warming up for its famous nightlife. All night clubs and dance bars were flocked by party animals. And we were getting random offers from all side for the forbidden pleasures, but we ignored and moved on ????
This day we did not felt like going out for food and had dinner at hotels restaurants (wanted to relax a bit before that, but to our surprise even the hotel kitchen is closed by 10 PM).
After dinner we sat in Garden with Old Durbar's Black Chimney whiskey and chatted for some good time. There was chill and freshness in due to rain and we felt relaxed. At the same time, we were feeling blues as the marvellous trip has come to end.
As planned next day morning Kailash Journey sent their vehicle on right time for Airport pickup. Before that we had awesome continental breakfast at Mike's Breakfast. I would highly recommend going there if you stay around Thamel.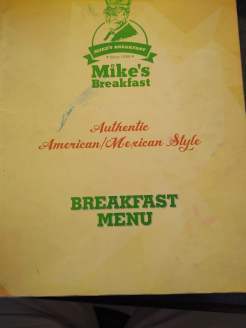 We reached Airport in correct time, but our flight was delayed by 2 hours. Finally, we had to bid adieu to Nepal; but we shall come back for sure!
Feel free to join my Youtube channel for some exciting travel videos
Frequent Searches Leading To This Page:-
Mesmerizing Kathmandu trip, kathmandu casino package with flight, delhi to kathmandu air package, kathmandu tour package from gorakhpur