Its been seven months and five days since the last time I went trekking to Prabalgad, on a cold wintery night (havent made a blog post about it though). Fast forward to July 27, 2014. It was set. Finally after office, summers, heat and all other things sad, it was time for some action. Oh yes, it had started to rain well here and it was the perfect moment to go trekking.
Kalsubai, the name i had heard during my college years and i had yearned to go there since. Being the highest peak in Maharashtra, it had intrigued me a bit. It may be punitive compared to all the other peaks elsewhere, (just 5400ft) but yes, for a regular-go-to-office-guy, it does sound exciting! This time, I had decided to go go along with a group named Trek Mates India, nice fun people they are, organizing treks in and around Mumbai and also big trips.
Journey started at around 12 midnight. A bus full of guys and gals, singing their hearts out (although I don't like that stuff being an introvert, I like to keep to myself). After around 3-4 hours of bus travel, when did we end up at the base village, Bari, didn't even realise it. Pitch black outside where the bus was parked. Acloudy night, even the moon was seen nowhere. A light drizzle had just started and I could feel the wind blown into my face as I just got down from the bus. Aah. This is gonna be awesome, I told myself.
A 15 minutes walk in the darkness and we reached what looked like a rest house. Unloaded our bags, took only whatever we needed and got ready for the actual trek. Post breakfast and a formal introduction round, we started walking. Weather was just perfect, drizzle, wind, fog. The trek started. It was a walk from the village, walking through mud, wadingthrough water, again some mud, slippery, slimy, but yes, it was good. And that moment I stopped in my path. Just to take in the vista that lay in front of me.
This trip was first published on Life at 18mp.
The majestic Kalsubai peak in all it glory covered by clouds, drifting apart at sometime and again covering it back. Few shots later, walking again.Up the hill, what we could see was white times infinity. Fog. Clouds. Drizzle. Wind. And in all this came the ladders! Wobbly as they are, one-at-a-time climb on the ladder, less support, you start thinking about all the things you had ever wanted to do in life. There are five such ladders en route the top. On one of them, despite people shouting from behind, mid way i stopped, just because i saw this (see below). Spectacular. Whatever settings I had on my cam set already, couldn't sit there changing them. The pic didnt come out in the perfect way, but it was what it was.On the way up, there were many such spectacles to see, mighty waterfalls to see, wind to be blown by, drizzle to get soaked in and the adrenaline rush that gives you the push further!It took around three hours to climb to the top of the not-so-arduous trek. The weather made it happen quick without taking much halts in between, except for one where we had kanda-bhajis (yes, there is a small stall that pops out of nowhere on the way up).Up above, it was all windy again. Literally had to bend and hold on to something to stop yourself from getting blown away. And also it was all white.When we just reached there, just getting assembled, all 39 of us, there we witnessed it. The clouds gave way for the sun to shine on us. Just a 30 second window, not much. But everyone was mesmerized! Oh what a scene. And then it was back to the winds and rains galore.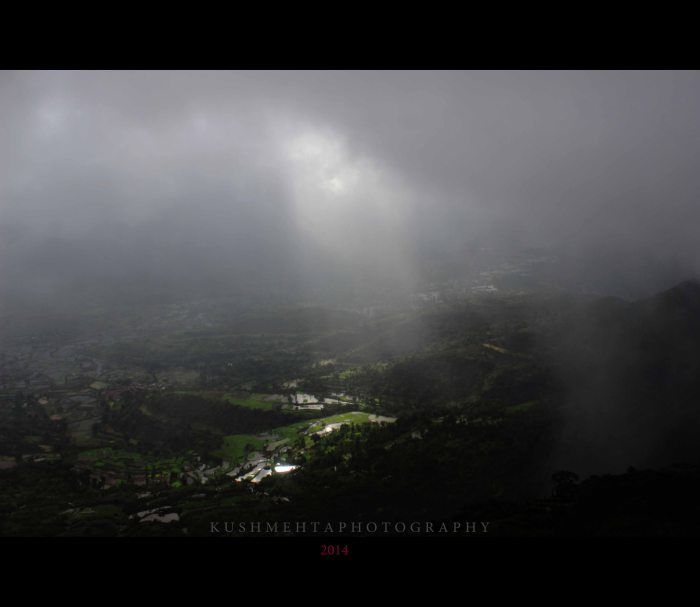 After a small prayer at the temple and a customary group photo (cant even make out anyone's face in it :P), the descend started. Coming down those wobbly ladders was a task at hand for everyone. But no had any idea about what the rains had been busy doing while we were at the top. Everything wet, drenched, muddy and slippery. Rocks, mud, water made the descend a bit tough, but got down there without any causalities.En route the trek, made some very good friends, a stand-up comic, a pilot and a pro-trekker/engineer for whom all this was nothing but a puny walk in the park!!