To float into a Chinese painting couldn't have been any easier than taking a slow moving bamboo raft in the middle of the afternoon down the Yulong river in Yangshuo. Yangshuo is a protected heritage UNESCO town, for the magnificent ghostly karst mountains found here (one of seven such places in the world - the most famous of these being Halong Bay at Vietnam), with the Li and Yulong rivers snaking their way around these mountains.
If you have really energetic young kids who cannot be strapped to the raft, the bamboo raft is not really a class act, as it can (and does) drag on for two entire hours, by the end of which, you catch yourself thinking for the hundredth time "are we there yet? are we there yet?" Try and negotiate a one-hour bamboo cruise - the novelty will wear off soon, and the gorgeous karst mountain view will then become your new-normal. That being said, a shorter bamboo cruise is a must-do for a Yangshuo trip, simply for sublime views like this!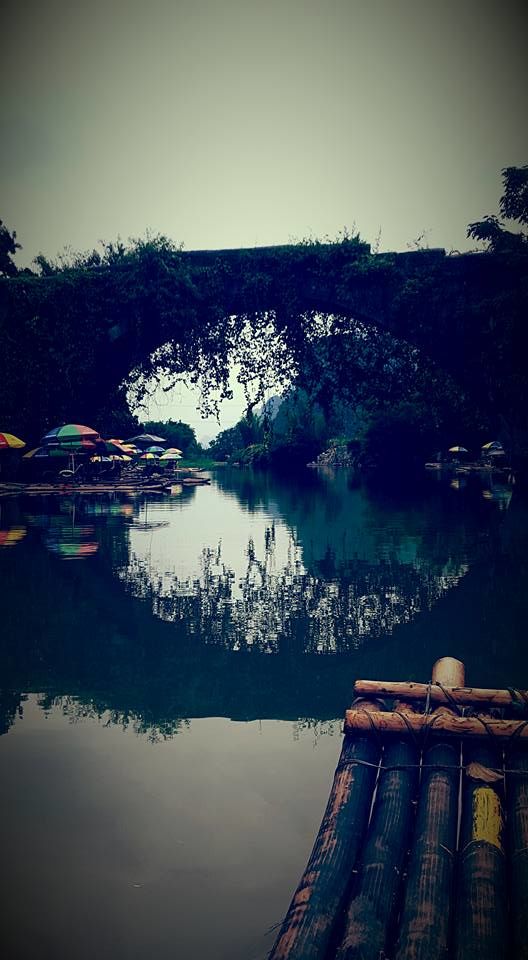 So I live in Shanghai. A bustling, noisy, frenetic, hyper-active metropolis of a city, with the energy of a hundred toddlers at that terrible-two age that self-help-for-first-time-mom books are written about. I wanted to shut out the noise and simultaneously also take visiting friends to a place in China that was less popular with first-timers to China, than Beijing or Xi'an. So, Guilin-Yangshuo it was... For the karst mountain beauty and the serenity of the Li and Yulong rivers, and the sense of floating in to a living, breathing Chinese painting.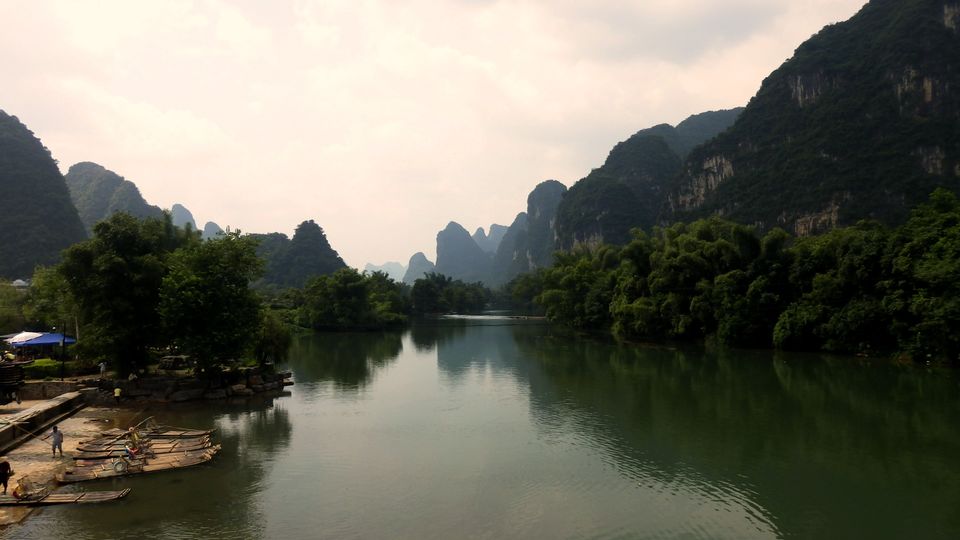 For our stay, we picked out the Mountain Nest lodge - which came highly recommended on Tripadvisor for its charm, antiquity and gorgeous mountain views. It helped of course that it was far away from the crazy, touristy party-central West Street of Yangshuo that has become a nightmare to navigate for people like us, looking for some quiet countryside walks, river cruises and mountain biking. Mountain Nest rents out free mountain geared bikes for the course of your stay for you to navigate the mountains on - another reason to stay here!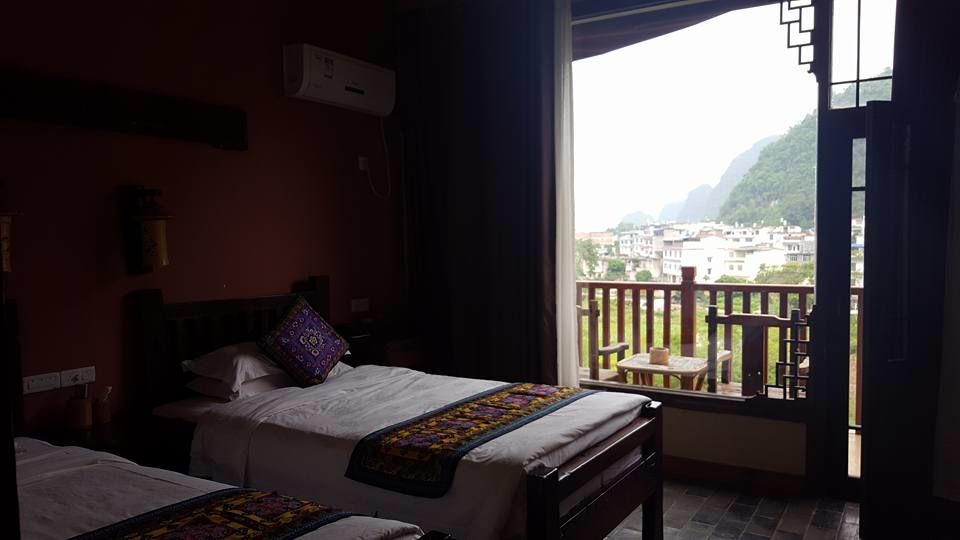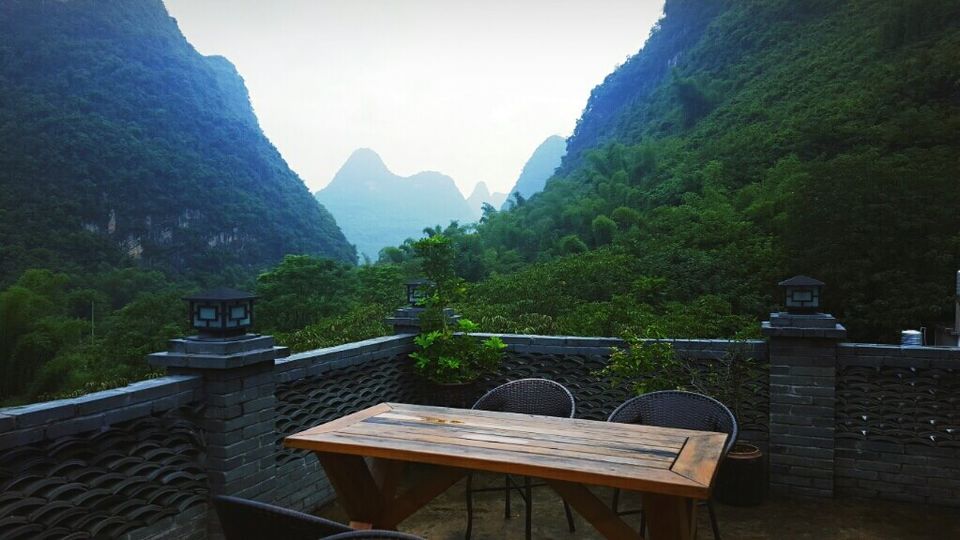 All of Mountain Nest offers a 360 degree view of the karst mountains, with the breakfast terrace almost rising up against the wall of the nearest karst rock, as the mountains seem to fade away one after another in the distance like an old sepia photograph. Needless to say, lunch and tea and all possible meals were had on the terrace, rain notwithstanding!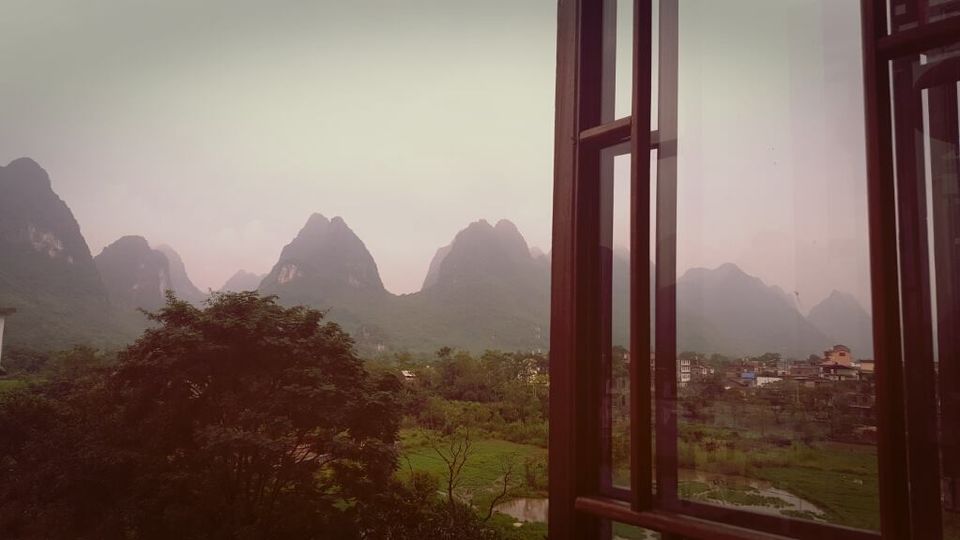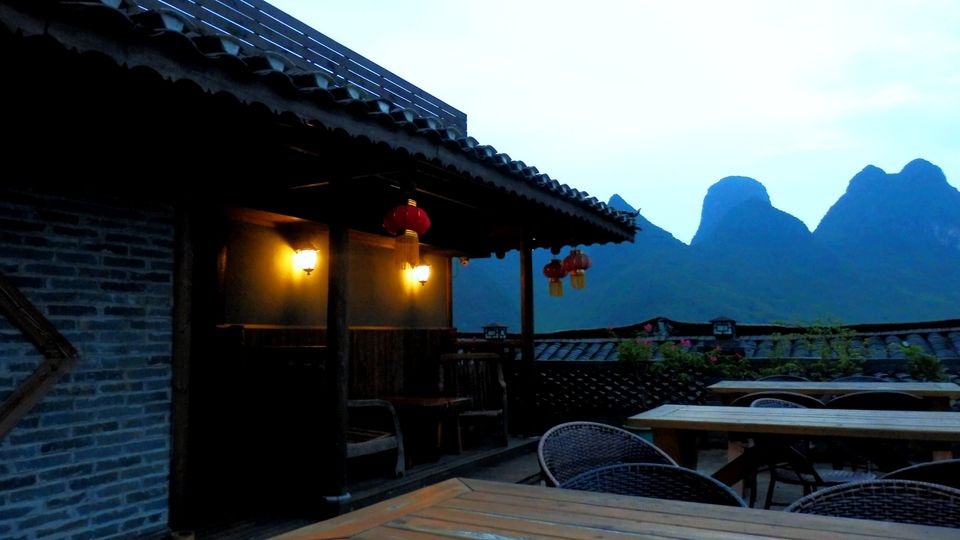 Yangshuo is not for the hearty city-goers among you; it is slow, quiet, peaceful, and amenable to plenty of countryside walking through the karst mountains and paddy fields, mountain biking down winding roads alongside rivers and fields, river cruising (the best view of the karst mountains from the Li river is to be had on the 1.5 hour Li river cruise stretch that starts from Xing Ping down to Yangshuo - the one with the famous view etched on the 20 RMB note!).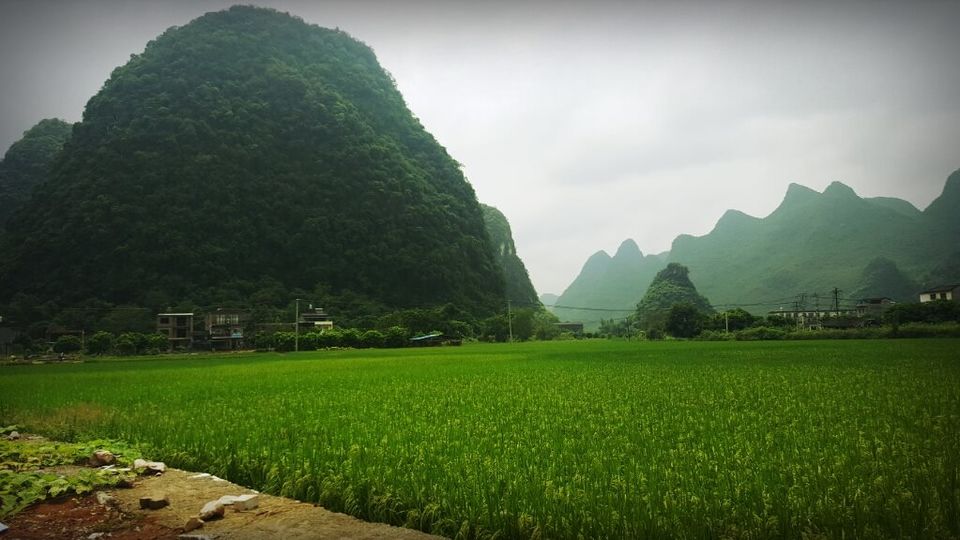 But of course, if you tire of this sublime experience, and you want some action, then head to West Street - for plenty of cobble-stoned streets lined with souvenir stores selling all that useless stuff none of which you need, but you definitely want, restaurants serving world cuisine on the double, not to mention bistro bars streaming Chinese versions of old English 90's songs and interesting cocktails with names like Cherry Garcia!
While souvenirs are something unique to each of us, we loved these little stone paperweights that reminded us of our childhood selves we all carry inside!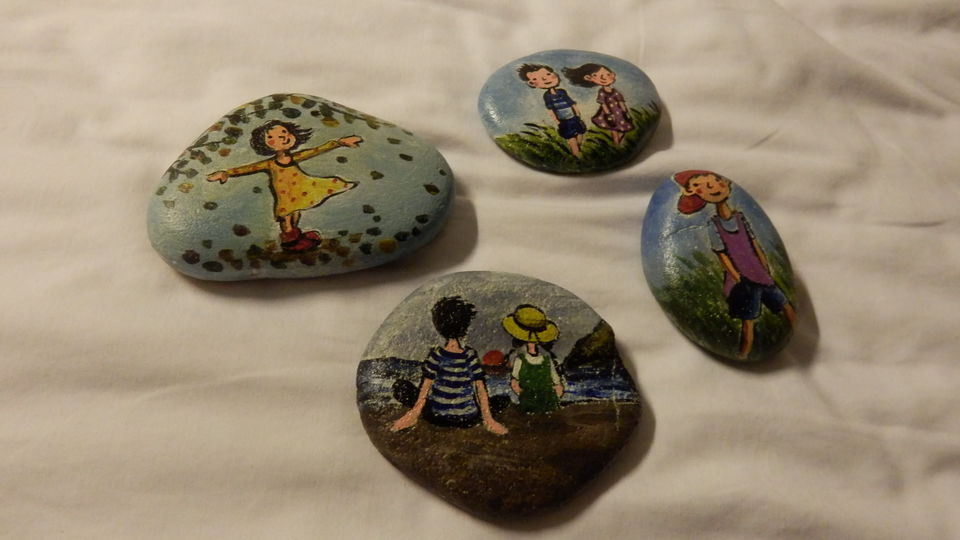 On our no-itinerary hiking, biking, rafting 3-day trip to Yangshuo, we stumbled upon some hidden gems like Ruihua Courtyard where we stopped for lunch on a biking trip one day through the paddy fields, and were totally taken by how charming and quaint the resort was, and how hospitable the host, Ding! A must stay marker for the next visit to Yangshuo!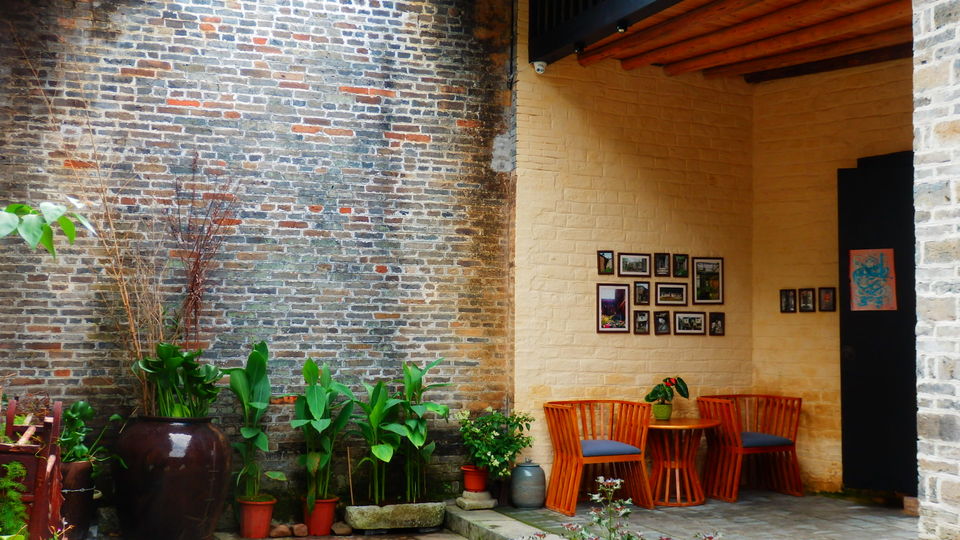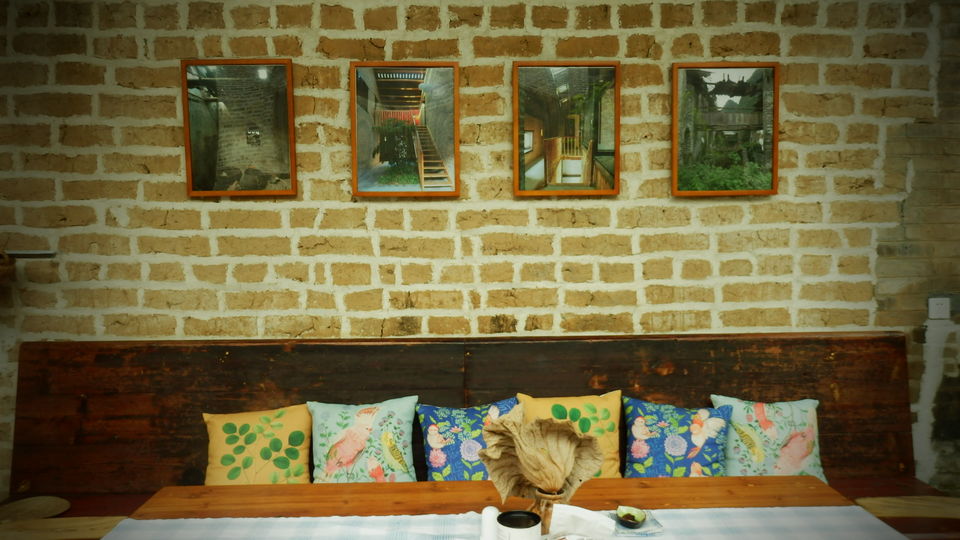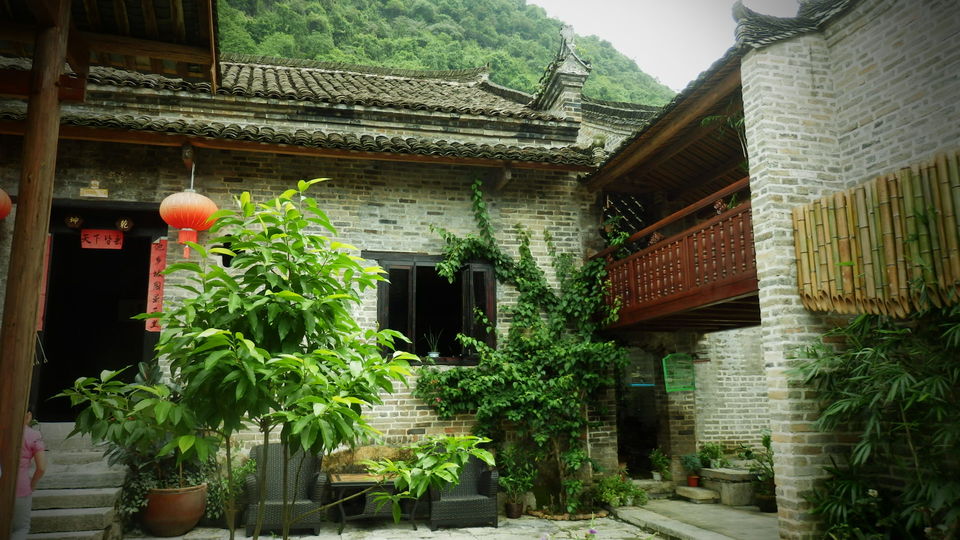 While the fading beauty of the karst mountains is what poems are written about and water color paintings created, we made a half day trip to the inside of these karst mountains containing stalactite and stalagmite caves formed over hundreds of thousands of years - Silver Caves. Admittedly the garish pink, blue and white lighting made the caves more Hello Kitty Chinese-bling than what we would have preferred, but the Jade Dragon reflection pool inside the Silver cave was a surprisingly scary and breathtaking experience - with the pool reflecting the very high ceiling of the caves in its depth, giving the perception of several hundred meters of depth, even as it was shallow enough to walk on!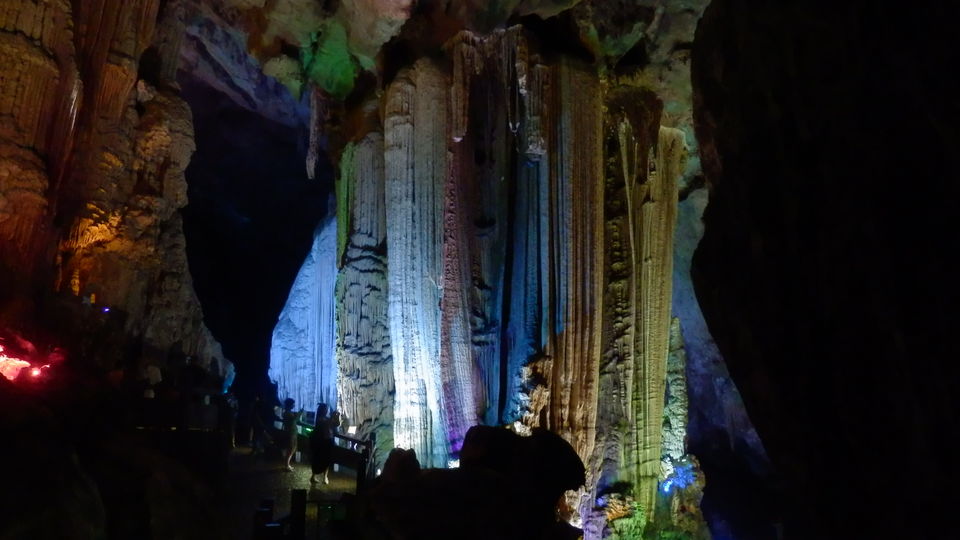 A trip to Yangshuo would be incomplete without the Liu Sanjie impressions show directed by Zhang Yimou of the Crouching Tiger-Hidden Dragon fame. It is a giant theatrical performance of 600 odd participants - a musical telling of a folklore love story set against the backdrop of the karst mountains by night, and conducted entirely on bamboo rafts on the Li river, with the river as the live moving stage. A spectacular and breathtaking experience for a first time view! It does get boring in parts, with the girl doing acrobatics on the moon on a moving raft, and random kids prancing about in the middle of the show in disconnected scenes, so don't spend too much money on the show - the RMB 240 tickets should be worth the bang for the buck.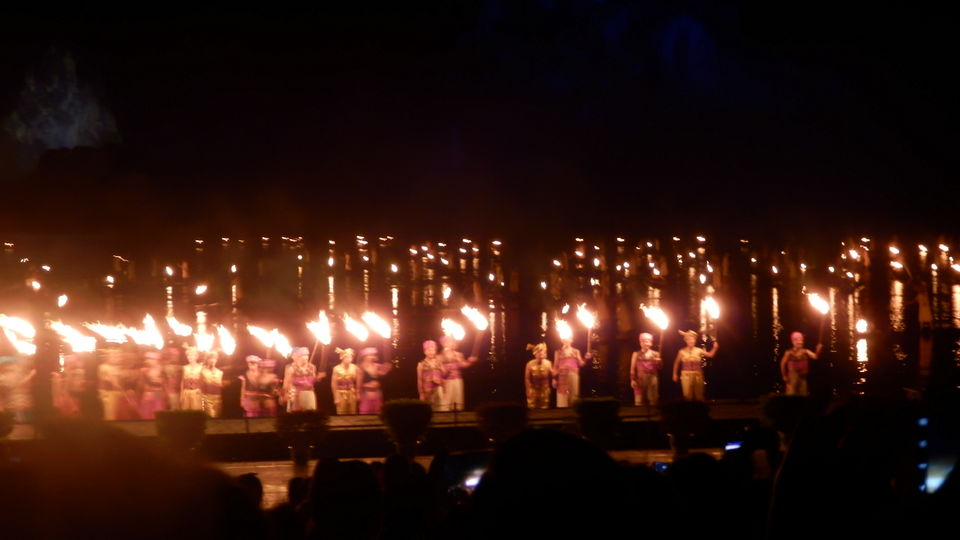 As with all my China-based travels, here's a mystic thought to end an idyllic, tranquil holiday with - "Turn left, cross the field, maybe you can." Can do what, is of course left to your fertile imagination! Thank you, Yangshuo and Zen Box for re-creating an utterly beautiful Chinese landscape painting for a holiday!