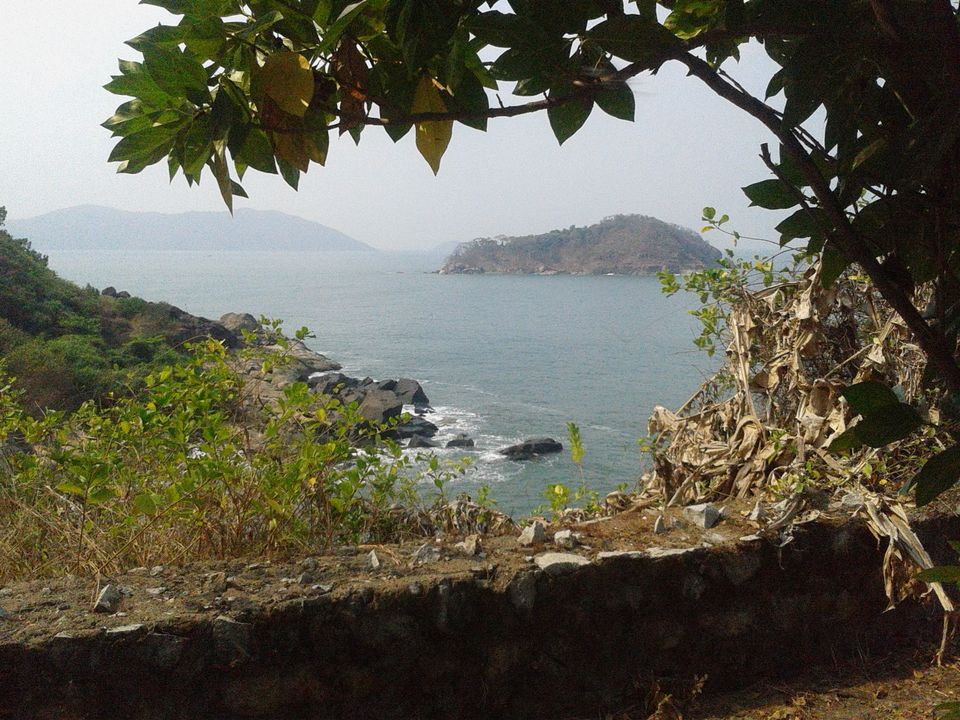 An "All Male Trip" is sometimes invigorating and refreshing to the mind, because such trips can be arranged impromptu, unlike family trips which involve a lot of planning, a lot of arrangements, a lot of safety aspects to be considered. Dates don't match with the holidays of the Schools/Colleges of the children, or leave dates if the wife is working. Hotel Bookings, Train/Flight bookings, Vehicle arrangements, the list goes endless. An All Male Trip can just be ventured into, on any given weekend or a long weekend if it is clubbed with some national holiday.
One of my colleagues was recently transferred to Hubli in Karnataka. And it was almost a year since he was inviting us to visit his place with a promise to show around Karwar, a Beach Town on the edge of Karnataka and just 38 kilometers from Paloem Beach in Conacona,Goa, which was the icing on the cake. What else could we ask for?
I set off with one of my other Colleague in Hyderabad by Airavat a Multi Axle Bus of KSRTC from Imlibun Bus Station Hyderabad to Hubli. Before boarding the Bus, we filled our belly with dinner and just carried a bottle of Maaza.
In the morning at 06.30 AM, we reached Hubli and my friend was waiting there at the Bus Station to receive us. He had arranged a self drive vehicle for us to go to Karwar and Paloem Beach, Goa. So, we hurriedly had our lunch at Kamats Food Court. Nice décor and nice South Indian Breakfast of Puri and Wada with piping hot coffee. Perfect combo for a great start. We reached Karwar by 12.00. Booked a room at Hotel Bhadra. Then we moved on to the market place in search of a hotel which was famous for seafood called Swetha Lunch Home. We had googled it before and read good reviews about this nondescript hotel, but the seafood was awesome. Rice Thali with Fish fry or curry, whatever you choose. After our lunch, we went to the jetty, boarded a boat which charged us Rs.200/- for a 4 hour trip to a private island and took us to the spot where we could find some dolphins. Because of the sound of the diesel boats, the dolphins didn't come nearby and so we had to make ourselves happy by looking at the dancing dolphins from afar. Though the heart was not so happy at such sightings from afar. We returned back by 06.00 PM.
In the evening we headed to Ravindranath Tagore Beach at Karwar. A peaceful and less crowded beach to relax and while your evenings in soothing calmness of the moonlit evening.
The next morning, we headed straight to Paloem Beach at Conacona, Goa, which was around 38 kilometers away from Karwar. We had to pass through the Toll Gate at the entry point to the State of Goa. Paloem beach at Conacona, is less crowded unlike Panajim. The tourists are more foreign than Indian. But the beach was very very clean and calm, not much hustle and bustle.
When you start from Hubli to reach Karwar, you first encounter a "T" junction. To the right is Karwar, and to the left is Ankola and a little further, about 80 kilometers ahead you have Murdeshwar. Murdeshwar welcomes you with a big Shiva Statue and it has a very serene beach unlike the crowded Goa beaches. If seclusion and peace is what you are craving for, head towards Murdeshwar. And another highlight of your trip would be the spot where the Highway to Mangalore passes beside the seashore. The Sea Waves almost seem to touch the Road. Lovely pebbled shore where you would just feel like disembarking the bus and would want to play with the water and the pebbles. A perfect spot for families, especially with children.
We returned back the same evening to Hubli for the night halt. And after a day of rest at Hubli and local sightseeing we returned back to Hyderabad by boarding the Airavat bus of KSRTC at night so that we reach early morning of Monday to get back to the rigmarole of office and home.
…Give it a try, its worth visiting, whether bachelors or with families.