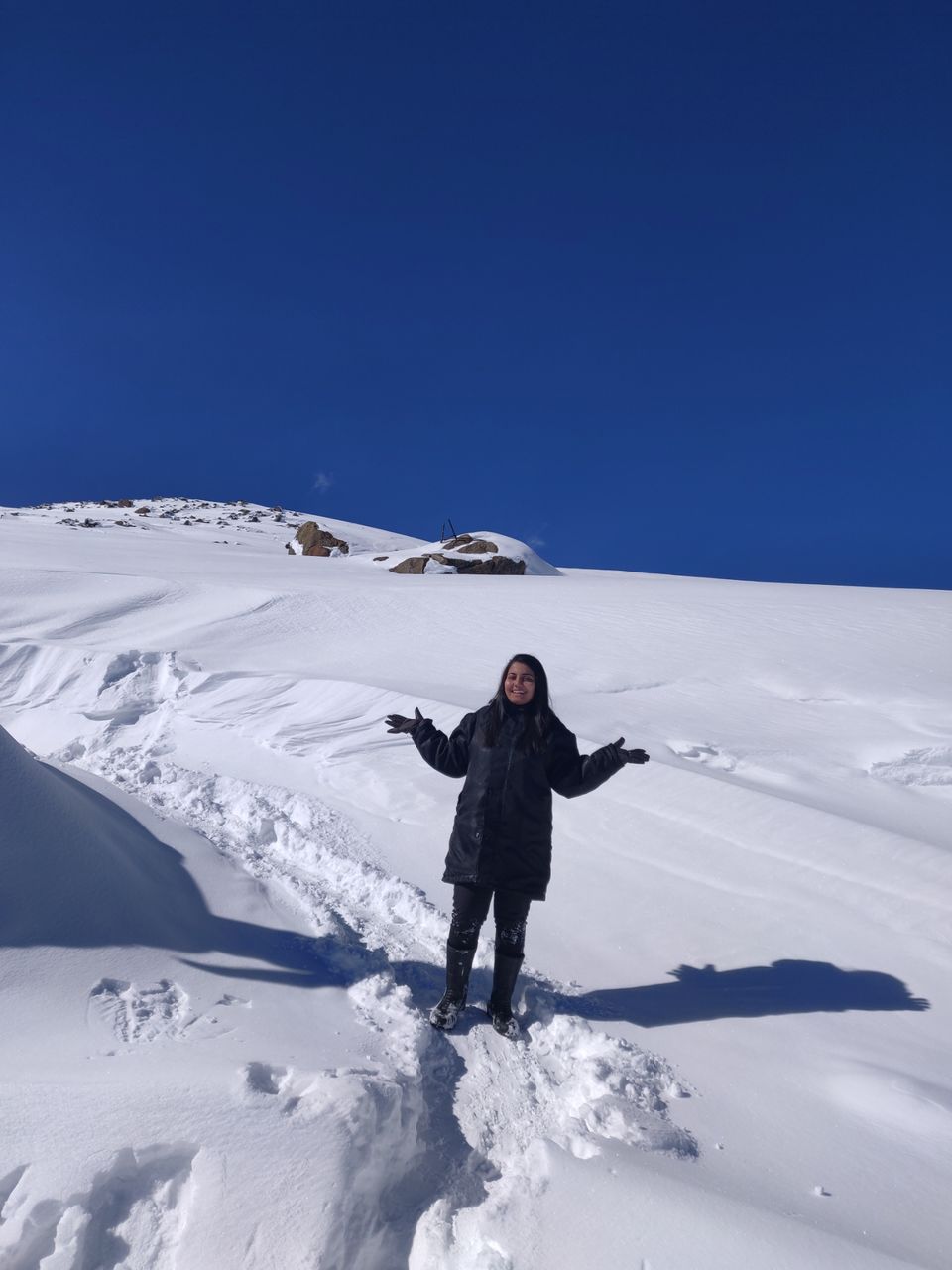 Kashmir is truly Winter wonderland. It's completely safe and people are welcoming here. We got to see -17 degrees cold and almost 4 feet snow with creamy snow fall.
We planned out trip for 5 days. And that was 26th January week. As 26th January is a Black Day in Srinagar, we decided to start the trip on 25th and spend 25-26 in Gulmarg. If you want to spend more time in snow, you should spend at least 2 days in Gulmarg.
We landed at Srinagar on 25th morning and headed towards Gulmarg. It will take 1.5-2 hrs to reach Gulmarg from Srinagar airport.
Srinagar cars are not allowed to take in Gulmarg. From Tangmarg (starting point of Gulmarg, here they put chain on wheels to drive in snow) you have to change the ride and it will cost you 1600. (800 each side for pick up and drop) So if you book a car from Srinagar to Gulmarg, it will cost you 2000 and they will drop you at Tangmarg. Total cost would be 3600.
Instead, if you are planning to stay at Gulmarg, ask your hotel guys for airport pickup. In this case you don't have to change your ride and also no extra 1600. We stayed at hotel Pine View Resort. They charged 2500 bucks for airport pickup.
At Tangmarg you will also see shops for rented heavy woollen, and its cheap. I got the pair of shoes and heavy jacket in 250 bucks for 2 days.
We reached our hotel around 3:30. At the very first day we just had a good time playing with snow and watching magnificent view with Kahwa (kashmiri drink)
You don't need a car to visit places in Gulmarg in January. If you don't want to walk you can have Sledge ride.
We went to gandola ride today. That was 15min walking distance from our hotel. Gandola ride has 2phases. Till 1st phase the cost is 740 rs per person. And the 2nd phase is 950 rs per person. I would recommend to go till 2nd phase. It's a life time experience and a breathtaking view. You remember the scene of Yeh Jawani Hai Diwani..where they go for trekking and saw the amazing view of fully snow covered mountains. It's the same place.
Skiing you can do from phase 1. It will cost you 1000 per person. You can bargain with them.
Today we headed towards Pahalgam. Since our hotel driver (Akhtar)was very good at driving and hospitality, we continued our journey with him. He charged us 7000 for Pahalgam drop, Pahalgam sight seeing, and Srinagar drop and Srinagar sight seeing for next day.
Batab valley, Aru valley were closed.
Other Pahalgam places (mini Switzerland specially) can be visiting only on horses. The path is very narrow and quite dangerous. Here also you can do bargain with them for the horse ride.
My friend did that horse ride of RS 1800. And they covered almost 2-3 points.
Meanwhile we just roam around with our driver and explored some really good food and locations in Pahalgam.
Food recommend: Kashmiri Pulav, Dum aloo.
Hotel: Pahalgam Retreat
Today we headed towards Srinagar. Start your journey early, Srinagar highway has good traffic.
Places visited: Shankaracharya Temple. One has to climb 250 stairs to reach there and no camera - mobile is allowed here.
Hazratbal Dargah. Amazing place with amazing view of Dal Lake.
Pari Mahal. One more amazing place with great view.
After these three places, it was almost evening time. We wanted to do some shopping next. We booked our stay in a house boat. And Shikara rides are only available till 7-7:30 in the evening for pickup and drop to the house boat. So we had to do little hurry for shopping. We went to lal chawk for shopping, here you will get everything. Pashmina, kashmiri print dresses, Kahwa, kashmiri kesar, souvenir.
Today we started with Dal Lake Shikara ride. It's worth rs 700 per Shikara. 2-3 person can easily seat. Here you will see floating markets, the magnificent Himalayan range and ama beautiful ice melting water.
Shopping options are also available here :)
Pashmina is a goat.. found in Ladakh. Kashmiri people use this goat's wool to make shawls. It's pretty expensive but the hand work they do on it is remarkable.
Kashmiri kesar is really good stuff, it got attractive fragrance. Would recommend to buy 1g at least.
After this amazing ride and lunch we started towards airport. Srinagar airport departure will take time as they have security system very tight.
We book cab for airport drop from Dal Lake for rs 600.
And the journey ends with all snowy memories. :)