Kashmir has always been considered not only 'heaven on earth' but pride of the nation and I consider myself lucky to have got another chance to visit this place. Once, it was with my friends and this time it was family.
From the day my family planned this trip, I was perplexed, should I go or should I not. Frankly speaking I never wanted to go at first place, reason one- I had been there six months back with my fun gang and reason two- It was a family trip, which had all the possibilities of turning out to be a boring trip. So family being family, they convinced me with all their emotional dialogues and I found myself accompanying them on this trip.
Unlike last time, we decided to go by train followed by a day's drive which seemed tiring earlier but turned out to be a fun journey. Train trip came to halt in no time but it was time for 10 hours drive through valleys and snow capped mountains. I had seen Kashmir valley earlier, but these roads and mountains were new to me and it was equally mesmerizing.
We reached Srinagar around 6 PM and to my surprise it wasn't that cold as I was expecting it to be. It was a pleasant weather where you could do with only one pullover but at night it was cold. We had dinner little early and started planning our next day, which we decided to spend in Gulmarg.
It was a sunny morning and we were all set for Gulmarg. The place which is situated in Pir Panjal range of the Himalayas at the height of 8,350 ft, we were expecting freezing cold and snow as well. On our way to Gulmarg, we could actually see those snow capped mountains and this time my little brother who is fond of snow was the happiest among us all. We somehow reached the spot walking over 4 feet snow. Not to forget, it was the day of Holi and instead of those colours, we decided to play Holi with snow. Making snow balls, throwing it on each other including my mom who is not very fond of cold and dad who did not miss any chance to get him clicked. Seeing this side of my parents where they were playing with us was actually a pleasant surprise for me. By the end of the day, we all were exhausted and freezing with cold but it was an amazing start of these three days at the valley.
By the end of the day we could see the change in weather, from a bright sunny to a cloudy evening. By the time we reached back to our den, it started raining. The next day was dedicated to Pahalgam, which I found one of the beautiful towns of the valley. Although our plan seemed to be vanished with rain.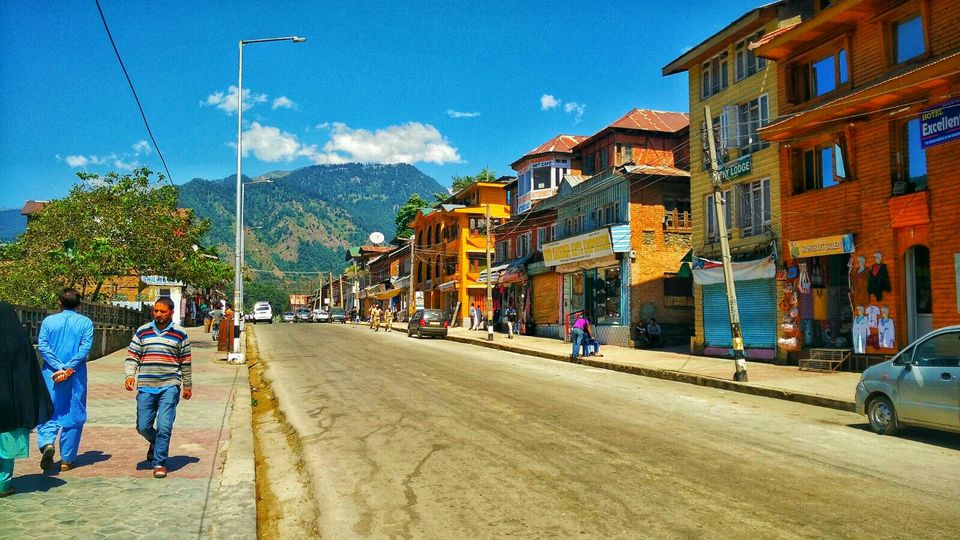 To our surprise, the weather did not change, it was raining heavily and we were stuck in our rooms inside heavy quilts. It was 1 PM and there was no sign of sun showing up so we decided to give it a shot and go out at-least for a drive around Dal Lake. My mom backed out of the plan but my dad, brother and I were actually happy about this decision. We roamed around the lake for an hour, clicking pictures and appreciating its beauty. Another destination in our list was Tulip Garden which opens for specific time every month welcoming visitors to its colourful lawn. From red to yellow to peach to purple, tulips of all colours were adorning this garden. And being a bollywood buff, I actually found myself humming the song from Silsala movie which was shot here and my dad took no time to join me for the song. I could not see this garden on my last trip which I actually wanted to see, but I did it this time. We managed to see each and every corner of this vast garden and made some lovely memories here as well. In the midst of all this, we actually realised that rains are not that bad actually.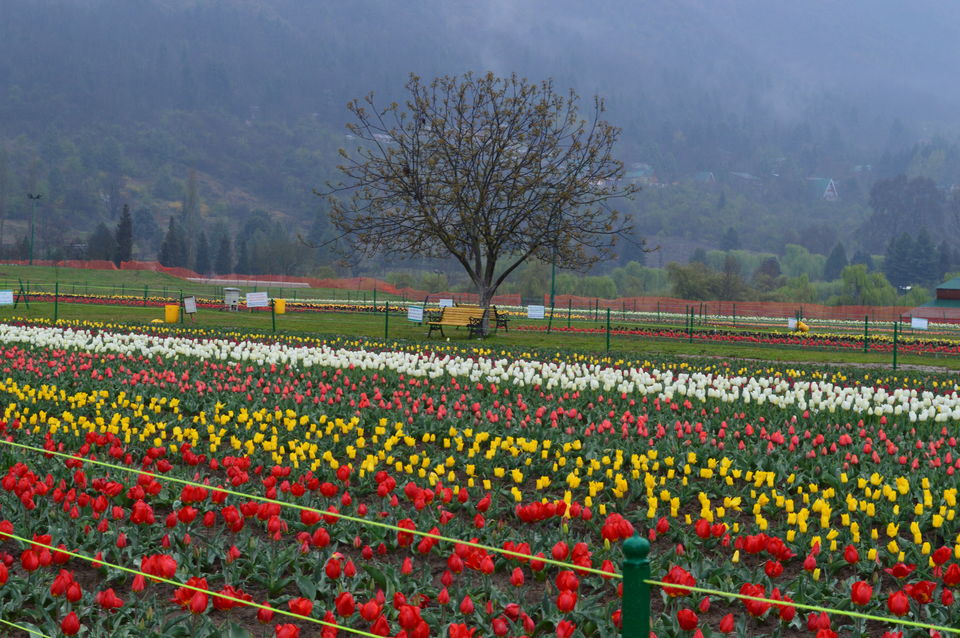 My brother has this strange love for snow, so we decided to head towards Yousmarg the next day. This is a hill station situated at the height of 7,861 feet and there were chances of snow here as well. As soon as we reached the place, we could only see those lush green meadows and traces of snow here and there. Initially my brother was a bit disappointed but as they say no one can ignore the beauty of this valley, he was bitten by it too. For me it was a trip to that old happy day which we spent here. I witnessed the same spring season when I came here for the first time with my crazy friends. I found the same meadows, mountains and even the bushes which were intact.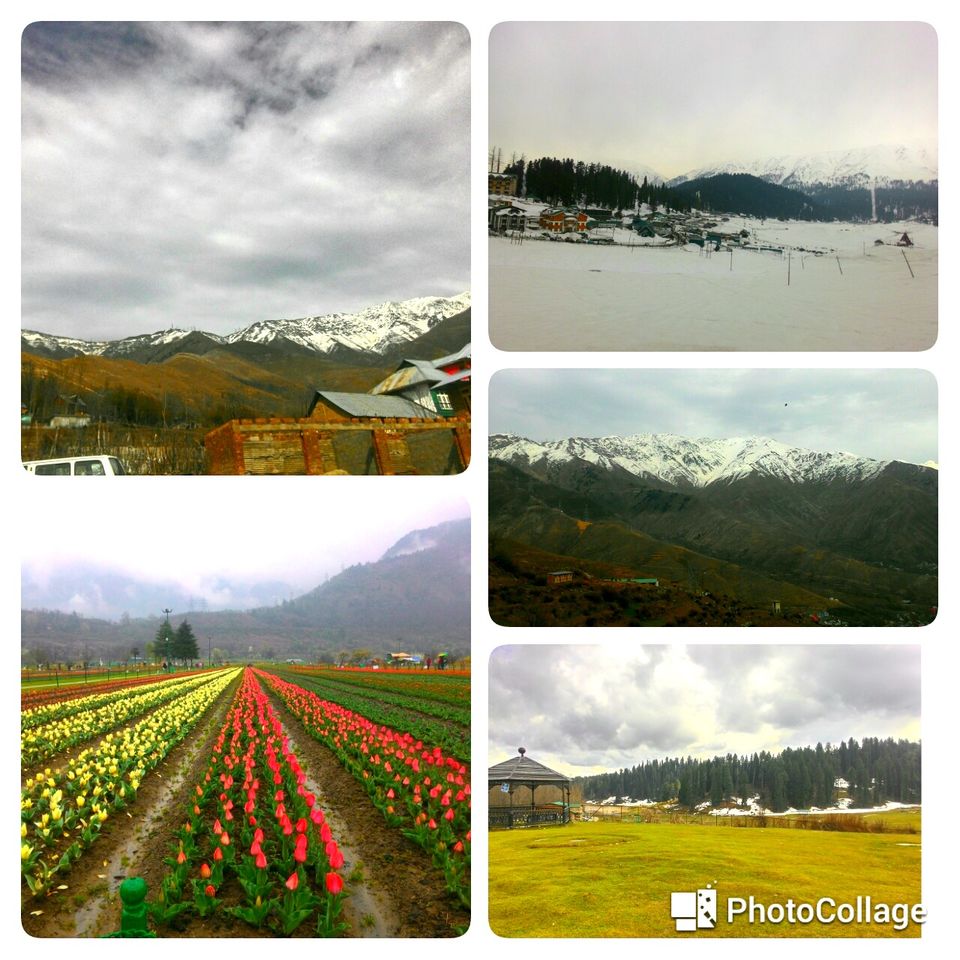 The Kashmir I was seeing this time was totally different and I am happy that my family convinced me for this trip. It was a three day trip excluding journey and in these three days at Srinagar, we actually witnessed three different seasons. May be this is the beauty of this valley, may be this is why we call it heaven on earth.