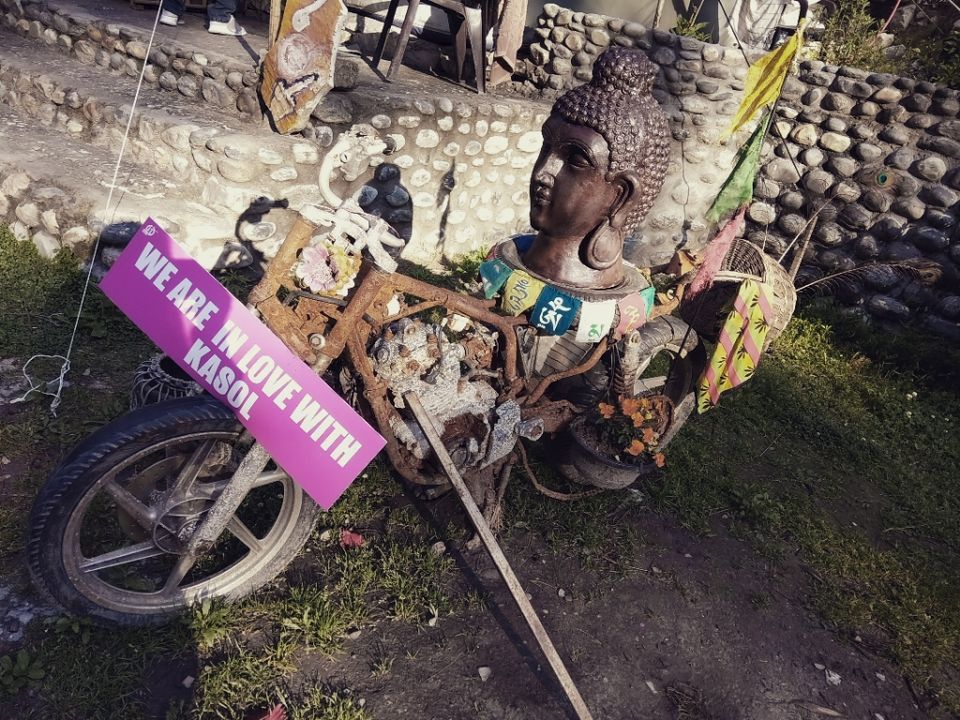 Backpackers Heaven- Kasol
After reading a lot about Kasol, in April 2018, I decided to have a face off.
Somehow, convinced a friend of mine and started from Delhi to Kasol direct bus (KTC) starting at 8 pm from RK Ashram. After Bhunter, the way was really tricky. The roads were narrow and the bus was broad so the bus driver faced a lot of problem reaching Kasol. Finally, by 11 am next morning we managed to reached Kasol.
Kasol is the pride of Parvati Valley. The best way to explore this valley is by indulging into hiking and trekking which will make you fall in love with Kasol and its panoramic beauty.
So, we decided staying in camp (river side) rather than hotel rooms. After reaching kasol, we crossed Parvati River thru bridge, did trek for 2 kms and finally reached Sosan. Sosan is such an isolated place, there are few camps near Parvati river, and we stayed in Himalayan Camps. It was beautifully decorated camps, near river. Wow, we (two girls) at a place like forest and nearby flowing river Parvati. It was really an amazing feeling. The air was fresh, the nature scenes were amazing, the food was mouth-watering and the sound of flowing river was soul pleasing. What else, one can wish rather than this perfect combination. 
After check into the camps, we rushed for river. The water was so chilled that we even were not able to keep our legs into the water for more than 30 seconds. Sitting near the river, having amazing Meggie and seeing that mesmerising valley, made me feel connected with the nature.
After spending good two hours there, we went to Kasol and did Window shopping as the stuff was really costly there. The 60% crowd was from Israel and I found Bob Marley Posters everywhere like Bob Marley is the God.
As Parvati valley is know for its "HASHISH" hence its really easy for people to get hash there. So that's the reason for Israeli people staying in Parvati Valley.  When we were coming back to Sosan in the evening, we sow groups of people, sitting near the river, playing Bob Marley (No Women No Cry) and having hash. It was altogether a different world. The hash was in the air now.
Once we reached our camps, the bonfire was all set, the food was ready, the sound of the river was echoing and the background music of Bob Marley made me sit there until midnight.
Next Day, we started for Kheerganga Trekking, we reached Barshaini by local HRTC bus then started trek to Kheerganga. The trail goes through old traditional villages, forests, waterfalls and streams. The 13 kms Trek can be covered in 4-5 hours at a moderate pace.
The route has many villages and cafes and overall it is a comfortable climb. One can trek as solo traveller specially in peak season. Solo trekkers will always find company.
The way was really beautiful and eye pleasing. We also found one really cool group of people from Delhi and the trekking got really easy and comfortable with laughter. By noon, we reached the final place and we selected our camps along with the Delhi group people at the highest point of Kheerganga. Once we got our camp ready, had a power nap then we were set to take a bath in Natural Hot water spring (Pond). Wow, what a feeling! in 2-degree temperature, we were taking bath in really hot pond and gazing at snow covered hills from a distance. That Water is considered as pour and pious. It is said that taking bath from this water is good for skin and cures skin diseases.
After bath we were feeling fresh.
At night, Khan Bhai (Our Guide) arranged Bonfire and we along with the Delhi group had Musical Night. At 2-degree temperature, we were sitting near fire, staring at hills and having booze with Melancholic music. Sometimes meeting with strangers, connecting with them and knowing their stories is really amazing. Hence the whole day went really well and adventurous.
Next Day, we started early so that we could get down with ease. The return was little tricky as we had to mind our steps while getting down as there are chances to get slipped. By noon, we were at Barsaini and then took a cab till Kasol. At kasol our KTC bus was all set to depart for Delhi.
After overnight journey, we reached Delhi and then again, the same home and office cubical but with a lot of stories of camps, new people, food, trek and adventure.
Notes:-
Only KTC bus services will take you from Delhi till kasol directly and the services are good.
Cost breakup:-
Delhi- Kasol- Delhi - 2000/- INR
Staying in camps- 500-800/- INR for two person
Food:- nominal prices
Cab- Kasol to barsaini- 600/- INR
The whole trip won't cost you more than 5000/- INR.
Keep lots of chocolates while starting for trekking as you will need energy while trekking.
Cheers guys...looking forward for ur Kasol stories!