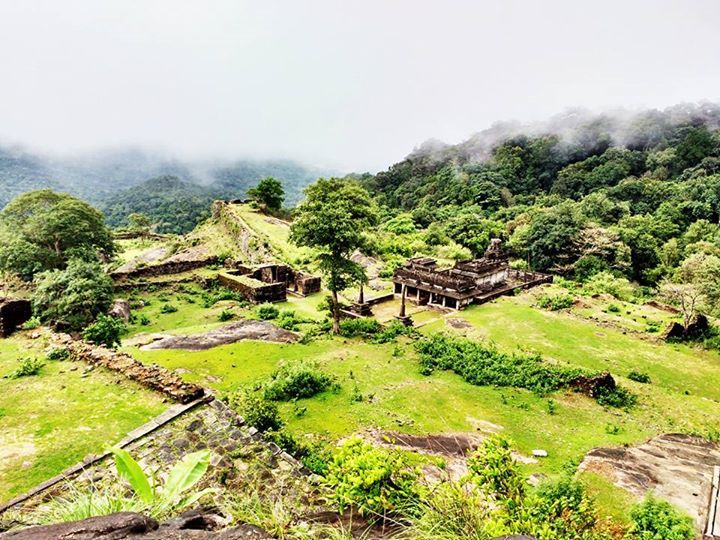 Overview:
Kavaledurga Fort is a 9th-Century Fort, located about 17 kms from Thirthahalli, Shivamogga. It was then renovated and it is also called Bhuvanagiri which was a stronghold of the Nayakas of Keladi.The magnificent Fort is located at an altitude of 1541 meters from where you can feast your eyes on the breath-taking views of the Western Ghats and the Varahi and Chakra Rivers. It has three lines of walls, which are constructed of huge granite blocks following the natural contour of the hillock. Each fortification has a gateway flanked by guard- rooms on either side. In between the fortifications there are temples, a ruined palace site and a basement of structures. At the summit of the hill almost at the centre is a small temple popularly known as Shikhareshvara or Srikanthesvara temple.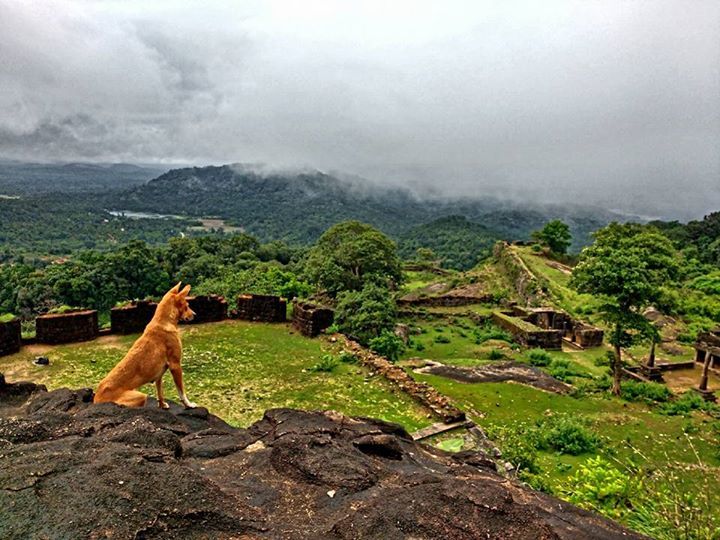 My Experience:
It is the continuation of one of the unforgettable Kodachadri rides (here is the link http://sudharshanh.blogspot.in/2016/06/kodachadri-divine-berth.html ). After getting back to base point of Kodachadri, we headed back to Hosanagara for stay on that day. The next morning we rode to Kavaledurga which was about 40kms from Hosanagara.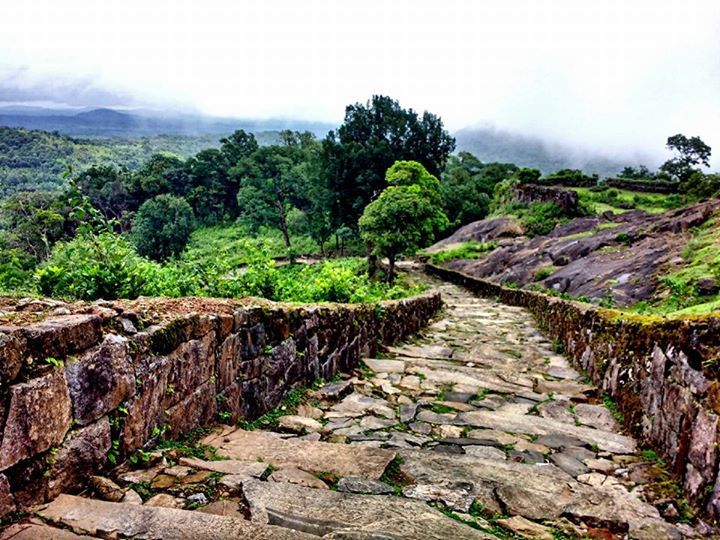 Around 8 am we reached the place, but there was a notice about fort timings i.e. fort will be opened between 8:30 am to 5 pm. We waited for a while then started our trek to the top point. It's not that easy to trek, but the fort won't disappoint you with it's surrounding beauty. It will take almost two hours to go to the peak with short breaks in the middle. However this fort is ruined to a large extent already, as now there are two fortresses left. In the past there were around 15 temples of which only three temples can be seen. Those three temples are Lakshminarayana, Kashi vishwanatha and Shikareshwara temples. One can find the remains of the jail, swimming pools and few the other things.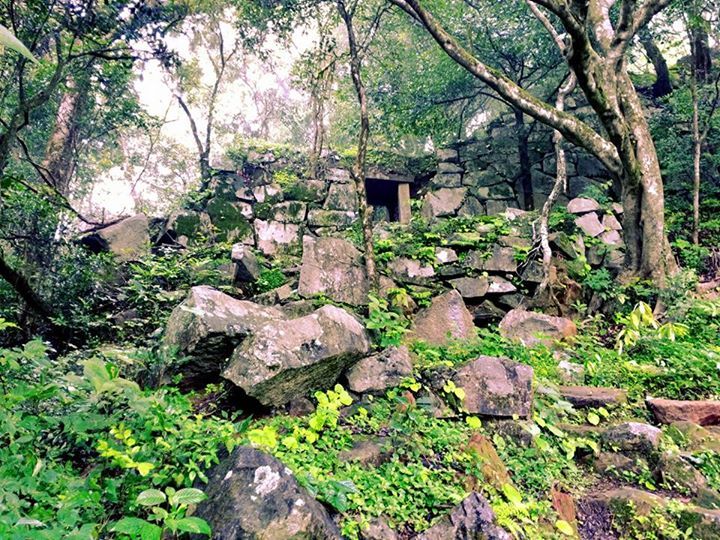 Food/Accommodation:
There is no option for food/Accommodation here. Nearest place would be Thirthahalli which is 17 kms from here. Best place for food in Thirthahalli would be Hotel Sahyadri which is reasonably priced.
(https://www.google.co.in/maps/dir/Kavaledurga+Fort,+Kavaledurga,+Karnataka/hotel+sahyadri+thirthahalli/@13.7136392,75.1235234,12z/data=!4m13!4m12!1m5!1m1!1s0x3bbb7a304187762b:0x70aa061c5cbeb340!2m2!1d75.1231598!2d13.7180295!1m5!1m1!1s0x3bbb71871f8b5281:0x1e7f31536c24a7c7!2m2!1d75.245081!2d13.6908925 )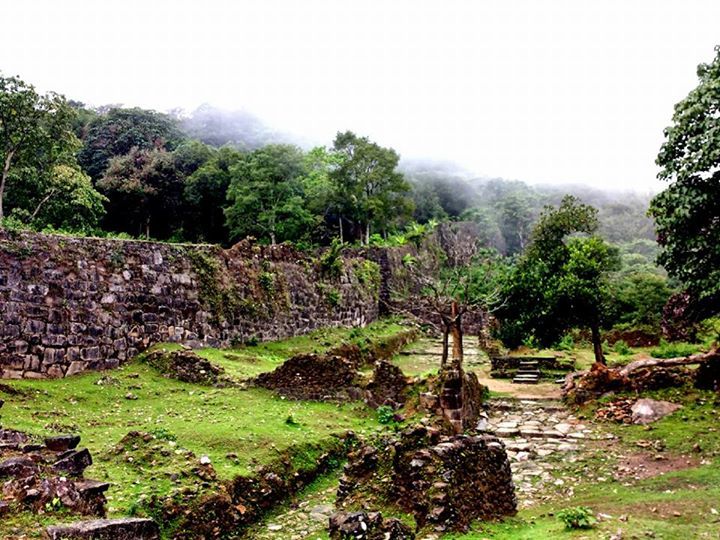 How to reach:
If you have a plan of going to Kodachadri then it will be around 423 kms via Chitradurga whereas if you are planning directly to Kavaledurga then it will be around 347 kms via Bhadravathi from Bengaluru.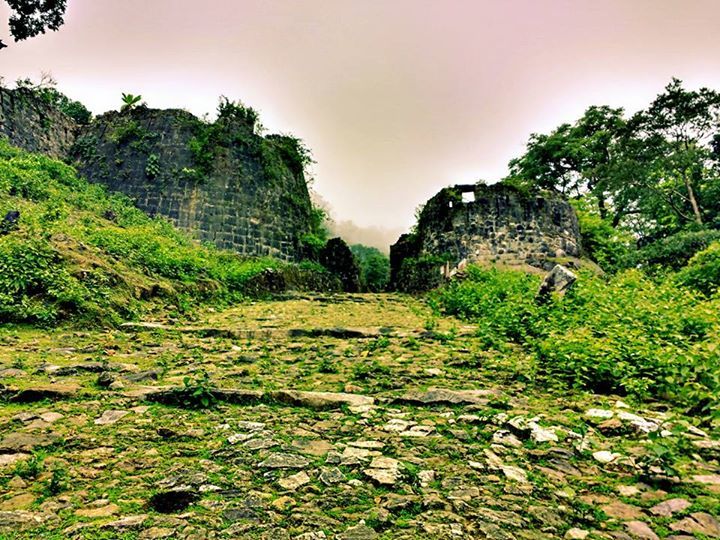 If it is former option, then from Nagara taluk reach Kimmane village via Thirthahalli road. One would find difficulty in finding the place as there are no sign boards, between Kimmane and Saluru, you'll get a right deviation which should be taken. Whereas if you'vedecided to come from Thirthahalli, then after Saluru village take left deviation to reach the fort.