Fort State: In ruins
Difficulty: Medium
Endurance Level: Medium
Things to carry: Two liters of water, snacks, Trekking shoes.
Best time to visit: Any time of the year
Type: Hill Fort
Time to Explore: Three hours
History: Jawali vally was traditionally ruled by More clan. Chhatrapati Shivaji Maharaj captured it and brought it in Swarajya. It was later ruled by Mughals, Marathas and Britishers. It is noted that Britishers constructed this road. Like Naneghat, this route was also used for trade which connects mainland to Konkan region of Maharashtra. It must have been used a watchtower to observe the transport as well as to provide security.
Kavlya fort lies on the border of Pune and Raigad distrcits on the Varandha Ghat road. It is approximately 30 km from Bhor towards Mahad. This road divides the fort into two parts.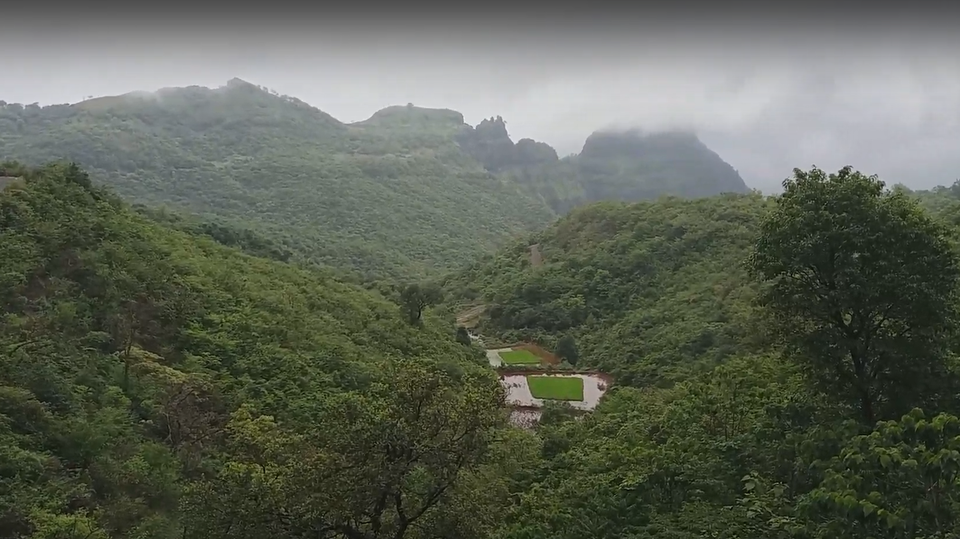 The path to go to left part of this fort lies 1 km before the path to the right side. A casual 15 minutes of walk on an unpaved road leads us to the top.

There is a temple of Waghjai Mata. It is a well constructed temple having the idol of goddess carved out in the rock. There is a iron gate to the temple.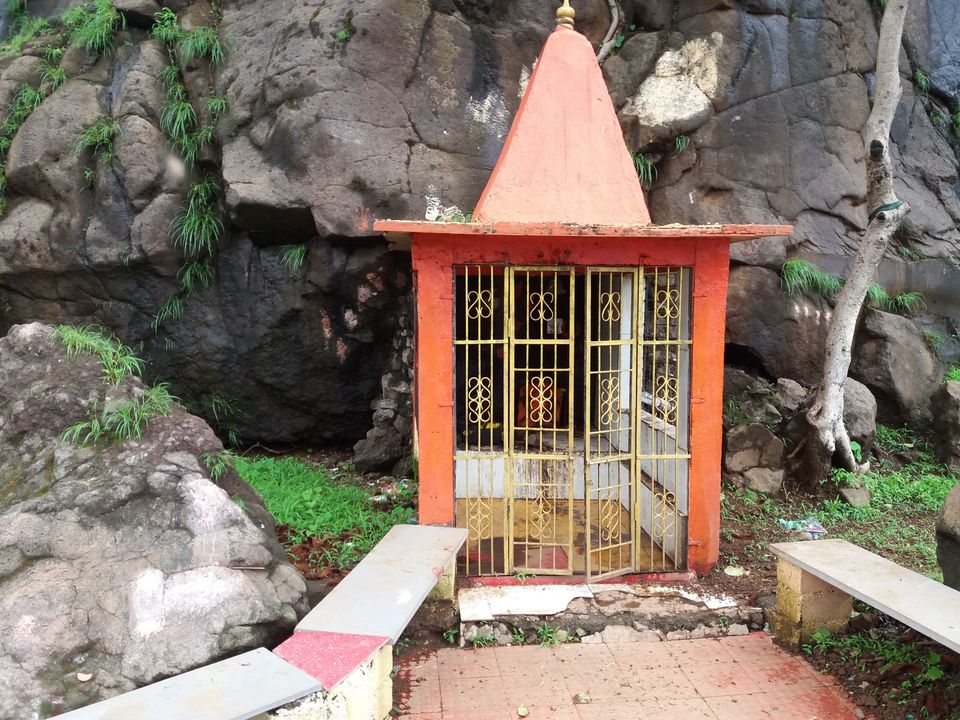 Just in front, we can see the bastion on the other part of the fort.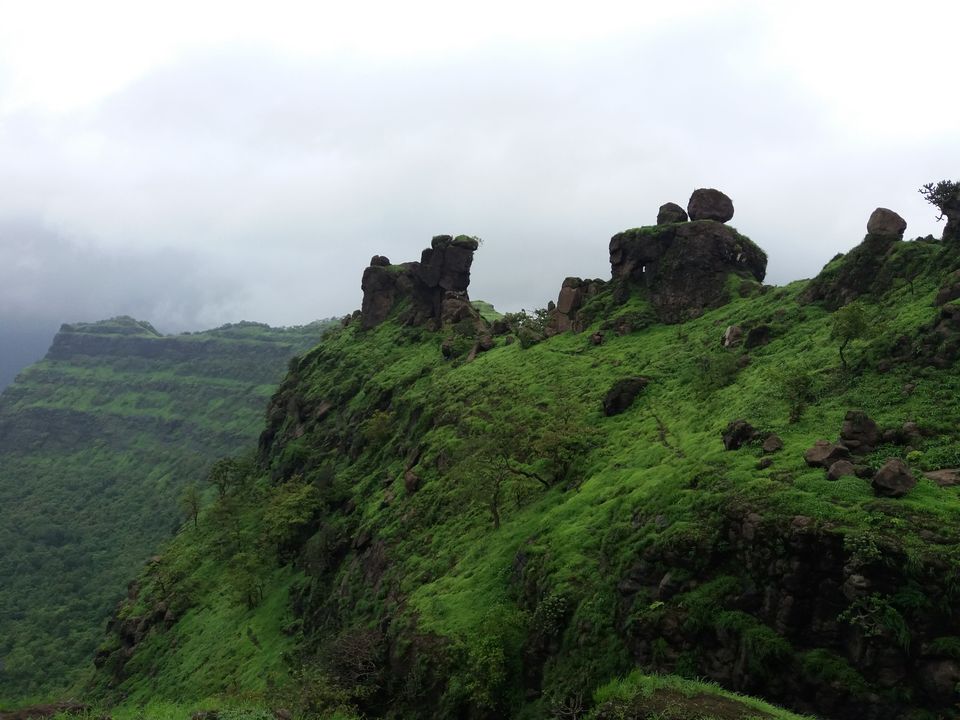 If we walk back a little and then move towards the right side, we can spot 7 water tanks which were used to store water and also as a major source of drinking water. These water tanks are made by digging the rock and have a shed on it which causes less evaporation of water.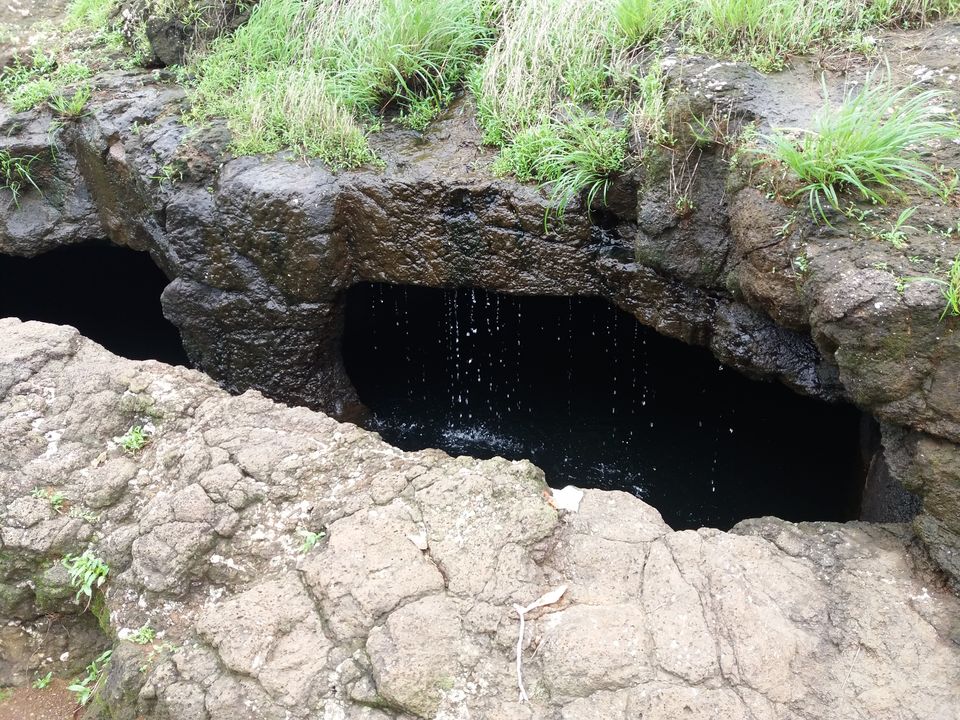 If we go to the peak from here, we get a mesmerizing view of downhill. The clouds were moving in and around quickly blocking the sight. It started drizzling when we were getting down and suddenly it was raining heavily. We were completely drenched while we got down.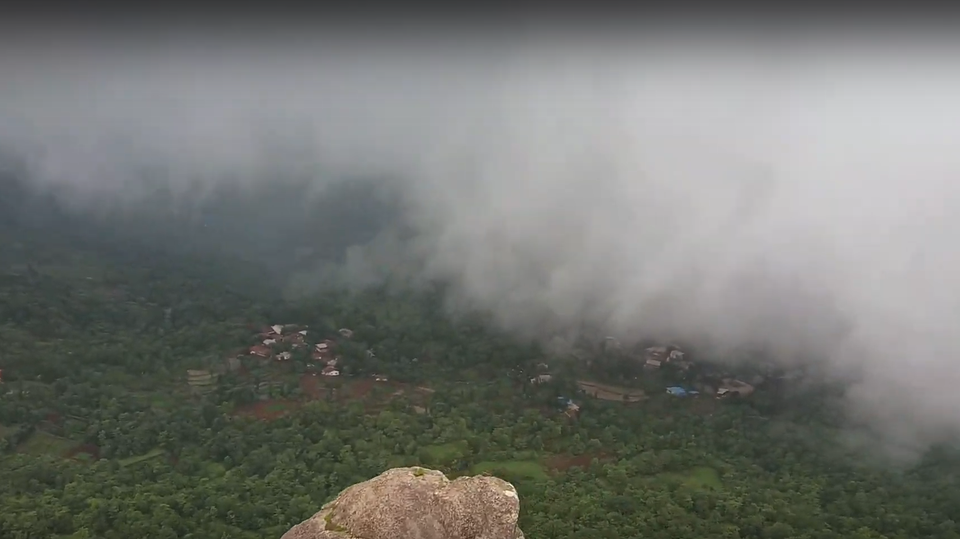 As the rain slowed down, we got into our vehicle and moved further to see the other half of the fort. There is a board which displays information of the fort and its history.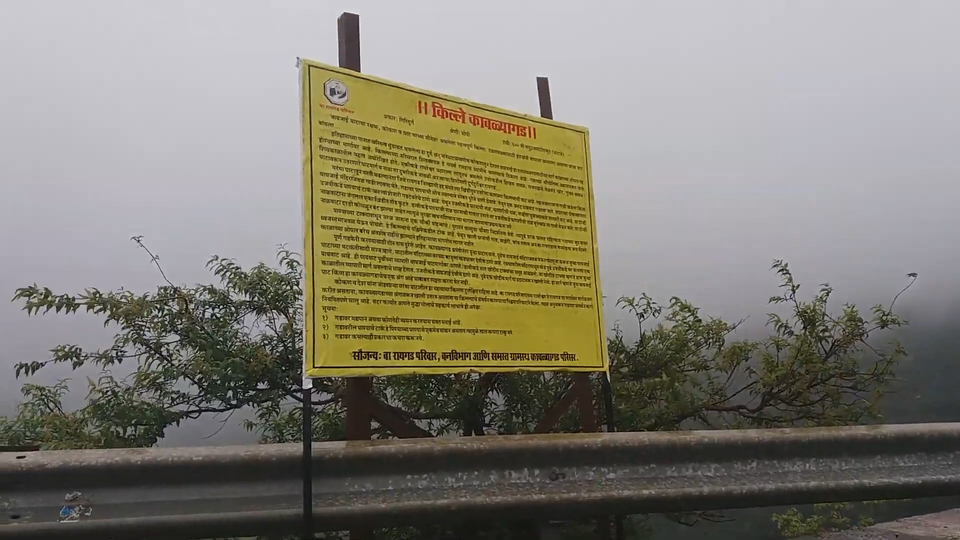 A straight path from here leads us to the fort.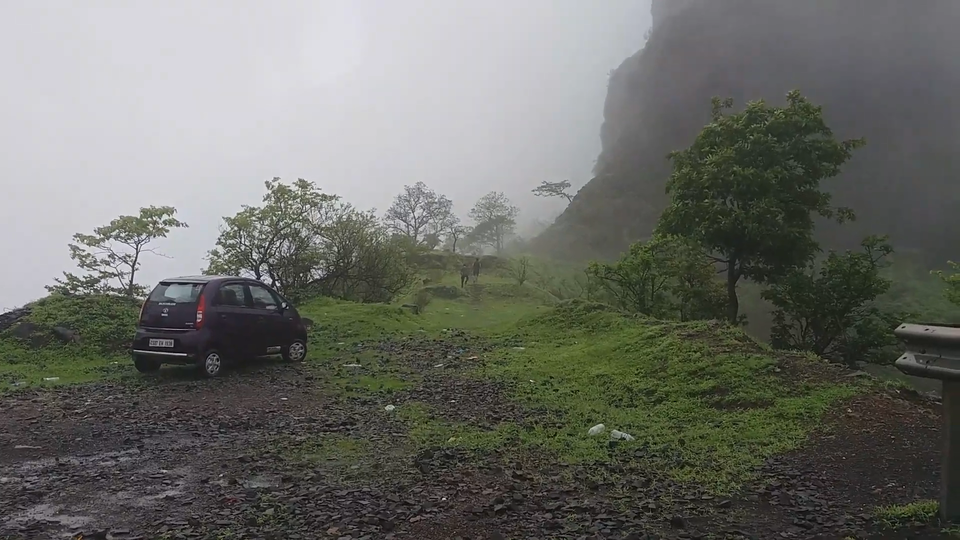 We come across few rocky steps at the start.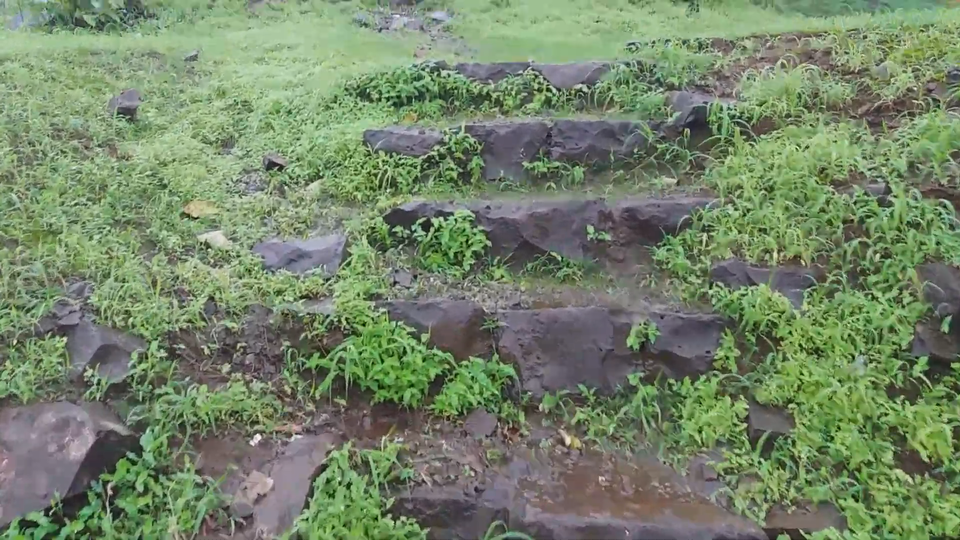 We need to be cautious while walking on the narrow trail. On the left side there is a deep valley while on the right side there is hill.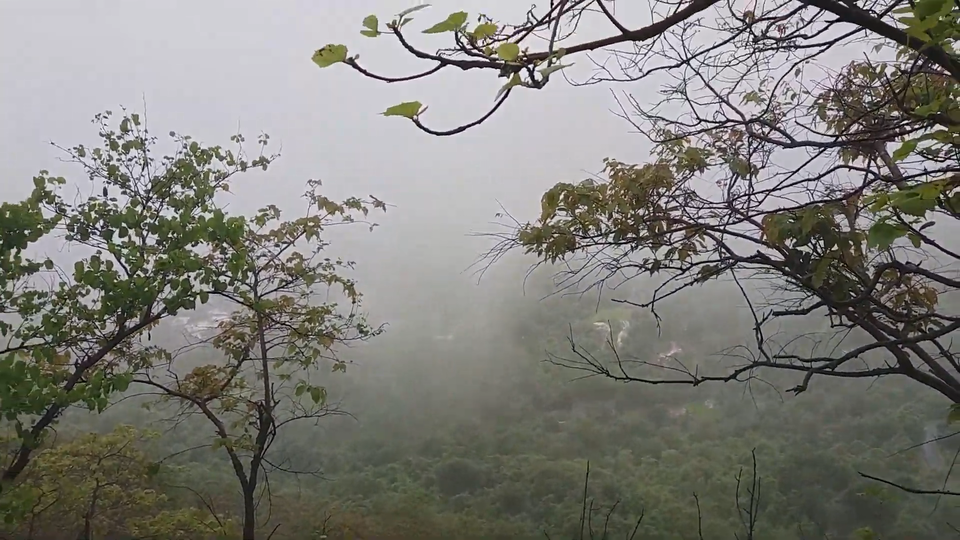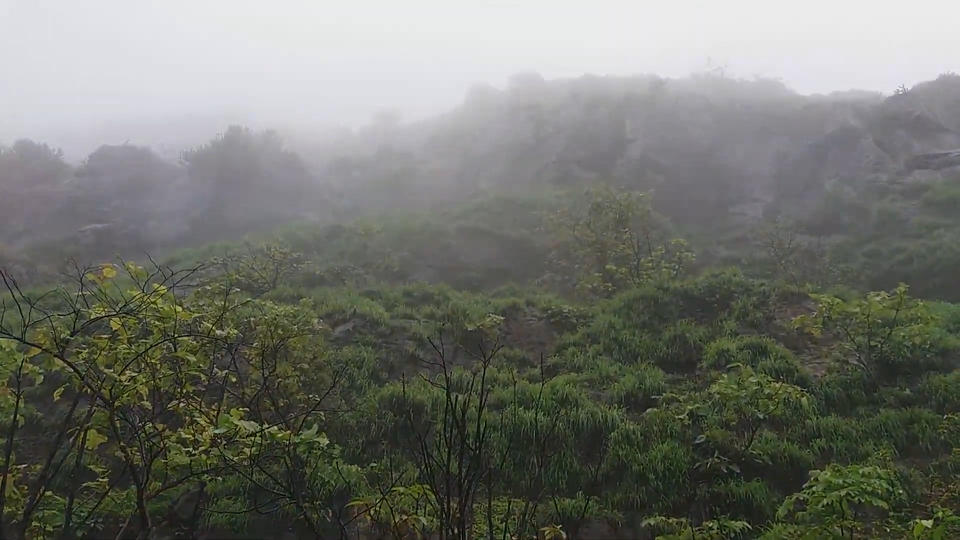 On the way, there are arrows painted on the stones that show the direction we need to follow.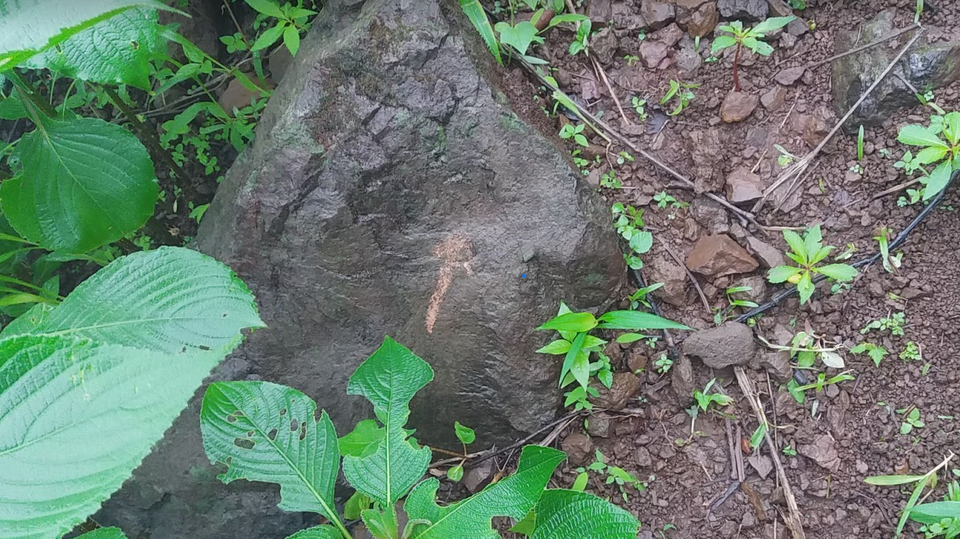 Noticed dew on the grass which was looking refreshing.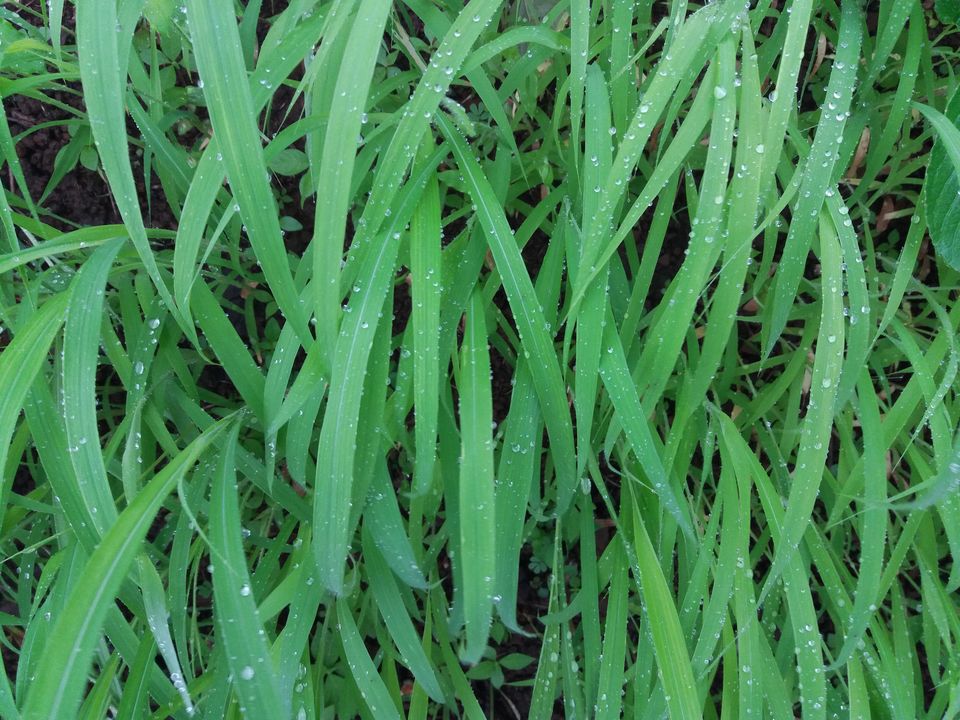 We need to keep an eye on the trail which takes right turn after some time.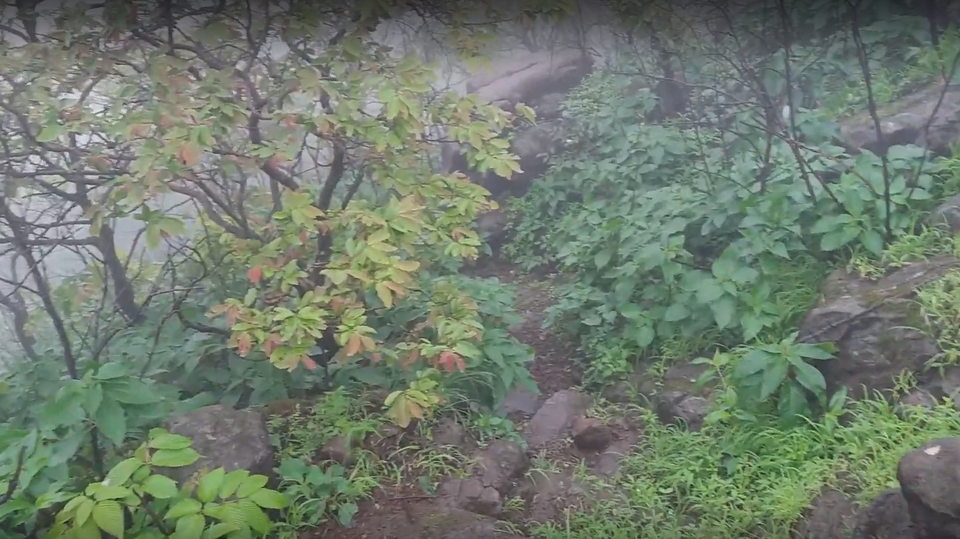 As we cross a small hill, we can spot the plinth of a structure.
After 10 minutes of walk in dense forest, we come to a place where we can see the dilapidated temple and a small water tank beside it. The temple has no remains inside.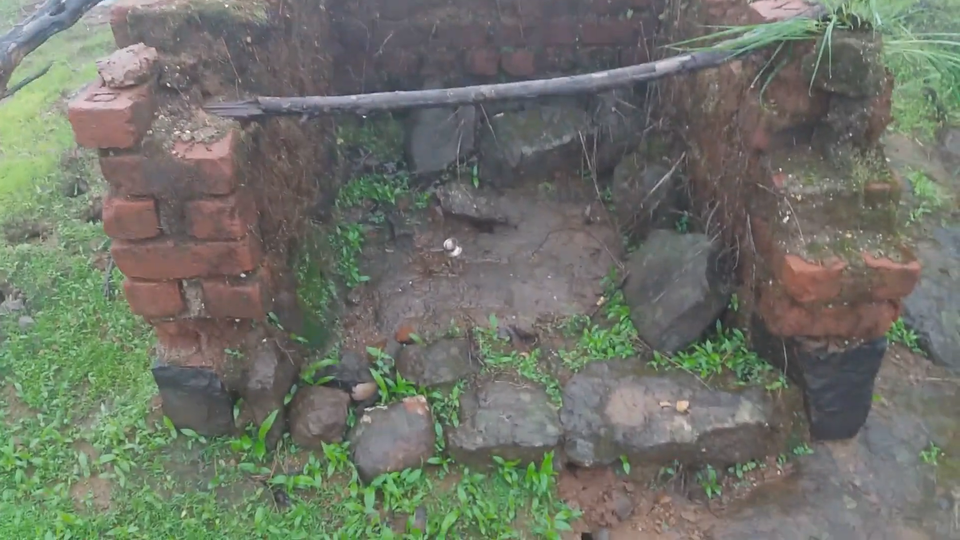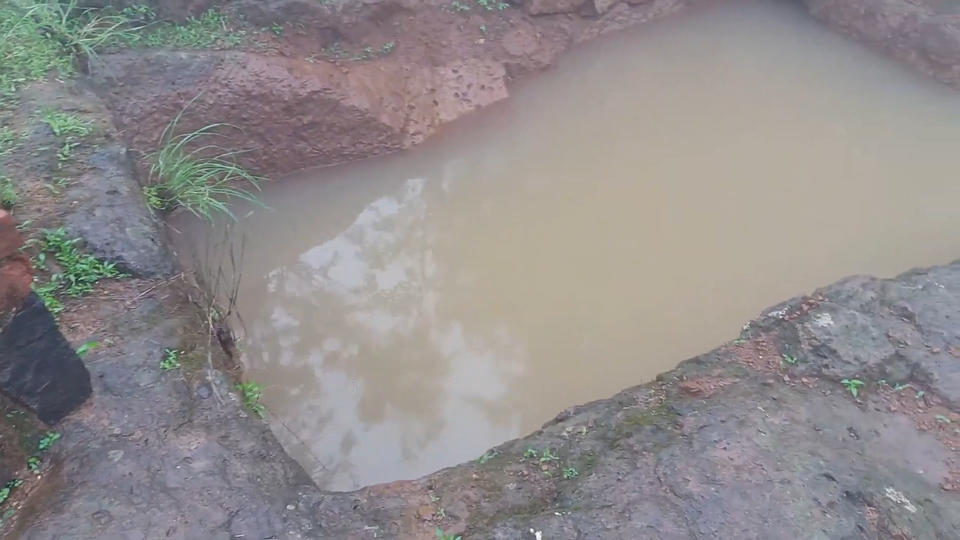 Behind the temple, there is a board hanged on the tree. Right path takes us to Navhin peak and two villages while the left turn goes to the only bastion on the fort.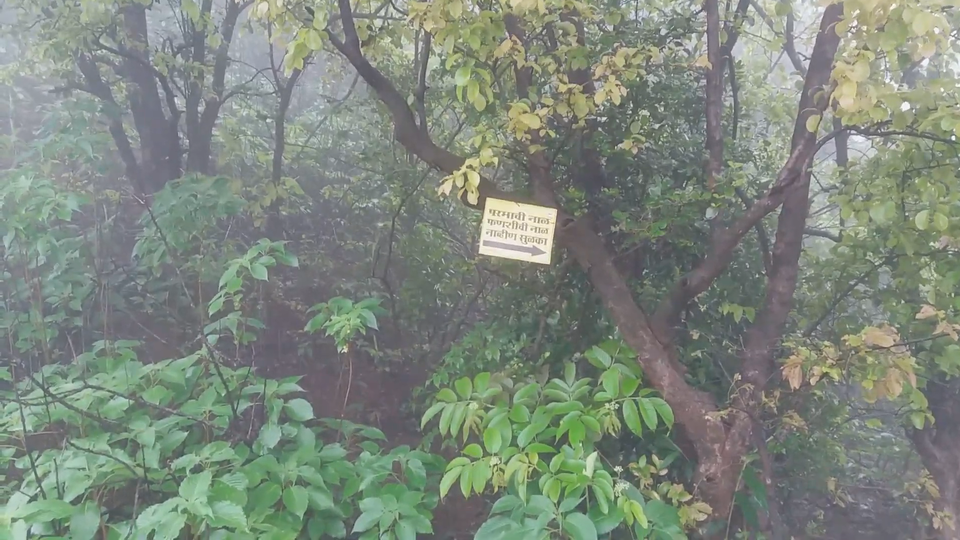 We took right and decided to explore the peak first. At regular intervals, there are display boards that lets us keep track of the route.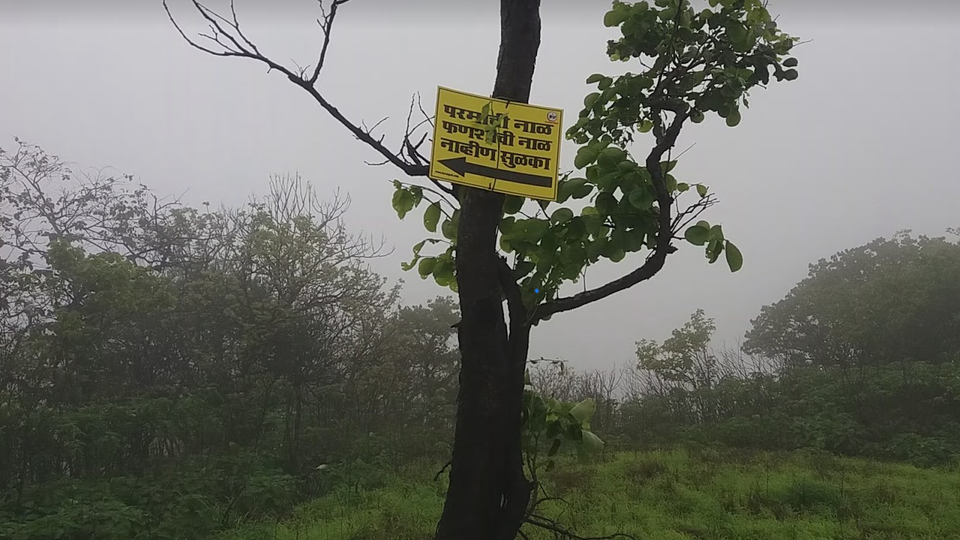 We have to descend a hill to reach a place where a path towards right takes us to peak and Fanshi village while left turn takes to Parmachi village. Since there have been landslide on both these routes, it is advised not to go further.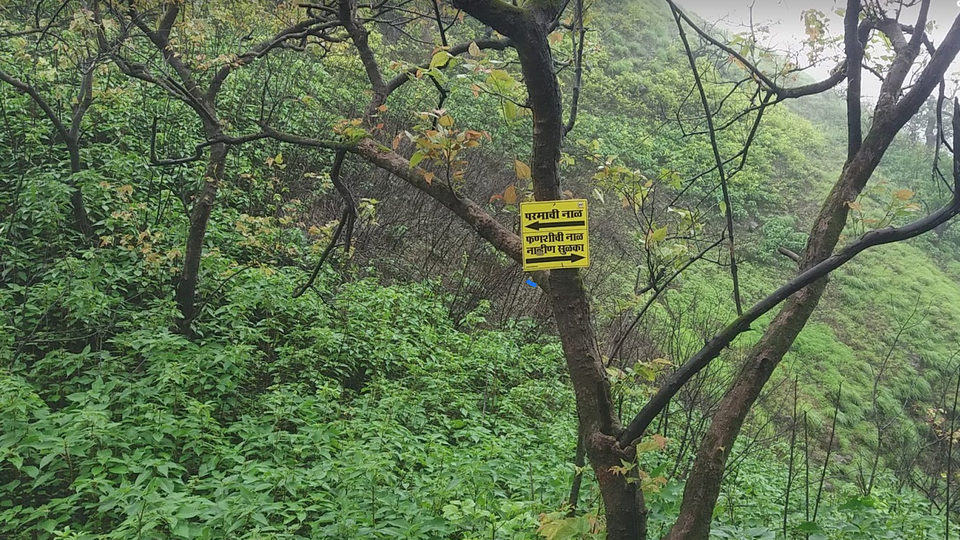 We have to return to temple and go right to reach the bastion. On the way there are some rock bricks scattered around which denotes the presence of a room.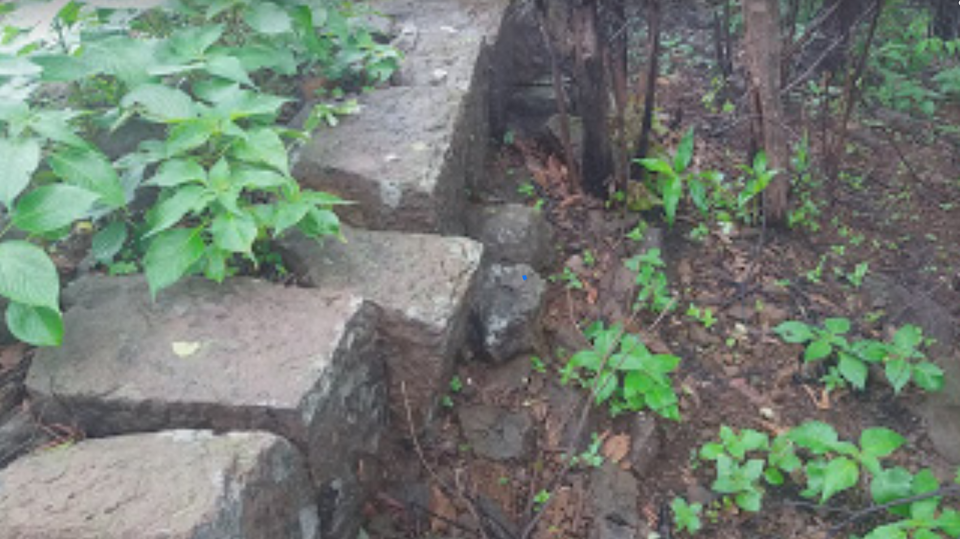 There is a saffron flag hoisted here.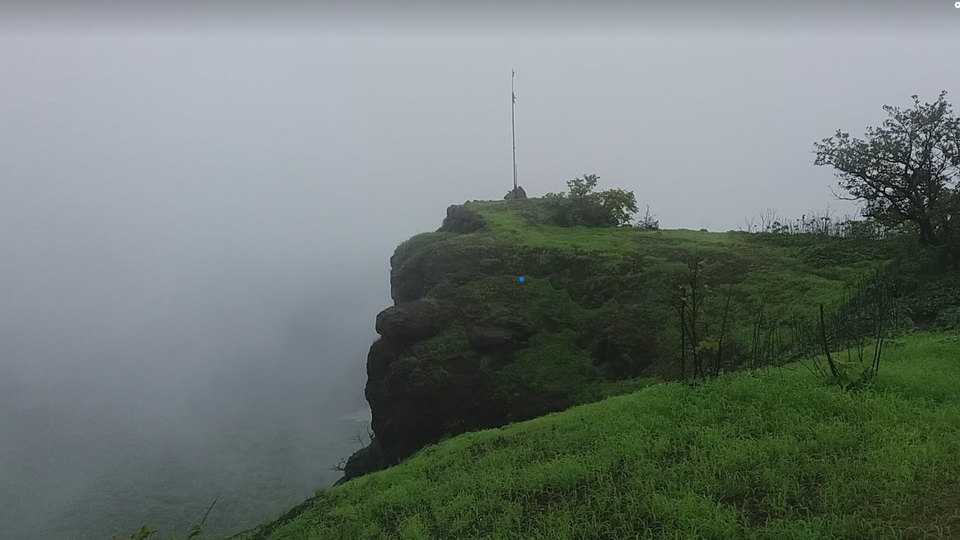 We get a bird's eye view of the Konkan and surrounding area. Especially during rainy season, it is a treat to eyes. Such a lush green environment is hard to find in the city. Watching waterfalls all over the hills is a spectacle to behold. We spent some quality time witnessing and praising the beautiful nature.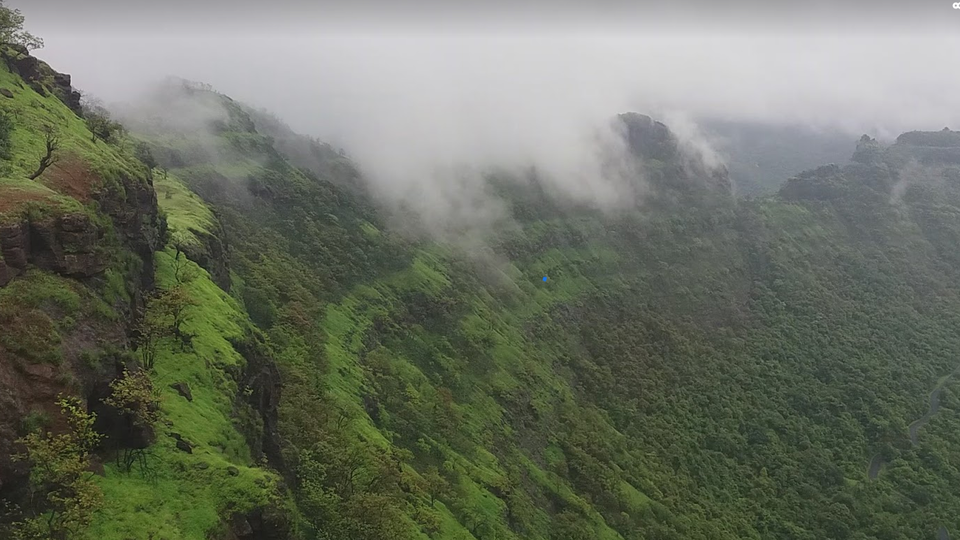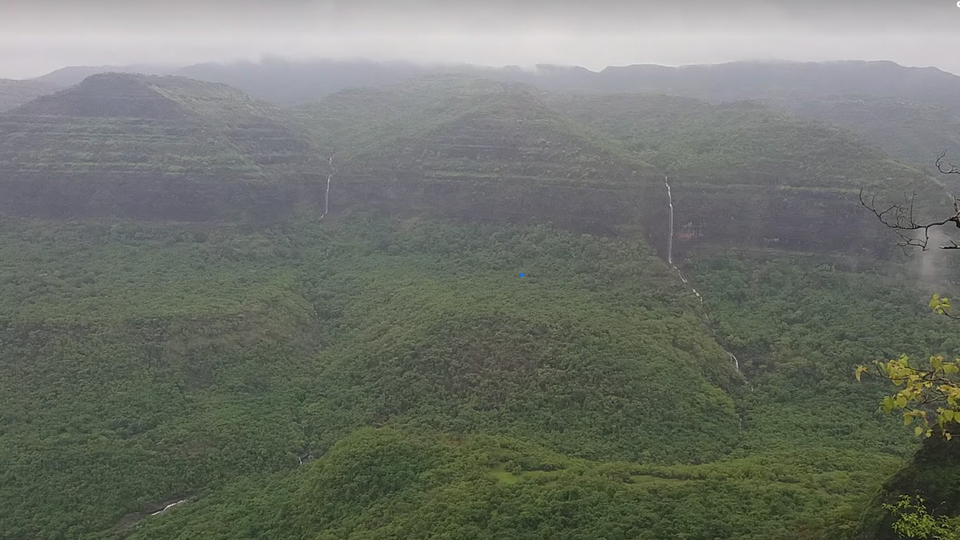 With a heavy heart we had to bid adieu and return back.
You can watch the vlog below.
Leave only your footprints, Take back only pleasant memories.