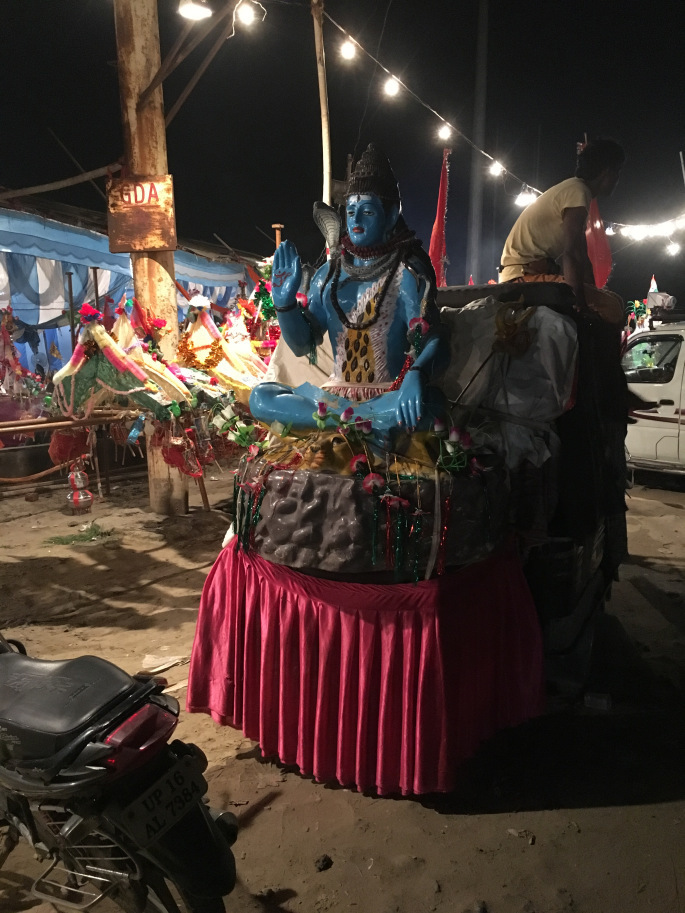 Dated 23 rd July 2017
Ghaziabad
I would like to start off by giving my out most gratitude to Lord Shiva, who made all this possible. Without him, nothing would have been possible. The world wouldn't be there, I wouldn't be here to write about my experience and most of all you wouldn't be here to read it.
Har Har Mahadev. Jai Bholenath. Jai Mahakaal.
Om Namah Shivay.
So, my love for anything even remotely linked to Shivji has been there for 3-4 years now. I enjoy a special kind of bliss in saying his name and talking about him. Now when it comes to pleasing my Lord, I used to do my due diligence by consuming Bhole ka Prasad as well. But due to some unforeseen circumstances that occurred in my life I had to put a stop to it. I realized that I can't just waste away my life, just like Babas, not just yet at least. I love listening Shiv Tandav Strotam way too much. It soothes my soul and also fills me with a positive vibe, that's hard to put in words.
By this time you can imagine what type of a person I am. I wanted you to get a mental picture of me which would help me in telling what lies ahead.
I had been meaning to go as a Kawad for 2-3 years now. Let me explain what a Kawad is. Basically, devotees of Lord Shiva go to Haridwar, Rishikesh and GauMukh(according to their devotion) and bring Holy water from River Ganga. That Holy water is carried in bottle or a container, which is usually attached to a small Float altogether known as Kawad. They pour this holy water on Shiv ling in their chosen temple. All of this has to happen in a given time period of 10-15 days during the rainy season( also known as Sawan), usually in July. They choose to walk or ride, depending upon their dedication. Now when you have choosen walking; there are three types of Kawad, that you need to know about:
) One person standing(in a group of atleast two) Kawad ( Khadeshri Kawad) ) Barefoot Kawad ) Not barefoot Kawad
By the way these Kawads are brought in pairs which means you have to take this journey twice.
It is a full-on festival of people covered in orange, dancing to the tunes of Lord Shiv, travelling from their home to collect Holy water and then travelling back to their home.
As it was my first time I wanted to go by a car so that first I can get a gist of what all happens and in what manner. This year I really wanted to make my dream possible but none of my friends wanted to be part of this journey. I was unable to live my dream this year. But Since I wanted to be a part of this journey so much, a known Baba(who has done Khadeshiri Kawad two-three times, himself) suggested that I render my services as a doctor to the people who are actually taking this trip in a nearby Shiv Kawad sewa shivir. My job was to get all the medicines and provide them to the Kawads. I used to bandage people as well. I gladly accepted the job as it provided me a chance to interact with Kawads and help them in their hour of need. That's how I became the infamous Kawado ka Doctor.
From, July 15 th to July 21 st I was at the shivir from 1pm to 10-11 pm doing rounds in the shivir and the temple (which was behind the shivir). I used to ask each and every Kawad if any sort of medical assistance is needed. One thing that I loved about that place was that everybody used to call each other by the name of "Bhole", meaning they used to refer to each other as Lord Shiv himself. It is said that Lord Shiv takes this journey along with his wife Mata Parvati to enjoy this festival which is hosted in his glory.
I have got to know a lot about Sawan in these past days. It is said to be that month when Lord Shiv drank Halahal(most dangerous poison, which was a bi-product of the Samudra Mathan). Due to the heat that produced in Lord Shiv's body after drinking this poison the Shiv Linga is bathed in running water constantly 24 hours a day and 365 days. I believe that even the rains occur to keep Lord Shiv cool and calm during this time period. It is said that Lord Shiv narrated the Amar Katha(story that grants immortality if one hears it) to Mata Parvati, in this month only.
Enough with the history lesson, now coming back to my story the second most important question is that why I wanted to write about this experience?
Is becoming a makeshift doctor for Kawads really that a big thing to write about? Yes.
But is that the sole reason behind it? No.
To be really honest, the reason why I wanted to write this story is somewhat unexplainable. But I will try to my best to uncover it, as we go along. First and foremost was the feeling that I got when I was there, doing my due diligence. I sincerely felt like I was Lord Shiv himself, who has come down from Mount Kailash in my form to help and interact with his devotees. Secondly, I felt pure bliss and ecstasy just being there and I haven't ever felt like that even when making love. Last but not the least I wanted to share all this with you, because I believe in sharing and caring.
Details on how my day routine there:
I used to go to the shivir, asking every Kawad if needed any medical assistance and provided the same to the needy. After doing this I used to go to the mandir behind the shivir and meet Baba. He used to give me prashad and then we used to have a little word. After doing this I used to fill one bucket of water and bath Bholeji in the that water. After ushering water over Bhole, I used to tend to any Kawad who is in the mandir, whosoever needed medicines or in need of bandages. After that it was time for a second round to the shivir and the same routine of asking Kawads" If they needed any medicine" continued. This routine was followed diligently, every hour. At times, Kawads used to ask me if they needed to pay money for the same and I used to smile and say" Paise lene hote to main yaha nahi hota. Yaha to main sewa ke lie aya hu, aur sewa muft ki jati h."
During evening time I attended the aarti in the mandir and the sounds of bells filled me with immense energy to keep going on. Afterwards, Shivji and Parvatiji used to come to mandir to dance (hired dancers). They used to change the whole environment. They provided with a little entertainment as well as pump us up with more positive energy.
While in Shivir during evening, Kawads used to dance their asses off,one last huzzah before going to bed. Funny thing was I somehow knew the DJ and the person running the shivir. So at times when I was bored from working I used to go sit behind the DJs console and mind you for me it's a big thing. I have always dreamed of becoming a DJ, you know. I also worked as a messenger for Kawads whenever they needed anything other than medicine, which was possible but not in my hand. I used to convey the same to the guy who ran the shivir. I met an old uncle there as well. He used to man the medicine counter in the shivir. He was a cheerful guy who was in his late 60s or 70s. He used to come on his bicycle to do his part. He told me he even sets up the same medicine counter in Ram Leela as well which happens every year in October.
Basically, this is how my days went there. For five-six days I used to provide free medical service to anyone in need, talk to people from different regions, listen to their story, all the hardships they have been through to reach here and all this while dancing to the tune of Lord Shiv. One day when I was doing my duty at a another shivir, an accident happened right next to the shivir. A guy on a scooty, who was going to deliver it(scooty) to the customer got rammed from behind by a person in his car. The guy on scooty got pretty injured and bones were visible on one of his leg. Luckily, I was there doing dressing of one Kawad. That guy was brought to me at an instant and even though I get doozy while seeing blood, I somehow got the strength power through and bandaged that guy.
Back at the mandir since I was the resident doctor for the time being, I started getting odd request from everybody there. People from the nearby areas got to know that there was a doctor who was working for free. I started getting random patients, having random illness. I tried to tend to all of them. Children started coming to me with crazy open wounds. To be honest I was taken aback to see children in such a state and I did the best I could for them. Then what started happening, really put me off. I mean I understand if someone is in need of medical care and that's what I am here for. But when children come running to you asking for bandages just so that they can have a stock of the same at home, that's where it gets crazy. Even though I dint like it a bit but I did tend to their request. Because even though they are just taking it for future, but still it's hard saying no to a child!
Babas there, who never talked to me usually, started asking me for medicine every day. I obliged each request, as I was there to help anybody and everybody. One baba even asked me to get him new spectacles, which was a really odd request as to get new specs one needs to get their eye checked first. Funny thing was he didn't even tell me what was wrong with his eye, I mean did he have short-sightedness? Was he unable to read? Or was he far-sighted? I told baba that this would be impossible for me to do as one cannot give proper medication without knowing what the ailment it is for. After asking a series of questions I was able to figure out he had difficulty reading and he gave me his old reading glasses. One of the spoke of that reading glass was broken. So I took it to Cleardekho.com outlet near my place and asked them to repair it. I thought I would have to come back to get it once it was repaired and to my delight they said they will have it delivered to me at the mandir. Happiness was seeing baba able to read, once he put on the new reading glasses.
Now every time I go to the mandir I am greeted by many smiling faces, but none of them can compare to the smile that this baba gives.
One bad thing did happen to me though on the very last day. My slippers were stolen from mandir. As I love and adore everything I own, these slippers were also truly loved and cherished by me. At that time I got angry with Lord Shiv for not taking care of my slippers. I mean I was tending to his devotees for past five days, without food and with all the dedication and hardwork I can put. But then after some time with the help of my brother and another friend I realized that there is no point in showing remorse over what occurred in past. And with their help only I was able to leave my anger towards Lord Shiv. They helped me understand that maybe the person who took it needed them more than myself.
I personally think that Bhole liked my slippers too and wanted to try them on. ????
All in all, I had an amazing time. I loved each and every bit of it. The Good, the Bad and the Ugly.
Even though these was nothing ugly about it but I am a fan of Clint Eastwood. ????
Last but not the least, I want to say thanks to my brother and a friend, who went with me a couple of times to help me do my job. The Chemists who gave me medicines on discount and at one time on credit, as well. The Autowallahs who drove me to the shivir and back. To the Baba who gave me this wonderful idea,
with the help of which I was able to enjoy the Kawad yatra(without actually going to Haridwar or Rishikesh) not once but hundreds of times and all in a little different way than another. I also want to thank Akshita Gupta, who has been a good friend to me and has helped me edit this piece of art.
Jai Bholenath.