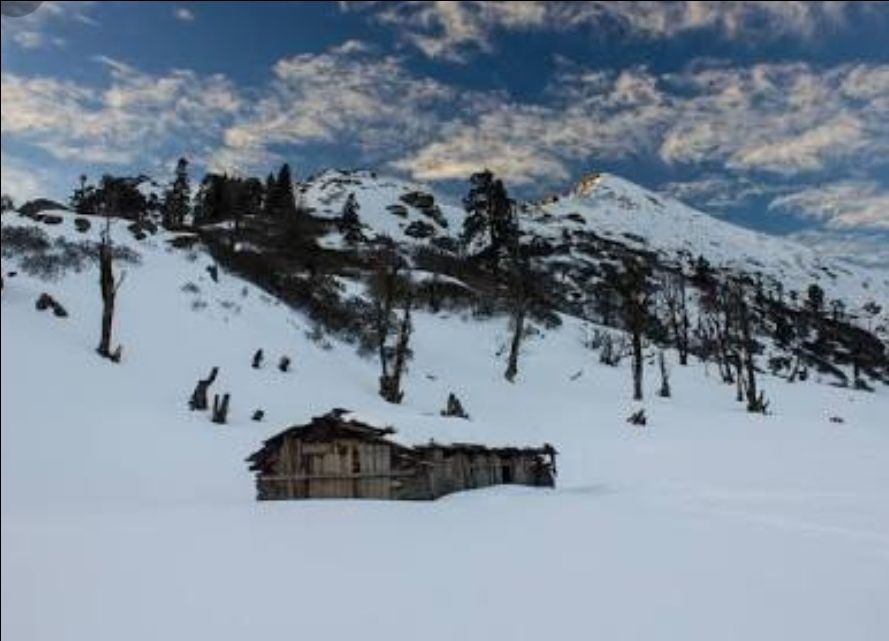 Cost : approx 9000/- per person
Traveling to unknown places excites most of us, and moreover, gives us a sense of independence.
Traveling alone is truly something that can only be felt and not explained. In an effort to share this experience with those interested, I've decided to pen down some of my trekking adventures. 
Region :- Uttarakhand 
Duration :- 6 Days 
Grade :- Easy To Moderate 
Max Altitude :- 12,500 Ft. 
Approx Trekking Km :- 22 Kms. 
Adorned with ravishing beauty of falling snow and fringed with pine trees, The trek is one of the most sought after snow trekking destinations in India. With falling winter snow it's a mesmerizing pictorial view and what's more attractive, is the view of the Mighty Himalayas from the trails right to the top. Nestled at a height of 3810 meters which is about 12,500 feet this is an ideal trekking trail.
With charming and captivating sights of snow clapped Himalayas, the verdant greenery, lush landscapes, myriad collection of flora, frozen ponds, to the sights of mesmerizing peaks, this trek have all the delightful marvels that a trekker wish to experience and view in his journey. Not only for the adventure seekers and trekkers, to enjoy thrilling challenges, the Kedarkantha trek is an ideal destination for the nature lovers to bask in the beauty of undisturbed nature and enjoy delightful and blissful moments with exhilarating experiences.
Its ravishing beauty and panoramic natural views that cannot be matched with any other destinations within the country. But among all the fascinating locations and thrilling trekking sites available it is the snow treks. The lovely campsites, where every site is unique in its own way and does not match the beauty with any other campsites in the journey. Another beauty of this trail is that it starts from dense pine forest where one can begin the trekking trail walking over the bed brown dried leaves creating a unique experience and a magnificent view that is absolutely unparallel. Last but not the least is the splendid jaw dropping breath taking view of the famous snow clapped mountain summits that comes into view as soon as one steps in Kedarkantha base and the view gets more stunning which each step towards the summit. In a whole the trekking tour promises refreshing and heart filled pleasure which makes the destination so attractive.
The snow clapped trekking trails and the buckets of snow at the base of the pine trees are a fascinating beauty to savor and which remains only available during the winter days. 
During this trail one can experience the beauty of lush meadows, dense pine forests, cascading beautiful streams, and gorgeous maple trees. However the views of the fascinating Himalayas make it up for all the hard work with its breathtaking views. The tour is one of the least expensive trekking tours and can be enjoyed with all ease and comfort.
Day 1: Arrival at sankri
Altitude: 6,400 feet
220 km drive - approx 10 hours
Trekkers should start from Dehradun at 6:30am in a bus. If u join a group that would be better.
Expected arrival time at Sankri – 5:00 pm
BSNL network erratic. Other networks are lost.
Day2 : Sankri to Jadu ka Talab
Altitude: 6,400 feet to 9,100 feet
4 kms trek, approx 5 hours
The trail passes through dense pine forests, maple trees, few streams and finally opens out to beautiful meadows
Stay in tents
Day 3: Juda ka Talab to kedarkantha base
Altitude: 9,100 feet to 11,250 feet
4 kms trek, approx 2.5 hours
Most of trail is on a ridge, under oak trees.
You will also pass through some meadows where you can spot shepherd log huts
Peaks :- Bandarpoonch, Swargarohini, Kala Nag and Ranglana stand among the others
Stay in tents
Day 4: kedarkantha base camp to peak and hargaon camp
Altitude: 11,250 feet to 12,500 feet to 8,900 feet
6 kms trek, approx 7 hours
Spend some time at the summit and descend back to the base camp by noon for lunch
Post lunch, descend down to Hargaon.
Reach Hargaon by evening
Stay in tents
Day 5: Hargaon camp to Sankri
Altitude: 8,900 feet to 6,400 feet
6 kms trek, approx 4 hours
Descend 2500 feet through dense pine forests.
Day 6: Sankri to Dehradun
Take a early morning bus and return back.
Written by:-
Aakanksha Pitliya