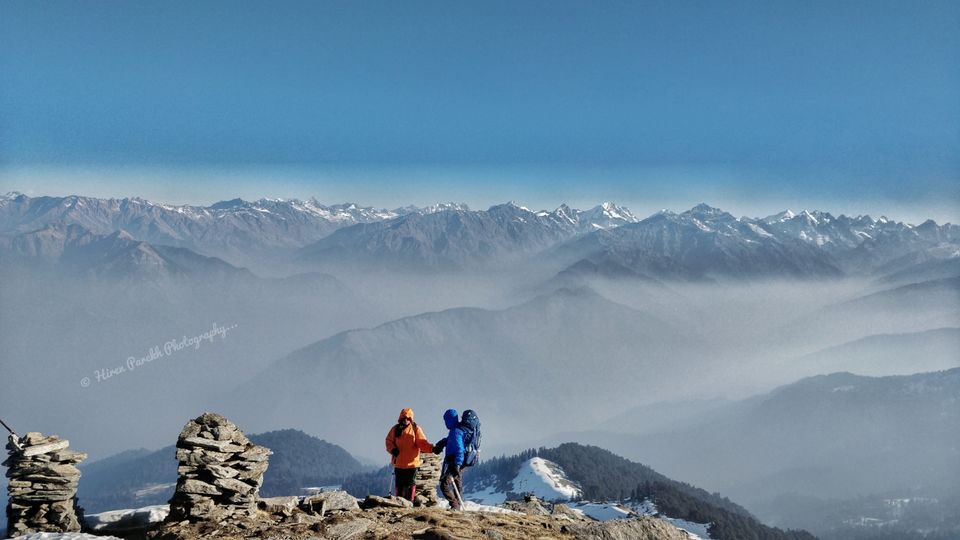 Kedarkantha is an ethereal peak that lies in the Garhwal Himalayas. Once you reach the summit, you will be able to see a temple that is dedicated to Lord Shiva. Kedarkantha is popular as a winter trek. The trek difficulty level is easy, making it suitable for beginners as well as first-time trekkers. In fact, anyone can go on this trek. Another great thing about this trek is that it is open all year round. If you're interested in going on this trek, then this Kedarkantha trek blog will be able to help you with the details.
Kedarkantha stands at a majestic height of 12,500 ft. Trekkers have to climb 6,000 ft uphill to reach the highest elevation point. The trek begins from a small village by the name of Sankri. This village is situated at a height of 6,500 ft and is at a distance of 10 km from the summit. So in effect, if you plan to go on Kedarkantha trek, you will be covering a total distance of around 20 km from start to end.
Getting to Sankri is quite easy. It is located at a distance of 200 km from Dehradun, Uttarakhand's capital. Dehradun is well-connected to all major Indian cities via air, rail, and road. Therefore, getting to Dehradun from anywhere in India, won't be a problem. From Dehradun, you can hire a private cab, or take a local bus to reach Sankri. If you take a private transfer, you will reach Sankri in about 6 hours. However, if you opt for public transport, it may take you up to 8 hours to get to Sankri from Dehradun.
The entire trek can be completed in around 6 days. On most days, trekkers have to cover a distance of 4 km or less. What this means is that during the entire trek, you will get plenty of time to explore the trails, relax at your campsite, and spend time with your fellow trekkers. For beginners, this trek can be of a lot of help.
Winter is considered to be the best time to go on Kedarkantha trek. Winter in Kedarkantha begins in December and ends in April. During this time, the entire trek route is laden with snow. Hence, most people consider it to be the best time to visit. However, this Kedarkantha trek blog is not biased towards winter trekking. A lot of trekkers consider Kedarkantha to also be one of the best summer treks in the Himalayas. Nonetheless, whenever you go on this trek you will have a great time. If you want to get started with trekking, you should definitely go on Kedarkantha trek.
Some of the Best Campsites
Kedarkantha is considered to have some of the best campsites in the Himalayan region. To give you an idea, we will take you through two of the most famous campsites that fall on the trek route. The first one is Juda Ka Talab. It is a lake located at a distance of 4 km from Sankri. The lake is famous because it freezes during the winter months. Trekkers tend to walk and play games, right on top of it. During summers, the lake pulls animals and birds from the surrounding areas. You can sit for hours near the lake trying to catch a glimpse of exotic birds and animals.
Another famous campsite is Kedarkantha base camp. Located on the foothills of the peak, it is popular for its proximity to the highest elevation point. However, there is one other reason that makes it quite popular between trekkers. Watching the sunrise from the base camp is nothing less than a ritual. Surrounded by high and mighty peaks, this campsite sees some of the best sunrises known to man.