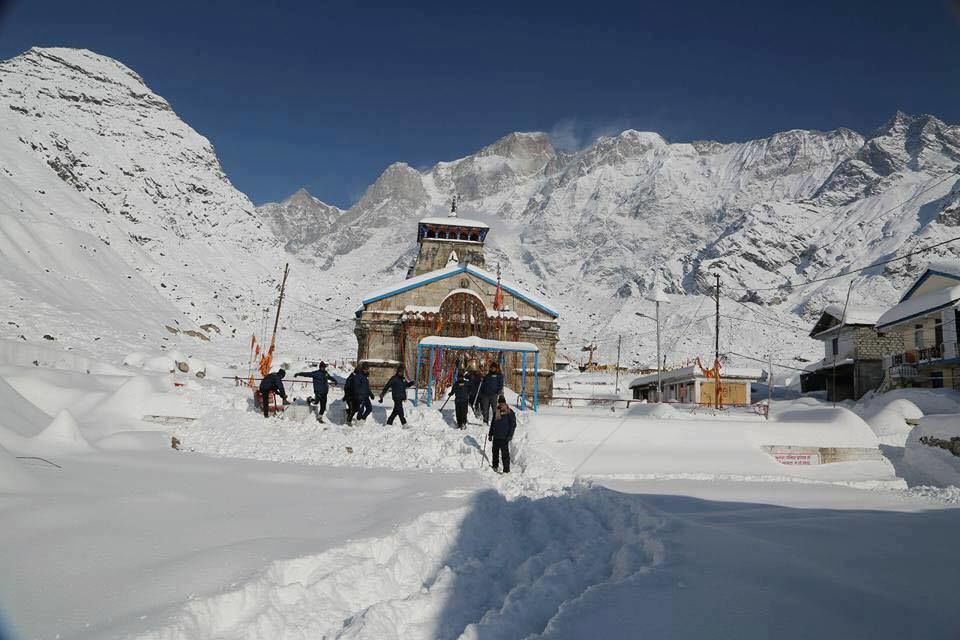 Day1:Haridwar - Sitapur (190Kms/ 6-7 hrs)
Pick up from Haridwar and proceed to sitapur for a memorable day and drive to Sitapur. On your drive you would pass through Ganga Enroute you visit Devprayag,Rudraprayag, Dhari devi temple .Overnight stay in the hotel at Sitapur.
Rituals & Activities: ,Devprayag (Sangam of Bhagirathi and Alaknanda),Rudraprayag & Sangam Darshan ( Merge of Alaknanda & Mandakini).
Day 02: Sitapur – Kedarnath-Sitapur/Rudraprayag
Amidst the dramatic mountainscapes of the majestic Kedarnath range stands one of the twelve 'Jyotirlingas' of Kedar or Lord Shiva. Lying at an altitude of 3584 mts. on the head of river Mandakini, the shrine of Kedarnath is amongst the holiest pilgrimages for the Hindus. Kedarnath is a majestic sight, standing in the middle of a wide plateau surrounded by lofty snow covered peaks. The present temple, built in the 8th century by Adi Shankaracharya, stands adjacent to the site of an earlier temple built by the Pandavas. The inner walls of the assembly hall are decorated with figures of various deities and scenes from mythology. Outside the temple door a large statue of the Nandi Bull stands as guard. Dedicated to Lord Shiva, the exquisitely architectured Kedarnathtemple is said to be more than a 1000 years old. Built of extremely large, heavy and evenly cut gray slabs of stones, it evokes wonder as to how these heavy slabs were handled in the earlier days. The temple has a "Garbha Griha" for worship and a Mandap apt for assemblies of pilgrims and visitors. A conical rock formation inside the temple is worshipped as Lord Shiva in his Sadashiva form.
Note: The road from Rudraprayag to Guptkashi / Phata is good for small / light vehicles but onward road to Gaurikund is in bad condition , the 14 km old trek route along the river Mandakini from Gaurikund to Rambara and then to Sri Kedarnath is washed away at many places and a new trek is under construction , this new route is aprox. 19 km long climbing up to 13000 ft. and then coming down to Sri Kedarnath at 11760 ft. , it is not possible to travel this distance in one day, one night stop will be required in both the directions and it is under process that Govt. will allow the pilgrims to have a night stay at Sri Kedarnath , where the yatris will spend the night in the tents or Eco Camps or may be this year the Yatra for Sri Kedarnath will be by Helicopters with same day return. It has seen last year many trekkers have made their return same day from Gaurikund-Kedarnath-Gaurikund but they were physically fit and strong enough to cover this distance in same day by trek. The road from Guptkashi to Chopta and then to Pipalkoti is good for small vehicles, the road from Rudraprayag to Pipalkoti and then to Joshimath is better.
This year we will have opportunity to see BHIM SHILA a new mythological attraction for pilgrims. A giant stone protected Kedarnath Ji Temple during disaster time.
Note: This year the trekking to Kedarnath Ji has been increased by 05 Km and visitors will be recommended to make thair return same day as earliest possible. We would advise those are not physically strong to cover this trek on feet they should hire some assistance like Pony or Pithus to complete the Yatra without any hassle or complication.
Rituals & Activities: Visit Guptkashi,.Darshan of Kedarnath Ji. Chance to meet Gurus and Sadhus meditating for long time in Kedarnath.
Rudraprayag: It is the confluence of river Mandakini and river Alaknanda.
Temples: Rudranath and Chamunda Devi, Koteshwar Temple (3 Kms).
Rituals & Activities: Visit Guptkashi,.Darshan of Kedarnath Ji. Chance to meet Gurus and Sadhus meditating for long time in Kedarnath.
Day 3: Rudraprayag –Devprayag-Rishikesh- Haridwar (170 Km/6 Hrs)
Morning after breakfast, check-out from the hotel & transfer to Haridwar. En-route visit of Rishikesh.
Triveni Ghat. A confluence of three holy important Rivers the Ganges, the Yamuna and the Saraswathy, is a most revered sacred bathing spot in Rishikesh and is situated on the banks of Ganges River. It is of belief that those who take a dip in water at this ghat washes away all the sins and purifies the soul and will have salvation, a relief from all sins carried out; the water here has the power to purify them. Daily in the morning and evening there are thousands who take bath here and enjoy the Maha Aarti being performed. It very soothing to sit on the banks of the river and enjoy the cool breeze from the river.
Trayambakeshwar Temple- On the east bank of the Ganges at Lakshman Jhula Bridge, is 13 stories high, with different deities throughout.
Lakshman Jhula – Ram Jhoola, - is a 450 feet long an iron suspension bridge situated in Rishikesh in Indian state of Uttarakhand. Lakshman Jhula is one of the most prominent landmarks at Rishikesh. It is made over river Ganges to cross the river and is a landmark of Rishikesh. It is said that Lakshman crossed Ganges on jute ropes between the place where this bridge is built. Lakshman Jhula was built in 1939. There are spectacular views from the bridge.
And other places. In evening transfer to Haridwar.