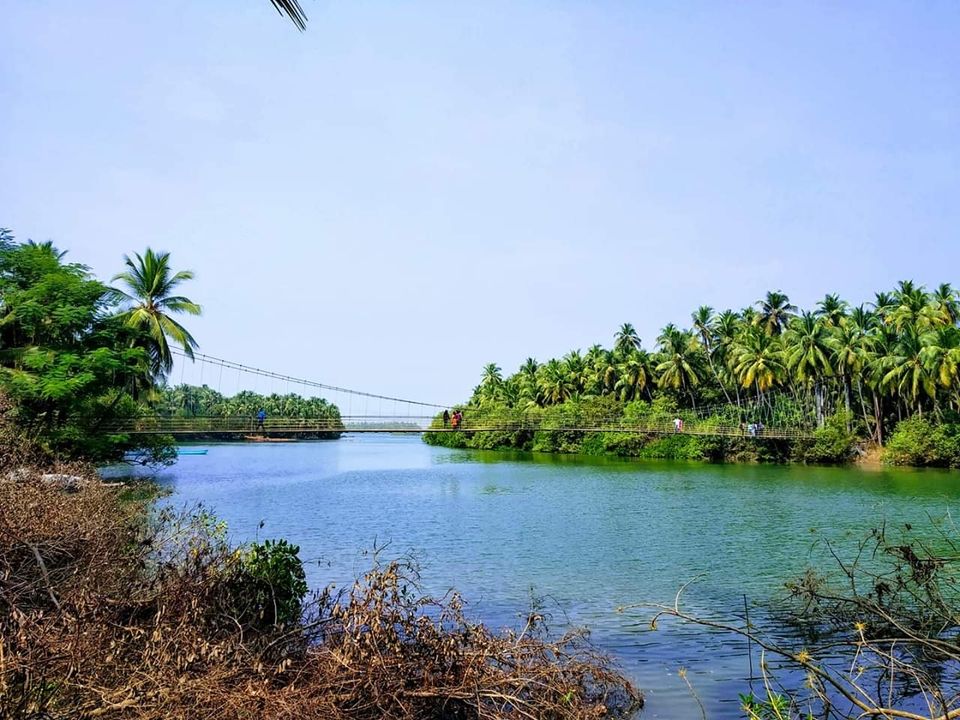 It was Sunday, holiday. As usual we had some free time  without our busy schedule hence we just planned to have a small trip near by Udupi. If you Google the place "kemmannu hanging bridge" you will get a few results. Reaching the place is fairly easy. Just head to udupi busstand and ask anyone they will give you the direction.
You get buses for every hour or so. But especially during Sundays it's difficult to get many buses. There are very peculiar names of the places which you just don't mind. The conductor himself will ask you to get down when the stop comes and he himself will tell you how to go further. So just relax or take a short nap because it's just around 20 minutes. From the bus stop you need to walk around 1 km. There are auto available rarely but anyways I suggest you to walk as you can embrace the beauty of large amount of coconut trees present there. You would also see the villagers looking strangely at you 😉
As you reach the place the bridge is right in front of you. There are very few visitors even on Sundays. So it's better if you go in groups. It is a village and there are lot of houses. You can also get the taste of an alcoholic local drink named "Sindhi". They sell it right next to the bridge. You get beautiful scenery. It's a very nice picturesque place. So take your camera along with you.
So that is it. You can further visit delta beach which is around 5 km and from there go to Malpe beach and come back to Krishna matt have food and take rest.
Have a great journey... 
#Udupi #hanging bridge #Karnataka