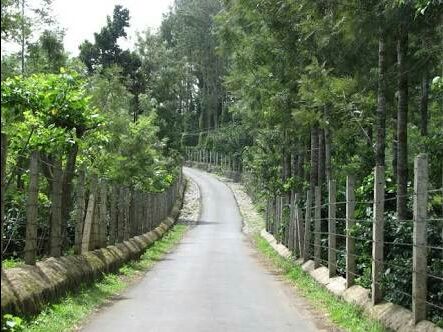 LET ME TELL U HOW IT ALL STARTED ???
WELL! Kerala ,this place has always picked my mind since the time people talked about it. This place has always a tendency to grab attention of onlookers. I have no clue about how to start the trip ..then came finally my 3 of my friends helping me find a way and that's how the journey began????.
Being an andhrite.. we started off from Vijayawada late night to reach Chennai by early morning to catch shatabdhi express.
But all my plan took a U turn the very minute we missed the train..
Sorry, we were on to Yercaud before going to Kerala. Now we began the road journey to "Salem" .this is one of the worst part of the journey with a pitiful roads and potholes all over the way.. well we finally reached salem at 4 pm .
This is last plain town on the way to mountainous hill station.
Now began the real journey to Yercaud around 30 km away..the highlight of the journey is the "20 hairpin bend road".. this is an amazingly maintained road with
greenery on both sides..
Breath taking landscapes..
Fresh breeze..
High altitude road..
Trekking trails..
Deep valleys at places..
Blue gigantic mountains..
Spice plantations..
Coffee and tea plantations..
Evergreen rain forest..
Mesmerising views...
Coming to animals u can see a lot of monkeys asking u to feed them..it is such a Beatiful sight,they are absolutely harmless(atleast for me)..U can spot a few Bisons along the way..and finally there is always a music from chirping birds when u r traveling through a forest during dusk.. it makes me feel like" just sit back, relax, rejuvenate yourself "in the middle of the forest.
We did get down at lot of places enjoying the mother nature ..clicking selfies..picturing the sunset..feeding monkeys..taking some fresh air inside...ahh what a nice way to relax.
What not ..this is such beautiful place u just cannot describe ..u always need out of the box thinking to justify it...
(Recap)Chennai to Salem presented a lot of challenges... But the journey to hill station itself made us forget all the hardship we were through..
Nonetheless we had a lot of fun.. wasn't that the agenda on a holiday???
Finally we arrived in Yercaud at 7 .15pm with a signboards showing" WELCOME TO CROWN OF SHEVAROY HILLS" and at other place SHEVAROY HILLS-THE KING OF EASTERN GHATS" .. just in close proximity to the Yercaud lake..
That's all I had for the night to say...we were so tired ...we didn't take much time to sleep after dinner..
That was the best sleep I ever had in the midst of calm and peacefulness.. we should have got up early to view the sunrise..but strictly I am not a morning person.. I just couldn't get out off my bed.
We headed out to search for some bikes to tour the place on our own but no luck...there are no places for bike hiring.. disappointed we booked an open top Jeep with Chauffeur to go around.. that's how we explored the little town till late afternoon..yercaud lake is too jam-packed with tourists, so we didn't find confortable for any activity there ,hence skipped and finally we headed to pagoda point for viewing sunset.. sunset here is amazing .. u just should not miss that.. the view here is just gorgeous, just on the tip of mountain and deep valley below.
Strangely I found many abandoned houses very well built on the way to pagoda point..I don't know what caused the people to abadon so many houses like 50 odd similar looking villas..
and PERFUMERY ..this shop has got a variety of perfumes .. organic soaps, ayurvedic oils, forest honey,chocolates,etc,. u can visit this place on the way to pagoda point.
The scenery of colonial coffee plantations on either side of road are a great sight to watch..
The kind of coffee prepared from fresh coffee beans u get here is absolute loving.
places for adventure activities like quadbiking with ATV, zipline,highrope,low rope @grange resorts.A lot of operators in the town offer personalised trekking options,night campings,etc. They are worth every penny.
To sum up, this is a great place to go on a weekend and u ll absolutely love it.. take my word and u ll fall in love with this place.
See u again .. with my part 2 (Kerala awaiting)
                                        (Yercaud is just a pitstop).