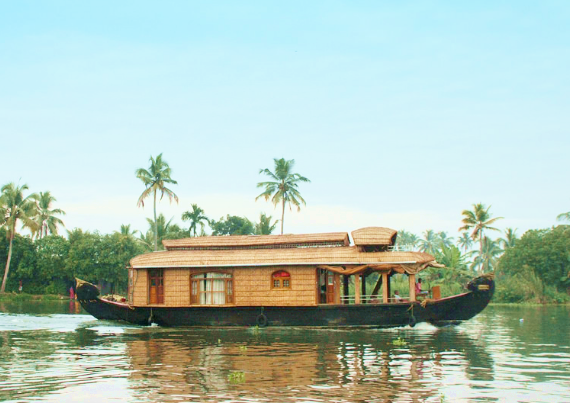 Born and brought in Kerala, I could enjoy the real essence of God's own country with its charming natural beauty. Being a nature-lover, I was much curious to be a houseboat vacationer some time in my life and to know the specialty of this divine place that owns the title "God's own country". The busy working days in Chennai were unable to meet my dream of tripping on a houseboat to weave any memories.
But, soon I had to relocate to Hyderabad for my new job. A few days before the joining date could give me an excellent chance to plan for the holidays. I didn't have a second thought in my mind regarding the holiday spot as I always wanted house boating experience at least for a day. Without wasting much time, I decided to book a holiday package through Tours in India which proved to be a best decision ever. Not only that, I was able to get a complete guide about the Kerala houseboats from their website before my travel itself.

Yes, it was a dream come true moment for me.
Among many houseboats in Alleppey, I have chosen a Standard class houseboat which is fully equipped with modern amenities. Alleppey, also known as Alappuzha is home to numerous waterways network, housing many houseboats. I was quite amazed to see the emerald backwaters that shine with the heavenly bowing of light arrays in the evening. With the presence of ever charming and graceful natural beauty, no wonder that this small traditional village has got the title, 'Venice of East'.

We, a group of 8 friends, opted for a 1 day cruise on the houseboat. While paying a reasonable and affordable amount for the trip, I was unsure about the quality and services that would be provided. But the house boat was clean and neat. It has a quite big hall with a dining table and sofa sets. We were offered a welcome drink while checked in and there the journey started. The first stretch of our trip began with the cruising on houseboat to explore maximum natural beauty as it could.
Tripping on the backwaters cruising on the houseboats in Alleppey gives a chance to have a sight of the attractive and lovely landscapes. You will definitely experience the stress unwinding that would cherish for a lifetime.
Periyar wildlife sanctuary is home to many animals. We could see a few animals like elephants, tigers, bison, wild boar, zebra etc. Thereafter, it was time to awake the taste buds for meals. The yummy authentic taste they serve before us for the meals took our hearts away. Simply wow!! The food comprised of delicious Kerala non-vegetarian dishes. (Note: We were offered non-vegetarian dishes as we requested, so if you are a pure vegetarian, they will be happy to satisfy you too).

After a tummy filling healthy meal, I decided to take a nap with the chilly breeze showering on my face by the backwaters. The evening welcomed us with an excellent treat by the nature. I took a place over the sun deck to enjoy the sunset to its fullest. I have never seen and felt a sunset like that before. A true magic on the sky!!
At 6pm, the houseboat was anchored as per the rules and surrounding was quite calm. The night ended with all the authentic taste of Kerala dinner and world music to enjoy the stunning view of night sky.
Again it was nature's turn to welcome us in the morning with a pleasant weather. Following the breakfast, it was time to end the journey at Kochi.
The overall experience I had on the houseboat made me realize I am truly blessed. I am glad to feel the land of God that gave me a relaxed and enlightening experience. Looking forward to the next houseboat vacation.