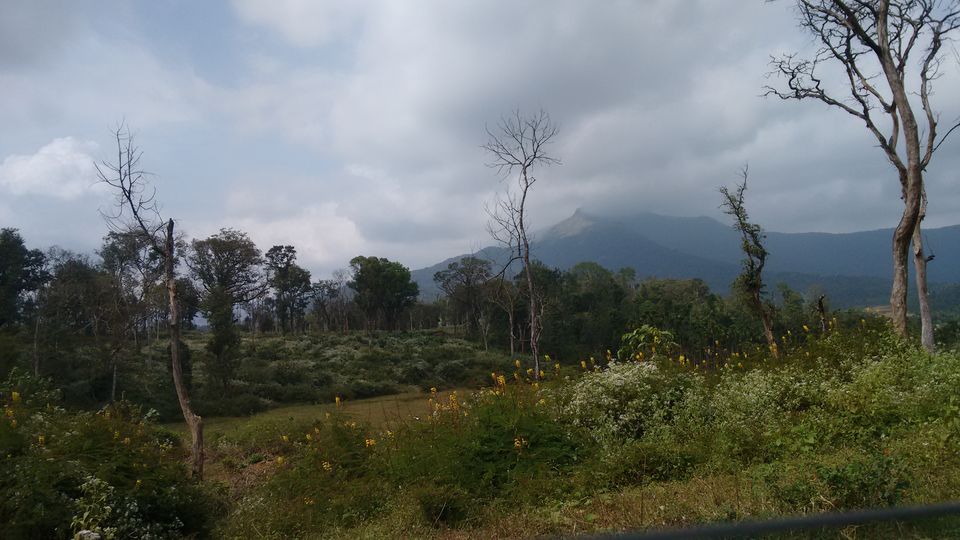 #Coffee with Tripoto
KERALA- God's own country indeed! It was one of my heartiest wishes to set my foot on the beautiful land of Kerala one day. Soon  me and a close friend of mine (a resident of Kannur, Kerala) started working on the itinerary to make my trip fruitful. And it was just the right time when we booked our tickets and headed for a beautiful journey.
Flight trip- Mangalore will be the the closest airport to Northern Kerala (143 kms), although Bengaluru (375 kms pprox) and Trivandrum (490 kms) are also in otption but, little far off. Flight tickets would cost around 6000-7000/-
Best time to visit- December -January and May-June
It was December, the perfect time to visit Kerala. We had decided to cover only Northern part of Kerala due to a week's time constraint. And so we boarded a five hours connecting flight to Bengaluru via Delhi. From Bengaluru, we decided to take a road trip to Kannur through Mysore forest. A must say that, the drive on the Bengaluru roads are as smooth as cutting through a brick of half melted butter. The IT park, skyscrapers, people and the food, everything makes you want more of it and justify it being called as "the city which never sleeps".
The greenery of Kerala is so pure and uncontaminated. To know a place better, it is vital 'to interact with the local people'. Despite of having a world of difference in the cultures, cuisines, language and lifestyle, I was ready to make the most of my stay here, now. 
KANNUR was my first spot in Kerala.
Places to see in Kannur: Payyambalam beach, St. Angelo's fort, Muzhappilangad beach, Snake park, Parassinikkadavu temple.
My eagerness to witness an art form was quenched by watching "Theyyam", a dance form which recites the mythological stories, in Kannur. I was smitten by its costume, makeup and dance. The aura which this recital creates actually takes one to a different platform. Also, the devotion and discipline of the people to come even in early mornings and witness this dance/mime is worth a praise. It is a ritual for people in north Kerala and some even conduct it in their houses as a form of worship or either go to a temple for the same.
Other local tourist attractions, are Snake Park, St. Angelo's fort and Payyambalam beach. This visit showed me the true picture of the idols of southern India and how are they worshipped in Kerala. The lighting lamps placed near the idol just enhanced the beauty of that small and simple structure even more.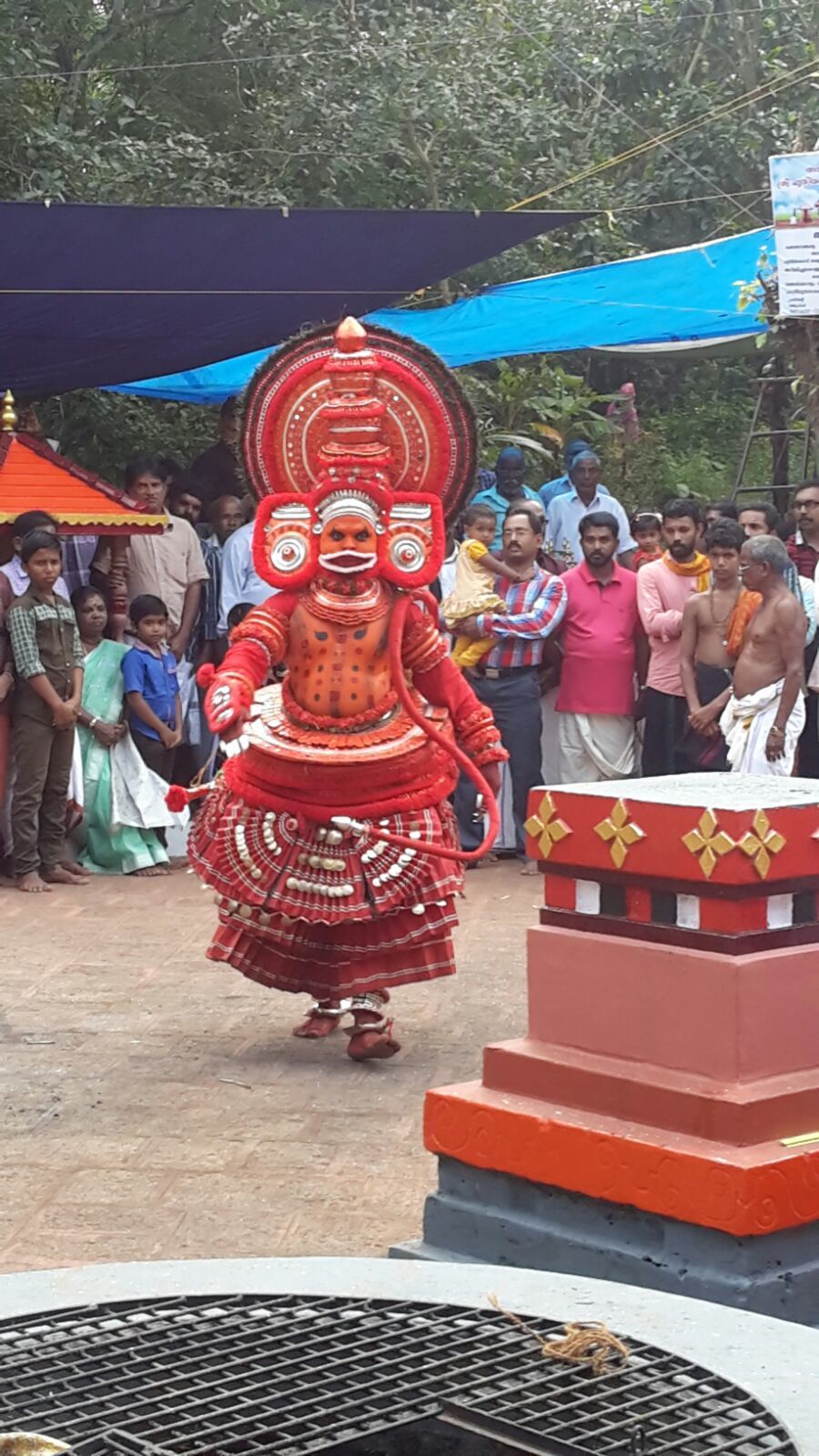 Soon, it was time to proceed and reach to the next destination – WAYANAD!
Travel:Distance form Kannur to Wayanad is about 118 kms.
Places to visit: Thirunelli Temple, Tholpetty Wildlife Sanctuary, Kuruva Island, Meenmutty Waterfalls, Thamrassery Churams
Our first major attraction of Wayanad was "Thirunelli temple". Set over a cliff, this temple makes one spellbound as one gets inside further. On approaching, one can see the idol situated within a dark structure. As we walk down the staircase to the waterside, the beauty says it all. A place to deposit the ashes of mortal remains, the waterside area is actually very peaceful and surrounded by green trees and rocks with water flowing over them gently. The premises of the temple is quite big, incorporating the shops with display of local and famous Kerala products like spices, wooden articles, nettipattam (a wall hanging similar to what elephants a made worn during festivals) etc. It is said that elephants often come to drink water from this place. The risk reduces, if there is parade of elephants but if there is a single elephant then one needs to be very cautious as this mighty animal might go wild and become dangerous.
Our next stop was "Tholpetty Wildlife Sanctuary", which disappointed us pretty much as it was closed that day. Yet, we were fortunate enough to see some animals and birds on the outskirts of the wildlife park, like deer and peacocks.
"Banasura Sagar Dam" is a hill climb followed by a long walk of about one hour that ends up at a lake where people are free to boat and snack at the nearby park.
In case you are planning for "Phantom Rocks", its a total No-No from my side; a place that is unknown to the localites and eventually turns out to be just a collection of rocks set on a cliff, amongst the bushes, with a noisy mine in the proximity.
On the other hand, Kuruva Island and Meenmutty waterfalls were like our gifts from Wayanad. An idyllic spot for visitors to enjoy, Kuruva island took us by surprise when we went deeper into it. After crossing the river on a bamboo boat, this island looked pretty dense, surrounded by tall evergreen trees, bushes and orchids and several types of species. The only support to walk through different depths of water bodies were the tree branches hanging above and one's personal judgment regarding the depth of water (make sure not to step over the slippery rocks).
We next headed to – KOCHI. A city made by various islands connected with smooth bridges; Main fascinations are the ports visible on both sides of the road.
Travel:Kannur to Kochi is about 275 kms and has a good rail connectivity; around 400/- per person.
Top things to see: Synagogue church, Lulu Mall, Marine Drive and Hill Palace
Synagogue church makes you take the glimpse of a typical Jew community. With vendors selling delicate jewelry, antiques items, wooden carved furniture and an appealing range of clothing at double the actual prices, this place is a true tourist fascination.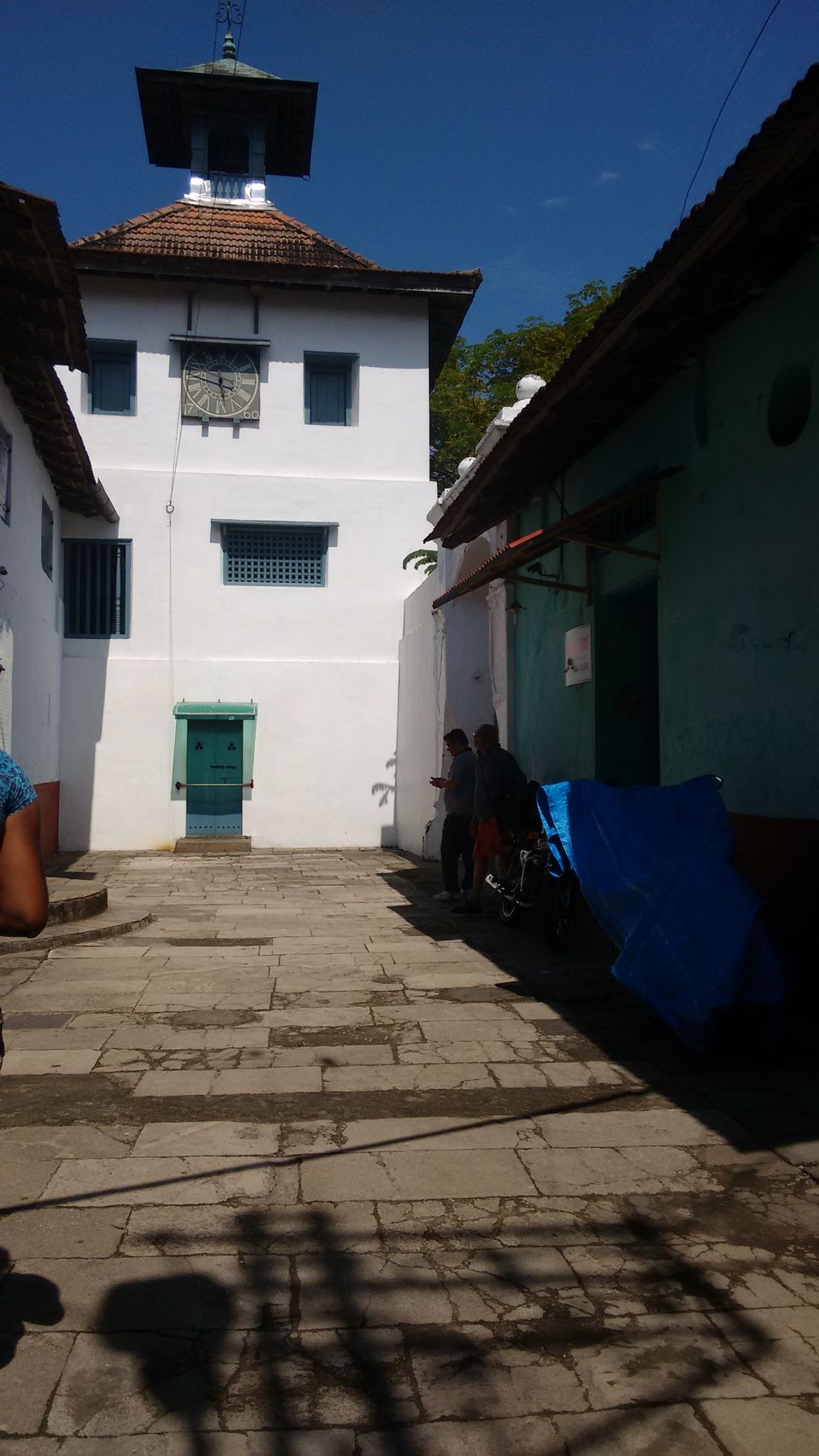 LuLu Mall, is believed to be one of the largest mall in India as well as in Asia. Kochi is a true delight.
Kerala is indeed a boon for understanding the cultural heritage, value of relations, value of nature and knowing the beauty of earth.If ever given an opportunity to come back at this land again, I wouldn't hesitate.