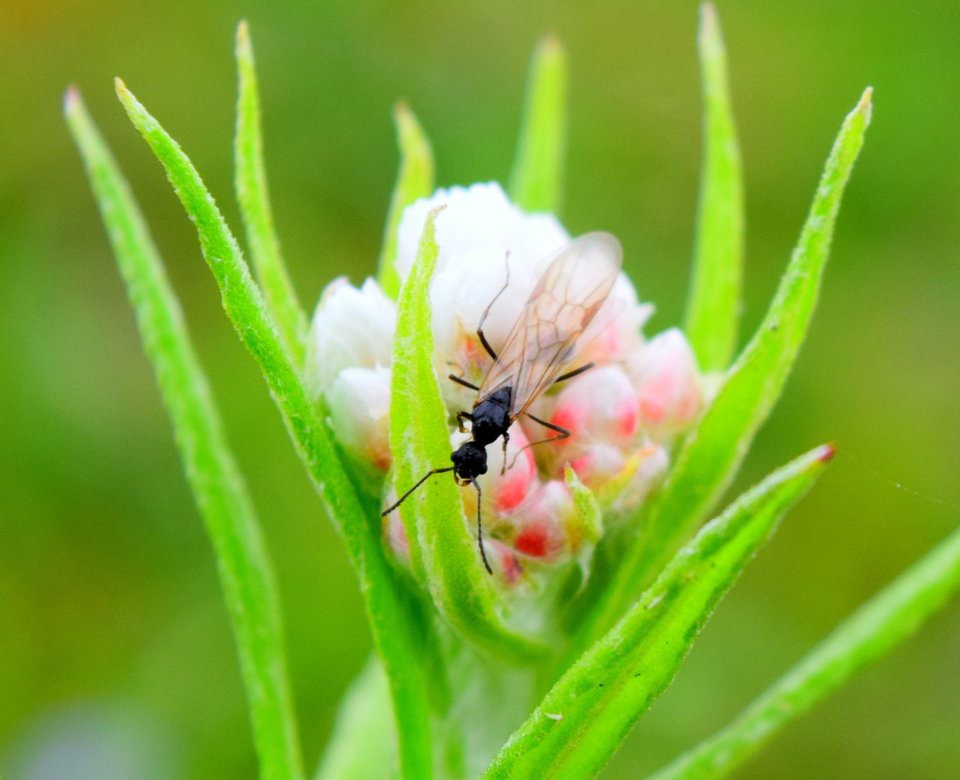 I have realized that when you travel, you stay more in present. You feel the peace of mind and this makes you focus only on things that are around you. This photo happens to have a similar story. I wanted to make the best out of that time and this pushed me to venture into clicking this Picture. It is very difficult to get bored if you have your camera along with you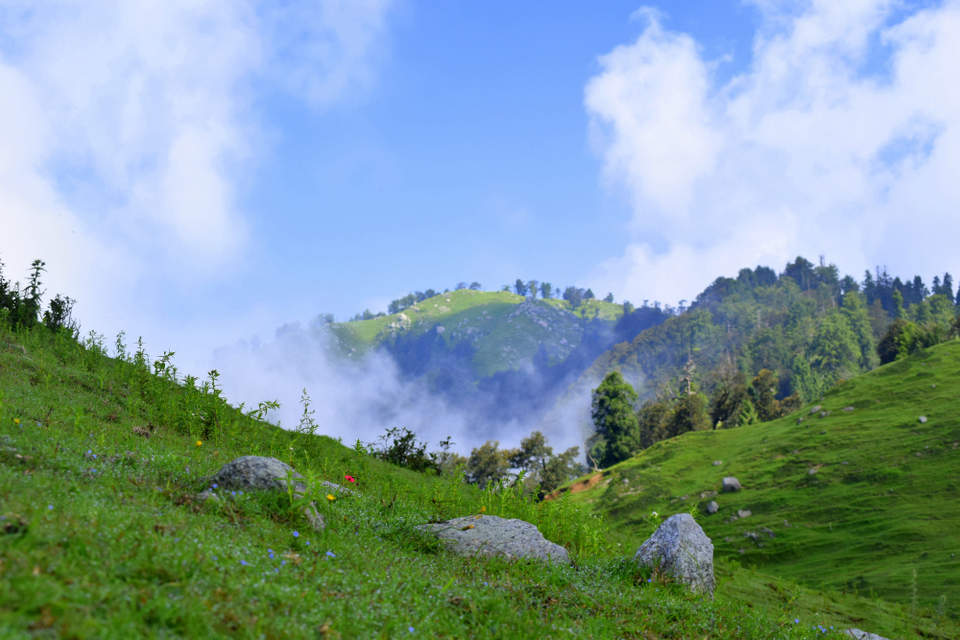 A day before this picture was taken; I was in the same place, witnessing the best part of my trip. I could see the clouds coming from downhill. It was very windy and suddenly, I saw a beautiful eagle. It looked as if the eagle was floating on the wind. It was one of those views that we usually have never imagined and suddenly, it pops in front of us to leave us surprised. I wish I had taken my camera along with me that day.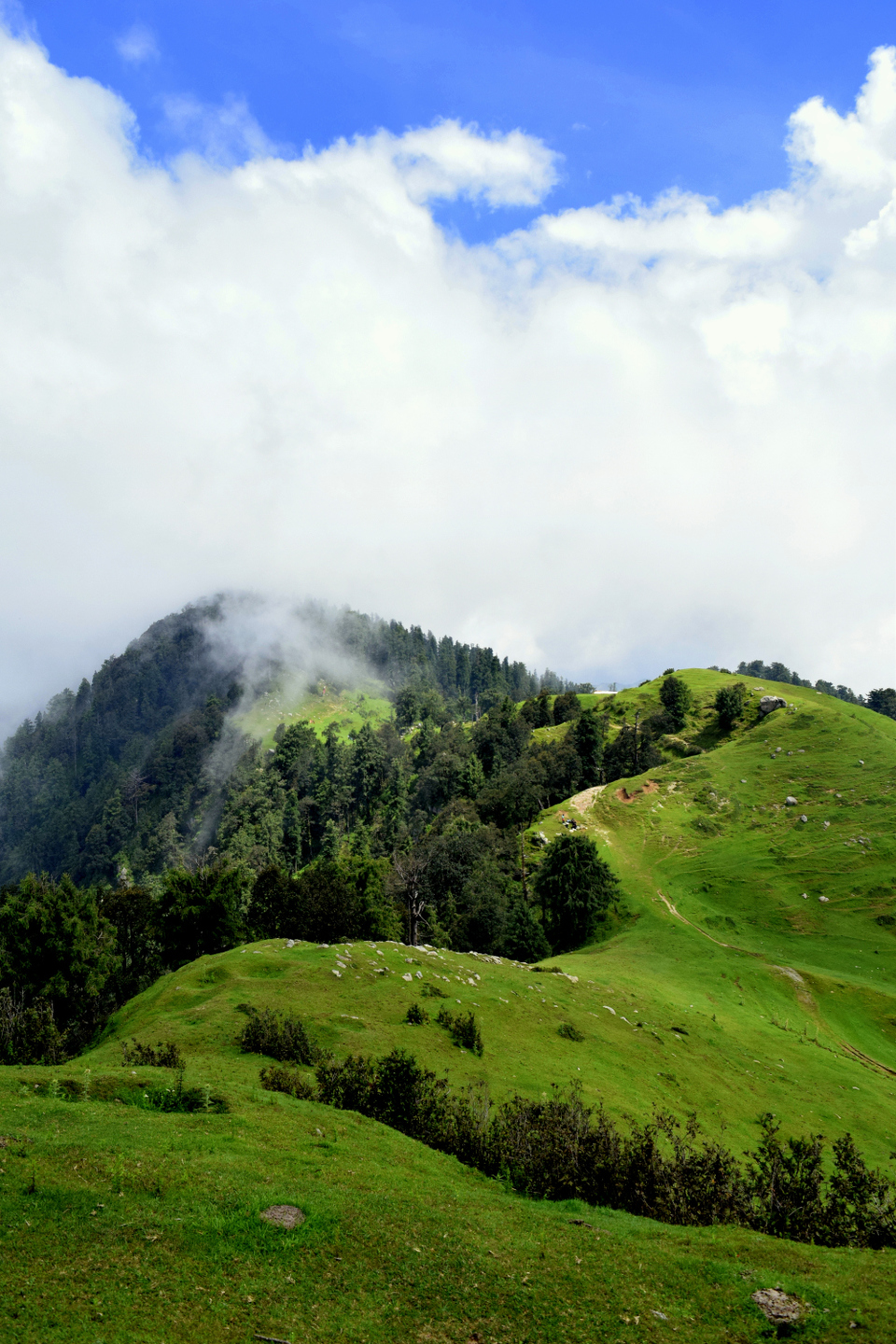 This picture speaks in itself. The clouds on the top holds the real beauty of the place and depicts the real drama of nature. While climbing up, i met a shepherd who was there to graze his cattle. He told me how they shift to pathankot in winters and come back in summer.He also told me about the secluded places nearby that are still unexplored, but very beautiful. Jot is in high altitude and snowfall usually starts in the month of december. The life in Jot becomes little hard then and people prefer to shift to nearby places.
This view was amazing and very picturesque. I took no time to take full advantage of the moment and seized it in my photographs. It was a shady part of the ground and had many leftovers of trees, which made a comfortable place for me to sit. It was a bit secluded and you could only hear the voices of birds and shaking trees. It was a perfect place for bird lovers and you would find bird photographers playing around with the place.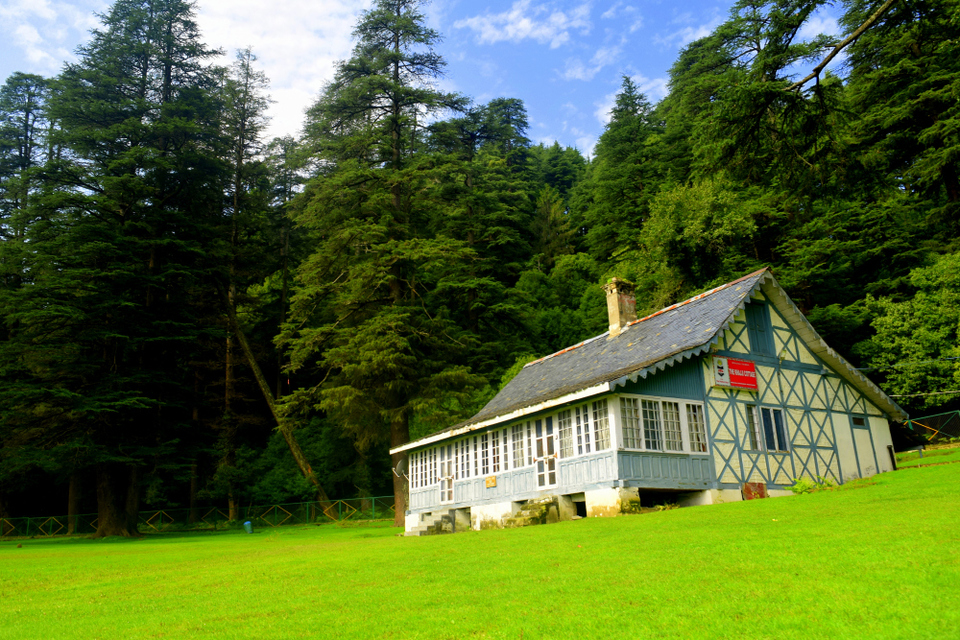 This picture is for people who have already visited this place. This small house never gets unexplored. It is on the other side of the ground .This part of the ground also gets highlighted because of paragliding and other fun activities. I have many relatives who live nearby khajjiar and this is the reason why i was lucky enough to explore this paradise before it got famous.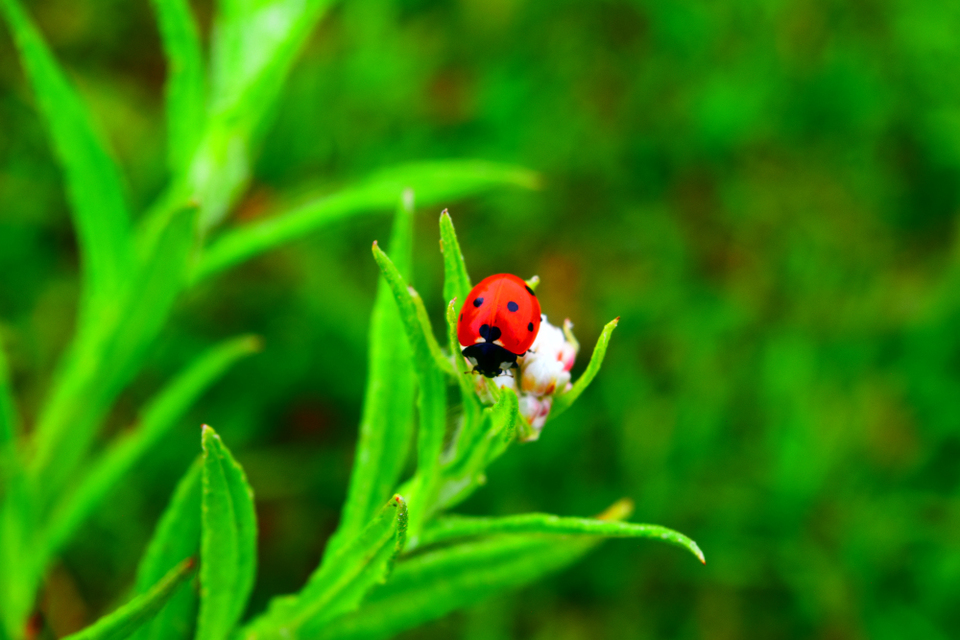 This is one creature that you will find in abundance if you are on dainkund trek. The red color and the black spots make this beautiful creature even more adorable. If you have noticed, it usually flies after reaching the top of the finger. if placed in hand.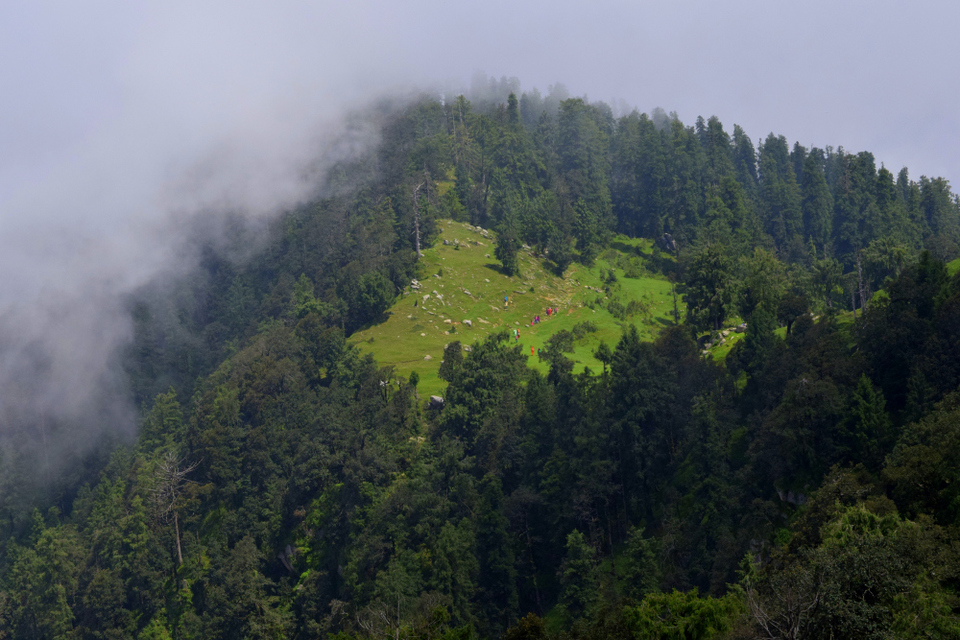 This is why it is so important to have patience for the climax. It is visible only if you go on the top of the hill. If looked closely, you would find people in the small meadow. It was on the opposite hill and i overheard someone saying that it leads to a temple that can only be reached through the forest. I had a desire to explore that place, but i was left only with 2-3 hours before i had to start my journey towards khajjiar.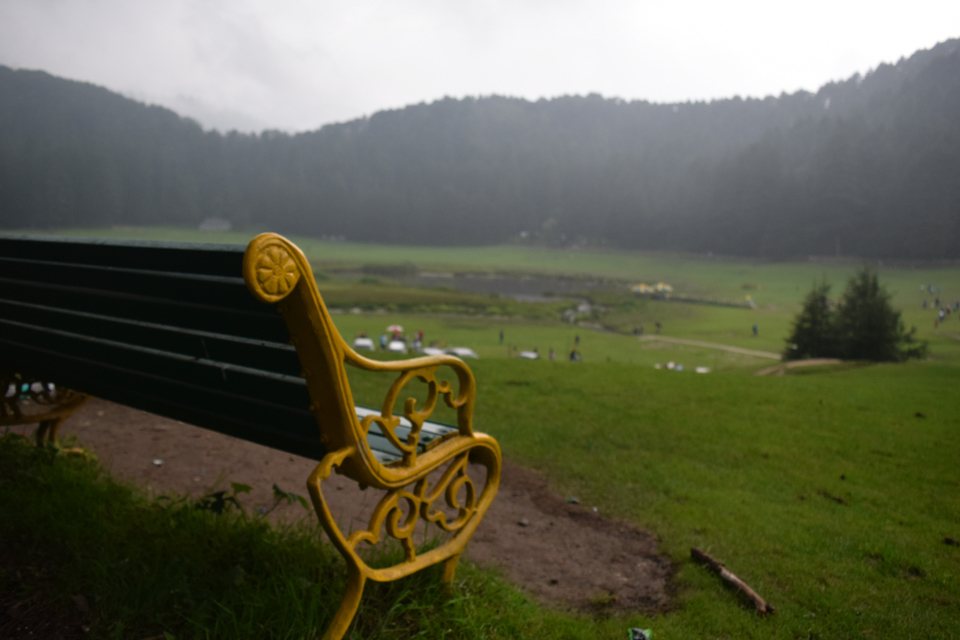 I remember, i was sitting here and it started to drizzle. The view and the feel of nature changed completely. When you travel alone, you start feeling comfortable interacting with the locals. They tell you stories of the place and make you enjoy the place more and more. I heard a lot of stories sitting right here that made me enjoy this weather with more curiosity.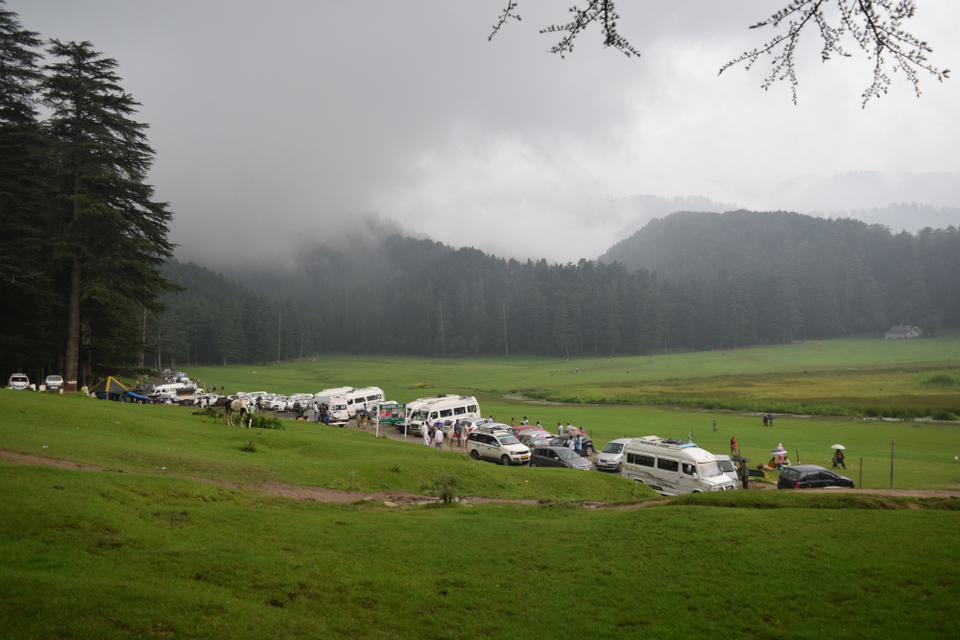 Before it started to drizzle, the view was like this. Clouds were coming down and in a matter of 15 minutes, whole ground got covered with fog. While people started to move towards their car, animals looked for the shade. Everything happening around was mystic.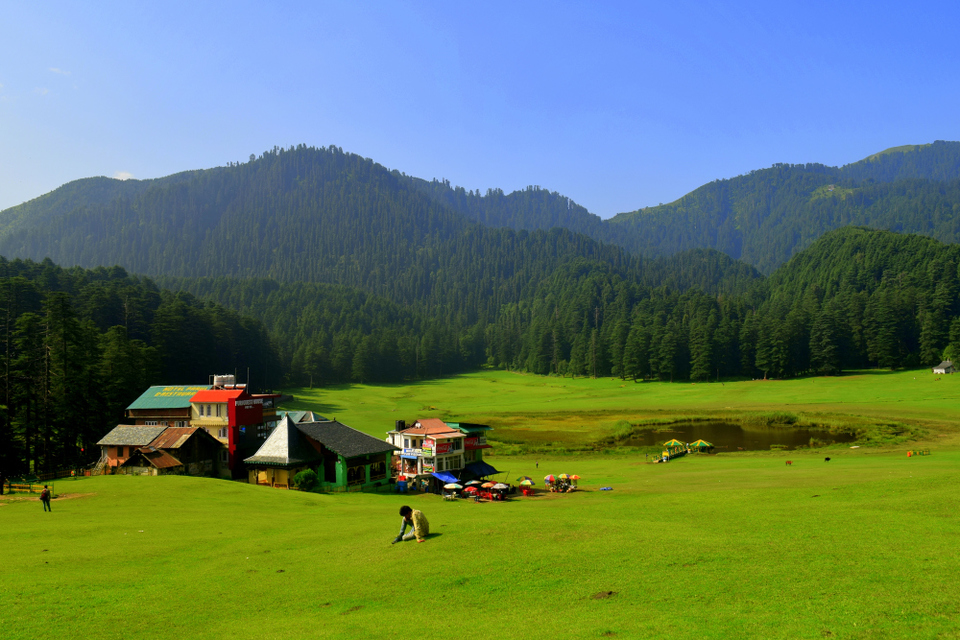 The real beauty of khajjiar can only be experienced early morning, when you get exposed to the local culture and lifestyle. I won't tell much because i want you to go their and experience it on your own.