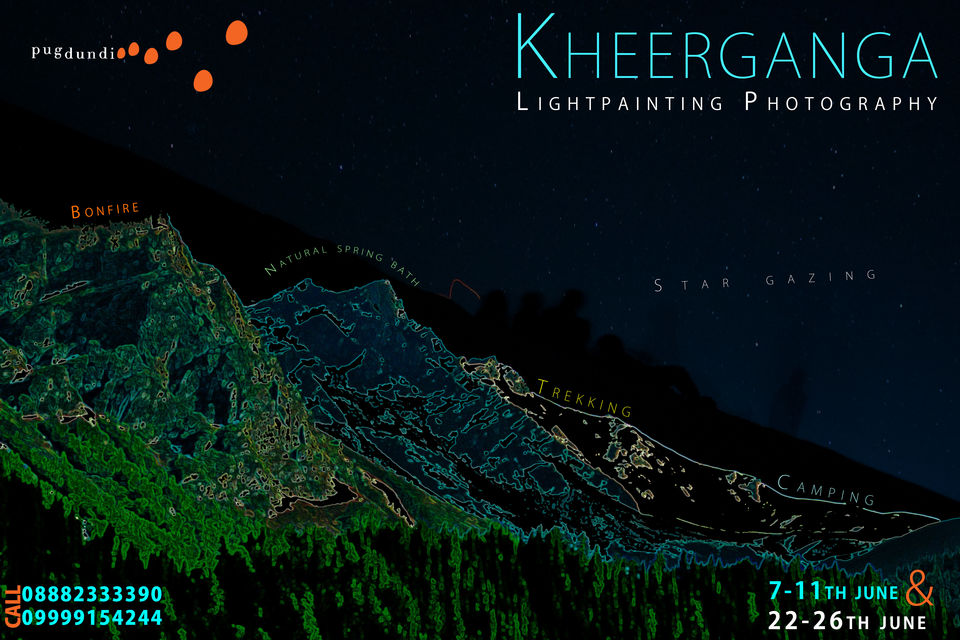 Kheerganga Trek Trip | The classic hippie trail.
Kasol-Chalal-Katagla-Barshaini-Rudranag-Kheerganga
Amount: 10,000/- INR
7th (Evening) - 11th June (Morning)
Trek Difficulty - Medium
Hurry, first few seats get a flat 10%off!
With expert photography curation and Light painting workshop, the plan is set for YOU to experience the Mesmerising journey into the heart of Parvati Valley. Together with fellow travelers and photography enthusiasts, indulge into the mysteries, the lands have to offer.
Crossing through serene villages in the mist formed by the rapids and waterfalls across the trek.
13,051 feet above sea-level, Himachal Pradesh.
Kheerganga Trek is one of India's most magnificient
sightseeing trail to explore, shoot and experiment with photography. #Slowshutter #flowphotography.
With mystic sceneries and waterfalls enroute, we hope you find your gypsy soul all over again in the psychedelic mountains of the
Parvati Valley.
And at your destination, enjoy the unmatched pleasure of relaxing in the famous hot water natural springs. Bonfire, music and camping in tents under the stars...
But the fun does not end there.. A surprise awaits you - a little something from Team Pugdundi, and loads of adventures..
Itinerary
Day 1: 9 pm The group gets together at CP Sivaji stadium bus stand.
Welcome drink.
Day 2: 10 am Reach Kasol freshen up and start trekking towards Katagla
Day 2: 12pm Photography session enroute Katagla.
Day 2: 8pm Low light Photography and Light Painting Session warm up
Day 2: 9 pm Dinner 9pm
Day 3: 7 am Breakfast and bus to Barshaini for the trek.
Day 3: 8 am Start trekking. Photography session enroute Rudranag.
Day 3 :11 am Catchup session at Rudranaag. Photography Sharing
Day 3: 2 pm Photography and trek continues. Sightseeing of waterfalls and landscapes
Day 3: 5 pm Natural spring bath
Day 3: 7 pm Enter your tents and prepare for Light painting workshop; Stargazing using Telescope
Day 3: 10pm Dinner and bonfire
Day 4: 7am Enjoy the hot water springs of Kheerganga
Day 4: 8am Breakfast and Trek back to Barshaini. 4pm Bus to Kasol. 7pm: Bus back towards Delhi.
Travel Checklist
• Music instrument or camera. (optional)
• Raincoat
• Basic first aid kit
• Torch
• Trekking shoes
• Windcheaters and jackets
• Keep spare clothes/light towel for the Kheerganga hot water
spring bath.
Package includes:
Photography session on treks.
Lightpainting photography workshop.
Stargazing with Telescope under guidance
Trek guidance by local guide.
Breakfasts and Dinners.
Travel from Delhi to Kheerganga and back to Delhi.
Accomodation on 2-3 persons sharing basis.
Guest house in Katagla and camping in Kheerganga.
Note:ATMs services not available beyond Kasol
Package Excludes: Meals on the way from delhi to kasol or on the trek.
ARE YOU READY TO MAKE SOME MEMORIES?
Then give us a call or drop in a text at:-
09999154244
08882333390
You can also drop in a mail at
pugdundi@gmail.com.
Come, Unleash the Gypsy Soul in you!
Love
Pugdundi
https://www.facebook.com/events/221421418359284/?acontext=%7B%22source%22%3A5%2C%22page_id_source%22%3A245103718884323%2C%22action_history%22%3A[%7B%22surface%22%3A%22page%22%2C%22mechanism%22%3A%22main_list%22%2C%22extra_data%22%3A%22%7B%5C%22page_id%5C%22%3A245103718884323%2C%5C%22tour_id%5C%22%3Anull%7D%22%7D]%2C%22has_source%22%3Atrue%7D