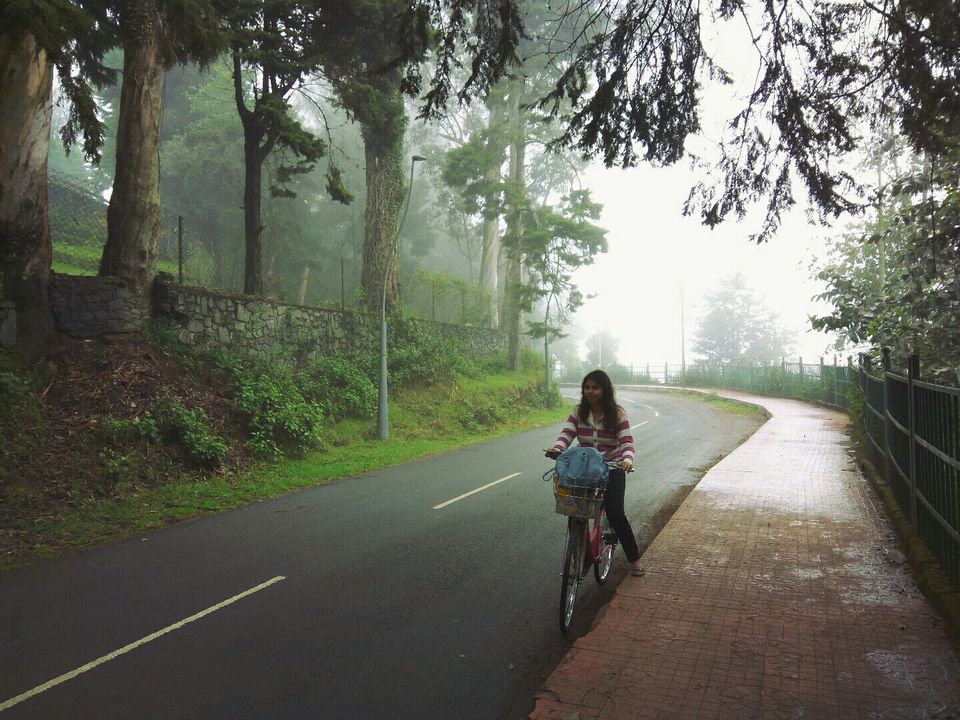 Kodaikanal is a city of hills in Tamil Nadu.Or you can say Princess of hills ,a gift of forest or mini Israel whatever name you want to give which must do justice with the place.It's not only famous for its nature surrounding but for chocolates and magic mushrooms.As i was in Chennai so it was two day trip starting from Friday night to coming back Monday morning.I have learned and it's true unplanned trip turns out to be best.One day prior to traveling we booked our tickets and hotel-rooms,fortunately we got the bookings.It was my first girl gang trip.I'll share all expenses of staying and traveling that might help hopefully whenever you visit the place.
Best Time:November to February
Duration:2 Days
Bus booking Cost (both side): 4500(3 people).
We booked the overnight bus from Chennai. It took almost 10hours to reach Kodaikanal.We boarded the bus from Perungulather at 9 pm,it is hardly 10 min away from Tambaram by local train.The fun part of an overnight journey is that you didn't even get to realize how time flies away,if you are adaptable and good observer.You get the chance to enjoy views which falls in your way other than your destination point.Amazing thing about traveling is that journey also matters as much as destination.Around 6-7 am we reached Kodaikanal bus stop(Sevanth road junction).
Hotel booking cost(2Days1Night):Rs 2500/-
We stayed in Hotel Green park,which was hardly 15 min far from the stop.It is very well kept and managed. Their staff came to receive us,that was very unexpected service and it was appreciable one.Location is excellent close to free ways,streets market and restaurants.We did check in and got ready for the day.Then we made to do list which places to visit on 1st day and which on 2nd day.Kodaikanal lake,Bryant Park and coalker's walk are at walkable distance from each other.That's why we decided to visit these three places on the first day and not to hire any cab.
We started the day with Kodaikanal lake.It is spectacular lake with strengthening the banks with pine trees, bush and lush greenery forest.Giving enrich sights of people boating ,walking, cycling and jogging around the lake.Then we took a refreshing walk along the road which rims the lake,which made us to feel more active and lively.You can rent the bicycle on hours basis .So we rented the bicycle, started the racing and middle of that few people also joined us for racing seeing our spirit. At that moment we behaved like child who is carefree and know how to enjoy the present.Lake has circumference of 6km and is rimmed by a clean,well paved streets and bicycle path.While enjoying the ride we saw tea stall where no othershops were.We planned to enjoy tea in such a pleasant weather,calm surrounding.We parked the cycle and then asked kaka to prepare three cup of tea.He said it will take time but will be best in taste.We said ok,no problem boss.Inbetween that we clicked the pictures .We sit on the edge of the lake ,had tea, relish the panoramic view and talked about happy things.After that again we started the racing, passing through local markets,streets shops to the finishing point.
Now it was time to do some water sport activities.As there are few boatclubs, so we went to one of them.From there we rent a paddle to hit the water by ourselves. In starting we were struggling how to move paddle but finally we got it.We were trying to go far and cover the lake as much we can.It was also a fun in itself.
After spending incredible time in kodaikanal lake,we headed to Bryant park that was at walkable distance from the lake.It is botanical garden blessed with wide varieties of flowers, hybrids and graft.Weather was changing continuously from clear blue sky to getting foggy then drizzling and again it clearup,the loop was continuing.Thankfully there were sheds where everyone took shelter.There is glass house in which different species of plants,shrubs and hybrids are arranged in rows.Person who is interested in knowing the detailing of flowers then it is one of the best park for the exploration.Then we took leisurely strolls through it and the sloping gardens for the complete exploration and enjoyment.It has huge,clean lawns where you can spend a lot of time doing nothing by just admiring the beauty of greenery.Once you just get out of the park,local market get started you can shop if you want to buy some souvenirs and chocolates .Then we made our way to coalker walk, as name suggests it was a walk with paradiscal view .It was foggy and cold.Walkway was very clean,level, with no hindrance and less hawkers. It wasn't so long walk neither tiring because it offers breathtaking scenery that captives everyone's soul.You can sit and relax there by allowing nature's peace to flow into you.You will wonder why beautiful things don't ask for attention.The evening was cold and wet with brisk wind which was sweeping through the faces very gently.It felt so pleasant.So we were done for the day,walked through the streets in search of veg restaurant for the dinner.After having dinner ,we went back to hotel.It was ridiculously amazing day.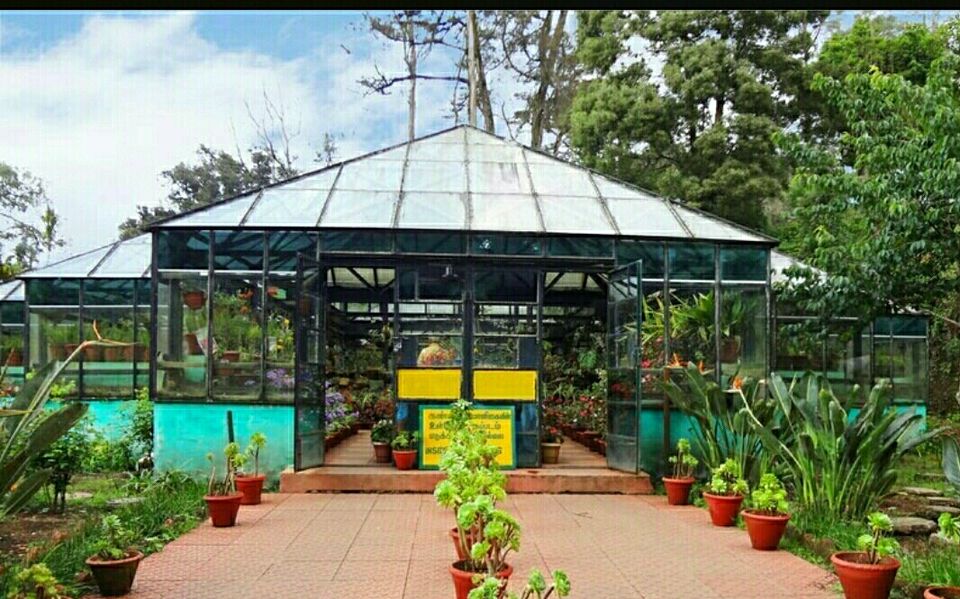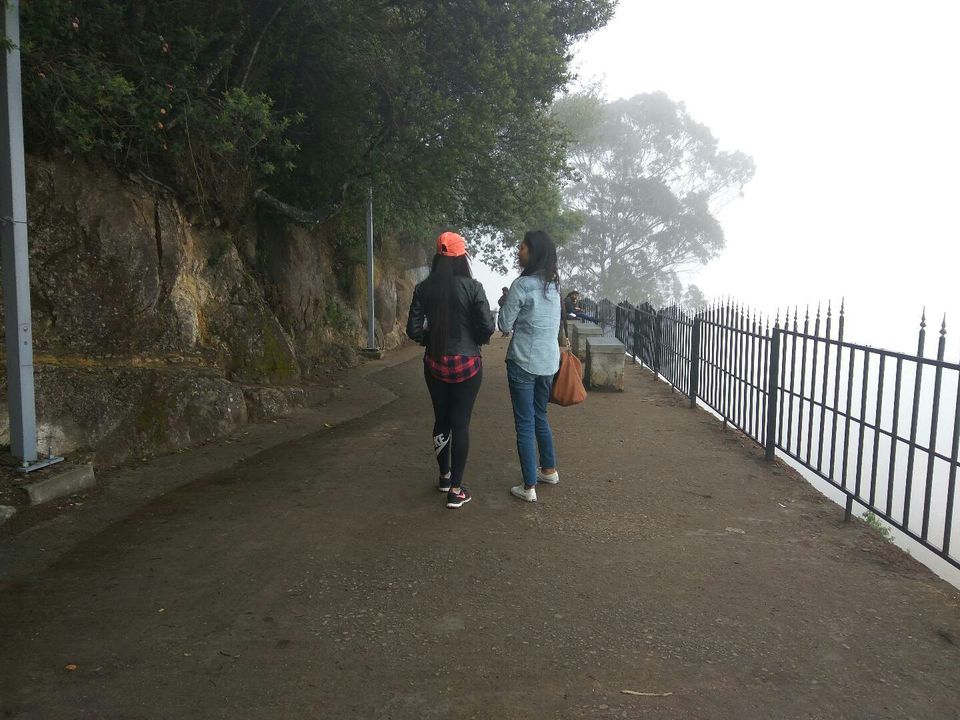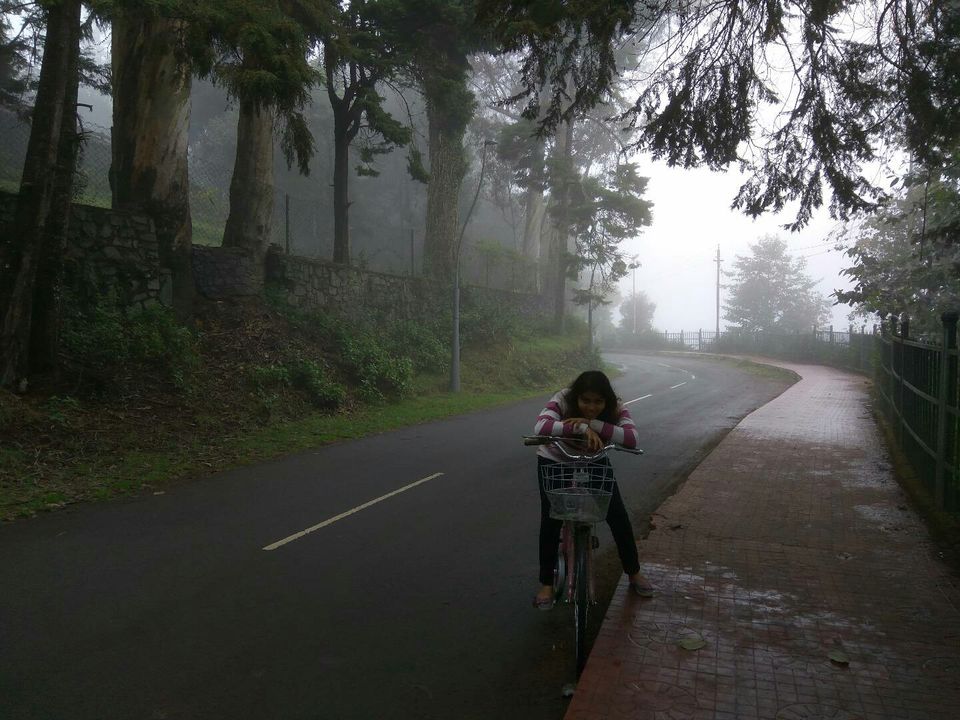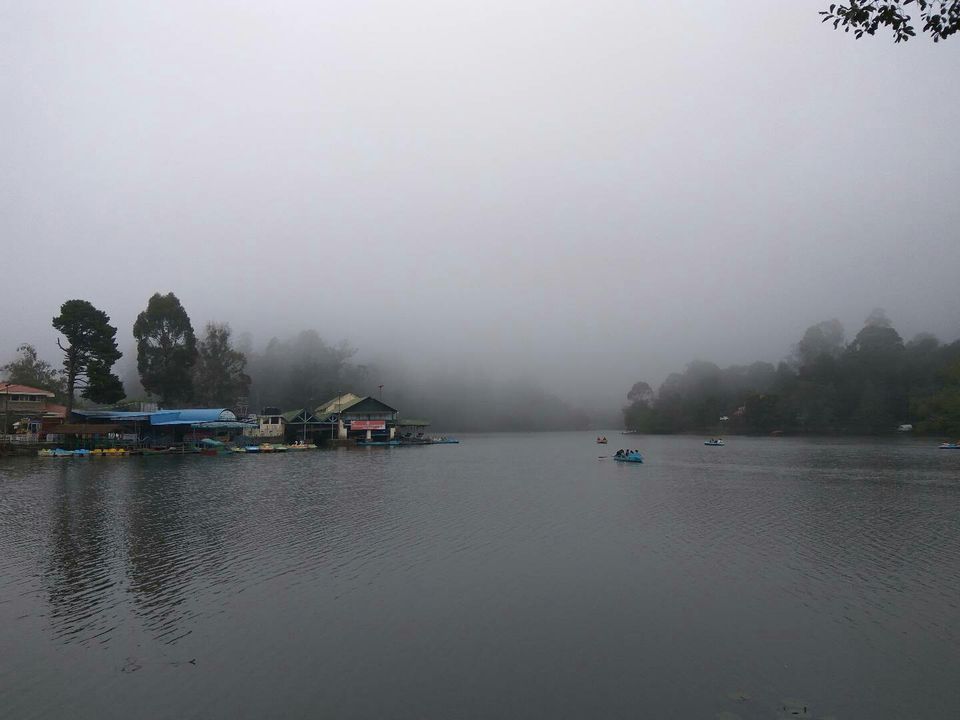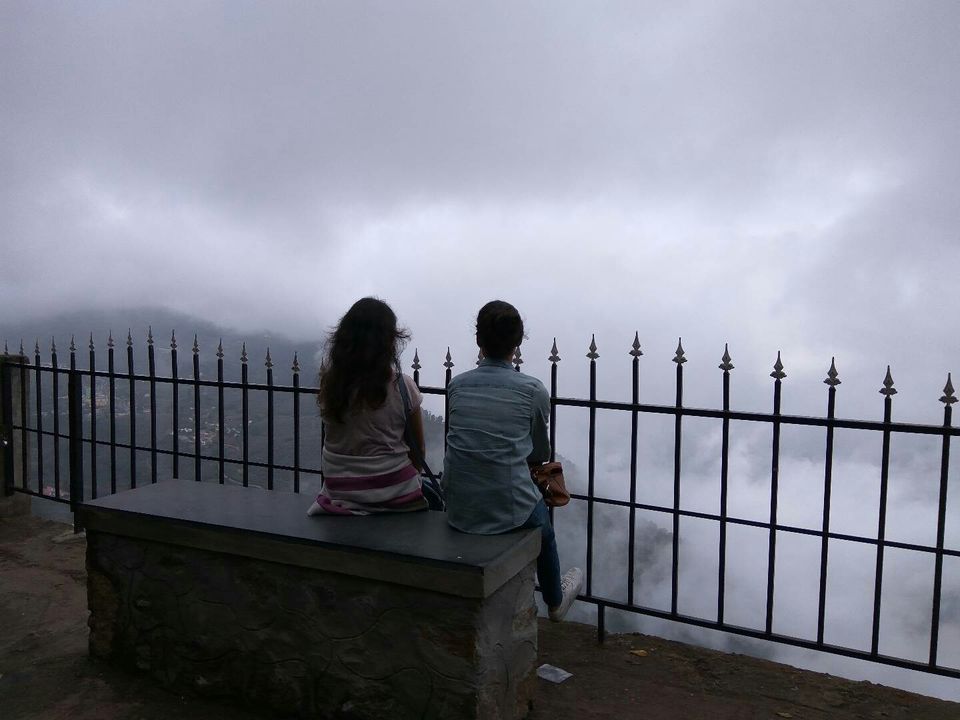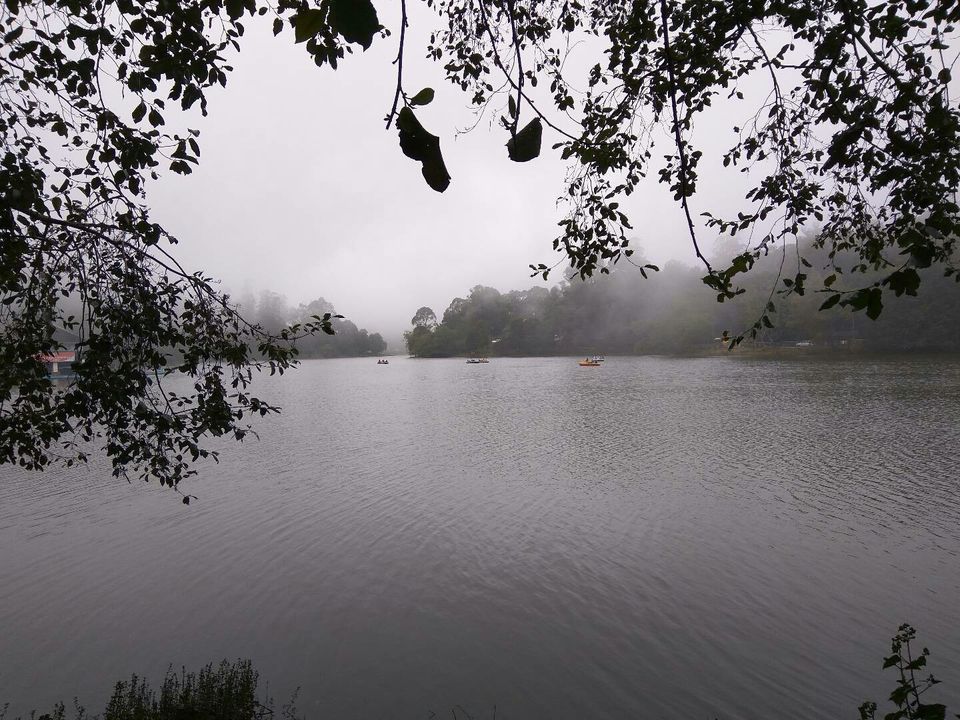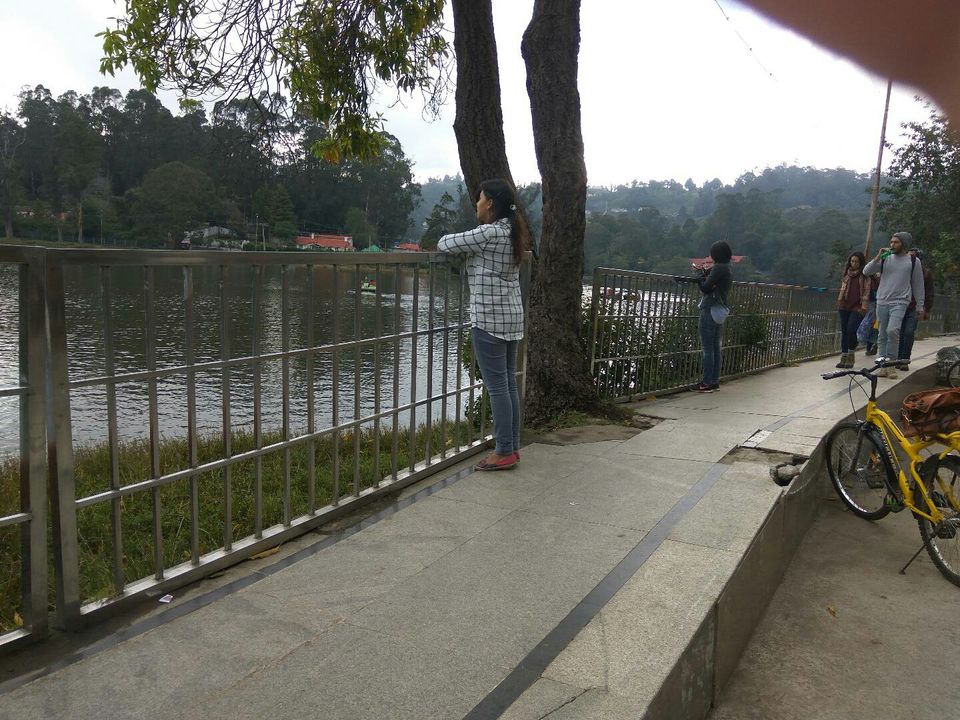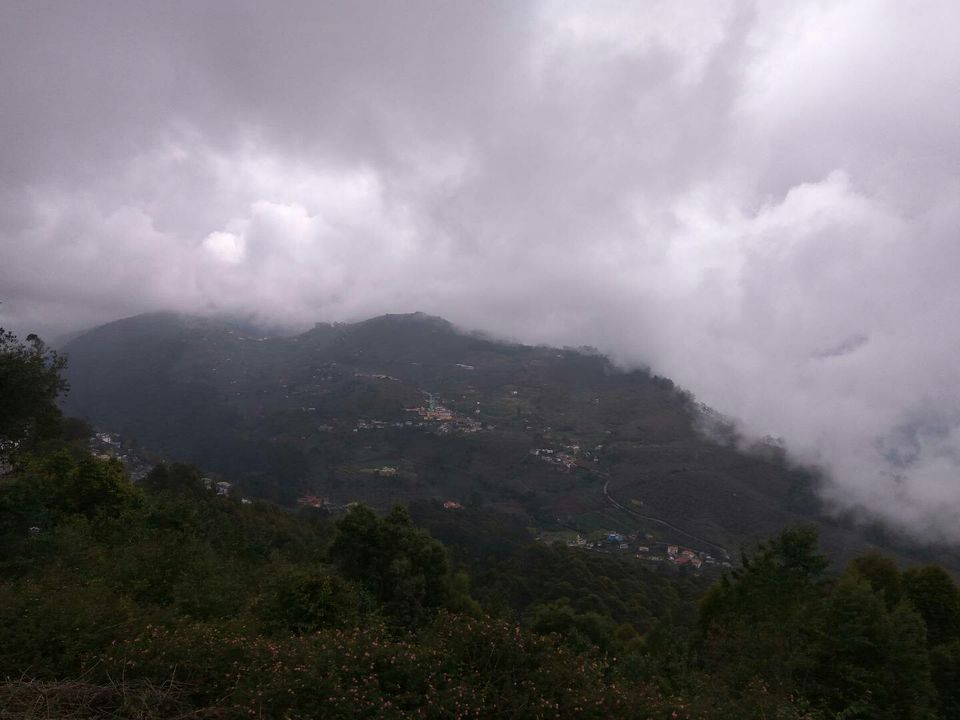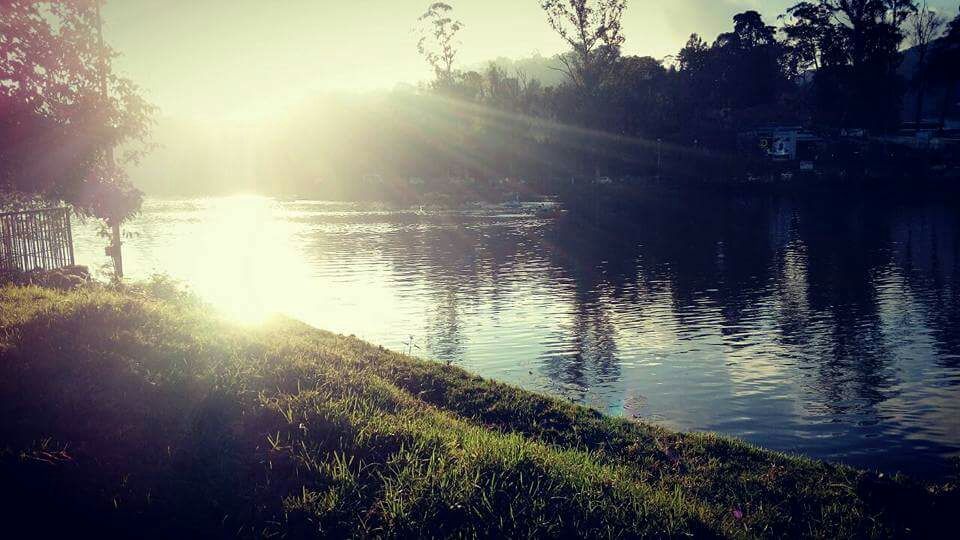 When we woke up in the morning, looked out of the window,gaze at beauty non stop,felt the fresh air and bright sunshine it was so mesmerizing and hard to beat.It was the great start of the day. After we had breakfast,we booked the cab for the whole day.Cabs,mini bus/travelers are easily available there.The places we were going to visit on 2nd day were Pillar rocks,Guna caves,pine forest,cascade falls .They all were pretty far so you need vehicle.You can get cab or mini bus/travelers easily at reasonable price.We started the journey passing through the dense forest,narrow and zig-zag road,up and down hills.Romancing the scenic road while listening to the music,this all made us more lively ,active and putted our senses in tune.Then suddenly umpteen numbers of pine trees , standing impressively beautiful in a very organised way made their apperance.It was famous Pine forest of kodaikanal.As we stepped out of the car,what we see the entire pine forest with dried cones and leaves appeared gray because fogg covered it all like a blanket.It was nothing less than a nature's wonder,it was so mesmerising to see.It not only gives unique sightseeing but a perfect background of densely grown Pine trees for photographers.After spending some wonderful time there we headed to Pillar rocks. Actually there are three rocks standing like pillars.It was misty day.So we didn't get the clear view at starting but we waited patiently to get clear view, luckily we got.It felt so good.It was like nature wants to play hide and seek with us.If you see down from the view point,there was small stream of water coming through the hills.It was cherishable moment.We spend some relaxed moments there by wondering how foggy hills can brings out the best of nature in that overcast weather which emerges out to be appealing scene. Spending some quality time there ,we moved to next stop Guna caves.Took the ticket from ticket counter and started walking.It was short trek walk of around 1 km passing through woods and forest,it was worth walk.As we reached there we saw caves is fenced with iron rods due to some incidents took in the past.Due to tragic death of some people who went down into the cave chambers and never returned .Then some people also went their to rescue them but they also never make it back,this was the story told by driver.From that day local authorities closed the cave.Place was little slippery ,we were carefully taking the steps.Roots of trees of Pristine jungle coming out of the soil, forming a pattern like spiderweb will gave you indeed scary and spooky sight.
Moir Point,by the time we reach there it was foggy and bit cold.In its calm surrounding one can enjoy the peaceful atmosphere. It offers a captivating view of the peaks and valleys around .You can admire the breathtaking panoramic view from the top of the point.We took some picture and headed to BearShola falls.It was the perfect place for picnic spot to enjoy with family and friends with lush greenery all around.At the end of the fall,one can spend some time in its fresh water as it forms shallow pond .Along with Bear shola waterfalls,there are many waterfalls like Pambar fall,which also know as Grand cascade,Silver Cascade fall but due to non-monsoon season there wasn't much water there ,so we didn't go their as suggested by Driver cum guide.So ,we preferred to go Luntheran Church which is famous for its granite structure,modern painting which showcase the events of Jesus Christ's life and stained glass windows.It is one of the best place for those who are interested in knowing the history of religion.It is very beautiful and peaceful place to seek solace.It is situated at very scenic place,where you can take or capture your moment's.We did some photography after that we back to our hotel.Our bodies left the place but our souls were struck by its beauty,we didn't only pack our bags but carried the beautiful memories with us.So, take out some time for yourself and give a chance to have an affair with the nature without having fear of giving any commitments.It will let go all of your worries.You will cherish each and every moment you spent with nature for a lifetime.You will fall in love forever.
"Traveling,its leaves you speechless, then turns you into a storyteller."- Ibn Battuta