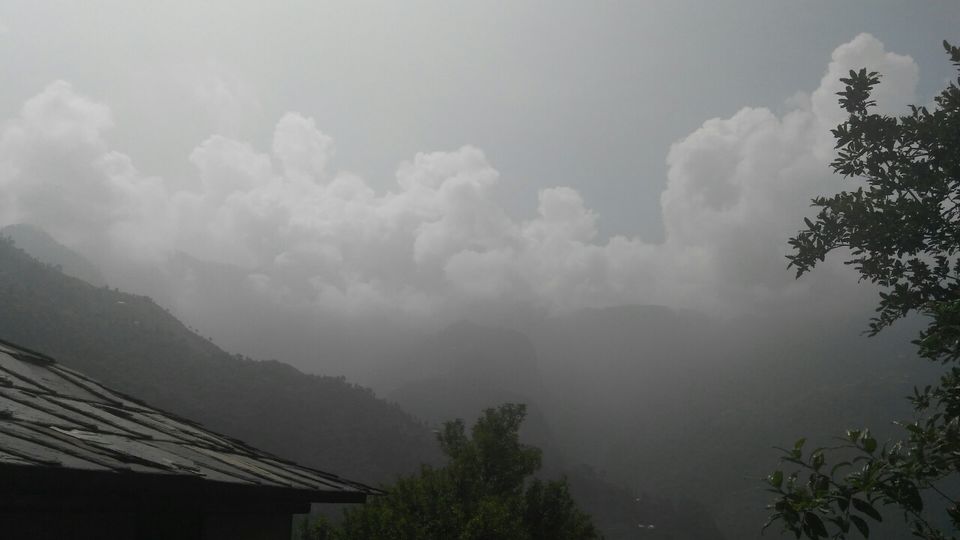 First of all, where exactly is Kotighat situated?

Kotighat (tehsil Kumarsain) is actually a very small village which is located in district Shimla of Himachal Pradesh. To reach there one first has to drive to Matiana, which is around 50kms from Shimla via NH21.(now named as NH5). From then on, Kotighat is a 30kms drive on a sub-route. Locals will let you know the directions. All together this distance can be covered in 3-4 hrs from Shimla.

Now, what's so special about Kotighat?

Kotighat is mainly known because of its Deity (Devta) also called Pandoi Devta. This deity is famous because people from all nearby places come here for what can be called as exorcism. The main priest of the temple cures around 4-5 people daily all under control of supernatural powers. You are always welcomed to sit around in the temple while the proceedings take place openly. There are no fixed time for the proceedings but whenever someone is brought to the temple the priest starts doing what he does best. This place is also famous because there is a particular time everyday when the deity (god's soul) enters the body of the main priest and listens to everyone's problems and gives a solution to everyone. He knows everything and directs you on what to do next. This sight can actually be terrifying too because when the deity is inside the priest, his actions would seem terrifying, rather unexplainable I would say, voice different, sometimes screaming and sometimes throwing rice here and there. So, its not for the faint hearted. The deity is also believed to help all. Someone even got treated with a deadly disease after visiting this place.

So, what was my experience in the temple?

The moment when I entered that place the priest was shouting at a lady and saying "isse ekdum se chodh de" (leave her instantly). The lady was actually in control of some supernatural powers. She was constantly refusing and crying or sometimes just showing her tongue to the priest and laughing. Upon sprinkling some holy water on her, she was just crying in pain. After scolding and sprinkling for 5mins the lady was finally free of that evil power.
After seeing that I was already terrified like hell. Nevertheless I seated myself in that place as people were waiting for the deity-priest thing to take place and come up with there problems. Just then came another lady who was carried by two people and was crying on the top of a ghostly voice. Her eyes were all darkened too. Yes, she was another one of those under the grasp of an evil power. Let me narrate you this one.
Priest - tu hai kaun (who are you?)
*no answer*just crying*
Priest - tu seedhe tarah se jawab dega ki maar khayega (will you give my answers or else I shall beat you up)
*she nods in a way saying no*
*constantly looking down and crying*
Priest - Seedha dekh awr muh khol (look straight and open your mouth)
*sprinkles some rice on her*
*she suddenly got angry or I should say the ghost inside her and got hold of the priest. The priest got angry and caught the lady with her hair and started pulling her over different directions. The priest said that its already too late and she had already took peoples lives. He also said that the deity of the place she came from was weak and the evil was firmly residing there. He said he was actually residing in the place where there temple was.*
Priest - tune kitne logo ko khaya hai.? (How many people have you eaten up)
*doesn't say anything*
*upon asking again and again eventually says 2 people*
*The priest himself told that one was her own husband she killed...to which she started screaming and crying even louder*
Priest - Tu ab pandoi devta k pas hai. Himmat hai toh inse ladke bata (you are now with Pandoi devta. If you have the courage fight with this deity.)
*She instantly starting saying that she can't*
After saying him that the Deity would decide his destiny if he chose to leave her, he finally did.
The whole experience was quite astonishing for me because it was the first time that I had seen anything supernatural.
Later on I also witnessed the procession of the deity's soul entering the priest and he giving orders and suggestions to various people out there.

So,after this experience I know that anything and everything is possible in this world.