One of my college senior cum friend told me that he, with his friends is going to a place for trek. I soon googled about the place and booked the higher trek with Trek The Himalayas(TTH) for a month later i.e. 2nd Jan 2015.
Before this day I had no clue about the snow trekking how it goes, the essentials. I just booked fascinated by the snow. So we were mailed a list of essentials to carry, kind of shoes and clothes which I ignored. With no trekking shoes and body warmers my excitement level was growing high as the day approached near. I packed the daily sweatshirts and my all time favorite converse shoes.
The trek journey was supposed to start from Haridwar and we all were asked to gather in the city and I had a direct train from Bhopal to Haridwar on 1st of Jan so that I could reach on 2nd Jan morning. In north India, train getting late by 10-15 hours or getting delayed is still a normal phenomenon in December-January. The day I had to leave, I checked the train status which was coming from Chennai was not even started and was cancelled. There was no way I could reach the destination the next day.
I talked with the TTH team and requested if they could shift me in next day batch i.e. 3rd-8th Jan, and they agreed and cooperated. In conversation with my other friends I came to know that one of my friend was heading to Roorkee (1 hour away from Haridwar) the same day via Delhi and said I could tag along with him and I did. So this was the same person who has been to Auli and all through the way he was giving me all important and silly advices, about do's and don ' ts for the trek.
I reached Haridwar on 3rd morning, and with quick introduction we proceeded to Joshimath which was the base for the trek and where we were supposed to stay that day. We drove through curves, mountains and river Ganges and I still remember the shout we all gave with the first glimpse of the snow peaks. With breakfast and lunch in the midway and some conversations, we reached Joshimath by late evening.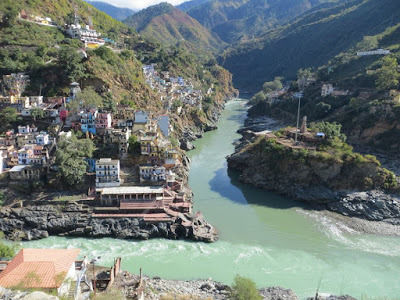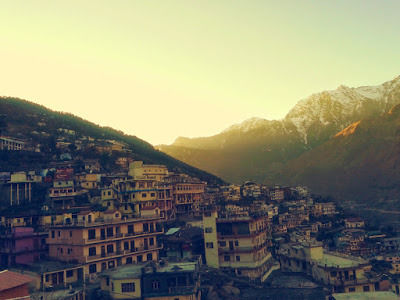 We freshened up and it was the time to meet our trek leader. The first thing he said that it doesn't seem that we all met the same day, it seemed like we all know each other for long and with introductions we had our dinner.
We were 23 people, to tell in brief there was a couple from Australia, 2 girls from Holland, a group of cousins from Gujarat, a young couple from Calcutta and the people from Delhi and Mumbai and Nitin, our trek leader. I will introduce some of them as the story will demand.
For the instructions we were told that we can leave our extra stuff and only carry the essentials and also that we won't be bathing for the next 5 days so whoever want to bathe can do that at 5 am the next morning. While everyone was gearing themselves with quechua shoes, trousers and rucksacks I was cool with my converse shoes thinking that people even trek in chappals. Chintan came up saying that he has extra pair of Adidas shoes that he was leaving behind in the guest house and I can take it if fits me and tried with double socks layers. They had fit me so now it was better than before.
was a drive for 12 kms to the village Dhak and a 6 km trek to Chitrakantha which passed through dense forests of oak, deodar, and rhododendrons, villages and local life. After 4-5 hours of trek in the scorching sun with ascents and descents we finally reached our camp site for the day. It went easy for the day as there was no snow and we were told the next day the snow would be throughout and we need to be extra careful. After trek, sessions were amazing with lots of food, camp fire till late night and the stories and shayaries from Nitin.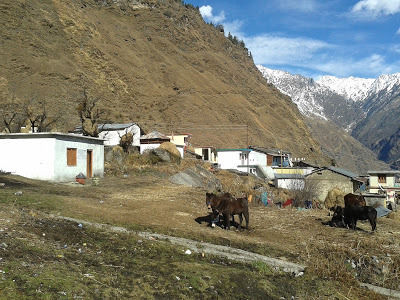 The most difficult thing we realized each day was to sleep during nights inside sleeping bag in the tent because it used to be so freaking cold that no one actually could sleep and so I preferred spending most of the time outside near the camp fire. Me and my tentmate Kirti almost struggled everyday to sleep in those sleeping tents and the chilly nights.
For Day 3 we were told that it would be comparatively difficult, ascent and full snow covered and whosoever won't be able to move forward will need to wait for the group to reach the top and then come back and so if we thought we couldn't do it we could have stayed back at the camp. I was initially horrified and thought with those shoes it would be better if I don ' t climb forward. While everyone was getting ready, I was still thinking till the last moment whether should go or not. I asked the guides and the trek leaders. Then Padma (one of our guide) asked me and Amrita to come and at least give a try and he would come back with us if we wouldn't be able to do it. And Inside I was wishing for the same.
was a 6 km trek to Tali top, we started with a normal pace after wearing gaiters (snow protection till knees), layered socks with plastic covered and layers of woolens and our packed lunch. There was a trek leader and 2 local guides for our group and each was responsible for 6-7 people, one headed in the front, other in the middle and one at the last matching with the pace of the group. There were different people some of them being the experienced trekkers to others being the first timers.
The guide in the front was accompanied with the Australian couple, Vishal being the experienced trekker and soon joined them, digging the knee level fresh white snow and making ways for us to move. The day was difficult with the chilly breeze flowing and also the head inside. With the most beautiful landscapes, trees covered with snow I was mesmerized and the scenery around us was a source of motivation. There was also a mountain dog which followed us, lead us at times and we named him Jack Daniel (JD).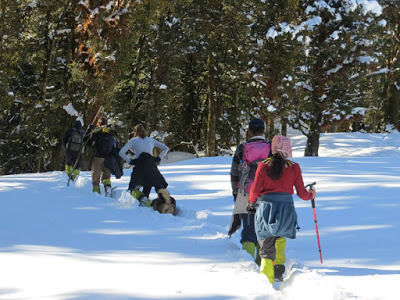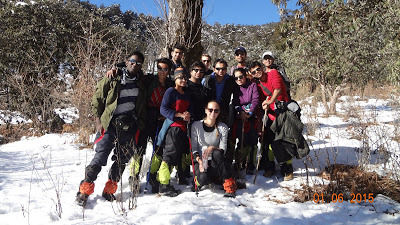 Whenever I lost it, I used to look around and curiously walked ahead thinking what would be at the top. Slipping quite a while, tired and frozen we reached the top. The Tali top.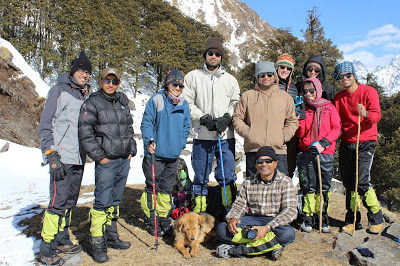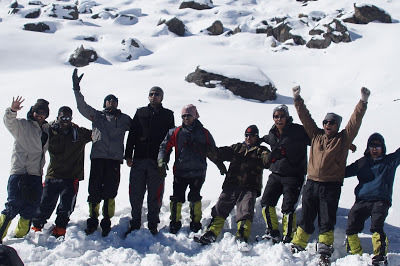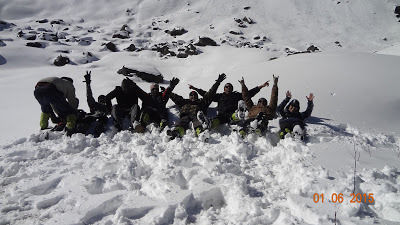 The thought that I was not coming initially and then finally on the top lying and playing in the snow and wished to stay there forever. We all had lunch, group pictures and start descent to our camp site. While descending I mostly slide through the snow till the time snow had reached into my shoes and the feet and hands were almost numb.
We reached our campsite which was in and around the snow. Day went well with campfire, drying our shoes and socks around the campfire while few of them end up burning too, hot soup, unplugged music which never felt so beautiful and the full moon rise. Nitin himself said this batch is really lucky as we got to see the full moon rise in the Himalayas as it also was his first time to see the full moon there. We also came across the 2nd Jan batch which comprised of only 4 people and with their strict trek leader, they had to exercise each morning and then I was feeling good that the train got cancelled and I joined this group.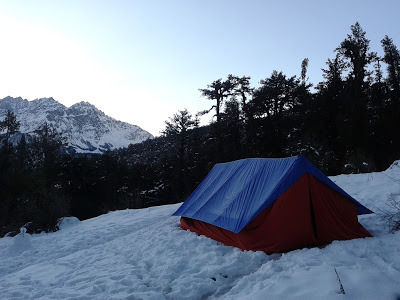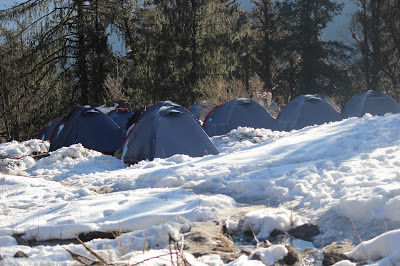 It was Nida's birthday the next day so Nitin and the TTH team prepared the cake in the campsite and we celebrated at midnight. Sleeping with the full moon in the mountains and waking up to the view of snow capped peaks was all one could ask for.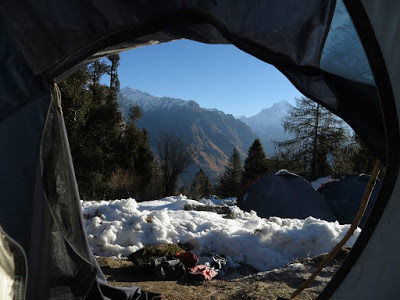 Day 4 was supposed to be the Kuari pass but as per the news and the weather it seemed difficult to reach there so we gave a try thinking we would go as far we could and return back. It was the fresh snow and all the paths made by the previous batches were washed off so we had to dig in deep till knees with each step and make our path. We walked some kms till Khullar and found that weather is getting worse and we should head back.
We headed back towards our camp site and as soon as we reached it started snowing. We experienced out first ever fresh snowfall and we played for hours. Nothing couldn't beat this end to our trek.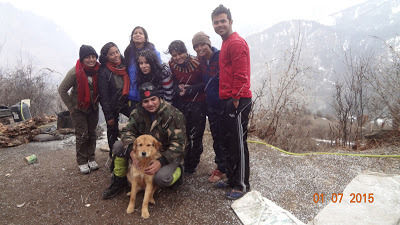 This was the last day amidst the snow capped mountains so we were taking as much as possible. Whole night it was snowing and chilly top winds were greeting us.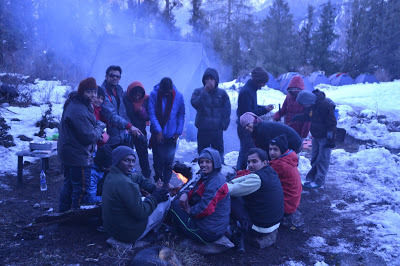 was the descent trek to the village and a drive to Joshimath and the trek ended. We saw the impact of storms which came last night in the villages and the roofs were shred off. And also the storms were approaching soon down as we were moving back.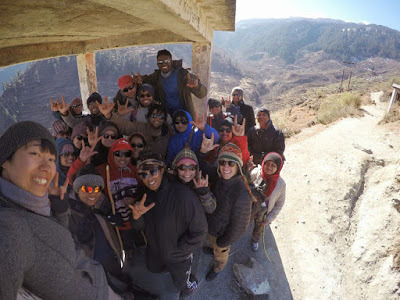 was a drive from Joshimath to Haridwar, leaving Nitin behind was so difficult as last 5 days he became the habit for all of us, his camp fire stories and shayaries were deep inside, he was a true mountain man who said a bye saying phir milengey.
And all the flashbacks in the mind, about the people, 2 holland girls who were not able to listen and speak and still expressed so beautifully and their courage travelling to another country carrying a go-pro still remains a motivation.
There were goodbyes the entire day as the people were leaving, I had a train at 11 pm so we were roaming in the streets of Haridwar and all of them accompanied me to the station and there were hugs, tears and smiles and the promises to meet soon and travel together again.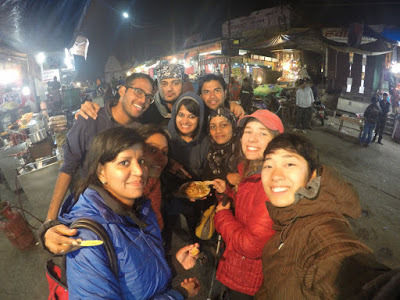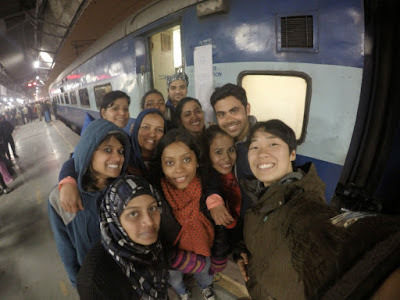 'It had nothing to do with gear or footwear or the backpacking fads or philosophies of any particular era or even with getting from point A to point B.
It had to do with how it felt to be in the wild. With what it was like to walk for miles with no reason other than to witness the accumulation of trees and meadows, snow capped mountains and deserts, streams and rocks, rivers and grasses, sunrises and sunsets, full moon and star gazing. The experience was powerful and fundamental.'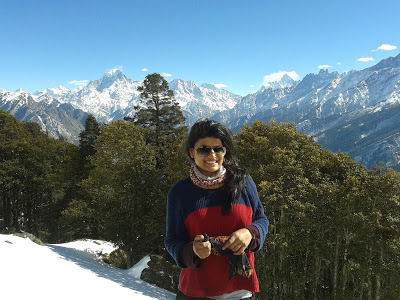 Today after 2 years , after meeting many people and been on numerous group tours I can still say this group was the most beautiful one and we all are still connected. Whenever one visits the town of other, the locals make sure to make a plan. A year later I visited Lonavala and all the Mumbai people came and we trekked together to Ragmachi Fort in which Vishal led us. My motivators for joining in Calcutta were Binod and Amrita as they were already residing there. Nitin is still remembered each day, 2 of our group members were lucky enough to get him as a trek leader later in some other treks and we still cherish the Kuari pass memories, Nitin's stories and plan to meet and travel together one day. Even today if any of us book the trek with TTH we ask them about the trek leader and still wish him to lead us once again.
This post was originally published on Into The Wild.