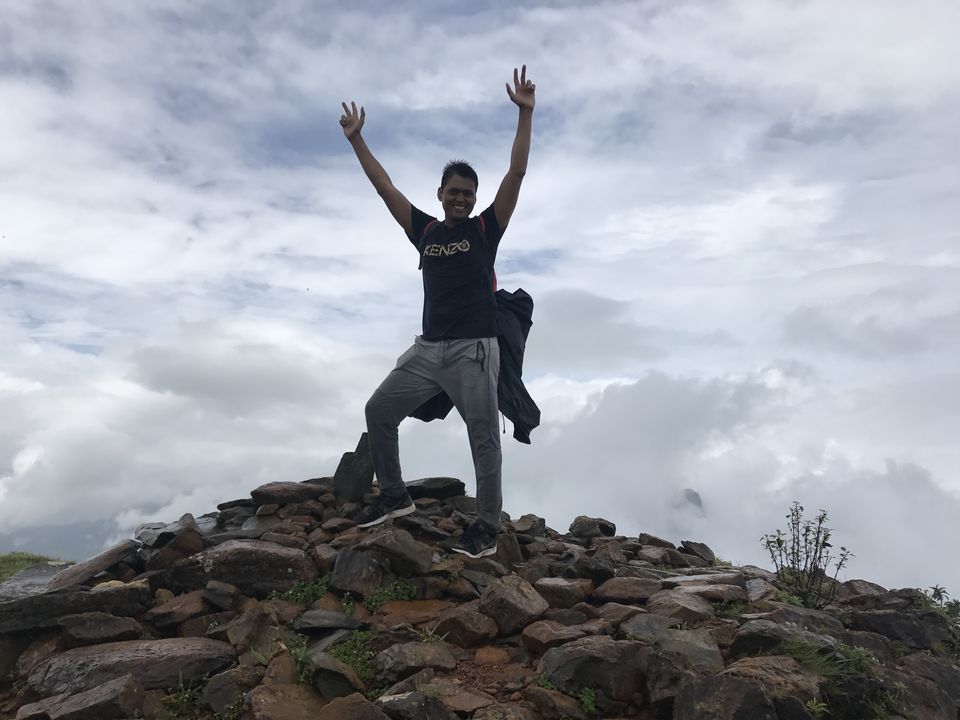 Coming under the Chikmagalur District of Karnataka, Kudremukh trek is one of the most exciting treks in this region. It is the third highest peak after Mullayanagiri and Bababudangiri. Absorb the beauty of the Western Ghats as you walk up the trail. Very few people know the fact that the Western Ghats are considered as UNESCO World Heritage Site for the natural beauty and for being an icon of environmental balance. The lush greenery of the hills can never fail to mesmerize a soul.
You'll cross several cascading waterfalls and narrow streams, thick forests with a variety of trees, and the whistling of birds will keep you entertained all throughout. And finally, when you'll reach the peak, the picturesque view from the top and the chilled wind will absolutely blow you out of your mind and make you numb for a few minutes, before you regain your consciousness to feel the enchanting magic of the place. So if you are bored of the city lights in Bangalore, then forget everything and join us for this weekend trek to Kudremukh and find yourself amidst nature.
TREK DATES
13th - 15th Oct 2017
TREK DISTANCE
19 - 21 km (to and fro)
TREK LEVEL
Moderate (difficulty level is subjective).
COST:
Early Bird 3350/- (Exclusive of Tax)
Few slots left. Book now!
https://www.plantheunplanned.com/planned-treks/kudremukh-trek/
DAY 0 - 13th Oct 2017
-Depart from Bangalore by 8:30 PM
Day 1 - 14th Oct 2017
-Reach Kudremukh National Park
-Check the homestay, have breakfast and start the trek.
-Reach the top. Catch the view of Kudremukh Falls, spend some time there and descend.
-Reach homestay for dinner and campfire.
Day 2 - 15th Oct 2017
- Have breakfast and head to visit Somavati or Elniru Falls
--Depart for Bangalore and Reach by 10:00 PM (approx)
INCLUSIONS
-Transportation to and fro from Bangalore
-Sharing Basis Accommodation in Homestay
-Food - 2 Breakfast 1 Lunch 1 Dinner
-Jeep Ride
-Campfire
- Permits to Forest, Waterfalls and Guide
-Experience that you gain
EXCLUSIONS
-Any kind of insurance
-Personal Expense:( snacks, mineral water etc)
-Anything that's not included in the inclusions above.
Event Calendar: https://www.plantheunplanned.com/trekking-events-bangalore-calendar/
Subscribe to Events Updates: http://eepurl.com/cLDAa9
Cancellation Policy: https://www.plantheunplanned.com/refund-cancellation-policy/
Note:
1. Consumption of alcohol, intoxicants and smoking would not be tolerated during the entire course of the journey. Kindly co-operate with us to make the experience more fun.
2. Put Litter in its place, do not trash the mother earth.
3. In the case of traffic delays or breakdowns expect a few delay in reaching the destination.
For more info please feel free to get in touch with us on sayhello@plantheunplanned.com.
For faster communication: +91 9035182699, +91 7760710005, +91 9428909952
Join us on Meetup: https://www.meetup.com/Plan-The-Unplanned-Bangalore/
Follow us on Facebook: https://www.facebook.com/plantheunplanned/
Follow Us on Instagram: https://www.instagram.com/plantheunplanned/
Trek Lead Application: http://bit.ly/Trek-Lead
Whatsapp Group Invite link: http://bit.ly/PTU-Updates