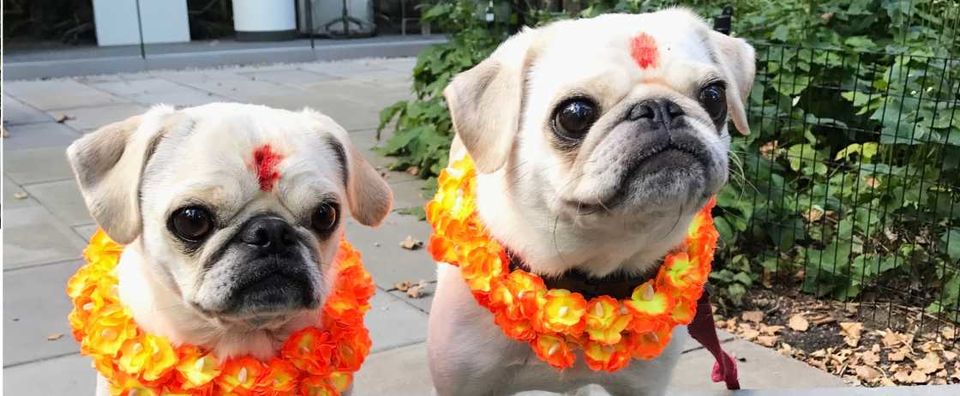 Kukur Tihar is a festival that is celebrated every year, by the Nepalese, to show their Gratitude towards dogs for their loyalty and unconditional love. People from different denomination or even tourists come together and experience this unique Nepalese dog-centric event.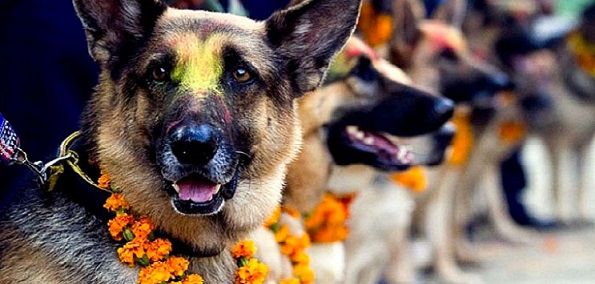 Tihar is a Nepalese name for Diwali. Likewise in India it is also a five day period of celebration but, it not only shows the reverence to just humans and gods but also to the animals. During the five day celebration of Tihar festival, each day is assigned to honor a different entity: crows, cows, dogs, oxen.
Kukur Tihar or Dog Tihar or Khicha is celebrated on the second day of the Tihar festival. According to Nepalese Hinduism this day is devoted to worshiped and appreciating our four legged furry friend for their loyalty, friendship, protection and thus, commemorating a special bond between humans and dogs.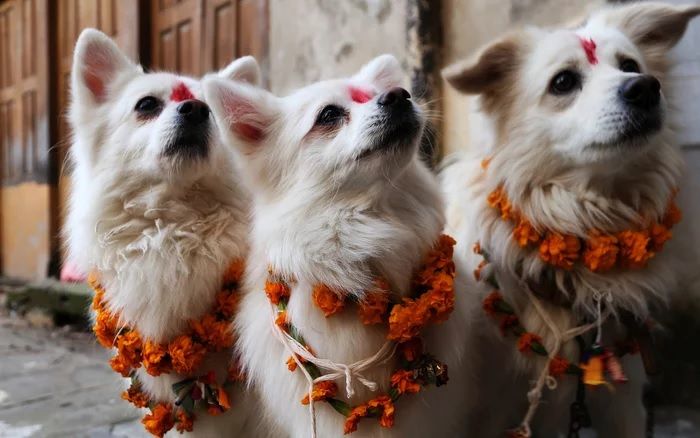 Celebrated in the Months: Between October and November
Best Place to experience the dog festival: Old city between Durbar Square and Thamel
Food Offerings: Milk, eggs, meat, rice, sel roti (Nepali bread), peanut and high quality dog food.
Why dogs are worshipped in Tihar Festival?
According to the Hindu Mythology, Bhairava, an avatar of Lord Shiva has a dog as his vahana (Vehicle) known as Shvan. Yamarj, who is known as God of Death also have two watch dogs, which guards the gates of Narak (Hell). As per the Rigveda, Samara (the mother of dogs) also assists Indra (the ruler of heaven), in retrieving stolen cattle. Yudhishthira, also refuses to go to the heaven without its devoted dogs. So from ancient times, dogs are depicted as helpers of humans, guardians, messengers and can also sense danger, death and thus, specially worshiped on this day.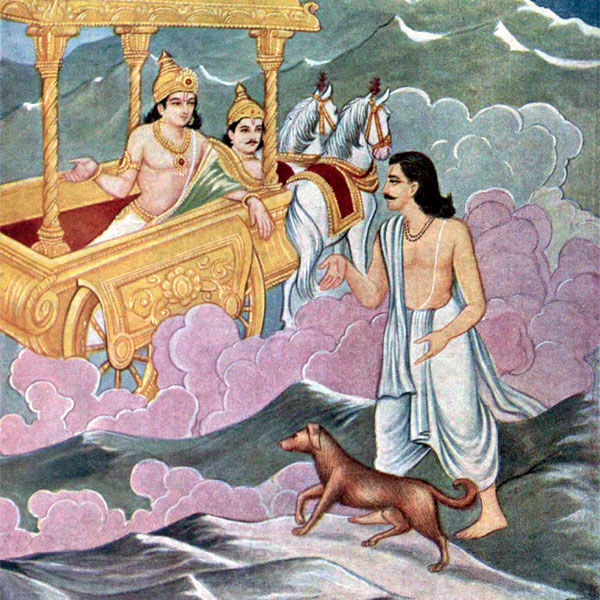 The Garland
In this festival not only pets but also stray dogs are treated equally. A flower garlands called mallas are draped around the neck of every dog whether it is a stray or pet. This floral garland is a mark of respect and dignity.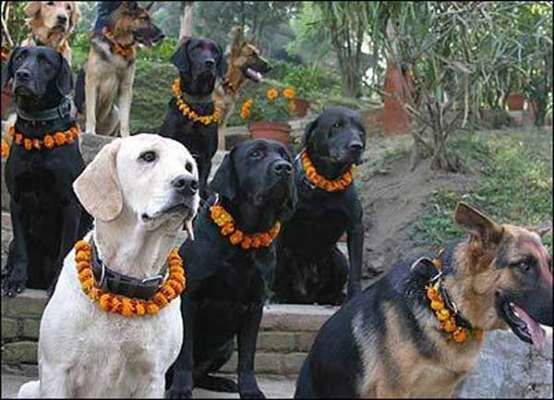 The Tika
A tika or a red mark is applied on the dog's forehead, very similar to any tilak ritual in Hindu Tradition. The Tilak is made from Abit (a red dye powder) along with rice and yogurt. It is the mark of sacredness and blessing to those who encounter dog during Kukur Tihar.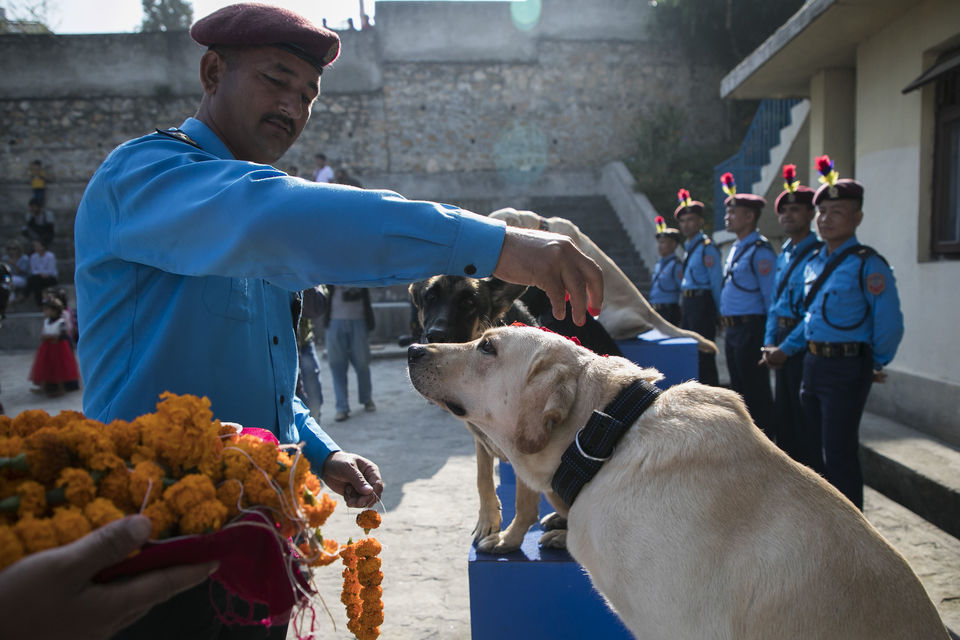 The Treats
As far as the dogs are concerned, this must be the favorite part of the festival for them. Dogs will be offered variety of foods including milk, eggs, meat, rice, sel roti (Nepali bread), peanut, and high quality dog food or anything they like to eat. This is the day when dogs are pampered in the best possible way.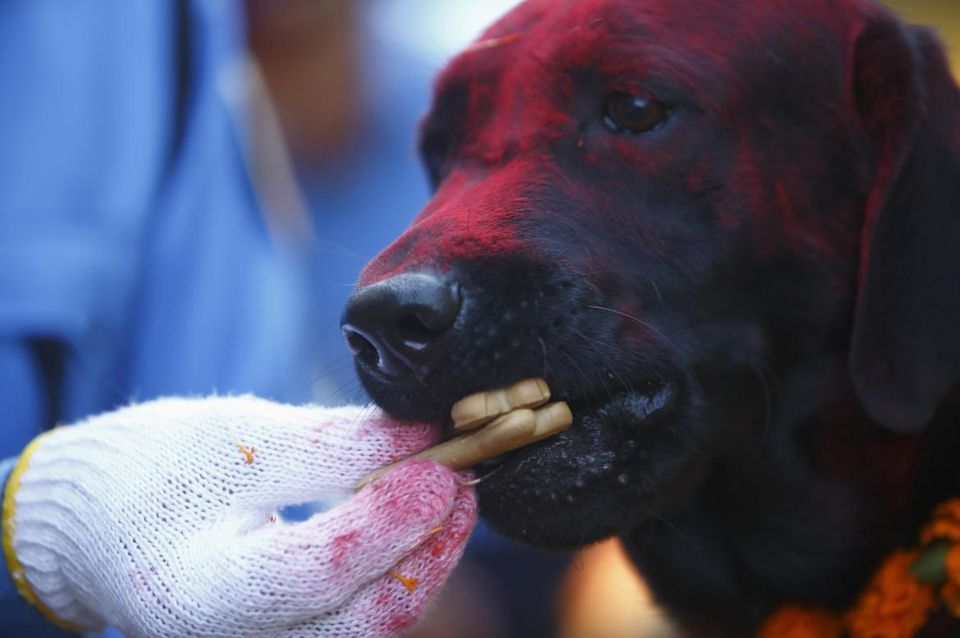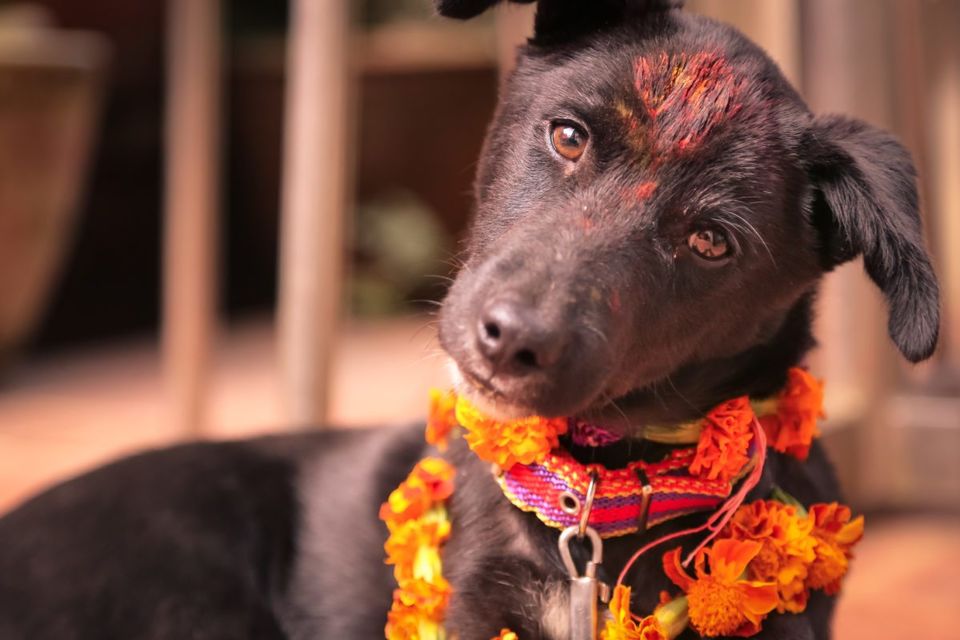 So, Kukur festival is a symbol of showing deep connections between all the living things. It's a way to give respect and care to other living beings and thanking them for being part of our life. So, everyday people have to take a break from their busy schedule and acknowledge their furry friend for being around them.