A Warm Welcome to all of you at Allahabad Kumbh Mela! Enjoy the largest religious festival with great joy and devotion. This is the festival in which people from all over the world gather together. That is why it is also considered as the world's largest religious festival.
Prayag, A Sacred Place In India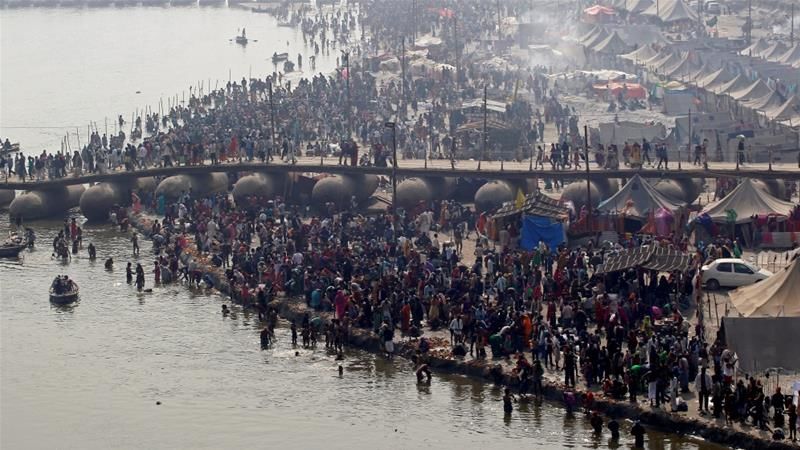 Allahabad Kumbh Mela
Prayag, a sacred place in India, has so much importance for all the pilgrims. The name itself says about its religious power. The name 'Prayag' has a religious meaning. The meaning of Prayag is 'Yajna' or 'Yagya' It represents the 'Sacrifice'. The Kumbh Mela refers to as the macrocosm of sacrifice. The pilgrims came here after sacrificing the comfort of their home. Further, they go through with many hardships in order to take bath in the holy Sangam as well as to worship their Lords properly. The sacrifice is inherent in Prayag.
One important and biggest sacrifice is that the people from all over world sacrifice the feeling of indifference. Rather they come together and gather at this holy place in order to celebrate the grand religious festival Kumbh Mela.
Kumbh Mela Allahabad 2019
After every 12 years, the huge religious festival Allahabad Kumbh Mela is held in the month of Magh at Prayag with lots of joy and fun. During this festival, people take bathe at Triveni Sangam which is the confluence of the three rivers--- Ganga, Yamuna, and Saraswati. The water of Ganga is very clear. On the other hand, the water of Yamuna appears to be in Greenish color. There is a belief among people related to taking bath in Triveni Sangam during Kumbh Mela. The people believe that all the sins are flush away and they will get rid of the rebirth cycle by taking bath in the holy Sangam. The Prayag Kumbh Mela is celebrated after three years of Haridwar Kumbh Mela.
Date Of Allahabad Kumbh Mela
The date for the celebration of this religious festival Allahabad Kumbh Mela is decided according to the Hindu Astrology. According to Hindu Astrology, we celebrate this grand festival when the Jupiter is in Taurus while the Sun and the Moon are in Capricorn. Now let's discuss what do these signs mean as per Hindu Astrology?
Actually, Taurus and Capricorn are the zodiac signs in Hindu Astrology. Taurus is the second zodiac sign. The span limit of this astrological sign in the zodiac is 30° to 60°. The "bull " represents as the symbol of this zodiac sign. Talking about Capricorn, it is the tenth zodiac sign. The span limit of this zodiac sign is 270°-300°. Moreover, as per cultural significance, this zodiac sign is also known for Makar Sankranti festival in India.
Next Event Of Allahabad Kumbh Mela
You will be glad to know that this grand religious festival is again going to held in the year 2025. Before that, in 2019, the Ardh Kumbh Mela is going to be held from January 15 to March 4.
Previous Dates Of Allahabad Kumbh Mela
Important Dates (In Years) Event of Kumbh Mela Allahabad
1983 Ardh Kumbh Mela
1989 Maha Kumbh Mela
1995 Ardh Kumbh Mela
2001 Maha Kumbh Mela
2007 Ardh Kumbh Mela
2013 Maha Kumbh Mela
The History Behind the Allahabad Kumbh Mela
There is an interesting history behind the celebration of religious festival Kumbh Mela in Allahabad. During the churning of Ksheera Sagar, Amrit Kalash appeared. But the Gods were feared of the fact that the Demons will definitely create havoc in the entire world after being immortal by drinking Amrit. Therefore, to save the world from such havoc, the Gods asked Jayant, who was the son of Indra, to take that pot from Dhanwantari.
The war between the Demons and the Gods were held for around 12 days and 12 nights. Each day of that time is equal to one year as per Hindu Astrology. During the war among Gods and Demons for getting Amrit, the scuffle of Amrit Kalash broke out and four drops from it were spilled on the Earth. The drops from that Amrit were fell on four different places. Those places were Prayag (Allahabad), Haridwar, Nashik, and Ujjain. Since then, we celebrate this event as Kumbh Mela as the largest religious fair after every 12 years.
Ardh Kumbh Mela
The Ardh Kumbh Mela occurs every six years, i.e., between the two Purna Kumbh. The important dates of coming Ardh Kumbh Mela 2019 are as follows-
Ardh Kumbh Mela Dates 2019
Important Dates Festivals Ardh Kumbh Mela
15th January, 2019 Makar Sankranti
21st January, 2019 Paush Purnima
31st January, 2019 Ekadashi Snan
4th February,2019 Mauni Amavasya
10th February, 2019 Basant Panchami
16th February, 2019 Ekadashi Snan
19th February, 2019 Maghi Purnima
4th March, 2019 Mahashivratri
Important Dates Of Shahi Snan In Ardh Kumbh Mela, 2019
❏ 1st Shahi Snan- 15th January
❏ 2nd Shahi Snan- 4th February, on the day of Mauni Amavasya.
❏ 3rd Shahi Snan- 10th February
Allahabad Kumbh Mela Tour Packages, A Golden Opportunity For Being Part Of This Religious Event
Understanding how important and sacred this largest fair is for you, we offer a golden chance to you to be a part of this pious festival through our religious tour packages. Don't miss this great opportunity and get the latest deal of Allahabad Kumbh package 2019 at affordable rates.
Dive into the world of peace with our best Kumbh Yatra Package 2019. We provide complete services along with the proper arrangement of Kumbh Mela camp, bus, train, taxi, and cars for travelers.
Let the devotion come out from your inner soul. Take a tour to the Kumbh Mela. Our Kumbh Mela Tour package includes 3 Days Kumbh Mela Package, 4 Days Kumbh Mela Package, and 5 Days Kumbh Mela Package. Furthermore, you can avail the benefit of Shahi Snan along with Allahabad sightseeing.
Accommodation In Kumbh Mela Allahabad 2019
Want to visit Kumbh Mela 2019? Want to explore the beauty of Kumbh Mela this year, but is bothered about accommodation? Don't worry. We understand your need. We know your devotion. That's why, to get rid of this problem, we offer our clients 5 types of accommodation facilities as per their requirement. Our accommodation facility during Kumbh Mela includes-
Premium Cottage
Swiss Cottage
Deluxe Cottage
Economy Cottage
Dormitories
Get the accommodation facility having cozy interiors along with the attached bathrooms. Further, we also offer mattress, Wi-Fi internet, Chairs, and center table, 24 Hrs running water and many more facilities etc. For More Accommodation Details, You can go through our official website: www.thekumbhyatra.com/accommodation
Attraction of Kumbh Mela
Now you know much about the Allahabad Kumbh Mela. It's time to discuss some major attractions of this largest festival. These major attractions are as follows-
Shahi Snan
Akharas
Saints
Satsangs
Langars & Prasad
How to Reach Kumbh Mela Allahabad?
Visiting Allahabad on this mega fair Kumbh Mela is the golden chance that you can get in your life. You will be amazed to know that this world's largest religious festival attracts around millions of devotees at the global level. Keeping in mind the comfort, easiness, and enthusiasm of all the devotees, we are presenting the following valuable information that let you know how to reach Kumbh Mela Allahabad. The various modes that you can opt to visit this mega fair are-
By Air- The nearest domestic airport to Allahabad is the Bamurauli Air Force Base. It is near about at 12 km. distance from Allahabad. The various flights such as Air India, Indigo etc. serve airline facilities for the pilgrims. Outside the airport, you can opt local cabs and interstate buses that will drop you at Allahabad city.
By Road- You can also visit Allahabad Kumbh Mela by road via National and state highways. Further, many local transport services are also there to make you reach the destination point. The local transport may be a cab, a rickshaw, or an interstate bus.
By Rail- Through the services of Northern Central Railway, you can visit Allahabad from your cities and states. Take this religious tour and gain all the blessings this Kumbh Mela 2019.