Base Village: Kurdupeth
Fort State: In ruins
Difficulty level: Easy
Endurance level: Medium
Things to carry: Trekking shoes must, Two liters of water, some snacks.
Time to Reach the top: 2.5 hours from Dhamanahole and 2 hours from Jite village
Camping: Tents can be set up or at a time 100 people can stay in the cave.
How to Reach: Follow Google maps for route to either Jite or Dhamanhole. Dhamanhole village can be reached from Pune either by Tamhini Ghat or via Lavasa.
Nearby Tourist places: Varasgaon dam, Panshet dam, Temghar Dam, Lavasa, Tamhini Ghat.
Kurdugad is a small fort in Raigad range, named after the goddess Kurdai, whose temple is at the base of the fort. It is also known as Vishramgad. It must have been used to keep an eye on Tamhini Ghat and surrounding region. It is part of the Raigad range of hills.
From base, it takes only 30 minutes to reach the top, but the journey to reach the base takes 2 hours. The fort is surrounded by hills from three sides. The greenery looks soothing from the top, specially in summer. From Dhanamhole village, one has to cross a hillock, get down from a bigger hill containing boulders, go through a couple of dense forests on unpaved road to reach the base of the fort.
I and Shashikant started from Pune at 5 in the morning. We thought of exploring the route from Dhamanhole village as no blog or video has any information from this way. We also saved 35 KM trip by avoiding going to Jite village. We went via Tamhini Ghat, the approach road from here has some bad patches, but we can go by bike. We saw clouds touching the peaks of the hills which was a rare scene in the summer of May. We thought it will be a pleasant trek without extreme heat.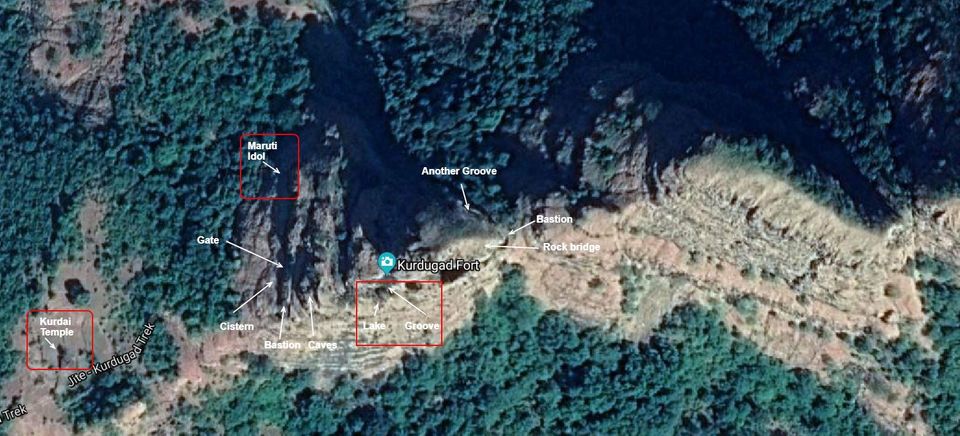 There is a beautiful Varsagaon dam on the way. We stopped en route on the bridge over the dam to click some snaps.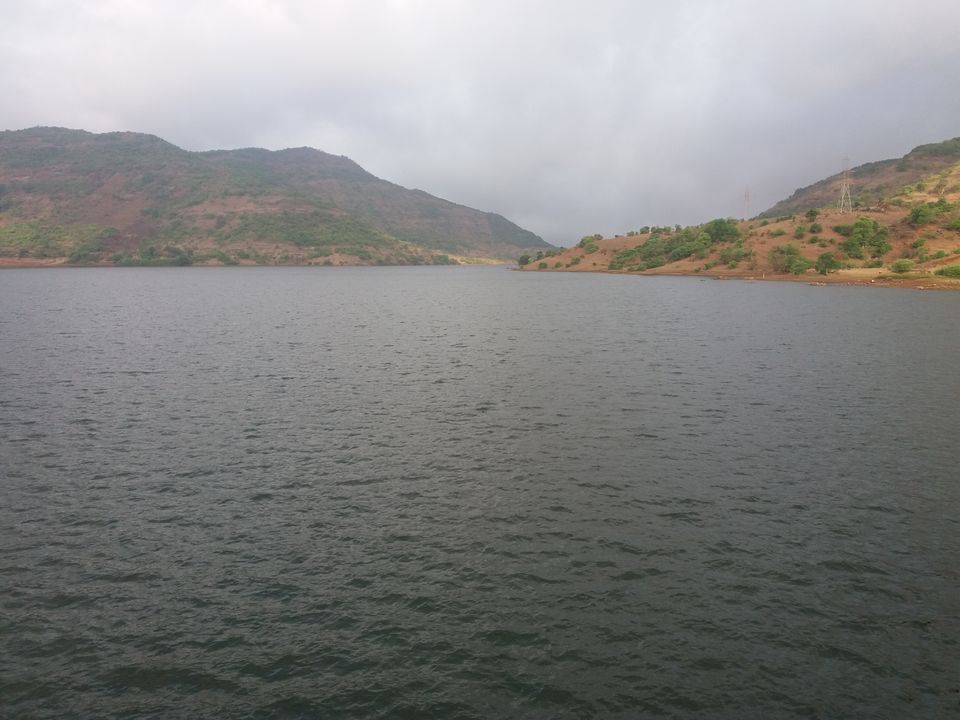 We reached the Dhamanhole village in 3 hours and parked the bike near a temple in the village. We inquired villagers about the path to the fort. They confirmed that there indeed is a way to the fort and asked us to follow the road trail. We were happy that we need not return and then go to Jite village.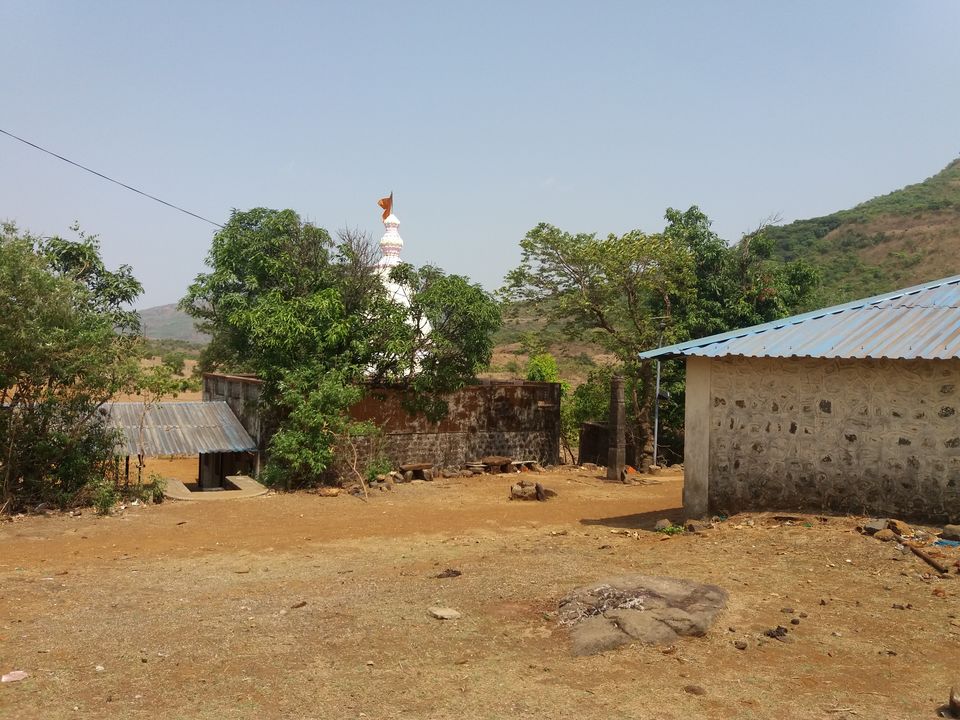 We started walking on the road and were following the path along the electric poles. These poles are installed till the base of the fort and so can be used to follow direction. First we went beside a small hill which has a temple and a watchtower.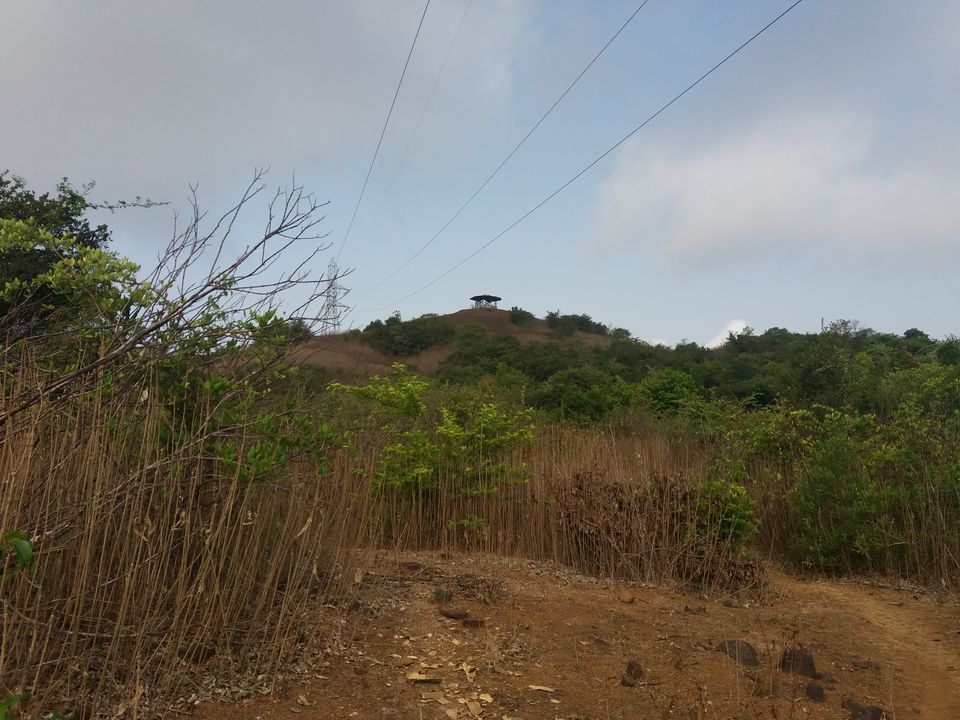 After coming down, the fort was visible from here. We could also see the panoramic view of Tamhini Ghat and the Kokan area around 30 km ahead. We started getting down the bigger hill. At some places, it is difficult to get down from the boulders and one needs to be careful.

Once we came down, it was a dense forest and we could hardly see sunlight touching the ground. It was little scary as we heard that there are leopards and other wild animals in the forest. The natural cover from sun was pleasing.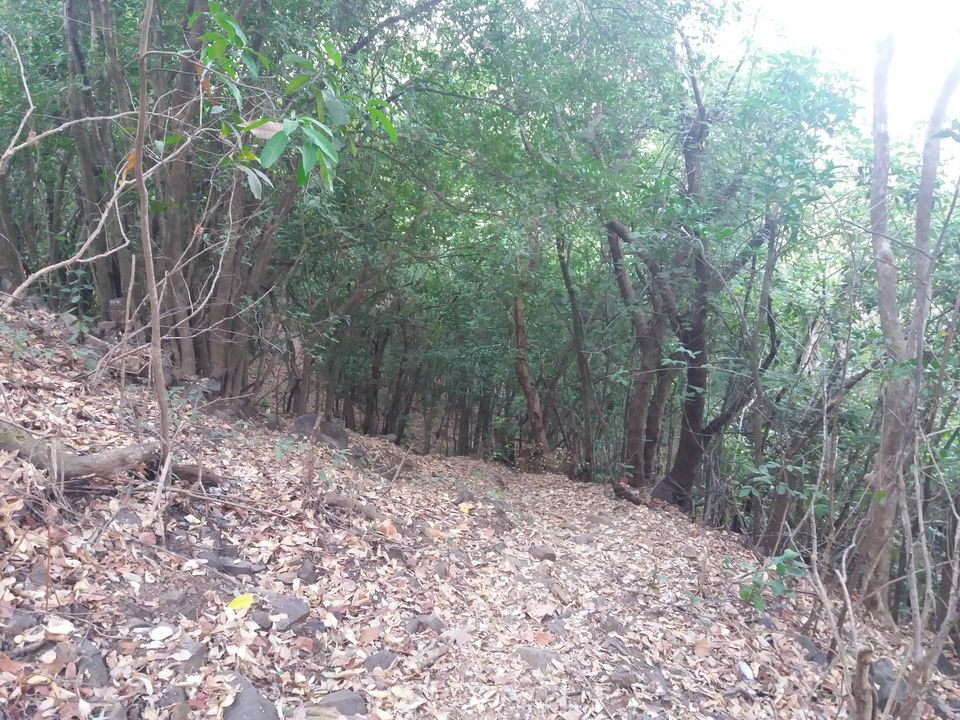 It was a long tiring walk and we were eager to reach the base faster. As we went past the forest, we came to place where there were many trees cut and wood placed all around. We could hear the echo at this place. It was fun to see how nature reciprocates with what you say. It is said that what you give others comes back to you. Let's not get into philosophy. :)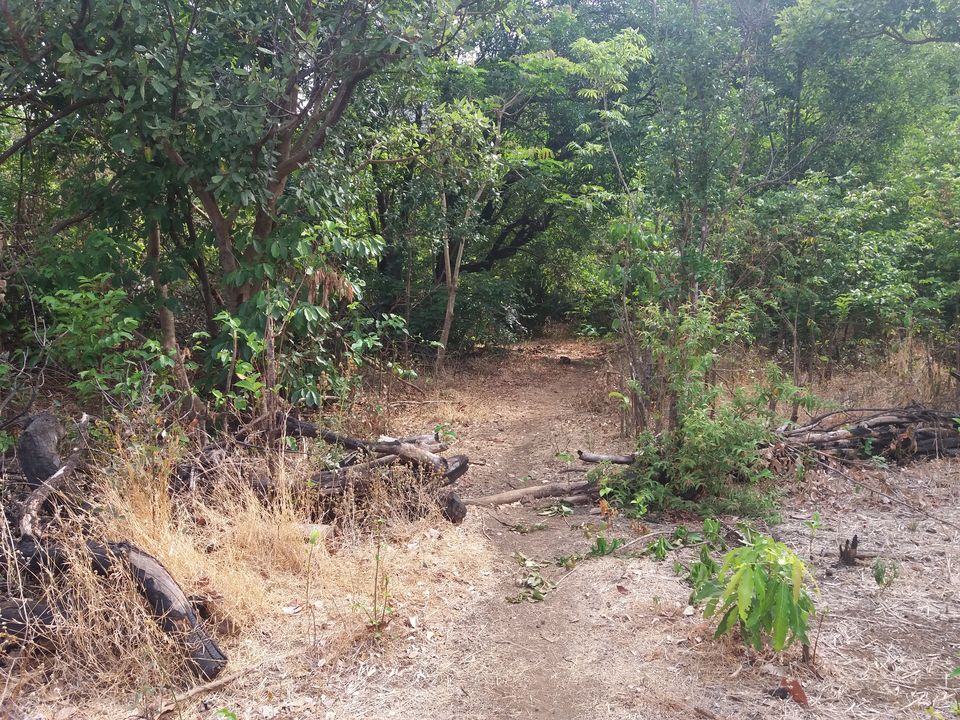 We soon reached the goddess Kurdai temple. There idols are carved out of rock. We took the blessings here.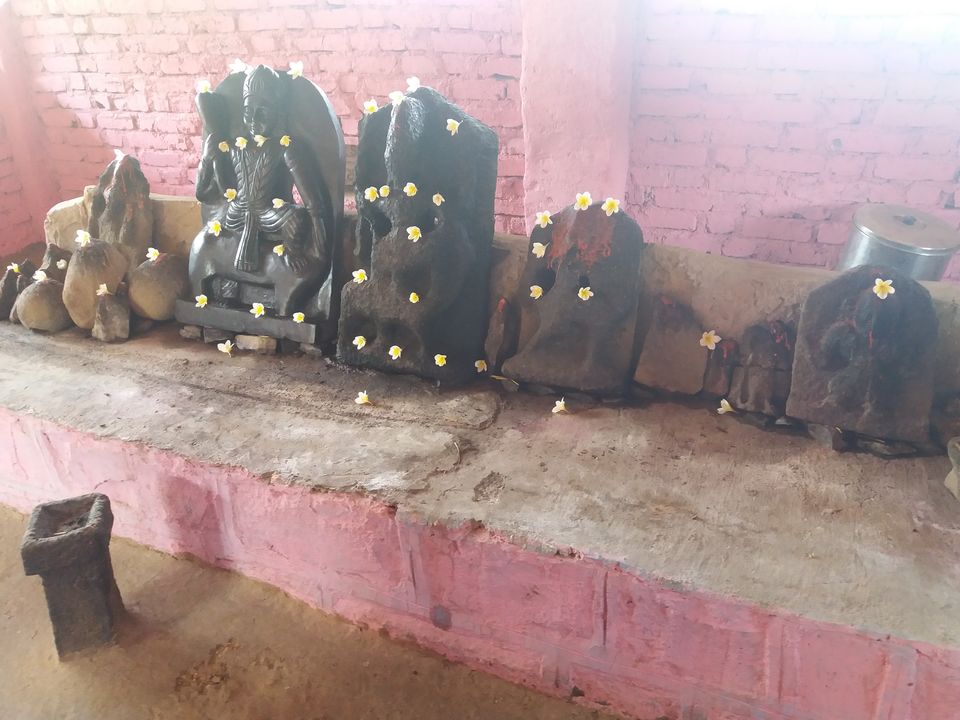 This also houses a school. Also there is a black board, charts, and other teaching materials.
From this place, fort is clearly visible. We could see the bastion, some fortification, caves. We started the ascend. It was fairly a simple walk towards the fort.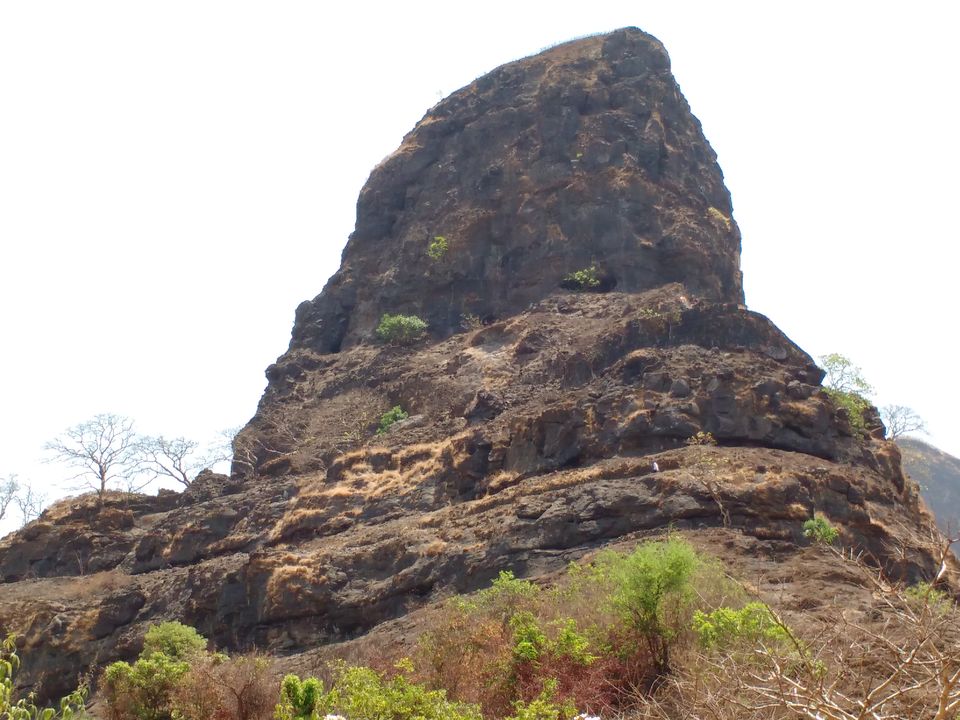 After just 15 minutes, we reached the ruined gate. There are two walls standing between the steps.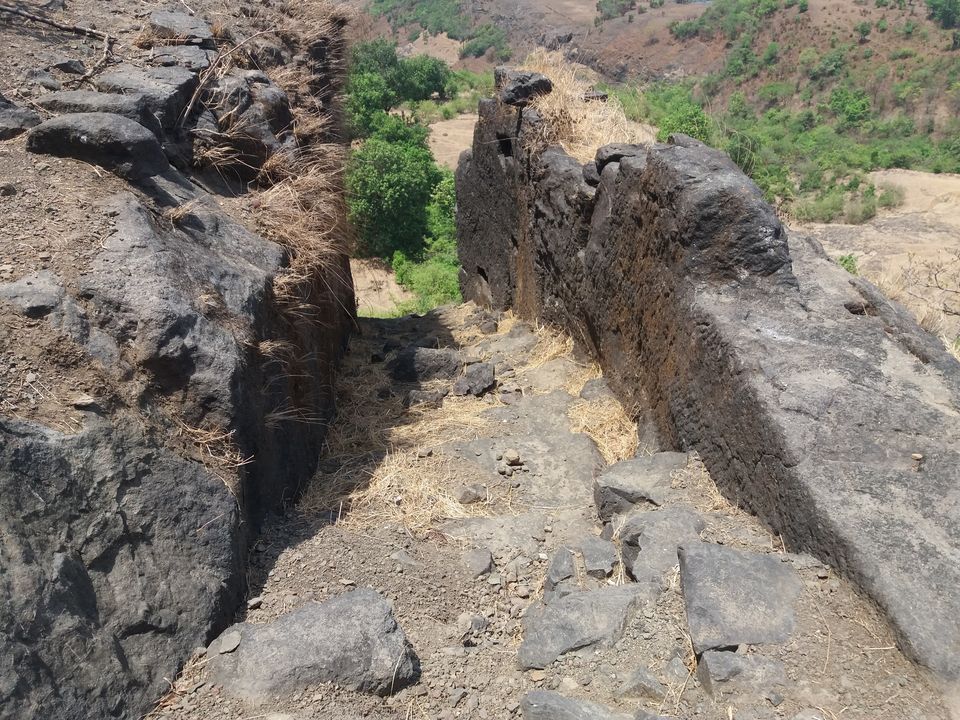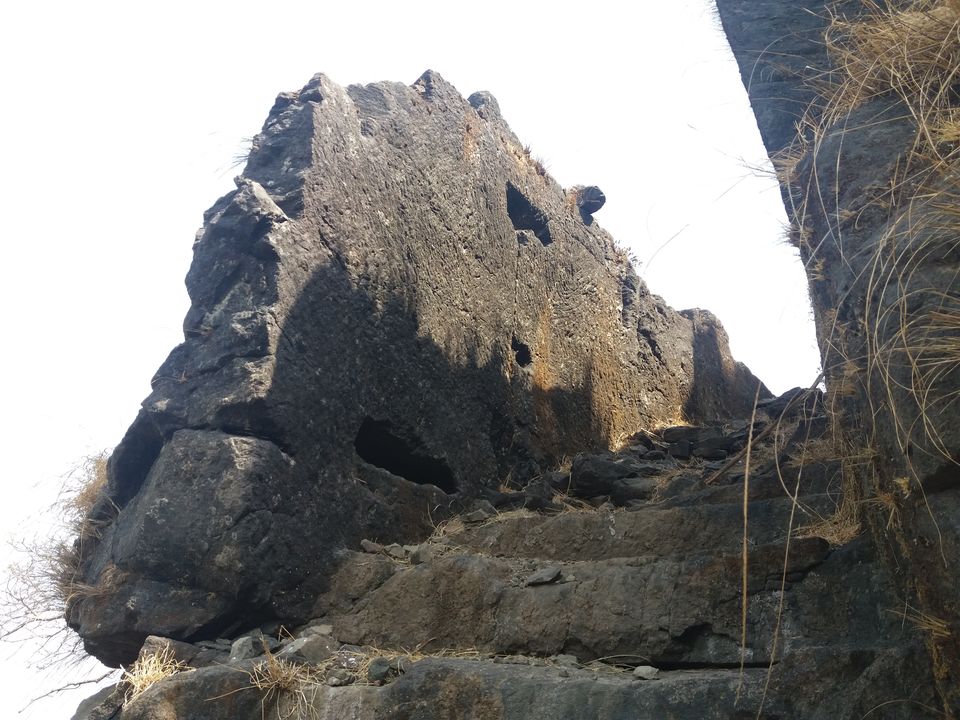 On the left side of the gate, there is a rock cut water cistern. It has potable water all round the year. We could see small fishes in the tank. It was a true blessing to drink cold water from that tank. We filled up our bottles and continued.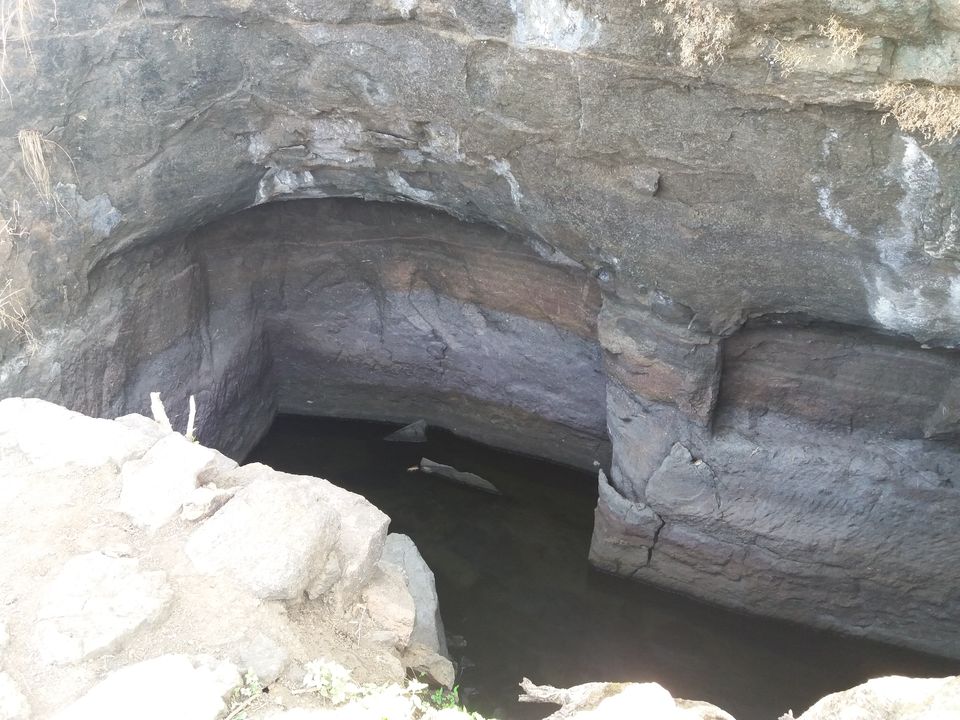 We took a right turn and started exploring the fort. There is a ruined bastion and a saffron flag is installed.
Just behind the bastion, there are Buddhist caves, but cannot be visited without rock climbing equipment.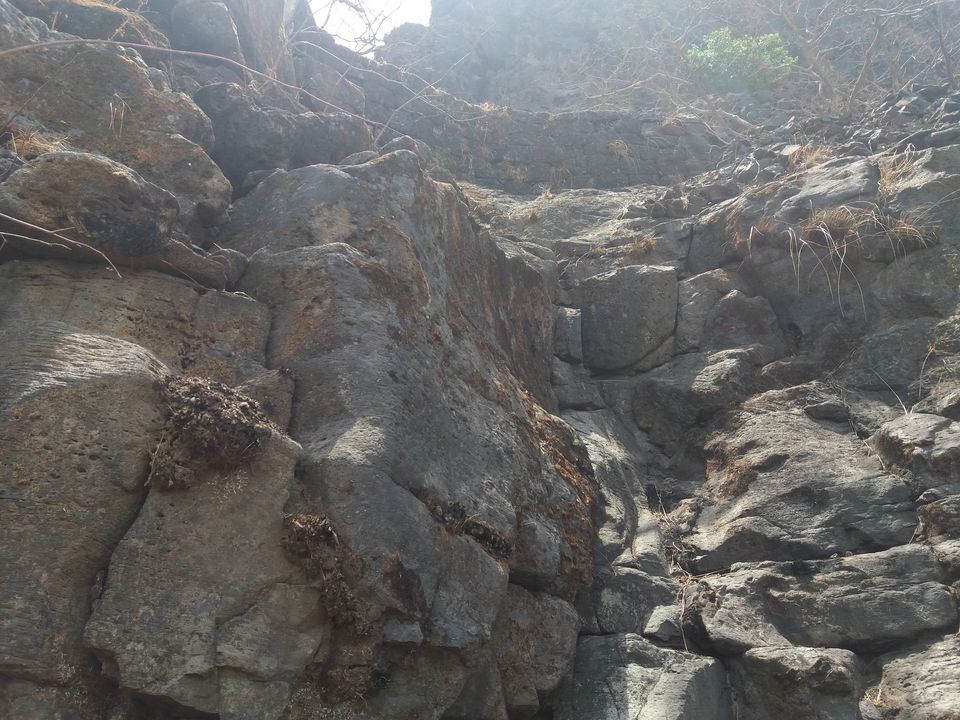 From this point, we could see Kurdupeth village and Kokan area across 30 to 40 km ahead.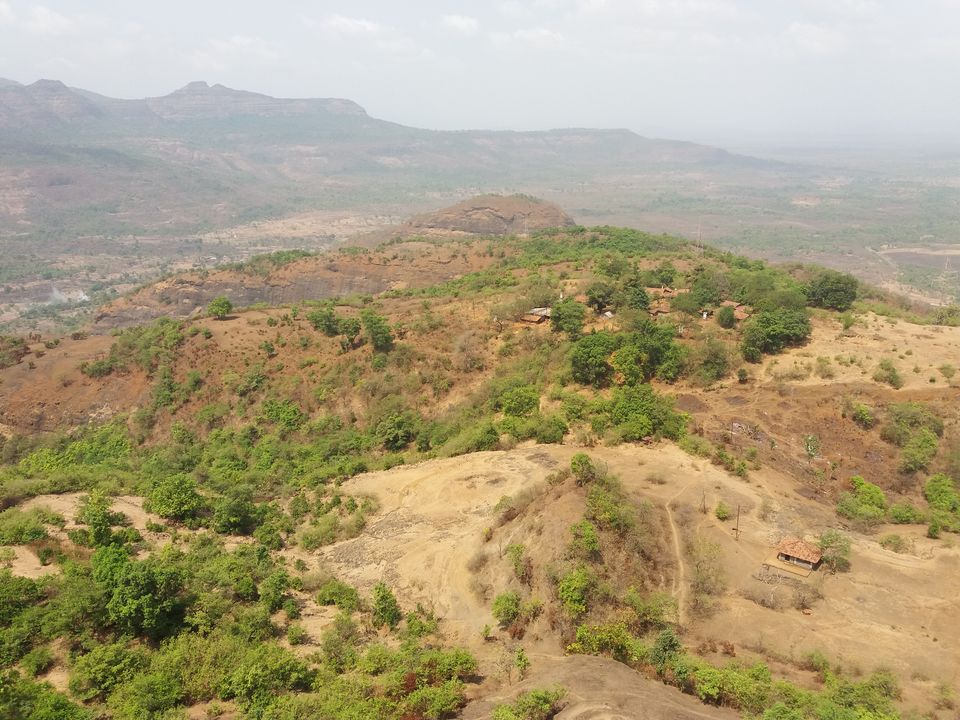 Little ahead, there is a natural pond but it was dried up due to summer.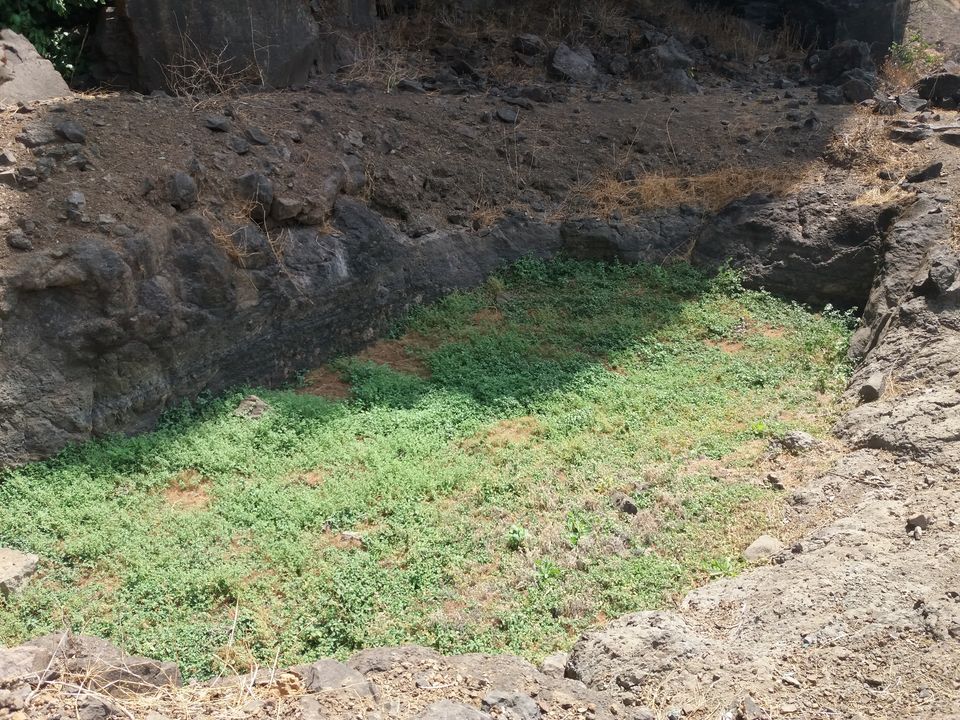 Beside the lake, there is a most fascinating spot on the fort. A natural cave, which was deep enough to accommodate nearly 50 people at once. It was a natural wonder to see this. We went inside and thought we are below the peak itself.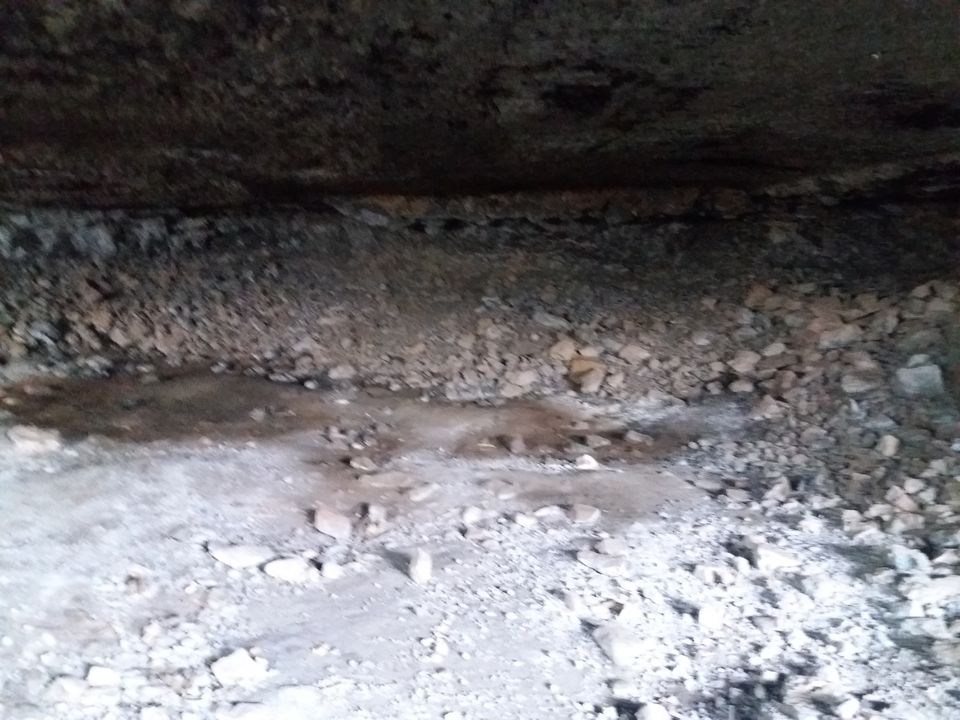 Moving ahead, the road has been broken due to landslide. There is a very narrow gap between the rocks which can be used to move to other side.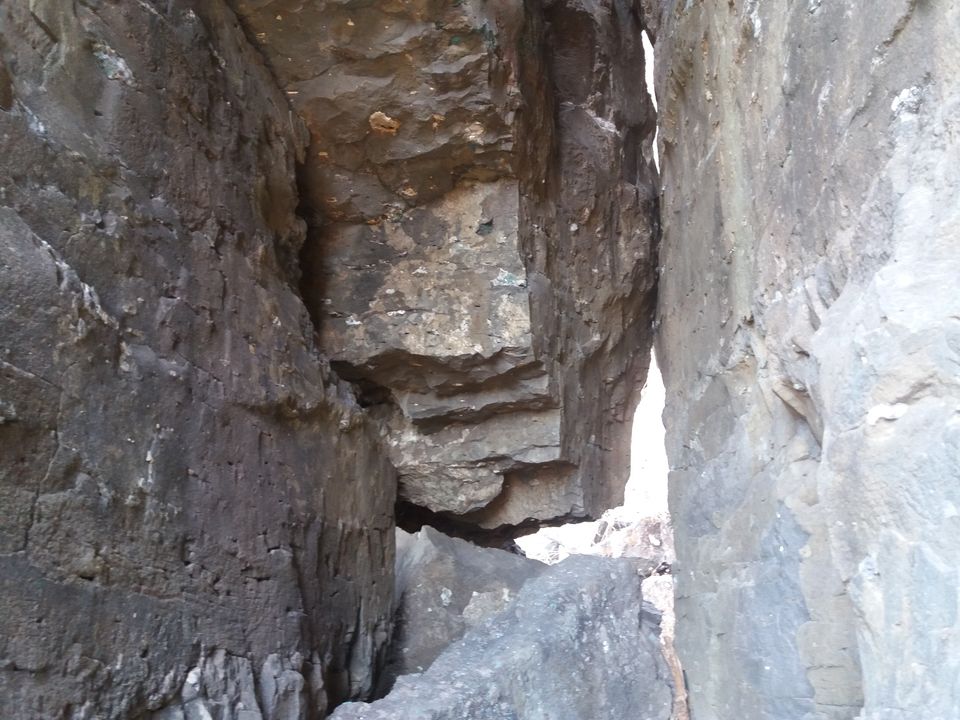 After going to other side, we spotted another bastion. It has small steps to go on top of it.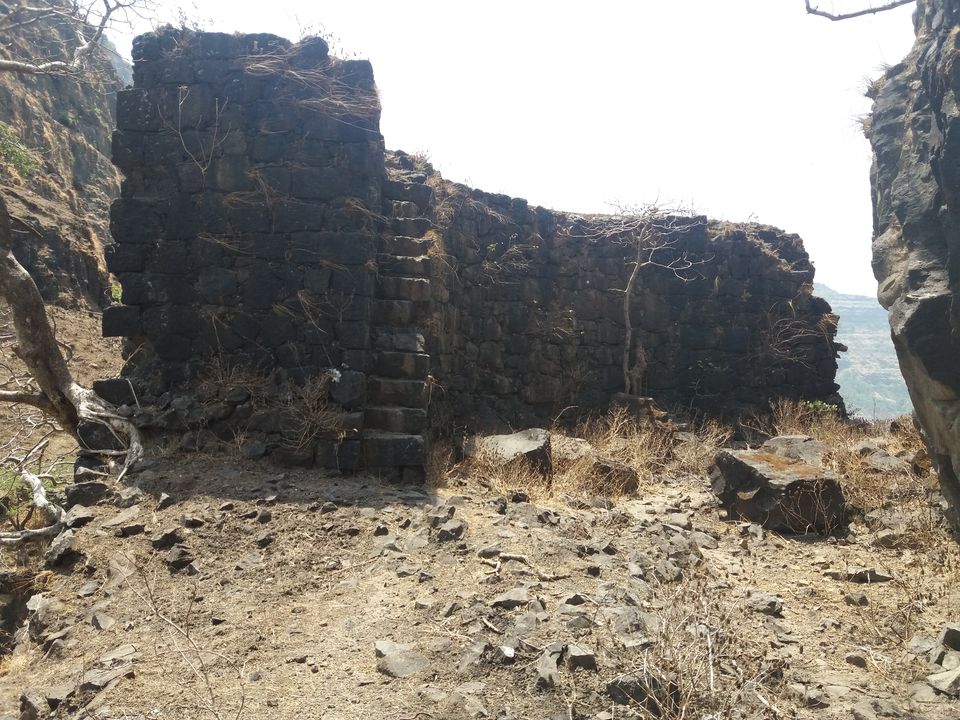 Opposite to the bastion, there is a peak. To reach here, one needs to climb up from the rocky path.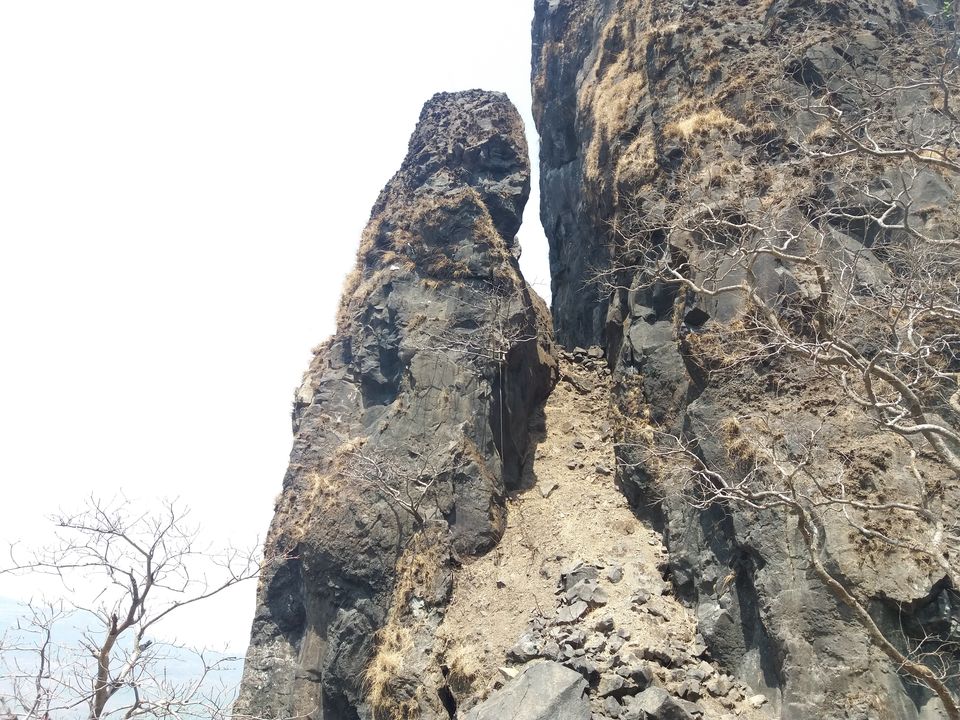 Another beautiful thing to see is the bridge made up of rocks. It must have been formed by rock sliding. One can go on top of that bridge but that is risky.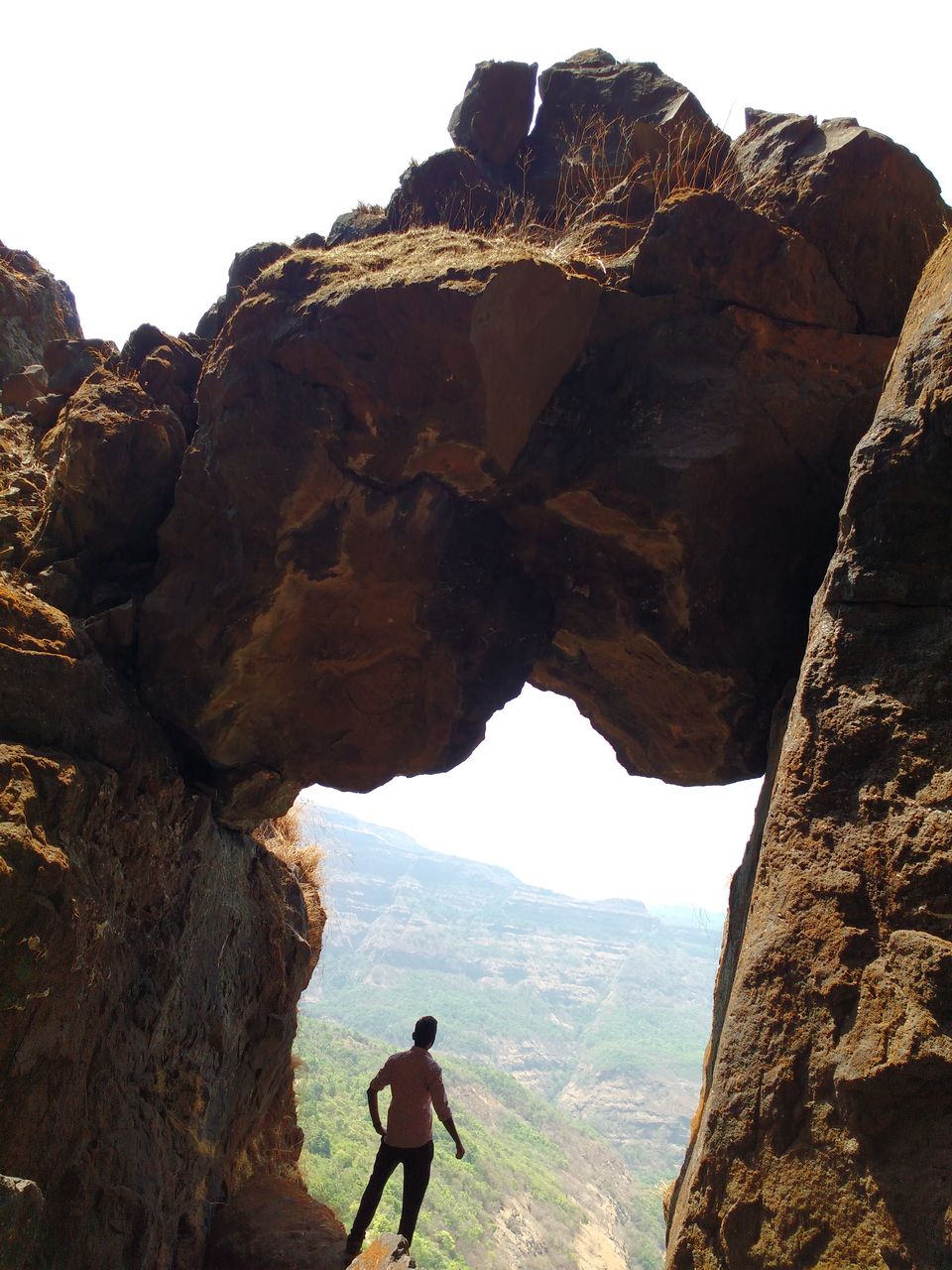 After few steps, we came to another groove. This was bigger than the earlier one and could accommodate 100 people. This cave is very long and deep and there was a saffron flag also installed. Camping can be done here.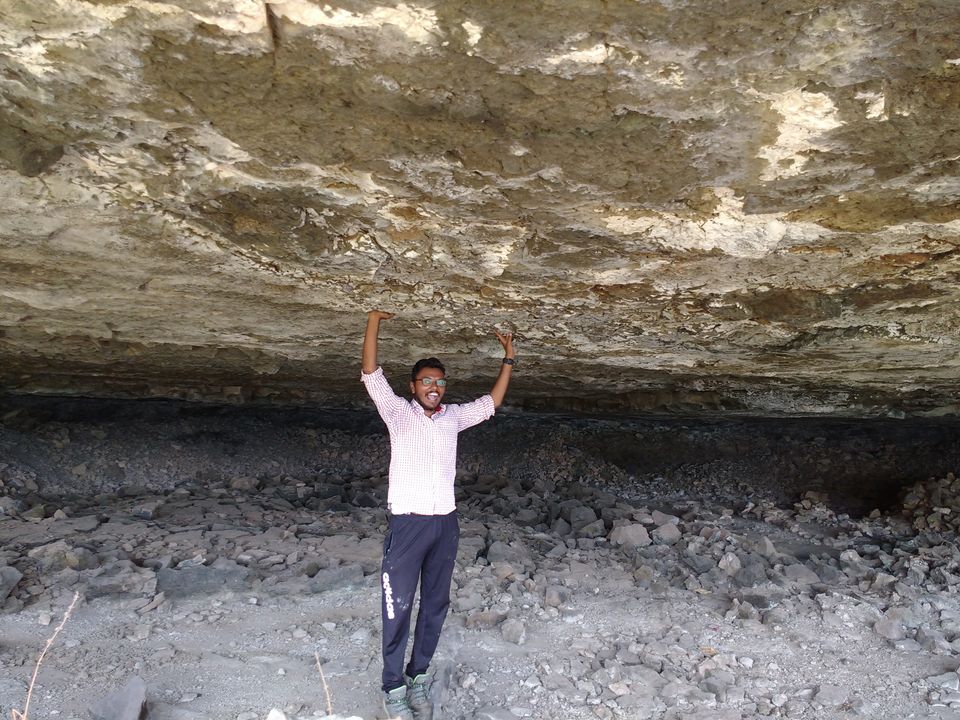 Moving on, we came to a idol of Lord Hanuman. It was similar to the one we can see at Tikona fort. You can observe, the god is crushing a demon by his leg.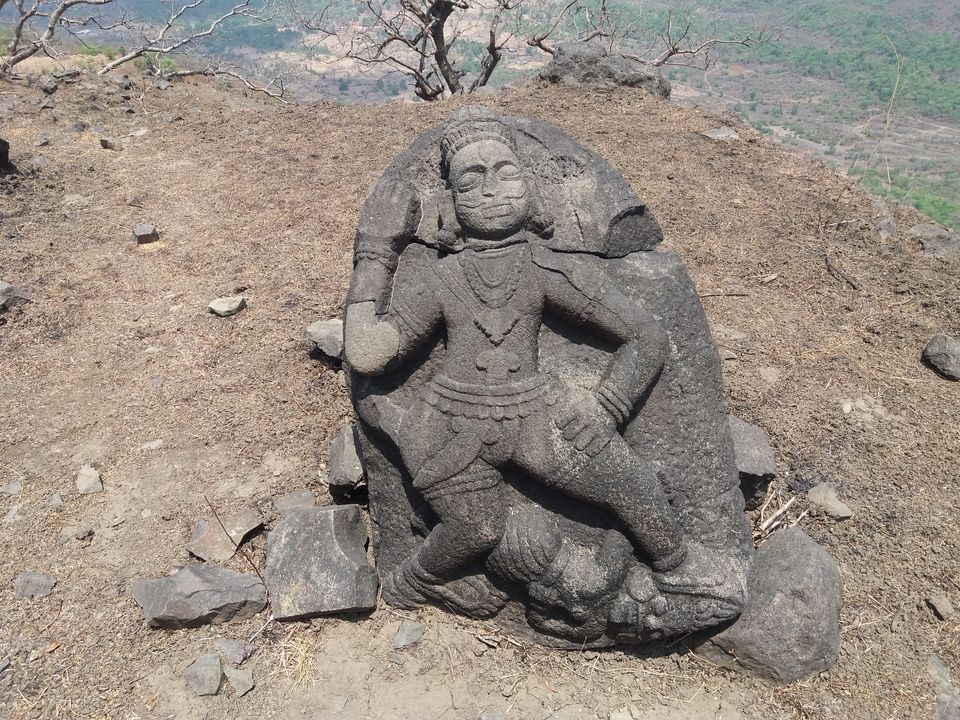 This completed our complete circle to the fort. We went to the water tank, filled up our bottles with cold water and got down.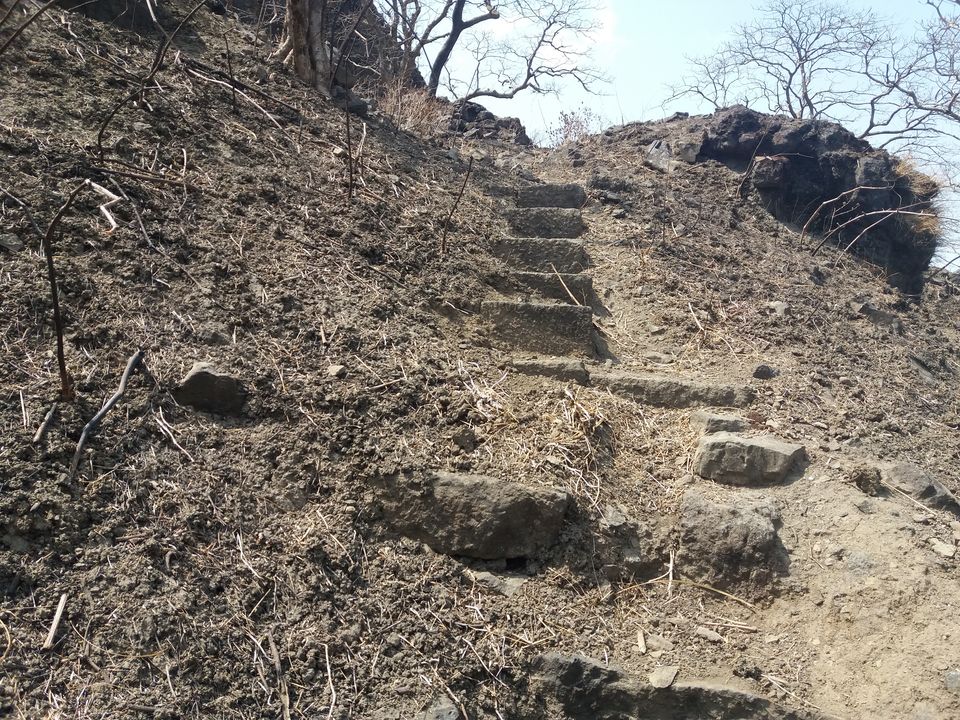 On the return, the sun was draining our energy faster. We were sipping water at every stop to keep hydrated. It was really getting tough to continue walking in the peak summer heat. Somehow we reached the Dhamanhole village safely. We returned back to Pune via Lavasa road.
You can also watch Vlog below.
Leave only your footprints, Take back only pleasant memories.