Kutni dam island resort in Khajuraho also known as Kutni Island resort in Khajuraho is a sensational experience you must enjoy with your partner. This place is an ideal romantic destination for newlyweds because of the ambiance it provides. A long walk around this artificial island in the late evening followed by a night at the cottage where the balcony is facing the water can be very rejuvenating for a newly married couple.
This beautiful place is not just for newlyweds, it is also a perfect destination for families and friends. You can visit here with your group of friends for a blast.
You can come here with your kids and enjoy the boating experience around this island. You can get the full feel of this place in the below video.
Kutani Dam island resort was built in January 2019. This complete project was funded by the Swadesh darshan scheme of the ministry of tourism. This has added to one more jewel to Khajuraho which is already the most visited tourist attraction in Bundelkhand.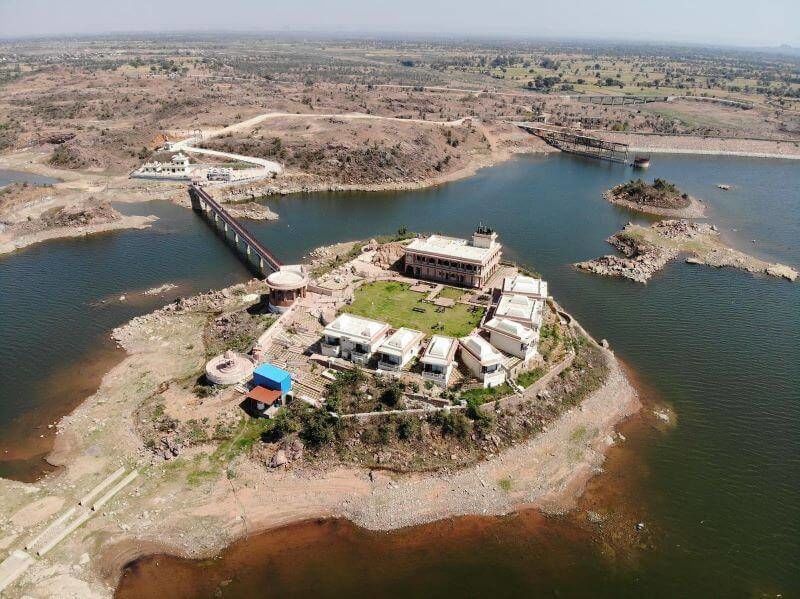 Read about the 20 most beautiful places to visit in Khajuraho
Enjoy boating at Kutni dam (Kutni island resort) Khajuraho
If you love to be on the water, you got to love boating in the Kutni river that surrounds this beautiful island. You have 2 kinds of boating available at this place, speed boating, and paddle boating. Currently, they are also planning to bring in Shikara boats soon.
The cost of speed boating is 150 rs per person with a total capacity of 4 people in 1 boat. This boating is available from 9 am to 7 pm in the evening. You can take a tour of the whole island in this.
The cost of paddle boating is 150 rs for 30 minutes with a total capacity of 4 people in 1 boat. This boating is available from 9 am to 5 pm in the evening. You can enjoy paddling the boat with your friends and family. This is best for couples to spend some time alone.
Enjoy the splendid view of the river at the sunset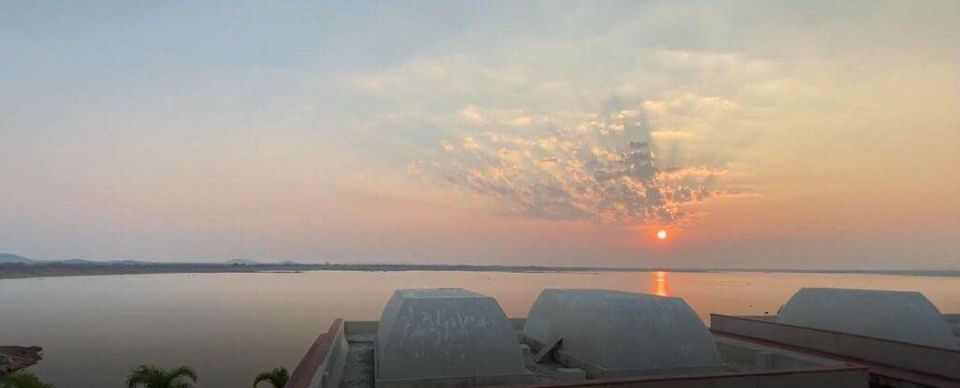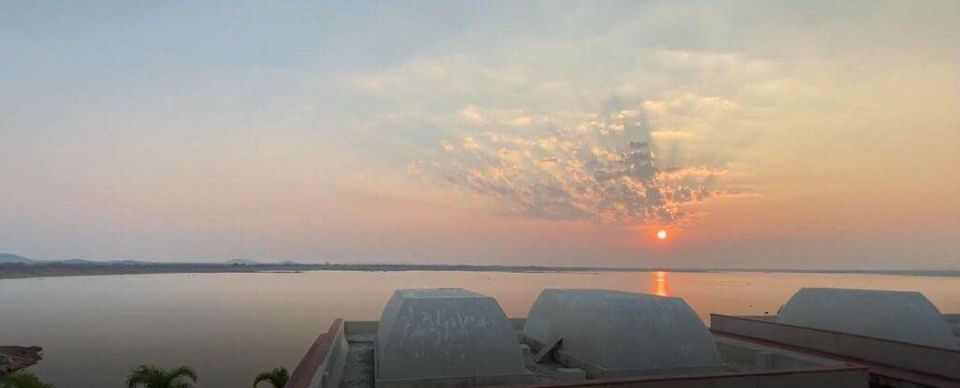 The fabulous sunset is seen from Kutni Dam Khajuraho
Watching the sunset at Kutni Dam island can be a very romantic experience for you and your partner. you can see the view in the above picture, this view is just breathtaking. If you love watching a beautiful sunset then you must stick around till evening.
A romantic night stays at Kutni island resort, Khajuraho
A night stay with your partner at this beautiful resort by the river is one to die for. You will love a long romantic walk holding hands with your partner after a delicious dinner at a restaurant.