Heard so much about Ladakh over the years that it felt unreal when it really happened. The beauty of the place just takes your breath away. In a matter of few kilometres you can see snow-covered mountains, deserts and lakes. And they are so vivid that you wonder whether they are part of the same land.
I chose not to fly directly to Leh as I wanted to experience the scenic landscape of Srinagar-Leh and Leh-Manali highways. And the experience turned out to be as mesmerising as imagined. Since I was travelling to Srinagar anyway, I decided to stay and see a bit of the city. We were told by a friend who is a localite to not go to downtown area as that is where the most disturbances happen. Since it was Eid time, the Lal Chowk area was buzzing with people shopping for the festival.
If you travel to Srinagar during this season, staying at a boathouse is a must. We got one for Rs 2000 per night and the hospitality was exceptional. The owner of the house, Khaleed bhai, not only helped us getting a shikara ride on Dal Lake, but also connected to a local cab driver with whom we went to Sonmarg next day.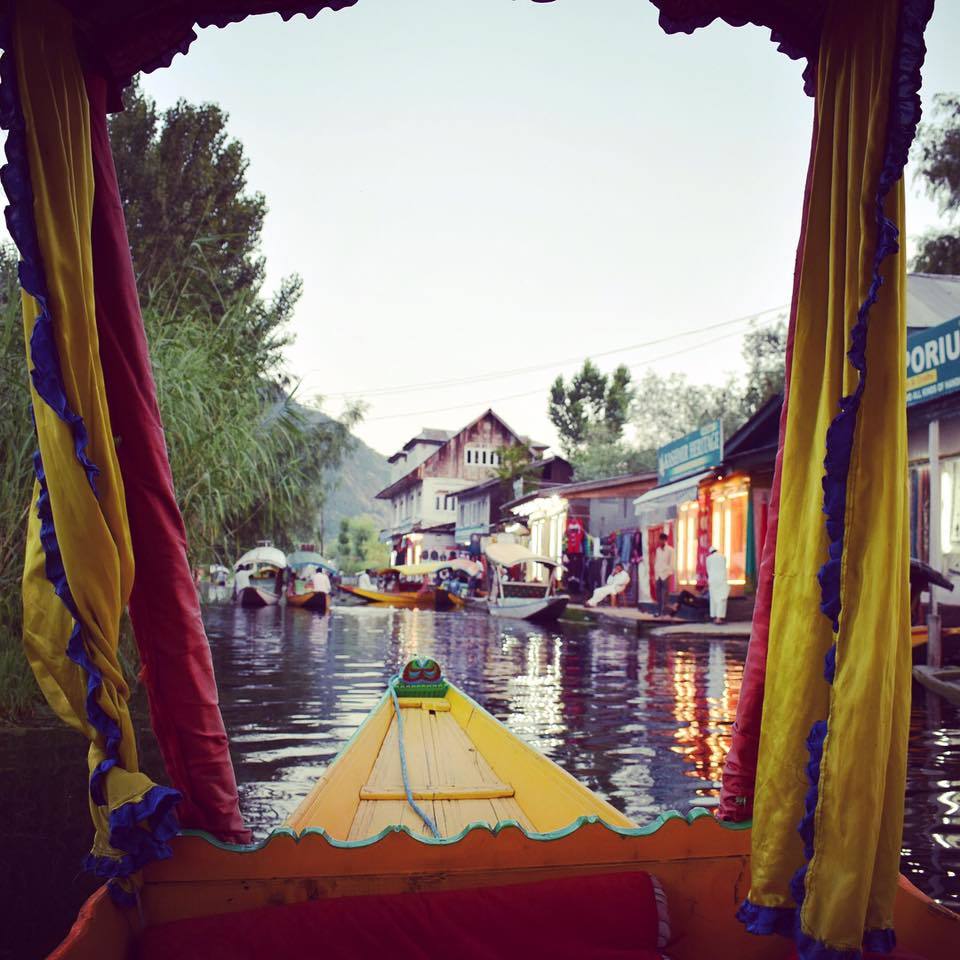 Going to glaciers on a mountain horse in Sonmarg was quite an experience. After spending some time in the nature's lap, clicking numerous pictures and trying sledge, we returned to Srinagar by early evening as we needed to pack for our next day's road journey to Leh.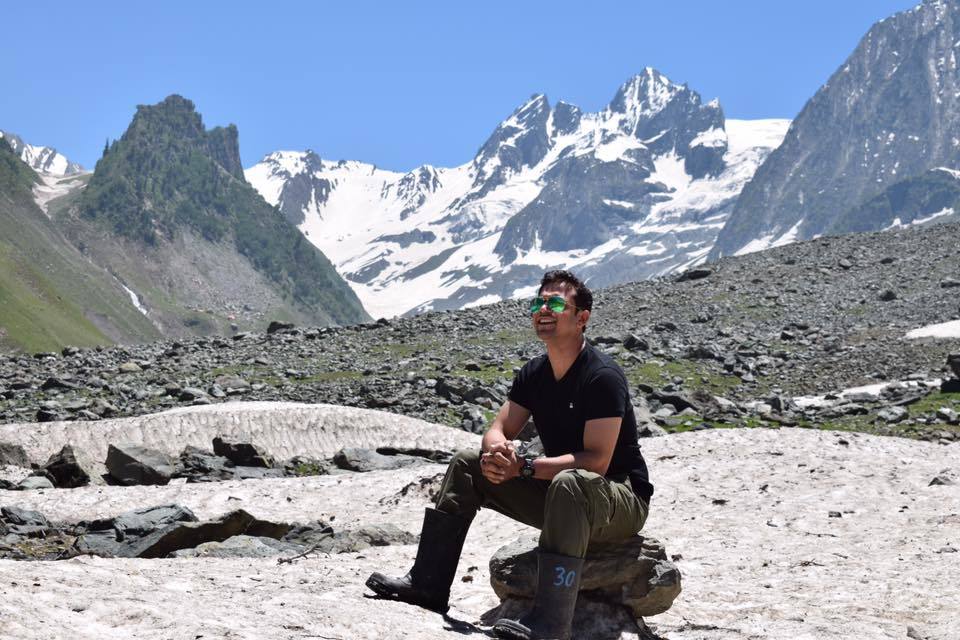 Since we were only two, a friend from Delhi and I, we had to look for a shared taxi to Leh. The shared one costs Rs 2000 per person which is way cheaper than the private cab (17K). But sharing a taxi also meant travelling non-stop for 13 hours and not staying overnight at either Dras or Kargil. The road to Leh was mostly good barring Zojila Pass, where there is hardly any road, and our cab needed to stop multiple times to let the vehicles coming from the opposite side go through. While we witnessed some lovely snow-covered mountains when the journey started from Srinagar, the landscape changed to desert as we approached Leh in the evening.
Barring the to-and-fro flights, we didn't book anything (taxis, hotels, camps) upfront. It turned out to be a good decision as it gave us a chance to see the hotels first and also bargain. Despite the peak season, we didn't have any difficulty finding a hotel or a guest house in Leh. And they are available to suit your budget and liking. Since we wanted to keep it a budget trip, we decided not to spend too much on it. Any place which was clean, had hot water facility and wi-fi (which you would hardly get) was fine with us.
After a long road journey, we decided not to plan too much the following day and just see a few places in and around Leh. We hired a bike and got the company of a wonderful couple from Jaipur with whom we visited Shey Palace, Thiksey Monastery and Hemis Monastery. We also decided not to see the Magnetic Hill as we already had a glimpse of it while coming to Srinagar and honestly, I found it a little over-rated.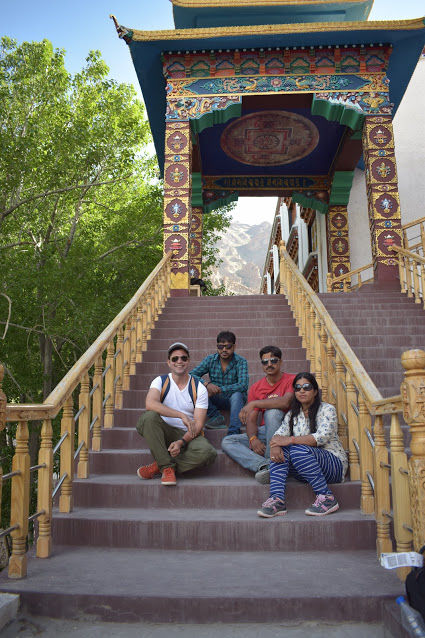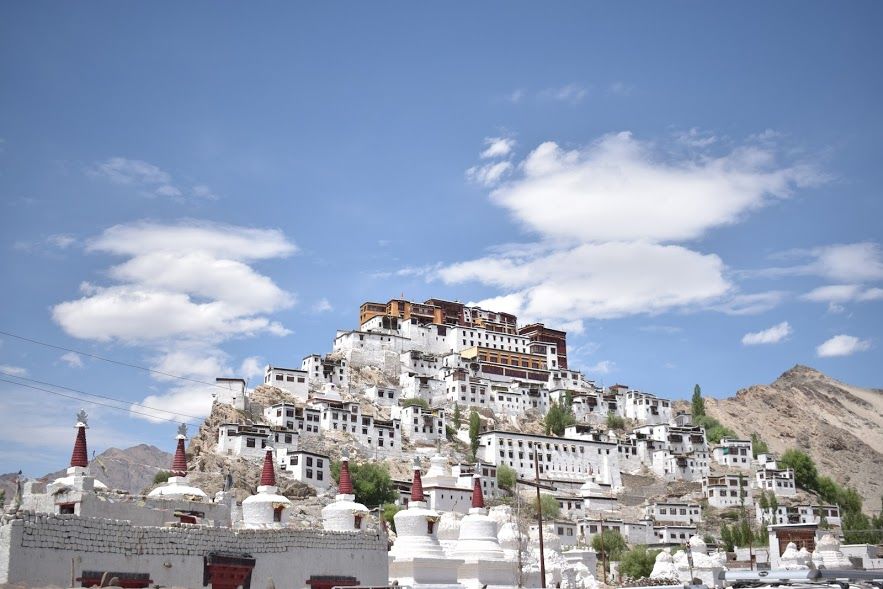 Later in the evening, we looked for a shared cab for the next day visit to Nubra Valley via Khardung La Pass and Pangong Tso. Thanks to Sanam, a local agent who arranges cabs and taxis, we got one. We were a little skeptical about the people we might end up sharing our journey with, but Aashil and Parth from Ahmedabad turned out to be an absolute fun. We got along the moment we interacted.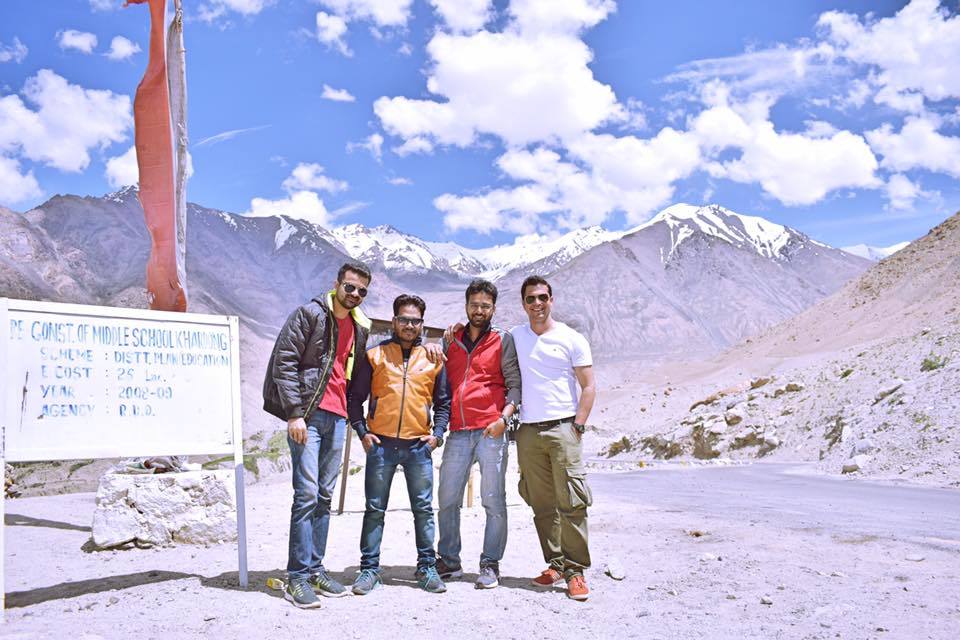 Although the distance between Leh and Khardung La (world's highest motorable road) is just 39 kms, the road is so bad that you bound to get motion sickness. As we approached Khardung La, we saw numerous bike riders lying on the road gasping for air. With an altitude of 18380 ft, there is always lack of oxygen there. Unless you are a regular biker, doing Ladakh on bike just for fun is a big NO.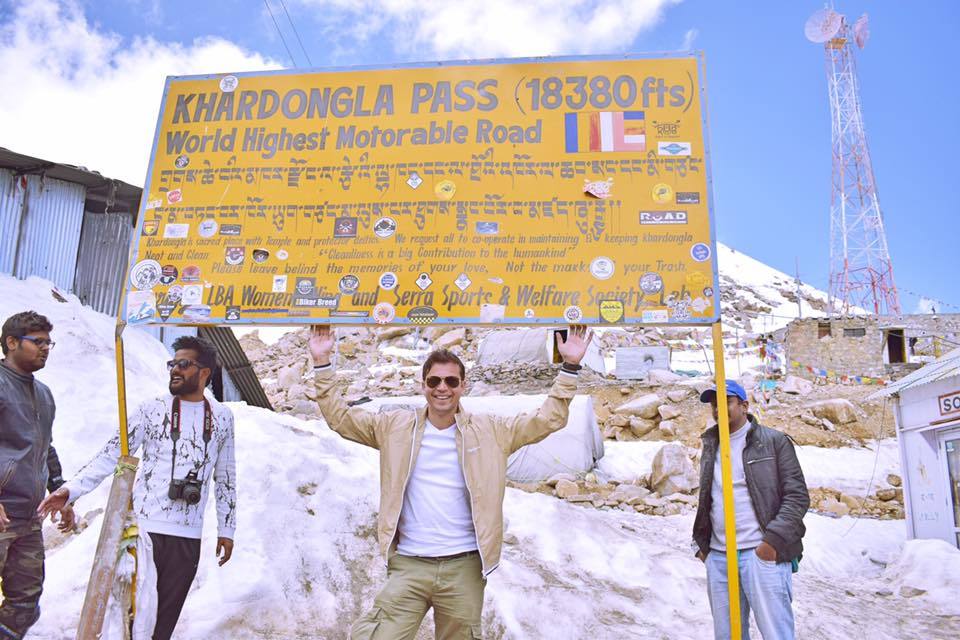 After spending around an hour at Khardung La, we left for Nubra. The scenic view first few kilometres from Khardung La was spectacular. There was snow all round and we stopped a few times just to experience the mesmerising beauty. Our first stop in Nubra was Diskit Monastery, which was extremely pretty and it gives you a sense of calmness you miss terribly in the hustle and bustle of big cities. Next on the list was camel Safari near Hunder Village. It was an experience worth taking. We had a guest house booked in Hunder for the overnight stay. And after a good night sleep we were up and ready to travel to Pangong Tso the following day.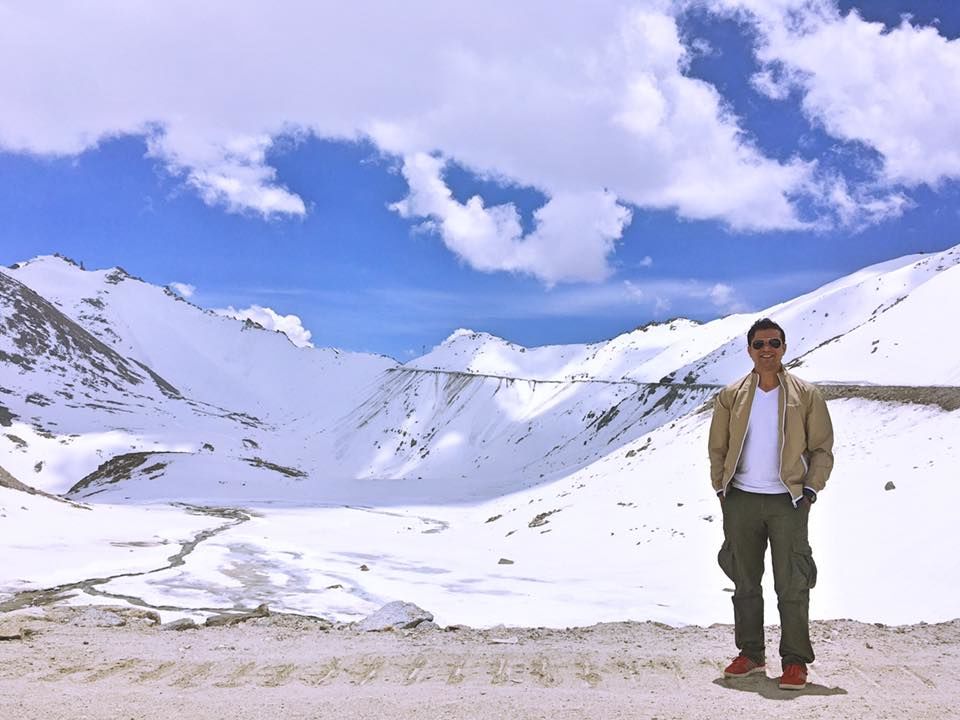 Just 10 kms into our journey, we encountered a roadblock because of excessive water on the road and taking that route to Pangong was impossible. But there was no way we could miss Pangong, so we requested our cab driver, Karma to take us back to Leh and then to Pangong, where we had a lakeside camp booked for an overnight stay. After another non-stop journey, we reached Pangong via Chang La Pass in the evening. Although it was clouded, the beauty of Pangong was breathtaking. We couldn't help ourselves going to lakeside and sit there for an hour, clicking a few pictures.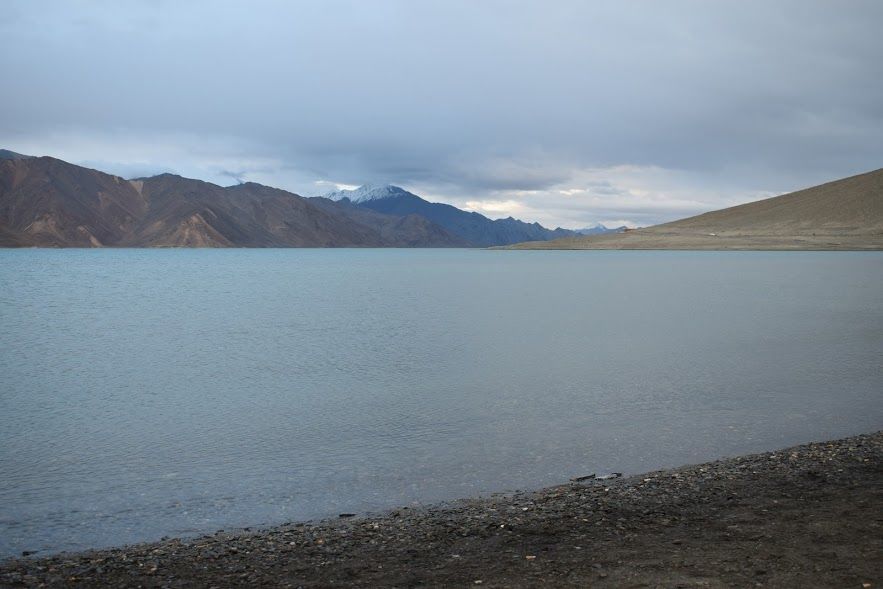 The camp experience turned out to fantastic. The helpers were very humble and served us some good dinner, also got us hot water bucket at 5 in the morning. Having been situated at such an altitude, it gets bright in the valley around 5AM and remains that way till 8PM. As we got up at 4:30 next morning, we had a few hours to relax at lakeside and witness the beauty of the lake. We left for Leh around 9AM so that we don't encounter any roadblock. Snow fall at Chang La Pass mesmerised all of us equally. We were fortunate to reach Leh just in time as the road we took got blocked by an avalanche a little later.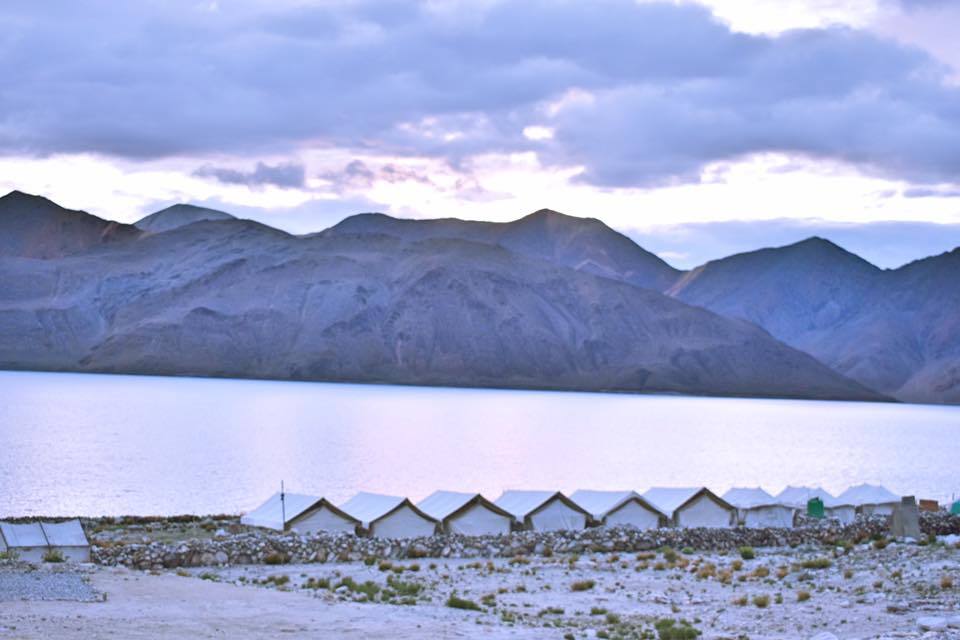 It was time to give farewell to Nitesh, Aashil and Parth as they had to start journey back home. I decided to stay back and visit Tso Moriri. It was a tad difficult to find a shared cab to Tso Moriri as it's around 230 kms from Leh and 172 kms from Leh-Manali Highway. Thanks to Sanam, I got a shared cab for next morning. And just like the previous time, I found a good bunch of people in Ranjesh, Bablu and Christopher (from Indonesia) for the journey to Tso Moriri. Although the road was bad and it took us good 8 hours to reach Tso Moriri, it's one of the best journeys one could experience. The entire route was filled with magnificent landscape - mountains of different colours, river flowing throughout the journey and yaks.
Before reaching Tso Moriri, we stopped at Tso Kiagar, which has water of light green colour. After spending half an hour there, we continued our journey and were awe struck the moment we had a glimpse of Tso Moriri.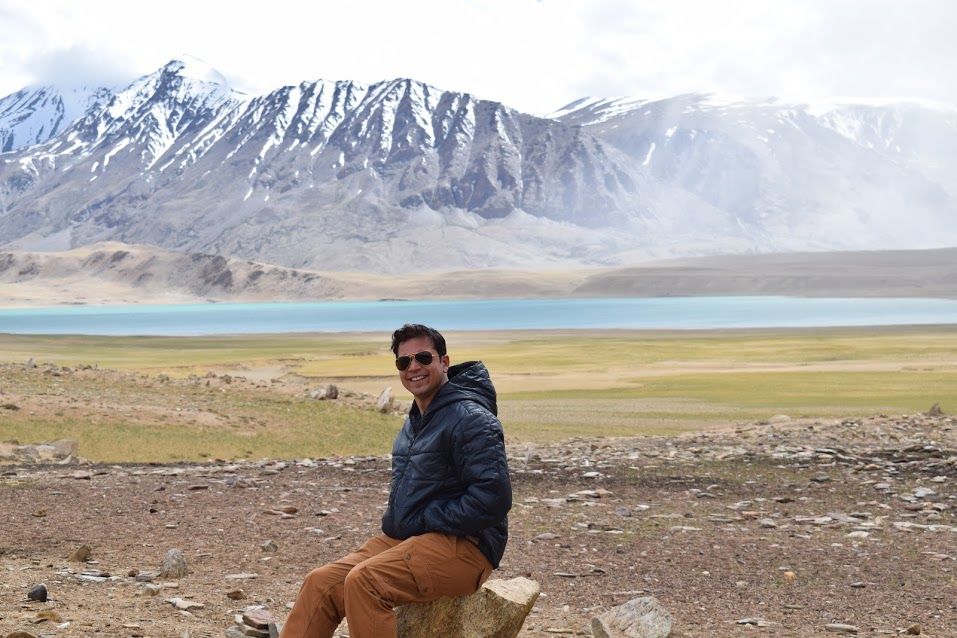 If Pangong Tso was stunning, Tso Moriri was mesmerising in every sense. The blue water was crystal and scenery around was exquisite. Staying at Tso Moriri was very cheap. A decent home stay cost just Rs 1500 for two people, including dinner and breakfast. After keeping our luggage at the guest house, we headed towards the lakeside and spent some around 2-3 hours there in the cold breeze.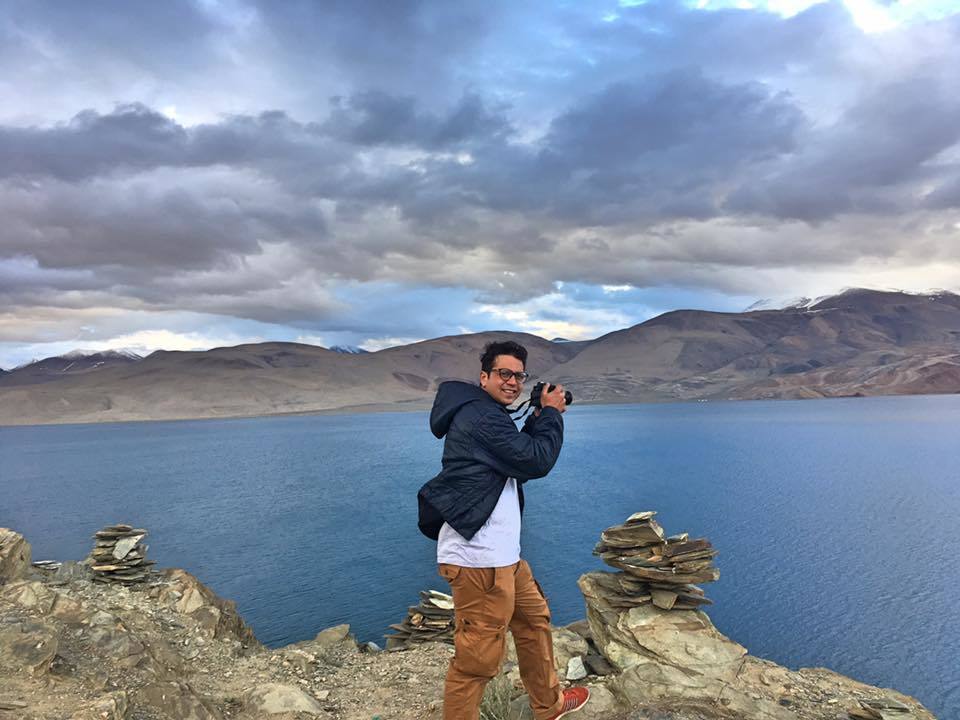 On our way back next morning, we stopped at Tso Kar, the lake whose top layer was covered with salt. Instead of going back to Leh, I decided to get down at Leh-Manali highway, and after waiting for half an hour or so, got the lift to Manali by a group of gentlemen who were gracious enough to accommodate me in their Tempo Traveler.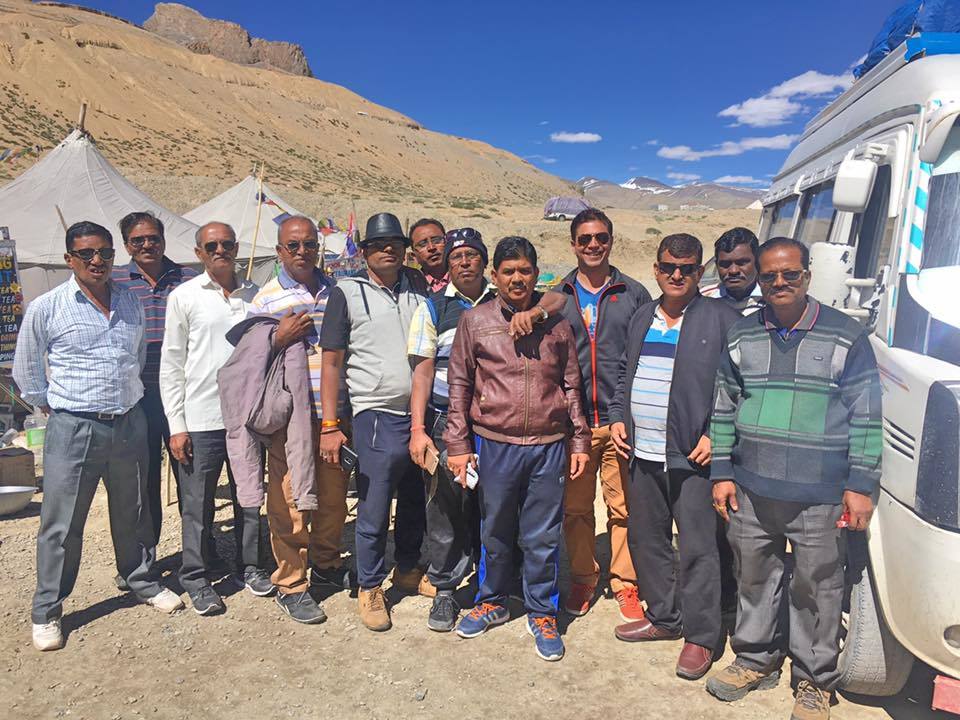 Fortunately for us, there was no rain and the weather was good. Despite the bumpy ride on the way, we reached Jaspa around 8 in the evening and decided to stay at a hotel overnight. One of the best things about travelling is you end up meeting people of all age groups and share moments that remain with you for lifetime. This group from Nagpur, although much older than me, accepted me instantly and allowed me to stay overnight with them.
We left for Manali early morning via Rohtang Pass and the beauty of the place left us spellbound. The topsy-turvy roads with mountain on one side and ditch the other would give you the thrill you dare to encounter even in dreams. This unforgettable trip to Srinagar and Leh ended with Manali but it gave plenty of moments to cherish for a lifetime.