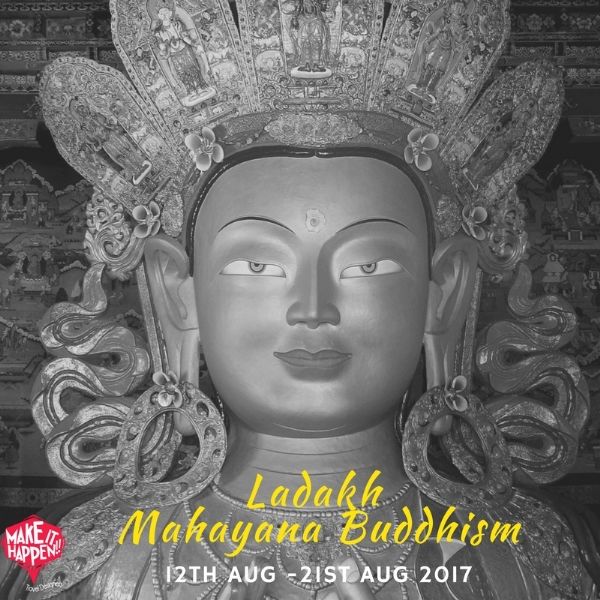 Ladakh Mahayana Buddhism
Sat, 12 Aug 2017 6:00AM - Mon, 21 Aug 2017 6:00PM
Description:
Ladakh Mahayana Buddhism
Understand the world of Mahayana Buddhism practiced in the steely cold desserts of Ladakh
Get immersed in the world of Mahayana Buddhism
If skies could be the bluest at a place, it would be in Ladakh. The sheer grandeur of the steely cold desert stuns you for a moment. Not a land for the faint hearted, Ladakh is one of the prime attractions for anyone visiting Jammu & Kashmir. From the countless monasteries to the breathtaking landscapes, Ladakh weaves the mountains into a beautiful story lined with clear water lakes, scenic cold deserts, and quaint towns.
The population of Ladakh is predominantly Buddhist and has been deeply influenced by Tibetan Buddhism, which follows the Mahayana and Vajrayana schools. In these forms of Buddhism, Buddha is worshipped a deity who has attained Nirvana (freedom from the cycle of birth and death).
Highlights:
Visit some of the most revered monastries in Ladakh
Overnight stay at Thiksey monastry guest house
Opportunity to have a dialogue/ interveiew with a Rinpoche 'the incarnated one'
Meet a Thanka artist and get insight into this intricate and meditative form of art
Meditation at Maha Bodhi Meditation Centre under the guidance of a Buddhist monk