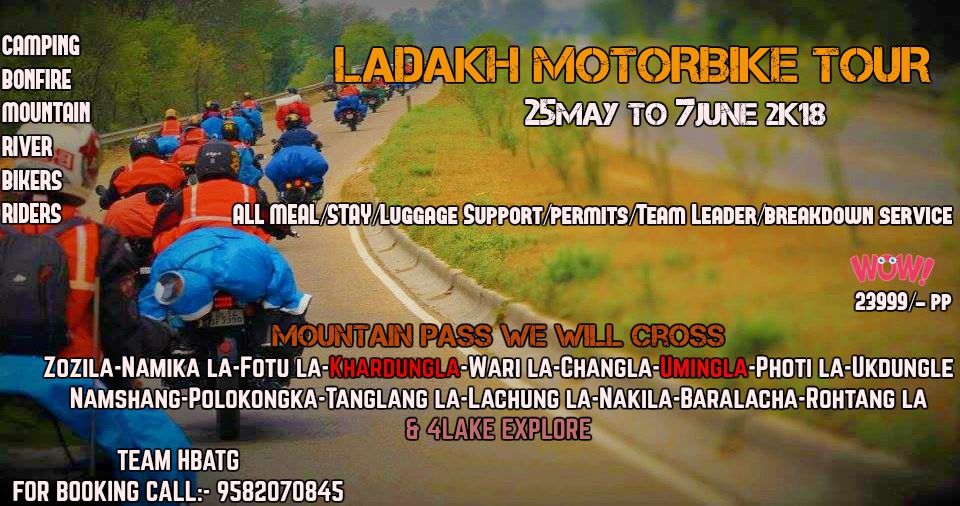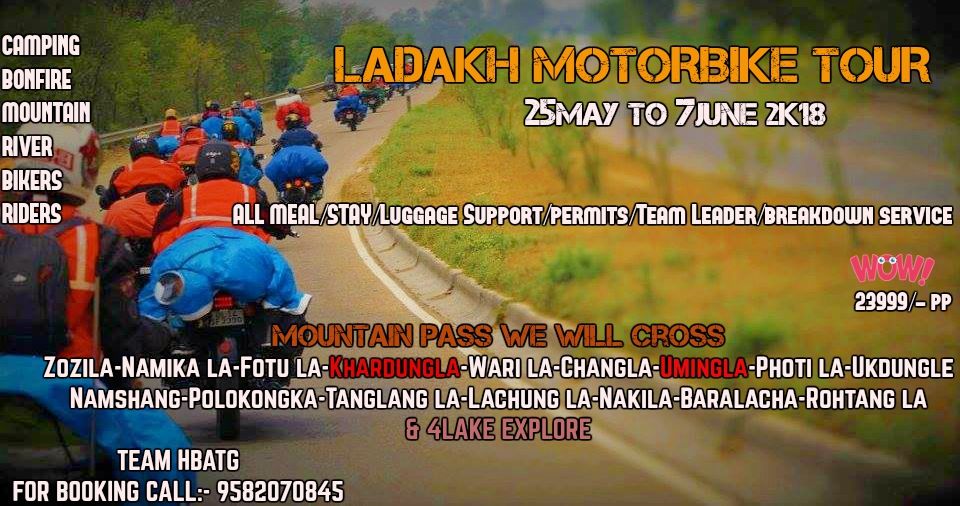 LADAKH MOTORBIKE ROAD TRIP 2018:-
Put that Adventure Heroics back on, careen on your Bike's Handlebar, get that throttle regulating relentlessly. It's time to ring the bells. Bike Ridding at its Best, get your Machines ready Roaring. Welcome all on behalf of the entire HBATG team, and welcome to the Leh-Ladakh Road Season-4.
It will be Adventurous as much as we believe in exploring the Nature best, with new route fully planned with reiki done well in advance. Self Camping at river sides, Pangong Lake & Cold Dessert Camping which has been the ultimate Liked feature of our itienary. Route mostly choosen with 9 passes is now upgraded to 16 passes which will be followed by us in this year's itienary. The best part will be riding along Pangong Tso lake.
Get your morale high, blush with your dreams in your eyes & Let's hit the road together.
===============
Here is a detailed itinerary of the Khardungla & Umingla Motorbike Tour:
Day1 Delhi to Pathankot (Stay In Hotel)
Day2 Pathankot to Patnitop (Stay In Hotel)
Day3 Patnitop to Sonmarg ( Camping in Valley of Sonmarg)
Day4 Sonmarg to Mulbekh (Camping in Cold Desert Side)
Day5 Mulbekh to Leh (Stay In Luxury Tent)
Day6 Leh Rest Day (Stay In Luxury Tent)
Day7 Leh to Nubra Valley (Stay In Luxury Tent)
Day8 Nubra Valley to Pangong (Camping In Lake Side)
Day9 Pangong to Hanley (Stay In Home Stay)
Day10 Hanley Rest Day (Camping in Desert Side)
Day11 Hanley to Tsokar (Stay In HomeStay)
Day12 Tsokar to Sarchu (Camping In Sarchu)
Day13 Sarchu to Manali (Stay In Cottage)
Day14 Manali to Delhi
=================
Mountain pass we will cross
1-Zozila 11575 ft
2-Namika la 13478ft
3-Fotu la 13478ft
4-Khardungla 18380ft
5-Wari la 17400ft
6-Changla 17590ft
7-Umingla 19300ft world highest Pass
8-Photi la 18124ft
9-Ukdungle pass 18595ft
10-Namshang la 16272ft
11-Polokongka la 16000ft
12-Tanglang la 17480ft
13-Lachung la 16598ft
14-Nakila 13478ft
15-Baralacha 16040ft
16-Rohtang la 13050ft
=================
Explore Lake
Pangong Tso/Tsomiri Lake/ Kyagar Tso / Tsokar
==================
Group Size 10-12 only
==================
Price: INR 23999/- per person (Without fuel)(Same price for rider & pillion)
===================
Duration:-14DAY
• Food, Breakfast Lunch Dinner (Veg/NonVeg) Evening Snaks*
• Double/Triple/Quad sharing accommodation in camps / Hotels/ lodges.
• Team Leader.
• Luggage Support Vehicle (Adjust one Bag)
• Support staff.
• Mechanic for breakdown service.
• All Inner line permits wherever required
• All Permissions from Army.
• Entry Charges to All monuments specified above.
• First- aid kit with necessary medicines.
• Oxygen Cylinders in emergency.
• Stickers & Batch & Patch for Bike & Helmet and Reflector T-shirt
• Like minded Friends.
• Unforgettable memory for the life!!
EXCLUSIONS:
Extra Transportation not included in trip.
• Any Expense incurred due to force majeure. do not carry extra luggage. Only one bag is sufficient.
• Sleeping Bag Expenses of personal nature such as table drinks, Water bottle, snacks, telephone calls, laundry, camera fee for still or video camera, tips to drivers, local guides, and hotel staff.
•Halt for food is already fixed. Please be at the venue on time to avail the services else you have to afford it on your own.
• Motorcycle & fuel Note:-Trip schedule is subjected to change as per roads & weather conditions so take a day or two in buffer. This is not an ordinary place its "Leh". Only Team members have the right to take decision depending on above.
Do's and Don't for the Team :-
First rule of this trip You have to follow & listen to the guidelines of the team Leader.
1. Respect each other and the cause we are going for.
2. Follow the timeline. Integrity and discipline should be followed. Follow the traffic rules.
3. Head gear is mandatory for all the participants. And if possible arm and knee pads.
4. Organizers will not be responsible for any kind of damage during the trip.
5. Participants are responsible for their own motorcycle and personnel belongings gears and the damage.
6. Participants are required to carry their own Bike Bulb, clutch wire etc. In any malfunctioning our mechanic will fix it and repair but TEAM Himalayan bikers adventure tour group will not provide any gear.
7. Participants must have their own bike above 150 CC (Those who don't have bike can get on rent, we can help you find it)
8. Age above 18 years
Note – REGISTRATION is on first come first served basis. Group Size 10 To 12 Only
Be Prepared for fun filled memorable journey for life. It's not a luxury trip but An extreme Adventure ride prepare yourself and get your best.
=================================================
14 Days
Route Plan
Delhi-Patnitop-Sonmarg-Kargil-Lamayuru-Leh-Nubra Valley-Pangong Tso-Hanley-TsoMoriri-Sarchu-Jispa-Keylong-Manali-Delhi
======================== ========================
Book your Seat
Ph/Whatsapp: 9582070845