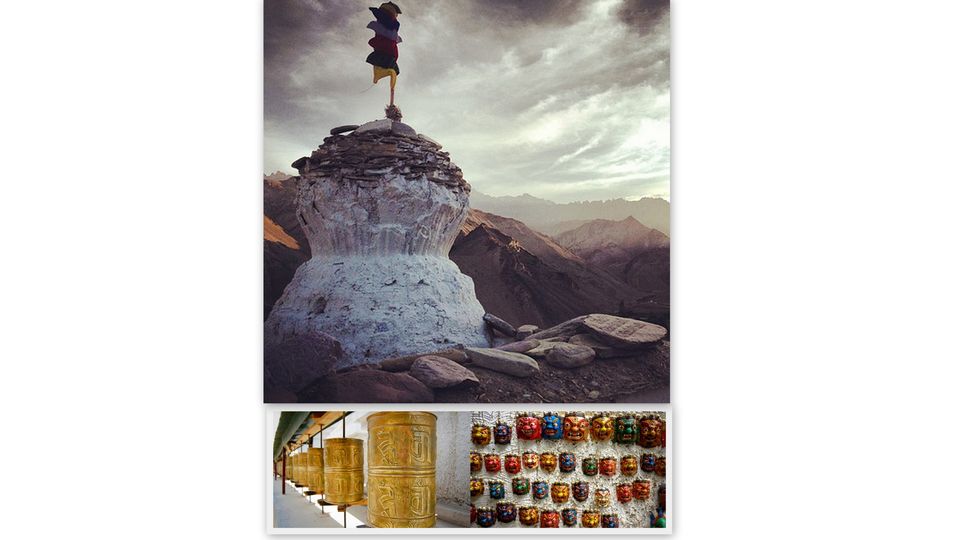 Ladakh,
has some of the most breathtaking landscapes on earth, from ice capped mountains to rocky terrain, fast flowing rivers, high altitude deserts and a very rich culture, which makes it a superb destination for adventure seekers. LEH ,the capital of Ladakh is situated at an altitude of 3524 meters ( 11,562 feet) and is best used as a launch pad for the wonders that surround it.
LEH signifies 'Diversity on the Roof of the World'.
The arid land of Ladakh is dotted with monasteries which are a silent witness to the unchanging beliefs of Buddhism. Fluttering prayers flags, scattered chortens holding the relies of Buddhist saints, walls carved with prayers, whirring prayers wheels, the chant of the mantra 'Om Mani Padme Hum' (Praise to the Jewel in the Lotus Flower) – all form an integral part of Ladakh's Landscape just as its soaring mountains do.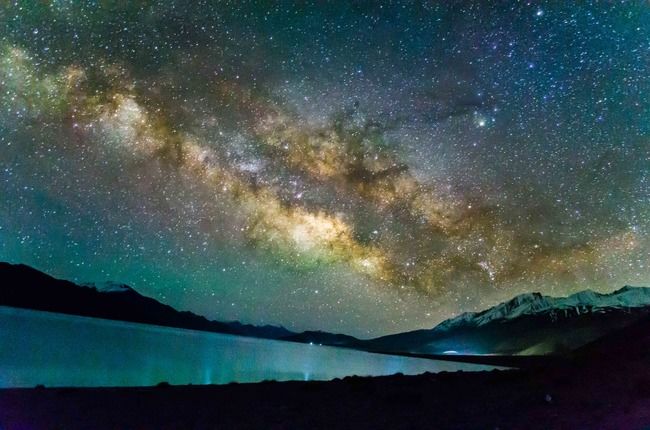 My Journey starts vid mesmerizing full moon ride in shikara at Dal lake in Srinagar, yet another paradise on Earth where you can see shikara's rowing quietly and leaving behind only beautiful ripples. I stayed in d House boat (shehensha group of house boats, downtown srinagar) one of the amazing experience one could feel, house boat is entirely made up of wood so intricately and painstakingly each one done with carving reflecting the brilliance, its none short of luxuries that one finds in some high end luxury hotel fully equipped with hot water, own kitchen bedroom n hot bath tub! Voila!!
Crossing the Srinagar en route to kargil via Sonmarg could be the most beautiful view ever with breathtaking meadows straight out of DDLJ (wink).
Ruins of Lamayuru monasteries is just as enchanting as the monastery itself which lay upon the majestic moonland name it got from the crator's kind of look that looks like the moon surface. It's like almost one could feel the energy following through those ruins once where the vibrant town bustled with people
Khardungla d world's highest motarable road at 18378 ft … d formidable khardungla is something you wont feel until n unless u r right der on d top!! D feeling in ineffable!! Once u r at d top prodigal feeling takes over u dat no mountain is too high!! One carry vid dis efflugent smile on ur face towards d new frontiers i.e nubra valley. And oops another thing to be told @ khardungla u get an awesome maggi n black tea after drinking dat magic potion AMS if any vl vanish like whoosh!! Heart full of gratitude for Indian Army for maintaining d canteen for travelers like me!!
Nubra valley ,a cold desert at 10,000 ft where Shyok River meets the Nubra or Siachan River to form a large valley that separates the Ladakh and Karakoram Ranges, where each n every one of d rocks r different from d one u just passed by!! Nubra valley is full of exquisite rock formations n of different colors !!! omg did something just glittered in ur eyes. Wat is it? Sand dunes here!! Sliver sand dunes formed due to constant erosion of rocks!! Straight out of Arabian Nights sand dunes and Bactrain camels crossing the century old silk route.
As u cross nubra mesmerized by the sliver sand dunes and bactrian camel ride of ur life , if u keep travelling further ul reach turtuk.Its d most impressive village vid d most alluring beauty all around it. U r welcomed by d pristine golden fields and untouched natural beauty surrounding with majestic K2 being visible during clear sky. Turtuk is d northern most village of India. It was under Pakistan's control until 1971, after which India gained control of this strategic area. It is predominantly a Muslim village, and residents speak languages including Balti, Ladakhi and Urdu.one can choose to explore d local village vid d help of guides available at der place of stay.It is the last outpost in India after which the Pakistan-controlled Gilgit-Baltistan begins, Turtuk is one of the gateways to the Siachen Glacier. Turtuk Holiday camp is one d beautiful place to stay to enjoy local delicacies followed by hot kahwa served during camp fire.
As your journey continues from breathtaking turtuk towards magnificent Pangong Tso , one take a pit stop at leh exploring the city of numerous monasteries.
Here one is perplexed by the number of monasteries to visit and which one to keep for the Future visit (o that's for sure u got to go back to leh as u just can't get enough of it).Though most famous one and important is Hemis monastery and the colorful Ladakh festival that happens there every year during Sep.
Panoramic Pangong Tso In Tibetan "Enchanted,Long,Narrow Lake" is an endorheic lake in Himalayas at the height of about 14,270 ft. 60% of d lake lies in China ,d Line of Actual control literally runs through the lake!!D stunning colors of d Pangong Tso ranges from 50 shades of Blue :P , green and even appearing reddish. D rugged trans-Himalayan mountains in d background make for a stunning view. Der r handful of make shift eating joints and very basic accommodations are available in Spangmk and lukung. D weather tends to get harsh after d dusk. on d clear night one can see d stunning display of beauty by mother nature MILKY WAY and SHOOTING STARS if lucky ;) which is incomprehensible.
U get back der once again n ever again ! N Dats a promise !!!!
Frequent Searches Leading To This Page:-
Best Tour Packages for Ladakh, Ladakh Tour Package for Couple, Best Travel Packages for Ladakh, Best Ladakh Trip Packages, Ladakh Holiday Tour Packages, Top Ladakh Tour Packages For Family, Ladakh Tour Package for Couple from Delhi