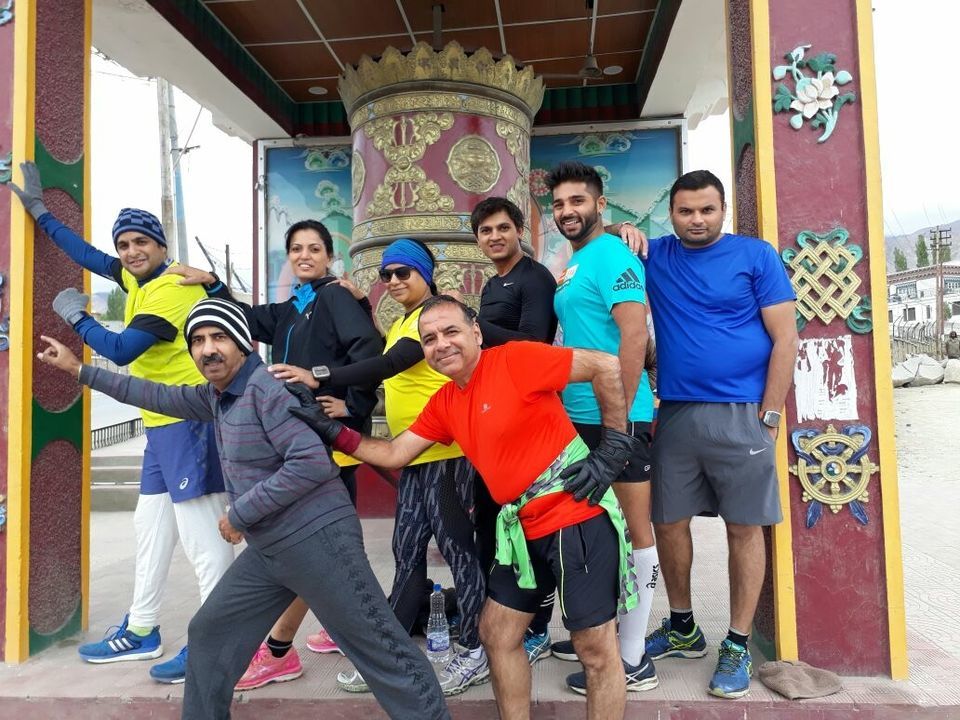 With 4 business men, 3 banking professionals and 2 doctors on board , our flight took off from Mumbai to Leh as also from being corporate hunks to childhood kids. Food being our speciality Gujarati khakharas came out followed by indigo tea. The flight was smooth and as we approached landing, the whole scenic beauty changed. Blue clouds with different shades of mountain literally took all of our breathe away. What really amazing was how the pilot manuevered the flight. Sometimes the flight flew so low that it seemed it would land on the mountains itself. With gracious smile, Leh welcomed us all.
The beginning...
We reached our boutique hotel named Karaokaram where 5 rooms were allotted to us and I shared a room with Dharam ji, the most spirited runner of our group. He was the one who had kept the child alive in him, and this was realised on our first encounter for check in of flighs where he asked to specially book the window seat even if it required paying extra charges. which was by the way followed by 3 reminders.

Our mentor Sachin savant sir had specially asked us to rest on the first day however as back benchers of our class, all of us just immediately were out and we were ready with our bullets and scooter to explore Leh. (Sorry Sachin sir we completely ignored your guidance)
Super hungry, we had lunch at the restaurant around the corner. and had momos We then left for visiting shanti stupa. The road to stupa was a bit tricky and had reached a point which really seemed like L.O.C. Finally by the time, we reached at the top,it was almost dark but the stupa was astonishinig. Had the best view of whole leh city from above.
Tired for the day, we returned to find our dinner ready. I would like to specially mention catering team of Hotel karaokaram as they took special efforts and made Jain food for me.
Tag 2
Each day in Leh was felt just like a minute pass by. The mornings were like heaven with cold breeze waking you up and gold plated rays shining for the day ahead. All our energies were at the top. The day was to rest but we were up and all set to run. ( A totally wrong approach) I decided to do 3kms and as I started running downhill, first time did I realise I was in Leh. My heart beats pounded at quadrupulate rate, my nozzils were unable to take oxygen and I realised, it's a whole ball game together. I walked next 2.5kms and thanked myself for doing this run and realising it soon.
After having Lunch, we had a nice shopping tour of Leh. Leh market is full of unique articles. One could really get wonderful things at a good price. Being a bad buyer, I stayed away and just viewed people shopping. When we were passing the streets, I saw bicycle and thought of riding on it and almost at the same time , seniormost member of our group Mr Anil Kumar ji saw a board, Ride up on car and bicycle down. We immediately agreed and after consulting with our group, we hired 3 bicycles instead of 2( we didn't want Anita Tiwari ji to disturb us). All excited for the next day tour to the highest motorable road 18500 sq ft, khardungla we all zapped off for the day.
Day 3/4
This was a warm up run day. All set out to run and check up with the reality. The first 2kms seemed too difficult for me and the 3rd one was the easiest. I was just gaining confidence moment by moment. We had some amazing clicks at thespot and off we went upwards on the hill. I knew if I ran I Would meet dead end. Respecting my body, I decided to walk the uphill. However our team was filled with warriars like Anil matlani, Anil Kapoor ji and Ck Who ran the stretch. During my final km I felt worse and knew Leh was a challenge for me. After stretching I didn't feel good at all. So I went off to sleep for some time to feel better.
Pangong was on for tbe day. Dr Nirmal had also arrived. We all got ready by 11.30am and we set our course to Pangong lake .It was ahigh altitude game and pangong was at 15000sq ft. Things were normal and we were playing all sort of games in our jeep. Until at a point , an emergency incident turned in. Madhuji felt short of oxygen and immediately we had to put her with oxygen mask.
While having tea inside we heard great stories from Dr Nirmal about Amsterdam and we hope he was satisfied and more happy narrating it to us and others around. Moving ahead, it snowed and we had somegreat clicks. However, Madhuji was suffering badly and we just hoped things got better at Panngong. Finally we had the first view of the blue lake and felt like heaven. It was late evening till we reached there. We were finding tents and yet another challange came up to us.
Dharmesh ji was caught by cold and started vibrating( my favourite word). At first I laughed but then provided great amount of massage to the senior. This was thetime when you realise the importance of team and unity . After having dinner, Nirmal ji, Anilji, Ck and myself had amazing time dancing in the freezing cold with the Germans. Time had come to welcome the night.
And like most of them I wasn't prepared. I shifted with Anil matlani and Dharmesh ji had hid himself in the tent. Pangong had made me realise the importance of oxygen in life. For me it was the most challenging night in my entire life span. If I hid inside the blanket, I was suffocating due to lack of oxygen and If I tried laying outside, oxygen was thin enough to cut loose my nostril. 5hours were the eye opening hours and at 630am , came the sunlight like the light in darkness, like the heaven from hell and like the end of the run after gruelling pain.
Had a really good sunbath and then off we left for Leh. After great photo session, We went in medical aid of army who were of real help and handy during this time. ( Salute to all INDIAN SOLDIERS-FROM TEAM STEPPERS). We had the best time playing Antakshari on our return journey. Reaching back LEh was a really great feeling. I had a great Hot bath and then went to sleep. The day ended with good rest.
Day before run.
Saturday was a rest day for us and also the big day for champs attempting Khardunla challenge, the most difficult 72km run in Leh. We all were in awe of people attempting the same.During the time we set out for Lunch, we could find people crossing finish line. We shopped, cheered, motivated and shopped. That's all we did. At th end of the day, there were moments of self doubt in each one of us eyes but as itis said with unity anything Is possible is also equally true. We all slept off by 1030pm
The D day.
Finally the day we all awaited for . The morning alarm at 4am woke us up followed by prank from Nirmal ji. All seemed motivated and relaxed and we set out at 630am for our 21km run.
JOURNEY OF 3HOURS AND 19MINUTES
My strategy was simple. Run on downhill, walk on uphill and run slow on flat roads. I had also bought a mouth cloth which would behave as a filter from the cold air and that plan did wonders for me. Honestly , it was the first time in my entire running career when i was really unsure as what lay ahead of me for the next few hours. Started out my run really slow and right from km 1 , the only thing i did was focussed on my heart beat and declared to myself , come what may i am keeping it under control.
My clothing had thermal, one tshirt and an added layer to protect me from cold. Had woren a hat and a mouth muffler. After first 3kms i was comfortable running at the tempo pace that i carried and continued to follow the same. At km 5 , I found Dharam ji panting or breathe and walking. Motivating each other for a while i went ahead to founf Ck and Kalpesh along with fighter Madhuji at km 7. They were among the happy runners enjoying the sceanary and taking their time. Further ahead at km 9.5, i met the best friends running together, Dr Nirmal and Anita. Overtaking them, my eyes were tryinh to gaze the two fastest runners of our group.
Finally at 11km I saw Anil kapoor sir running from opposite end. I felt better feeling i was close to him. Little did i know he was running his 16th km. After my 11th km,problems had started to mount. My heart rang me signal and i decided to run , walk.
Having so many runners by your side did aid a lot . A lot of cheers and motivation from many runners again made me jog till 17th km.
A moment of pride and glory was experienced when the soldiers of India cheered us up. Goose bumps literally ran all over me. Also the most difficult terrain was waiting with garland in net 4kms.
A total incline, with sun at its best made it worse. Now i was feeling trouble. You are at your best when you are with yourself is what running had made me realise. self motivating myself i moved inch by inch and step by step. Finally at 20km I could see the finish line and zoom i ran my final course and hugged my both counter parts. Soon the entire group arrived and we all laughed, smiled, celebrated the success which was really unknown in this particular race. We also danced and made the memorable memories for us.