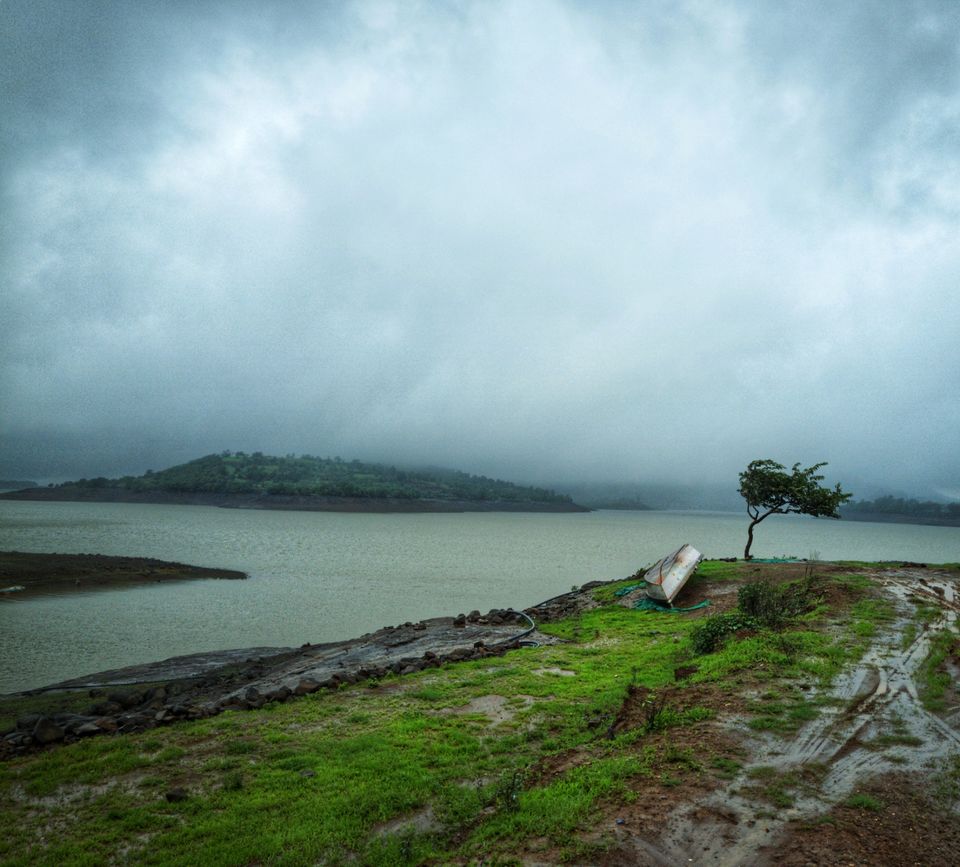 On a sleepy Saturday morning, me and a friend decided to head out to a sleepy hill, for a lazy camping trip instead of just staying in bed. Bhandardhara is a little Hamlet located in the Western ghats of  Maharashtra, in the Ahmednagar district. Even if this trip was planned with the sole purpose of relaxing and doing absolutely nothing, the returns were quite good considering the efforts we put in. The tent stay by the lake, the amazing local food, the  continuous monsoon showers and the resulting beauty of Bhandardhara made it very special for both of us.
The lush green landscapes were unimaginable. Not only was Bhandardhara beautiful and strikingly green, but the roads leading towards it were nothing short of breathtaking. We travelled by a private vehicle from Pune and the whole route made not only our destination but also our journey memorable. If you enjoy a good road trip, I would recommend, Pune to Bhandardhara by road, the condition of the roads is good, a mix of small winding routes through villages, well maintained highways and the ghats.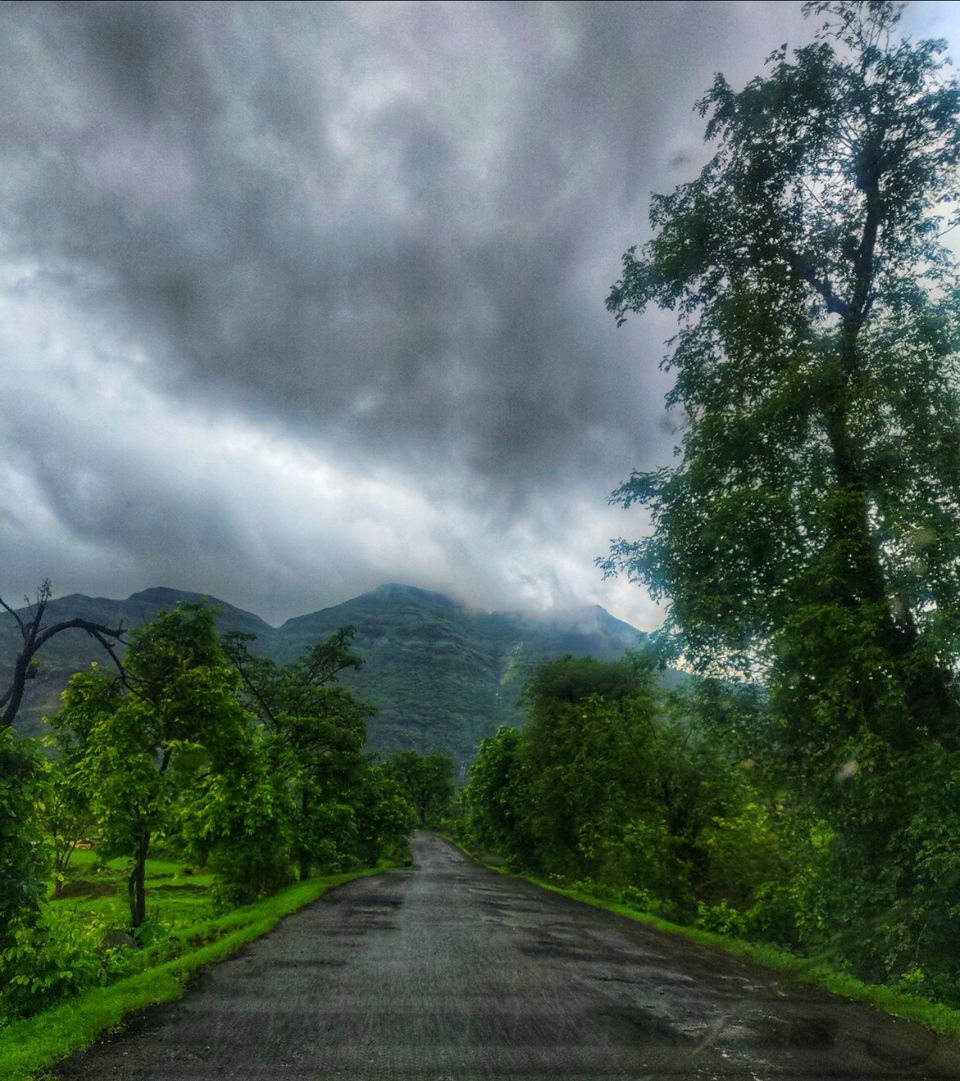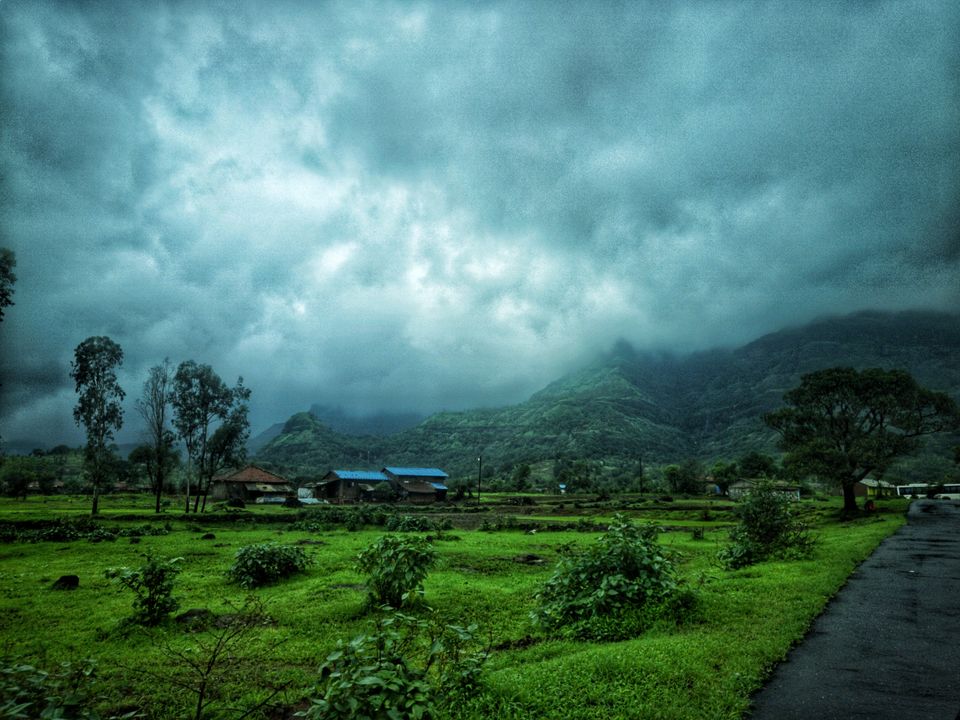 We started out at 5.30 am on a Saturday morning, which gave us ample time to explore on the road as well, we stopped at impromptu locations and enjoyed the view. The rains only added to the beauty of the landscapes. Be sure to carry rainwear in case you don't fancy getting drenched. But in case you want to embrace Bhandardhara in all its glory, I would recommend do not wear it.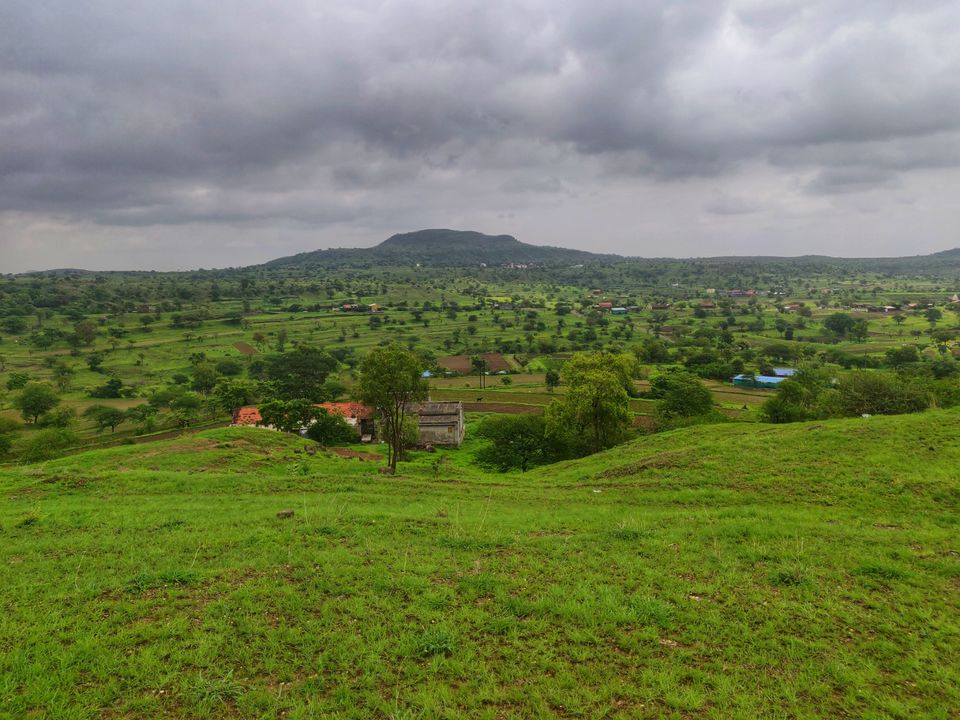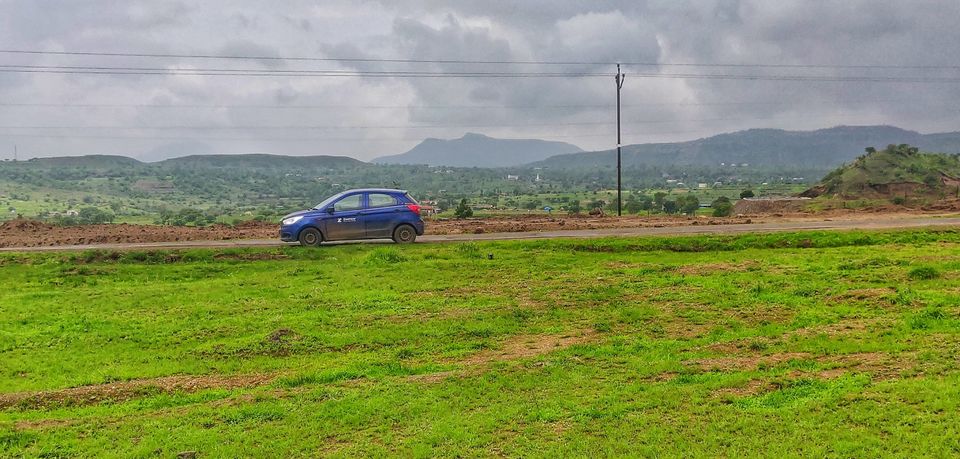 We reached Bhandardhara around 12 pm and after a quick lunch, we headed for the waterfalls. Once you enter Bhandardhara, there's a long stretch of road which covers most of the waterfalls in the area. It's a road untouched by civilisation and brings you back in a circle to the starting point by the end of it. There are a lot of waterfalls, big and small where one can enjoy the view and even go stand under one if it's a small safe one.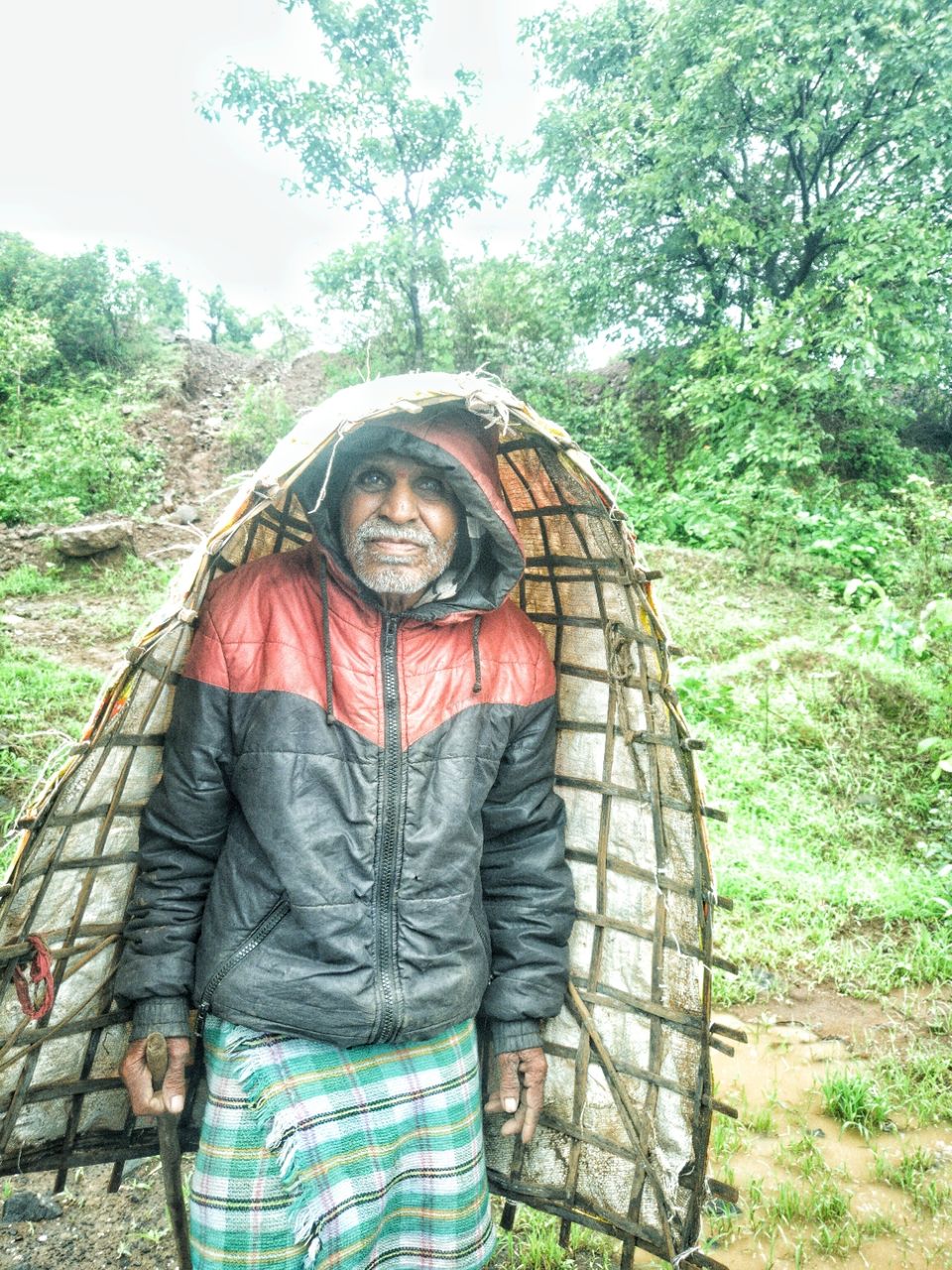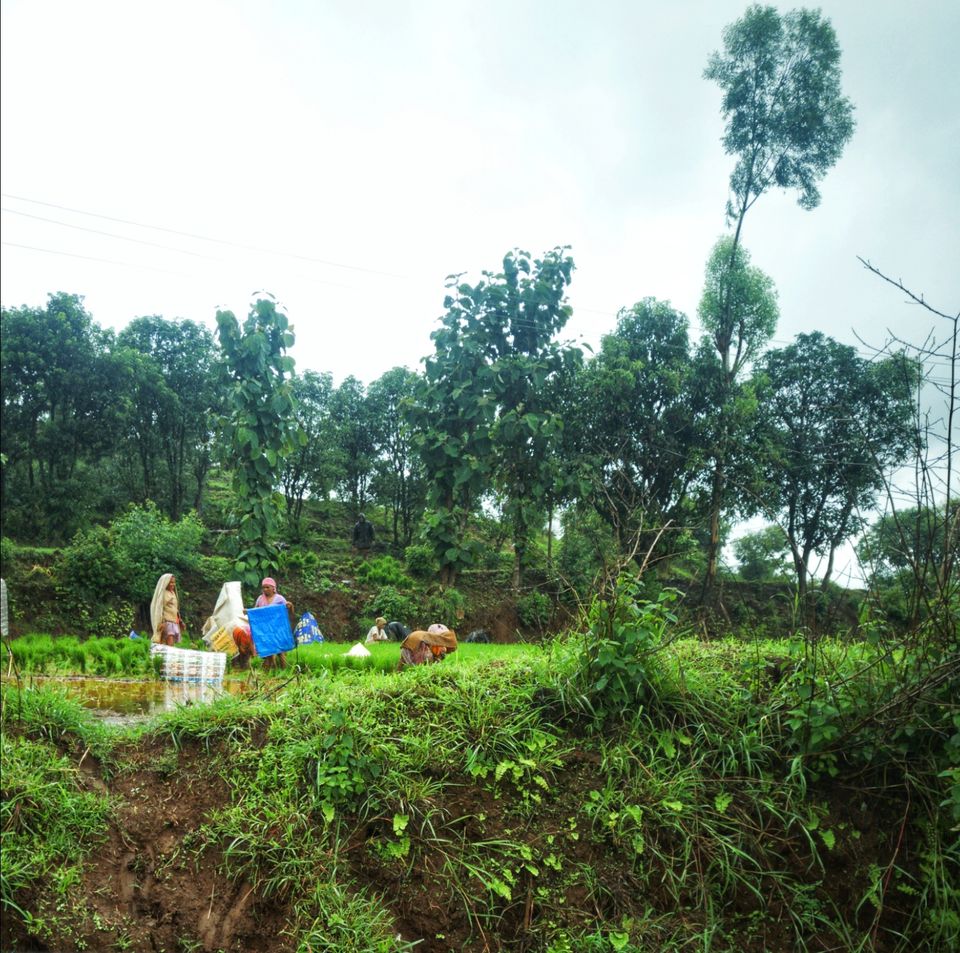 We found one such waterfall which was quite safe and there weren't many people there. Even if the weather was getting cold and chilly we couldn't help getting drenched there. The feeling of cold water running over your head and through your whole body was nothing short of extraordinary. A word of caution, take calculated risks and be sure to go into waterfalls which are small and safe because the amount of joy recieved is the same.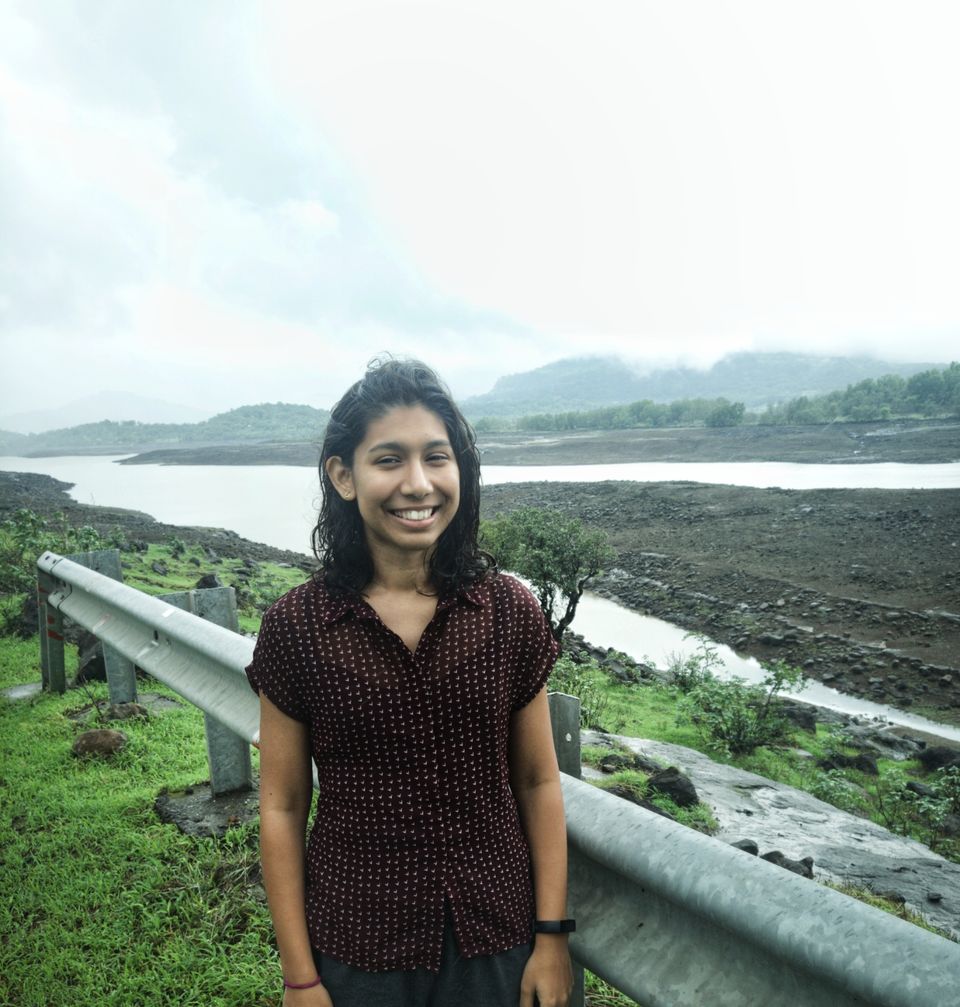 Even though camping as an activity is usually carried out in the winters at Bhandardara, there were tents available for hire at many places which had a lake view. It's better to pre-book your stay, just to avoid last minute hassle. There are many options available ranging from ₹800 to ₹1800, depending on the facilities available. Be sure to negotiate with the providers, to avoid getting overcharged. There are many hotels and home-stays available too in the area for an overnight stay. We decided to stay in a tent by the lake even if the rains were brutal. The tents were placed under a shed, but we got a wholesome view of the lake while under the safety of the shaded tents.
As the evening progressed, we were tired and famished from our journey, that's when we were served some delicious Bhajjiyas, Maggi noodles and some 'Adrak ki chai' (read: Ginger Tea) to go with it. With our bellies full and our minds at peace from the serene place we were in, we relaxed in our tents.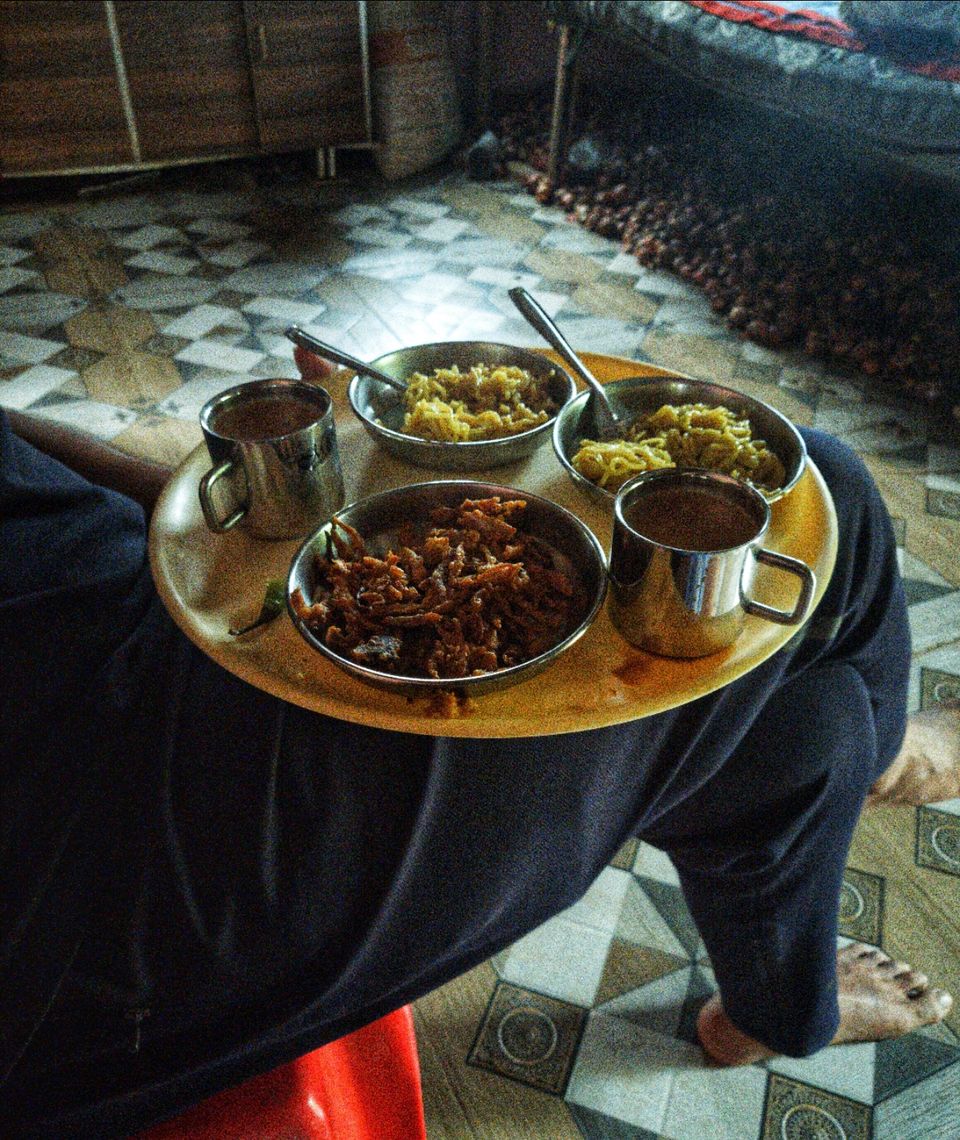 The view of the lake from our tent site was mesmerizing, but with the rain gods being exceptionally generous that day, we couldnt venture out from under the shed and could only have a look at the lake from afar, it was too windy and cold with the rains lashing at us from all sides.
We met some great fellow travellers in the nearby tents. What followed was an evening of amazing stories being shared between strangers out in the open grounds of Bhandardara by the lake under a small shed encompassed in the darkness, with some heavy rains and alcohol for company.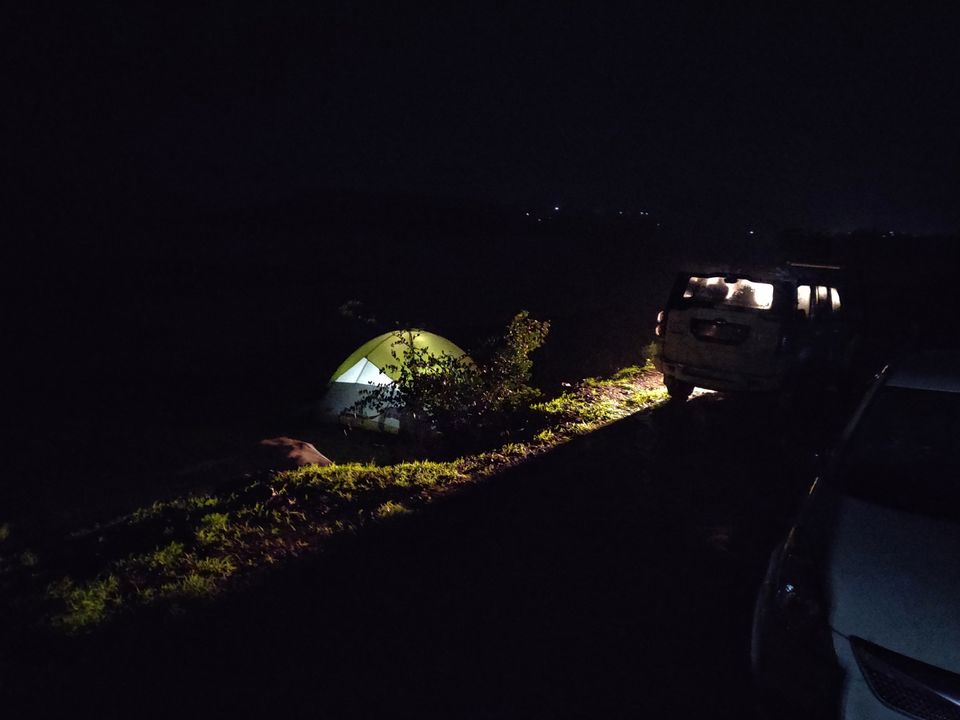 At dinner time, we were served simple yet delicious local food. There were both Vegetarian and Non-vegetarian options available. After enjoying the food in the darkness with only a few dim lamps to give us light, we were ready for bed. Even if the night had turned pleasantly cool, we were thankful for the warmth that the tents had to offer and we had a good night's sleep.
The next morning I woke up at the crack of dawn, it was 5.30am and I realised after the heavy showers in the night, the rains had finally decided to take a break. Carpe diem! I hopped out of my tent and made my way towards the magnificent lake side.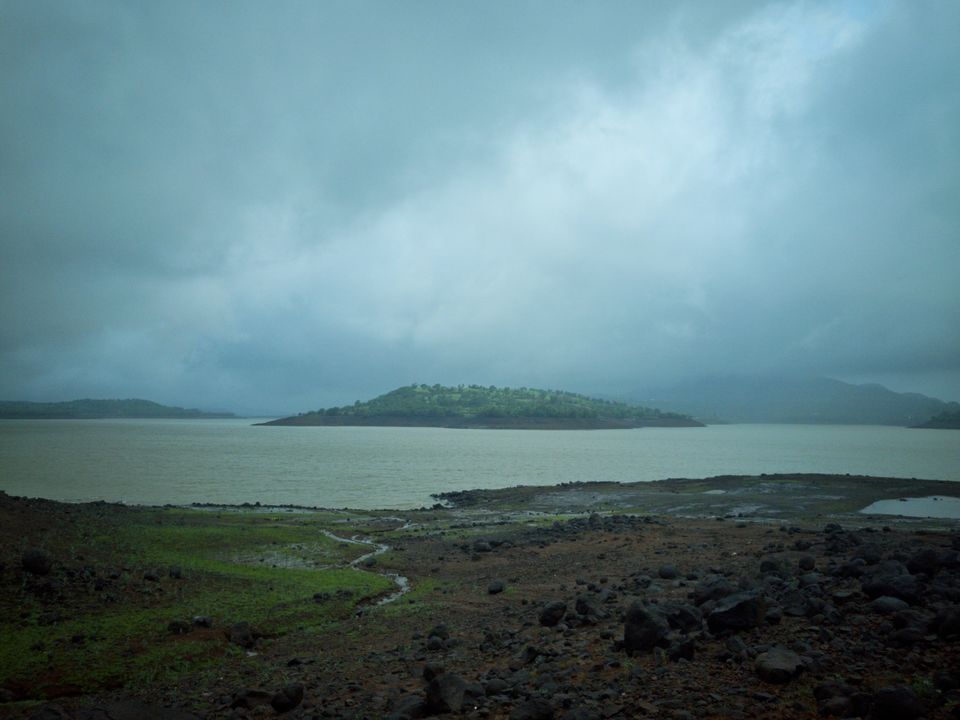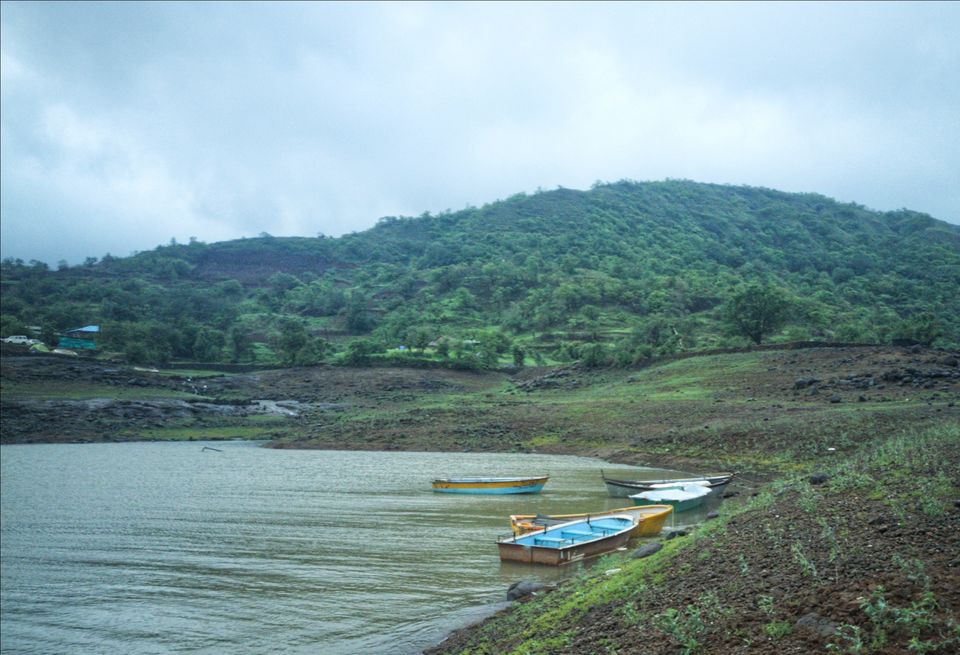 The early morning light was gloomy, the wind was strong and there was no one in sight. I had left the camp site far away, now it was just me with the vast lake in front of me and the mountains behind me. I love that most people struggle waking up in the mornings and that I can always have a special private moment with all the places I visit by simply waking up. Imagine your own private lake or your own private mountain, just sitting there and breathing in all the peace and calm.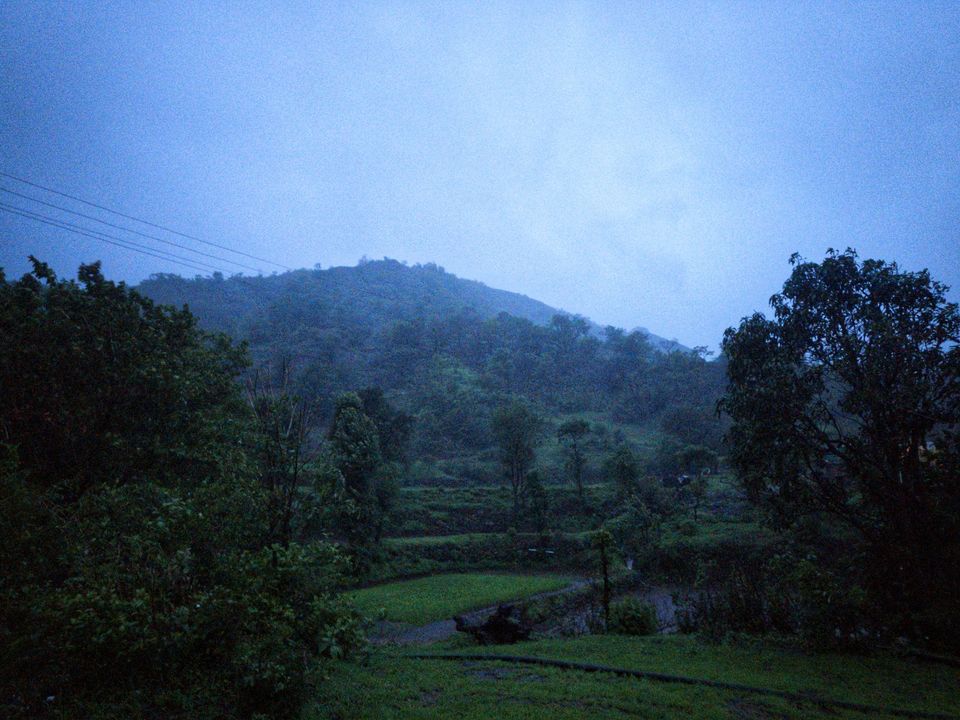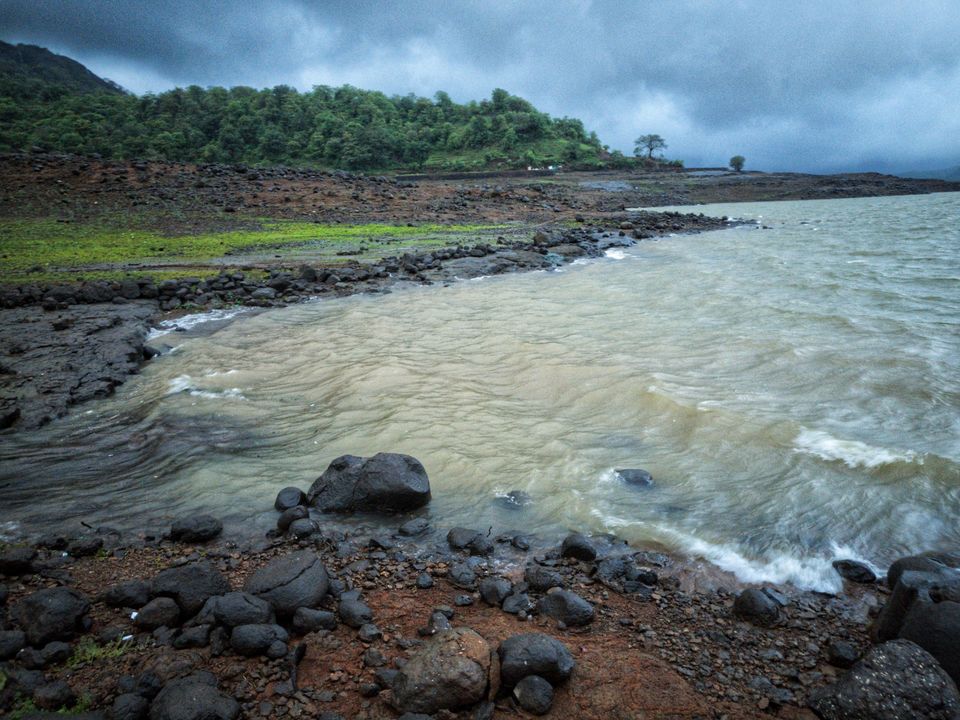 The experience was so calming, that I went back to the camp and fetched my friend out of his tent too. We explored some more before the rains decided to resume.
All that peace and calm, and the all the hardwork of walking up and down the lake, had made us hungry. Once back at the camp site, we got served some delicious breakfast (read: Poha and Tea). After breakfast it was time to bid farewell to this place which had made its way straight into our hearts by making our weekend very special.
We also said our goodbyes to the people we had met, thanked our hosts for their wonderful service and we left Bhandardara with a promise to return back the next year.
The Western ghats in Maharashtra have a lot of things to offer including many thrilling treks for adventure junkies and also peaceful weekend getaways for the rest. People coming from far away places and intending an extended stay to enjoy the monsoons here can visit Igatpuri, Bhandardara and Malshej Ghats for a wholesome experience.
Travel options: Bhandardhara is very easily accessible from Mumbai and Pune. Mumbai offers various options by State transport buses till Igatpuri and Nashik, both of which are near to Bhandardhara and can be reached by cabs. Igatpuri is the nearest railway station and one can choose that option as well. From Pune one has to travel to Nashik by bus and then hire a cab.