It had been a long awaited wish to spend a night under the open sky, beside a lakeshore, enjoying a dinner self-cooked on Barbeque and sleeping in a tent at a chilled winter night.
It was a weekend and I had to go to Pune for my friend's wedding on Saturday evening. I wanted to encash the next day (that was Sunday) and an idea of camping popped in my mind. As it was the "NEVER DONE BEFORE" task for me...I strongly wanted to make it happen anyhow.
I called my friend (Abhi), and he also happened to be excited for the plan. We decided to make this plan a kind of self made and self-organized one. We took 2 tents of capacity 2 person each for 2 couples. Abhi and me along with our wives took all other required things. i.e. few blankets, raw food, a racket to play and a bluetooth speaker for fun and enjoyment.
We started our journey from Pune at 1:00 pm. From Pune it took us approximate 2 hours to reach near the Pawna Lake. We had our lunch and reached to the camping base at 4 pm. It was a perfect evening to spend beside the lake. We relaxed for a while and started preparing our tents. It was not that difficult and making our own tents was really a great sense of accomplishment for us. After that we spent some time playing games.
BEAUTIFUL SUNSET -
Then the moment came… it was 6:00 pm and we got to witness an amazing sunset. It was so overwhelming to sit on the lakeshore, when your eyesight is filled with water, mountains, sky and setting sun. It was one of the best sunsets of my life.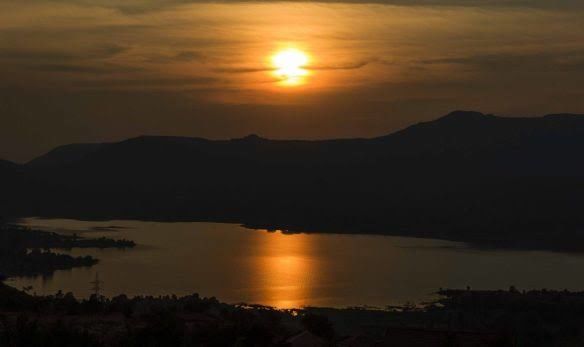 BARBEQUE -
Then it got dark after 7:00 pm. And later we started making our food on Barbeque. The owner of the land provided us Barbeque pit, coal and grilling mesh. We had some veg and non-veg food marinated with spicy masalas and flavours. We started grilling it. Its taste was obviously not the best, but the overall process of making it by your own at such a tent stay added an un-imaginary taste to our tongue and satisfaction to our souls.
BONFIRE -
By 9:30 pm it started feeling freezing cold. The temperature could be approx. 14 degrees or less than that. We decided to make a bonfire. We added some pieces of wood in Barbeque pit itself, enjoyed playing some favourite music on a speaker, and enjoyed the chillness till 11:30 pm. Then we went to sleep. Sleeping in a tent for a whole night was really difficult as it was really chilled that night. However we survived ... Hahah.. :D
Next day we were eagerly waiting for the sunrise to take sunbath. After 8:00 am it started feeling comfortable. We winded up our tents and got ready to start our return journey. Before leaving we spent some time near lake. Captured some pics and moved on. It took me mere 4 hours to reach back to Mumbai again.
I will never forget my first experience - of Lakeside Camping.
SUGGESTION -
If you love nature, if you like wilderness than luxuries, if you know how to enjoy uncomfortable stay than living in a luxuries hotels, if you want to make some offbeat / unforgettable memories in your lifetime then you must come to such Lakeside Camping at least once in your lifetime. I am sure you will love it and cherish it all throughout your life.
Before every travel journey ask yourself -
"Have I done it before?"
And if the answer is "No".
Never miss the chance to make it "Yes".