LePakshi-'Rise Bird' that's the literal meaning of this place which is 15 kms from Hindupur located in Anantapur district,Andhra Pradesh.It's well connected from Bangalore both by Train as well as by Road.I tried both the flavours in a single trip by going in Train from Bangalore and Bus from Hindupur.I suggest Bus is better rather Train as it delayed our journey by nearly 2 hrs due to unexpected stoppages for god knows why.
Lepakshi from Bangalore
One can choose Lepakshi for a short get away from Bangalore.It's just 120 kms from Bangalore.On the way to Hindupur you can see a few scenic farms.My friend and I got into Passenger train from Cantonment station at 7.45 am and reached Hindupur at 11.45 am.It was supposed to reach by 10.15 am nevertheless we saw small green farm lands,grapes farms followed by people selling grapes in the next station,monkeys,makalidurga station the place which i heard in #GetBeyondLimit group for night trekking to see the beautiful sunrise.I chose to witness these scenes rather than my favourite nap after breakfast.We realised why parents are carrying food all the time whenever we travel against our wish to have food outside.Had a breakfast from sellers in train and its terrible.Food should not deter your soul to travel after all i boarded in this train not for food and sleep.As soon as i landed in Hindupur gotta Welcome To Andhra pradesh message from my mobile Network.Yippe first place to visit in AP.
We reached lepakshi from Hindupur station by Auto who charged around 200 bucks.Hey Come on! our train fare itself 200 for 2 persons.During 20 mins of travel in that auto i saw many KA registered vehicles going past ours and few are already on its way back from lepakshi. Families have come as a picnic and enjoying their food in shaded farms.We reached Lepakshi and entered inside temple with the plan of explore this place once and check all over again for taking pictures.
This temple adorned with beautiful mural paintings on ceiling which is marvellous and need to visit again to understand the theme of these paintings and reliefs better.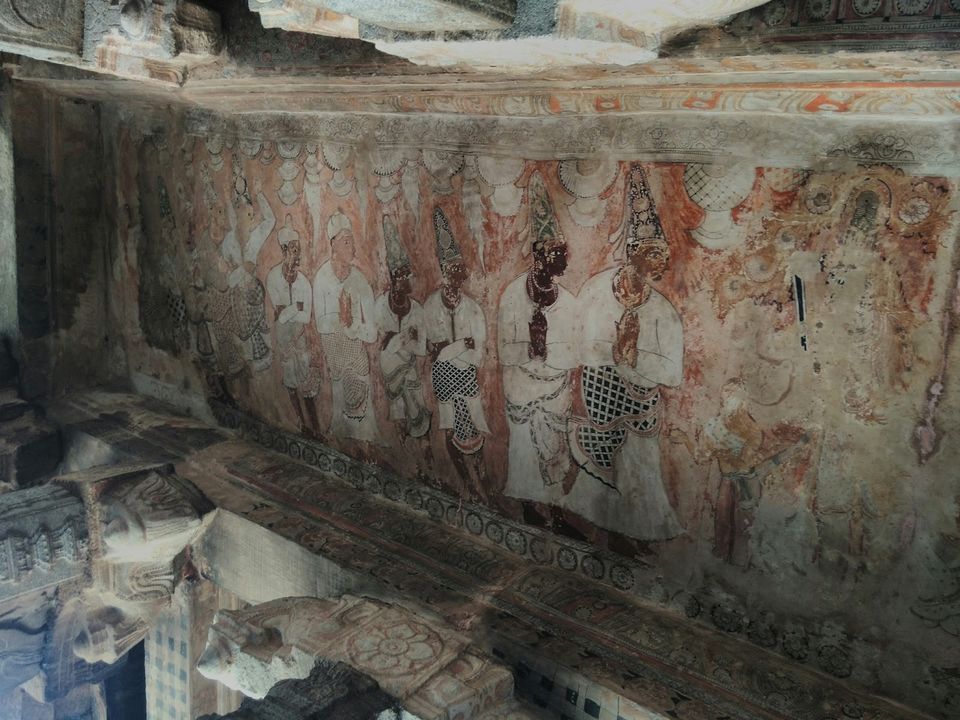 LePakshi Temple
It's built in Vijayanagara architectural style.No dome as in other south indian temple but many pillars.Every pillar is unique and i keep looking at pillars again and again.Especially four pillars inside the temple at centre before entering the veerabhadra deity is so awesome and i wish i could capture all four pillars zoomed in a single pic.Every design is so intricate and all pillars are just holding each other without any cement or glue for that matter.Visible gaps can be seen which will keep you surprised how this structure still holds on even after ages.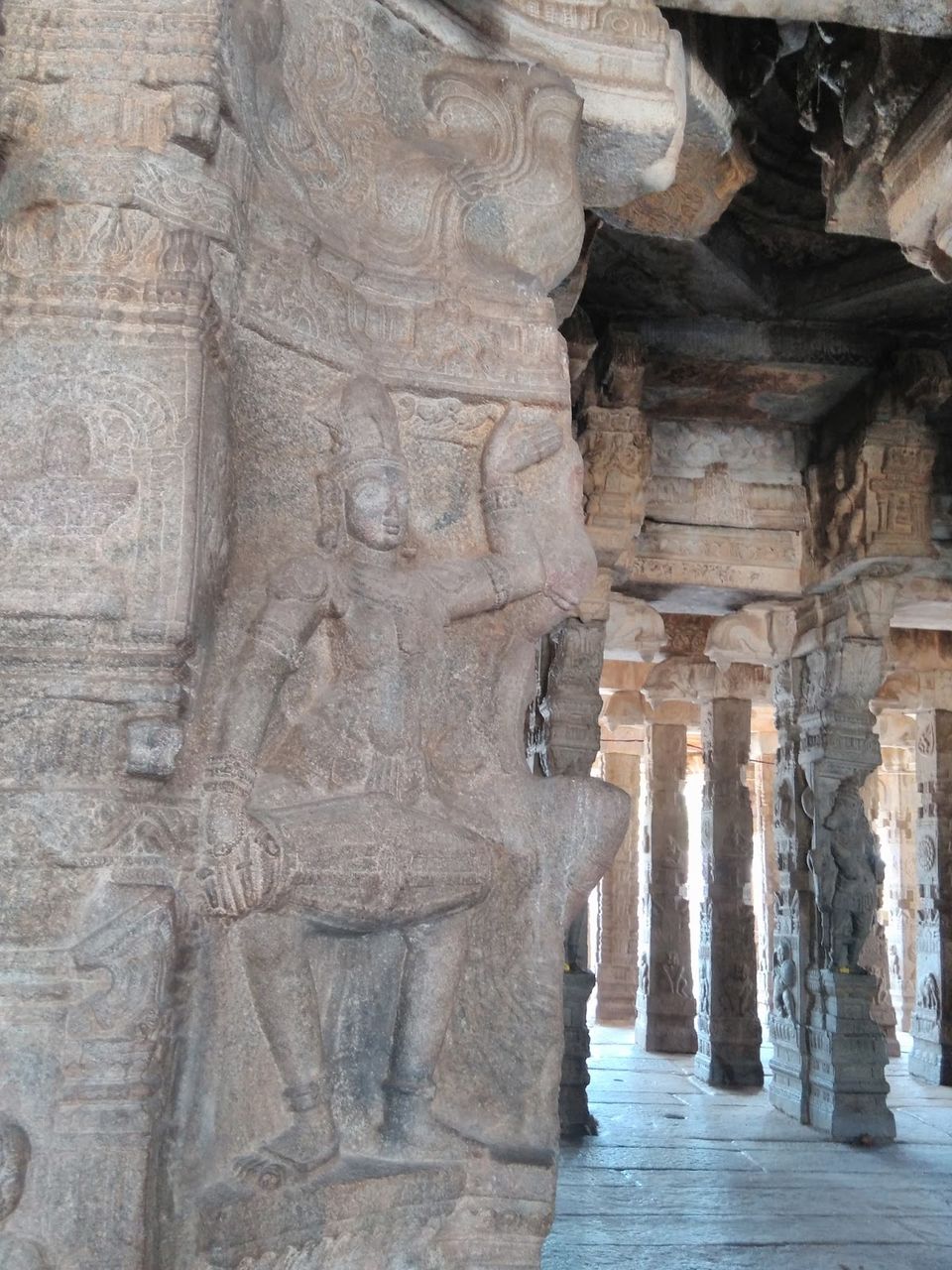 There is one pillar which is popularly called as Hanging pillar whose four sides at bottom are not touched at floor. Although very small portion seems touching the floor since one piece of cloth inserted at one leg of the pillar stucked at other end of the pillar while sliding under it. But good selling point for Guides of this place.There is one giant foot print which apparently Hanuman's foot print while Sita was abducted by Ravana.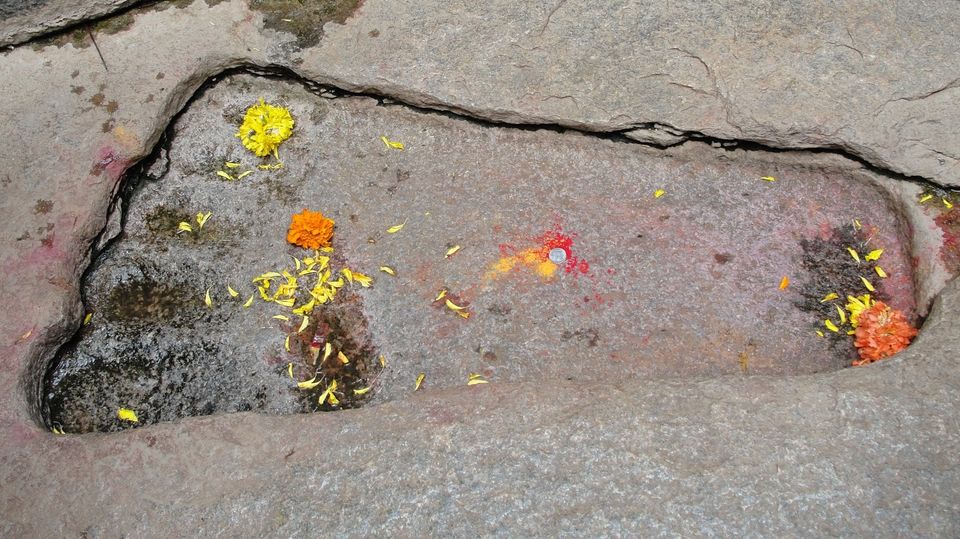 A big five headed naga upon Shiva looks serene and beside that a ganesha statue which gives the feel of child inside you and joy.There is one Kalyana mantapa which is unfinished and i just had a quick look over all deities such as veerabhadra,shiva and godess inside the temple.A goddess whose reflection in the mirror is the one which you see first and if you come sideways you can see her idol.Need to check what's the reason behind this.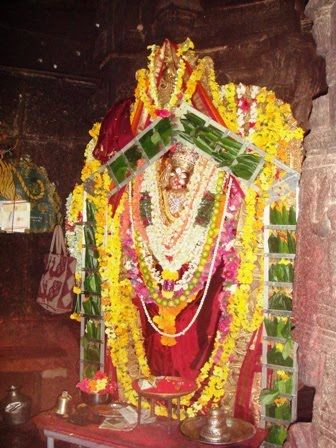 Based on the below reference, during large gatherings they keep mirrors to reflect this goddess embedded in pillar.And this might be the reason why there was a large mirror kept to catch the goddess reflection on the day i went.

Reference:
http://unseenbangalore.blogspot.in/2009/08/lepakshi-anantapur-andhra-pradesh-140.html
A big monolithic Nandi statue situated at 500mts from the entrance of the main temple and its next to AP tourist hotel.Nandi is situated in such a way facing the Naga shielded shiva inside the temple.
Although it may not be breathtaking trip but its definitely good trip to stay away from the madness of the city for a day.It takes half day to unravel the architectural brilliance behind it.