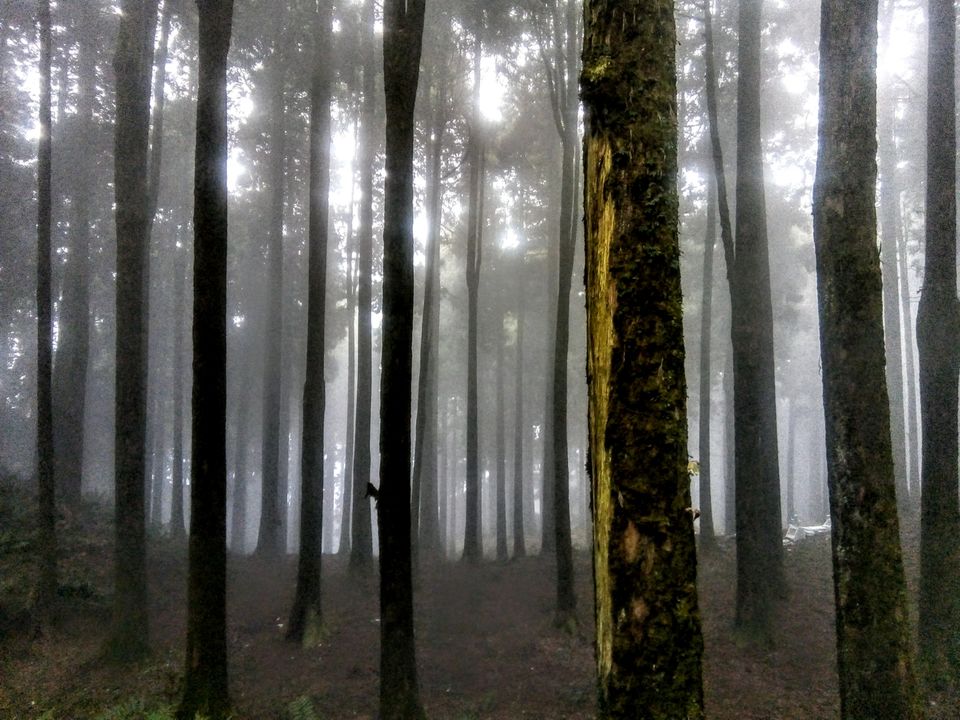 How awesome it is to be in the middle of the clouds? No I am not saying that you have to fly like a bird to feel those clouds. Interesting huh? Yeah it is actually. You just need to stand on the ground and that's enough for feeling them on your face. I always looked for this kind of place. And finally got a sort of this. To be honest never expected that it already belongs from my own state! LEPCHAJAGAT !! Though you won't find anything related to clouds within the name, but believe me those clouds covering the pine forest is everything you will cherish happily in this place. Lepchajagat is a small village in the district of Darjeeling. The proper Darjeeling town is about 30 minutes from this village. You will have a great view of Darjeeling town in night and majestic Mt.Kanchenjunga in day just in the front opposite side of this village if the sky stays clear.
TRANSPORTATION :-  It takes approx 3 hrs to be  in this place from NJP railway station by car. Both reserved and shared car are available.  Reserved car takes Rs 300o/- each way. For the shared car you have to come to Silliguri bus stand and book a shared car to Ghoom. From Ghoom, book a shared car to Sukhiyapokhri,which will ultimately drop you at Lepchajagat on the way.  On the other side Bagdogra is the nearest airport from where it also takes 3 hrs to be in this beautiful hamlet.
ACCOMODATION :- It is also a homestay based village where you will get few homestay where booking is must before going. The homestays are all on the side of the mainroad.So its not difficult to find  yours one like other places on the hill stations. A WBFDC ( WEST BENGAL FOREST DEVELOPMENT CORPORATION) bungalow is also available here just few metres away from the main road and currently going through reconstruction period. You can go to their online website and book rooms which will be available again after the reconstruction period gets finished. Here every homestay normally charges 1000/- each per day per person for the fooding and lodging both which includes all the meal from breakfast to dinner.
The rate slightly varies in the peak season and off season.
PLACES TO VISIT :- There is nothing plenty to visit here . There is a park approx 6 km away from Lepchajagat, named JORPOKHRI. For visiting Jorpokhri, you can reserve car for 500/-. Another option is you have to go to Sukhiyapokhri first by share car which is 4 km approx from Lepchajagat. Then it is 2 kms through the  midst the pine forest which you have to walk. Believe me, if the clouds come down which happens often here,then this path is worth to have a walk.
The other only one option is visiting Darjeeling if you haven't before.Rest just explore the beauty of the nature.