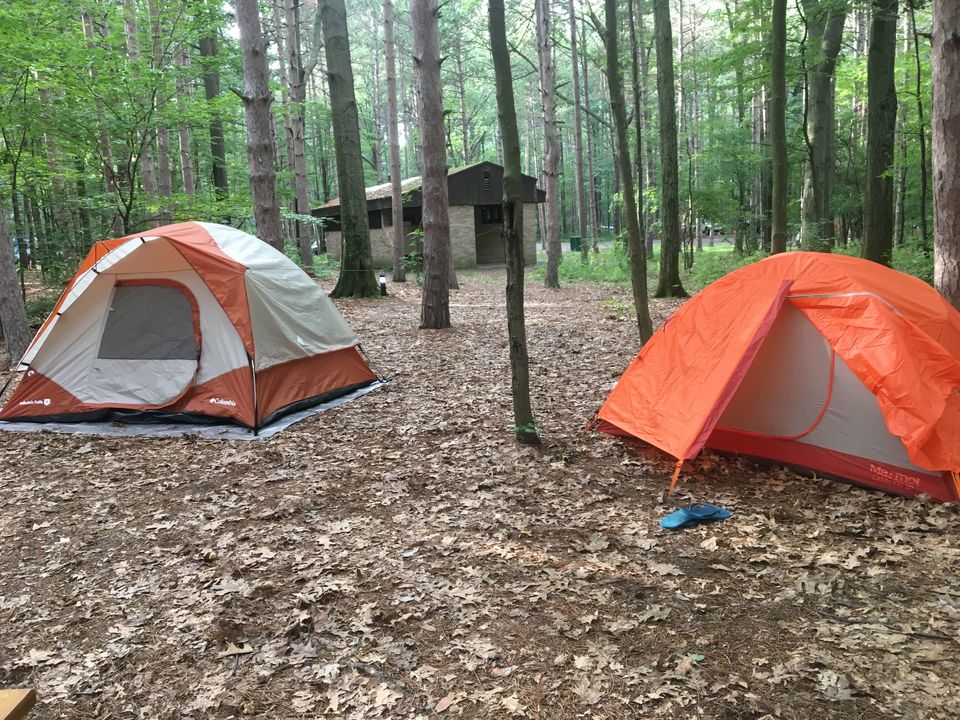 There's always a first time for everything, so we thought of adding a chapter of camping in our travel anthology. And it lived our expectations to the fullest.
We were lucky to have experienced friends who did lot of pre- planning for us – from booking the campsite to making the checklist.
With our excitement now soaring, we set out shopping for the most vital thing – a tent for our car camping adventure. We purchased a Columbia 4 person tent.
Are you puzzled?? Wondering if we are going to camp in the car…..I was also inquisitive when I heard this term. Car camping basically means driving up to the campsite rather than walking and carrying the gear. Thereby you have the luxury to pack extra stuff which can be intimidating though.
Since it was the first time, we planned on a 1 night stay to get a feel and see how the kids adjust. We reached our destination in afternoon and started to set up our tent foremost. (We had tried it once back home to apprise ourselves). Our biggest helpers were our kids who had no limits to their exhilaration.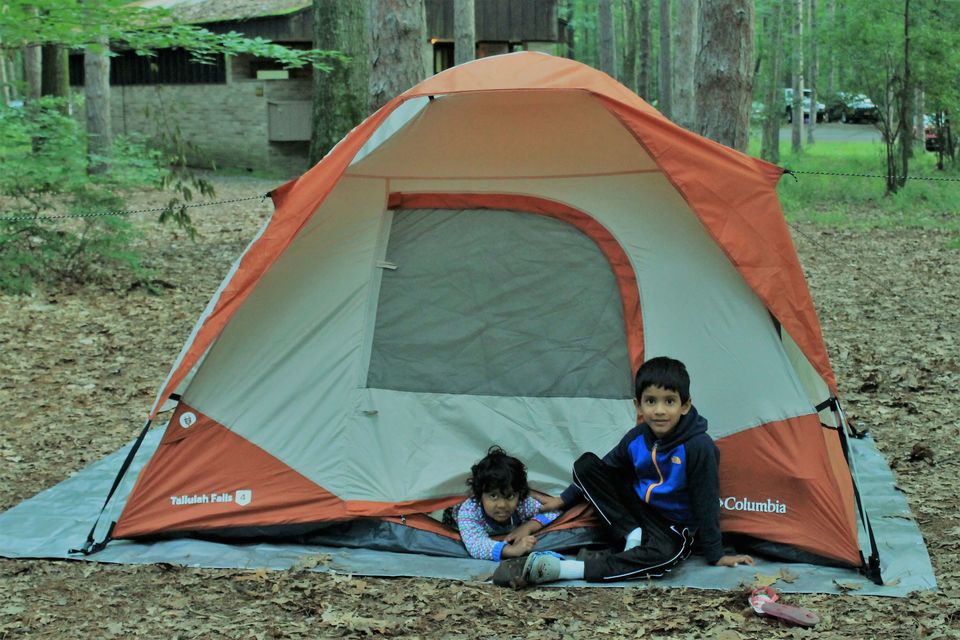 After getting our abodes ready, now was the time for some exploration. Hiking seemed a perfect way to unfold the beauty of nature. Since we had kids, we chose an easy trail to the base of a waterfall nearby. We had the company of a beautiful stream flowing, cool breeze blowing, rustling of trees all along our trail. As we reached the base of the waterfalls, we were drenched by the mist and the nature's marvel.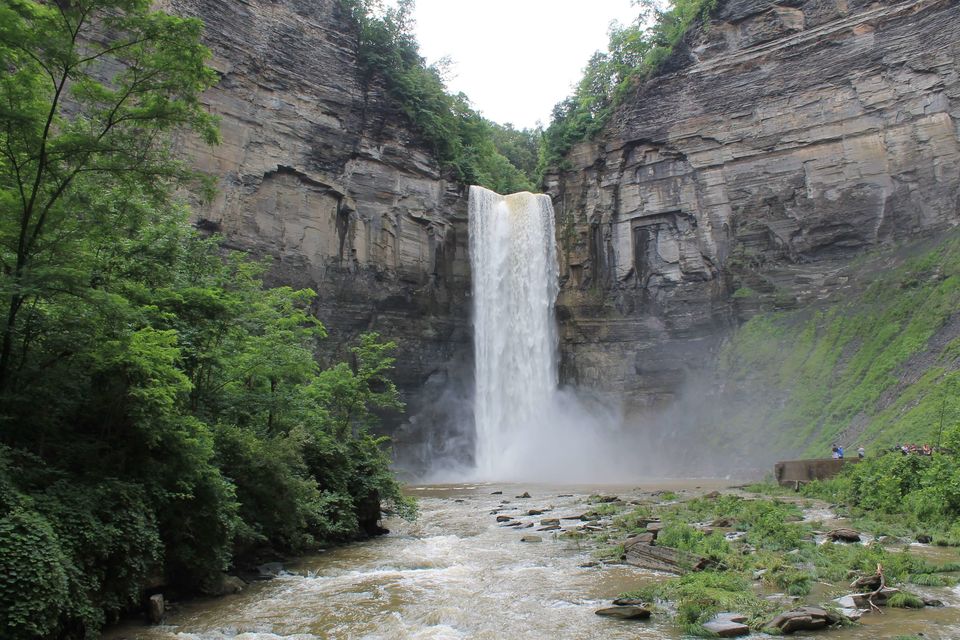 After the adventure, now was time for a hearty meal to satisfy our appetites. While heading to campsite, we bought the firewood and filled the fire pit ready.
Why should kids be left behind??? They had fun collecting some wood from around for the grill. While the kids settled in to play some games and cards, the dinner was getting ready – corn, grilled veggies, baked potatoes. The beautiful day had to definitely end on a sweet note, and what best by making S'mores. Slow roasted marshmallows, oozing chocolate, sandwiched between graham crackers, so simple yet divine…. You keep wanting for Some more.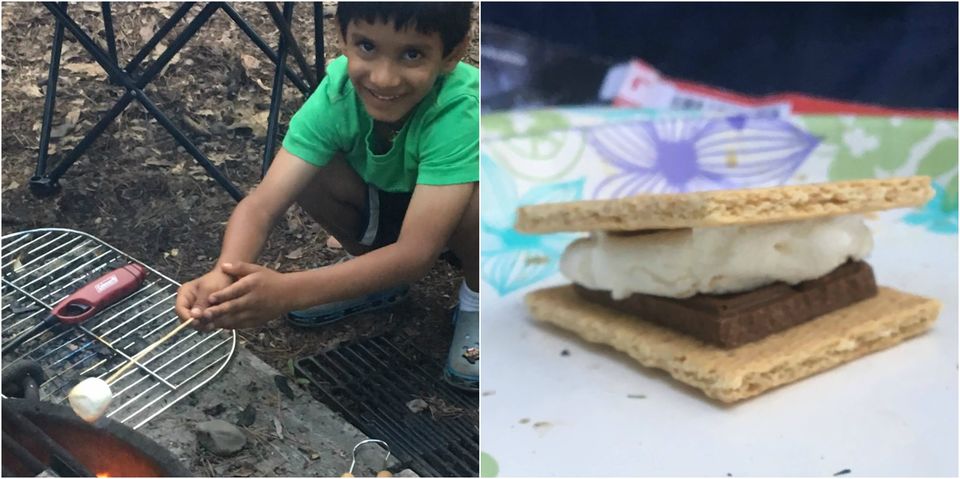 What an evening – sitting by the campfire, relishing the food, affable company, lots of giggles, unplugged, under the blanket of twinkling stars… getting a glimpse of our ancestor's life. This experience is so simple yet so profound.
We headed out to our tents to recede into our dreams and to await for the glorious dawn.
Our camping list:
4 person tent (since we are a family of 4)
Footprint/ Tarp – a strong waterproof sheet to spread under the tent to prevent wear and tear.
Air bed /sleeping bags /comforters
Lantern, flashlight
Insect repellent, After bite cream and first aid kit
Firewood/ charcoal, lighter/matches, lighter fluid
Food items, water
Cooking Utensils, skewers, Disposable tableware, aluminum foil
Garbage bags
Games, cards, books for entertainment
Tips:
1. The campsites especially at national and state parks get booked fast, so plan and book well in advance.
2. The nights can get a bit cold, hence pack extra layers/ full lengths.
3. Better to reach your campsite during daytime, it will help set up your tent and get acquainted with the place. If it is your first experience, try to pitch the tent at home.
4. If you plan to cook on the grill, get the coal or wood. Be aware of the regulations as most places only allow to get firewood locally. Don't forget to put off the fire before sleeping by adding water.
Read the original article and more...