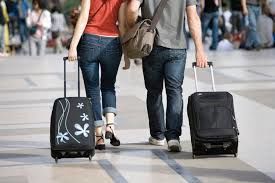 Nothing can match, travelling during monsoon season. The refreshing cool breeze and unexpected rains simply add on to the wonders of the voyage. Monsoon season is said to be one of the best season for travelling as you don't need to pack piles of woolen clothing's as during winters. During summers, moving from one place to another is no less than a headache.
Bag packers, pack your bag with fashion clothing's during this getaway. It's the time of the year when most of the places get rains. While the weather plays its turn, why not add a bit of cheer by adding electrifying colored clothing for upcoming entertaining voyage.
Neon is the latest color for globetrotters, this monsoon season; add more of it to your bag. These colored outfits will not only electrify your looks, but add on to your much loved selfies and shots. So when you click a selfie with greenery around, neon denims with white top is surely going to add hues to your excitement. A cool top with comfortable lower is always a welcoming dress for a day out. As its monsoon time, carry full sleeve shirts with you. This will not only save you from getting a tan, but also protect you from mosquito bite. Comfort lies at the heart of the apparel you choose makes a daunting task much approaching.
Accessorize it- If Neon is not your color, no problem, you can still add the color to your bag. Opt for electric blue belt or a vibrant red clutch, yellow bangles adds on to your wonderful collection. This is just apt to match the clothing with your exclusive style.
Carry scarves- Wearing T-shirts with shorts or cotton lower is one of the comfortable dresses since ages, but make it your style statement by adding different accessories to it. Scarves can transform a simple dress into a stunning look. Either wear it around your neck or waist, both ways it makes you flaunt your style.
Sun glasses-While travelling, don't forget to pick your shades. After the rain, it's the Sun that shines brightly. Ensure your eyes by protecting them from direct heat.
Balance the number- To enjoy your outings makes sure that you take minimum clothes with you. But while packing your bag make sure that you add few denims for lower and plenty of top wears. This way you can easily reduce your luggage and enjoy travelling.
Additional necessary grab- Don't forget to pack a first -aid box that will include simple medicine like Paracetamol, Disprin, band-aid or some ORS pouches.
Driving on the roads with peter patter raindrops splashing down your window screen, your comfortable clothing and accessories navigate you to your favorite destination. The place you have choose to add memories to your camera first and then to your mind for years to come.