The whole modern family is all set to spend 7 days and 7 nights on the Chadar and make it to Neerak to celebrate the grand finale as a team. The Chadar trek has been labeled as one of the 'must do', but at the same time the trickiest and mind boggling challenges for even the hardened adventure travellers. It has all the elements you need to be 'branded' as a mountaineer and despite the grueling nature of the trek it has become a sort of measure of your capabilities, your mind and self-belief.
Stretching 105 kms from end to end, steep rocky walls standing majestically descend into the canyon's frozen floors and just about a km deep the Chadar invites you with open arms, with the sun sparkling across the frozen river, with the delicate curls of the hidden Zanskar and with the warmth of the porters and the locals.
The Chadar has been the 'easier' way out of the region for the people of Zanskar. Locals wait for months for the river to freeze so that they can leave their villages swiftly, because although the journey across the Chadar takes between 3-5 days, the alternate route through the high mountain pass is even more herculean.
The truth, and as over confident as I may sound, the extreme surroundings of the Zanskar valley are not impossible to beat. With several layers and sagacious trekking, the Chadar trek is a doable trek, but what makes it apart is its unique experience , the fact that you are so close to danger and the feeling of an intimate brush with destiny.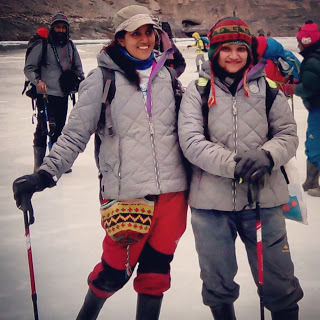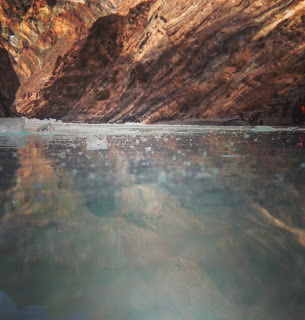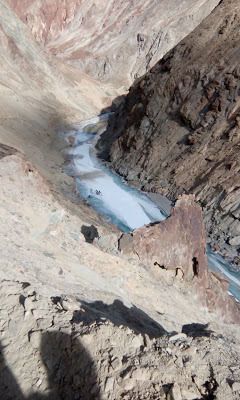 Shital and I decided to set out once again and chose the god gifted perfect window of the second week of Jan 2017 to make the dreamiest of all our plans a reality.
Meeting your group and co-trekkers, the people who will over the next few days become family is like 'blind dating'. You are a hiker, strong and adventurous but aloof and independent, always looking for new projects but take failure pretty hard and you hope the person who walks in through the door into the cold, chilly, frozen yet 'hospitable' lobby of the trekking Inn is more like you or just learns to like you for the way you are.
As we reach the end of the dusty dry road at Chilling, we hike the loose slopes right above and along the river. The climb is at first steep, but eases to a gentle slope and descent towards the river.
I take my first very carefully measured baby step onto the frozen Zanskar, there is a rush of confidence and self-achievement about the fact that it's happening.