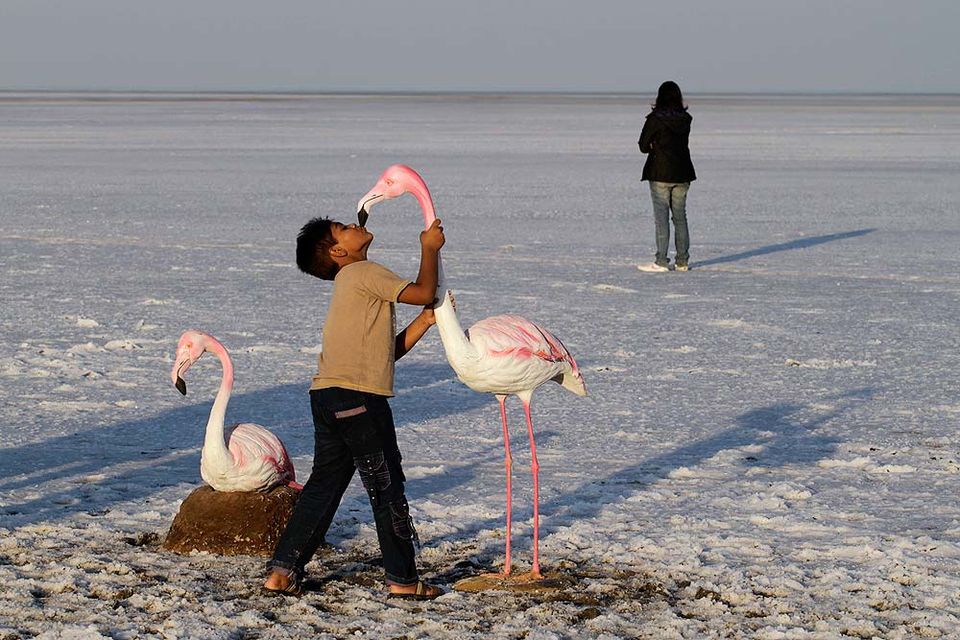 Little Rann of Kutch
This corner of Gujarat, a geographically unique landscape, and famous for being the world's last refuge of the Indian wild ass(Khur), makes a great getaway for the wildlife lover. Thanks to the conservation efforts, the area has been declared the Indian Wild Ass Sanctuary. It has, in fact, been nominated by the forest department to be a biosphere reserve --areas of terrestrial and coastal ecosystems internationally recognized within the framwork of UNESCO's Man and Biosphere(MAB) programme.
Khur
At first glace, it may seem like a bleak, unbroken landscape, salt-encrusted mudflats stretching as far as the eye can see; but explore, and you'll realise it is a zone that's rich in biodiversity, home to a wealth of fauna and attracting scores of migratory water birds like cranes, duck, pelicans, flamingos and land birds like sand grouse, francolins and the Indian bustard. Seeing a flock of flamingos up close can be a memorable sight. It is also home to the Indian wolf, desert fox and nilgai.
birds of Little Rann of Kutch
duck
Holiday companies such as Rann Riders offer cross-desert safaris across the Little Rann of Kutch in open vehicles. On these safaris, you'll visit the little hillocks known as 'bets' which were once islands on ancient seabeds which have, over centuries, risen above ground and are covered with grass and scrub. It is these 'bets' that are now the habitat of the handsome khur. Seeing a herd racing across this dramatic landscape is a sight that makes the whole trip worthwhile. So, get your safari gear, pack your camera and go explore the Little Rann of Kutch that's big on experience.
Reach: From Mumbai, it's 527 km to Ahmedabad. From Ahmedabad, it's 190 km to Little Rann of Kutch or can just book a cab from TapsCabs.
Stay: There aren't too many places to stay here. So, book in advance. The Rann Riders resort is a popular choice.
Guide in Little Rann of Kutch
Tour Guide
Tip from Let's Unveil India: Do not venture into the Rann without a guide, for it can be teacherous. Stick with the organasied safari trips.