#RideChampion : Prithvi Raj Prabhakar aka Pru
Age : 25 Years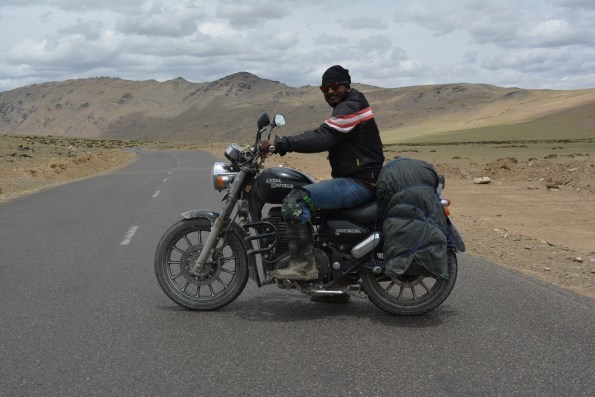 Profession : Electrical contractor
His Ride : Royal Enfield Thunderbird
A 5'7" tall guy with a sturdy built and a warm smile elaborates the most notorious personality of the fourth member of Riding Gang, Prithvi aka Pru. Tell him your secret and he would make sure to turn your life miserable with his pranks. The very reason he is the most loved among his friends and family. His love for machines is gifted by his genes and it has only grown with time.
Family First
Truly an apple of momma's eye, he gels well with his father through mechanics. "My dad and I both share a common, undying love for machines. There are weekends which we both spend finding an issue in our car's engine.If there would be no issues, we would create some and then correct it. He would tell me stories of his youth and I would share what I go through. We would eventually end up laughing out aloud and irritating my mother," he shares.
The Journey
Every journey has a story, each traveler has his own. Prithvi has been a fighter who has gained strength from his parents only to combat his past and now stands strong. "It has been four years that I met with that dreadful accident. A bone each in my arm and leg were replaced by rod leaving me bed-ridden for 3-4 months. I almost left my confidence to ride back ever again. It took four long years for me to follow my passion, regain strength to push my limits and challenge the old Prithvi I was, to Ride with Pride. This 4,500 kms journey was to 'Thank my parents' for pulling me out of my fear-zone", he shares with a twinkling eye.
The Moment of peace
They rode those 4,500 Kms to realize what lies beyond the realms of their daily lives, probably achieve NIRVANA. Towards the end of their two days' adventurous stay in leh-ladakh, it was finally a calm starry night. They decided to stay in some calm and relax at Lamayuru that night. The moon brightened the rocky Himalayan ranges standing tall and curated a shivalinga in the shadow. Prithvi along with other two gang-members shared a very close moment that night. "We spoke about our past and present, achievements and failures. But then, there was a moment of silence. All of a sudden, I believe I saw a well built, tall guy who looked exactly like Lord Buddha. I'm sure I saw him! Trust me, I have been in peace ever since." exclaims the ever excited Prithvi.
His love for riding - #ReGain Respect
"I always wanted to become a politician. You know how I blabber!" giggles Prithvi. " I feel really bad and sad when the world accuse our biker fraternity of all road mishaps. It's not correct to stereo-type everyone alike. Majority of us love to ride and would never create a havoc out of it. It's not that people do not know, but they are ignorant of 'Lane Driving'. There is a need to transition their ignorance to acceptance. That is what will change the game for Biking in India."
#OurWorldPrithvi'sWay : Live your passion, Live your LIFE!
This blog was originally published on 'Our World My Way'