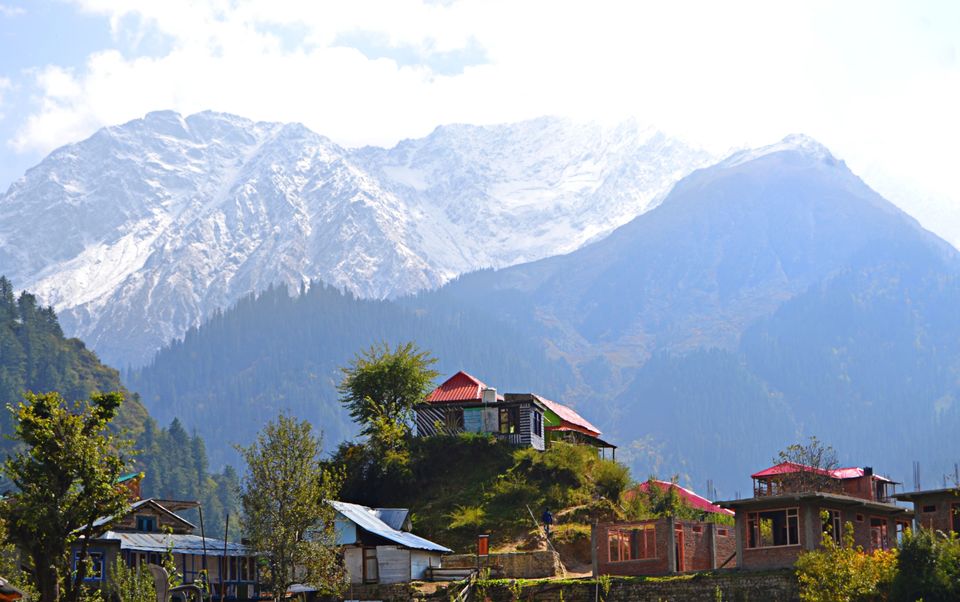 Travelling is best part of my life, living in mountain is always a dream for me & finally it's gone come true but we were not sure where to go, it's a big??? in our mind, Manali & Shimla are too crowded now days so with lots of discussion & arguments we dicided to visit Parvati valley, we herd lots about Kasol & Tosh in Parvati valley from our friend Google bhaiya.
  !!!Mumbai--Delhi--Manali!!!
      I don't know about other but for me last night before traveling is always a dream full & peace full sleep. After good night sleep next day our journey started from Mumbai To Delhi via Train (can't afford Air Plan ticket) usually it take around 15 to 16 hour to reach Delhi via train. From Delhi we booked Volvo till Manali. Ride was not so smooth, it was first time for me traveling in Himalayan range, almost start To end roads was up & down, Delhi To Manali again it's 15 to 16 hour journey, kilometres is not so much but driving in Himalayan is rough and only experience driver prefer in this kind of road. We stayed one night in Manali as no option available to go Kasol in night time. After searching lot we find one cap driver who was ready to go Kasol but he is booked in morning somewhere only after he was ready come. So it give us some time to spent in Manali. Suprising one night stay in Old Manali was awesome we find guest house for Rs 500 night, room was Mordred but it's has all amenities one looking for specially worm water.
    Despite we had no plan to stay in Manali but due to non-availability of bus or cabs we had to, after refreshing barth in morning we step out side with our luggage. Morning or you can say Good Morning in Manali was beautiful & chilled as compare to Mumbai which has average Temperature 35 degree Celsius. Old Manali has lots of cafes & hotel, we had nice breakfast & tea in one of cafe, after some walk in old Manali we decided to go Mall road which is very famous & has lots of people & Turiest. It's almost afternoon, time to leave Manali & head to-wards are real destination Parvati valley..
Manali-Parvati-Valley (Kasol):-
                           You guys won't believe me but we find Vin Diesel in our cab driver he was too fast & too furious. After playing some old hind song in Tata somo he just become Vin Diesel. But I have to say he did not loose any balance in our 5 hour journey. With God's blessings we reach our destination safely.
    Kasol:-
                 Kasol is situated in kullu district in bangs of Parvati river, it's one of most beautiful places in Himachal Pradesh. Famous for its cafes & trans music fest, you will find lots of Happy people in Kasol mostly foreigner's but now day Touriest from all around India specially Yung gun will be seen here. Adventure activities are quite famous here there too many guest house & hotels are there even one can enjoy camping.
Tosh:-
            Tosh is not so far from Kasol as both reside in Parvati valley. Tosh is a small village with few accommodation available but Mark my words it's one of  kind Village which has lot to offer, village in surround by Himalaya range with snow peak it just mesmerizing to view 360 degree.
          After waking in morning & view of snow peak mountain all around you it's heavenly feeling, seating out in cold morning & having desi gee paratha & hot tea was wonderful,(please spare me, I don't have words to describe such magnificent place). Just beside our guest house there lots of apple trees, eating Apple directly from tree is my first & last experience in Tosh. We even gather some apple for our small Trek.
      Trek was small but beautiful, along the way there are small stall serving Maggie & tea. Insight news we find stall owner putting their beer in river side to chill them Innovative mind & they are quite chilled beer I sured you. We had Maggie in launch it was delightful as usually. Its was almost a end of Trek were we find one or two guest house/cafes up in hill, some foreigner's were chilling in this guest house balcony they all are shirtless & whering short, were we are wearing are jacket & still feeling the cold like hell! At one point after ward there is no way going  father so took some pic & started journey back to our guest house.
Night in Tosh was cold & mesmerizing, sky is full of star it remind me coldplay song which i love very much. Hot hot dinner was yummy & most satisfying ever. Mostly Guesthouses/cafe in Tosh are of Haryana guys, they make tasty food.
   Kheerganga:-
                         It is best known for its hot spring water, to reach kheerganga one has to Trek in & around 14 km from Tosh. Next day after our breakfast we stared our journey to kheerganga with only essential stuff, you don't have to carry your whole luggage to 14 km Trek. Our luggage were safe in our guest house & believe me that was very smart decisions we took. Trek was beautiful but though for some of us, in between you find many stall which serves Maggie & tea. fourtunetly we find a small shop were we find Red Bull that was life saving & give us a energy to fly (you know Red Bull give you the wings that day I realised), atlast after 5 To 6 hour trekking  we reach kheerganga it was cold very cold. Kheerganga is situated at altitude of 13000 ft for all us a first time experience in high altitude. Night was really really cold at -5 degree, but at time we visited there were lots of accommodation available for cheap price even they build a small rooms there, one who like living tent are also available so you can choice as per your preference.(now a days they don't allow you stay in kheerganga) We took two room for 6 of us & it was worm. For dinner we choice one cafe were music playing, look live nice place to eat our dinner & relax our self after trek, night was even cold for me that was coldest night I have spent in my entire life.
      Morning is always amazing in mountain after having breakfast we started towards hot spring water, we stand there for almost a 15 minutes before going in. because how to remove your three layer of clothes in this cold environment is big challenge. Some how we dare & dip in hot water spring again heavenly feeling no one should miss this. After a Bath in spring water we went to Shiva Temple, for local kheerganga people it is a holy place of Lord Shiva.
Then we started way back journey to wards Tosh not so hard this time. Reaching Tosh from Kheerganga we were little sad because we knew that our amazing journey is gone end there.
   I don't know how to conclude this trip as written this article all my memory flash out in my mind All the amazing movement we had, so ending it with see you again Tosh for sure..