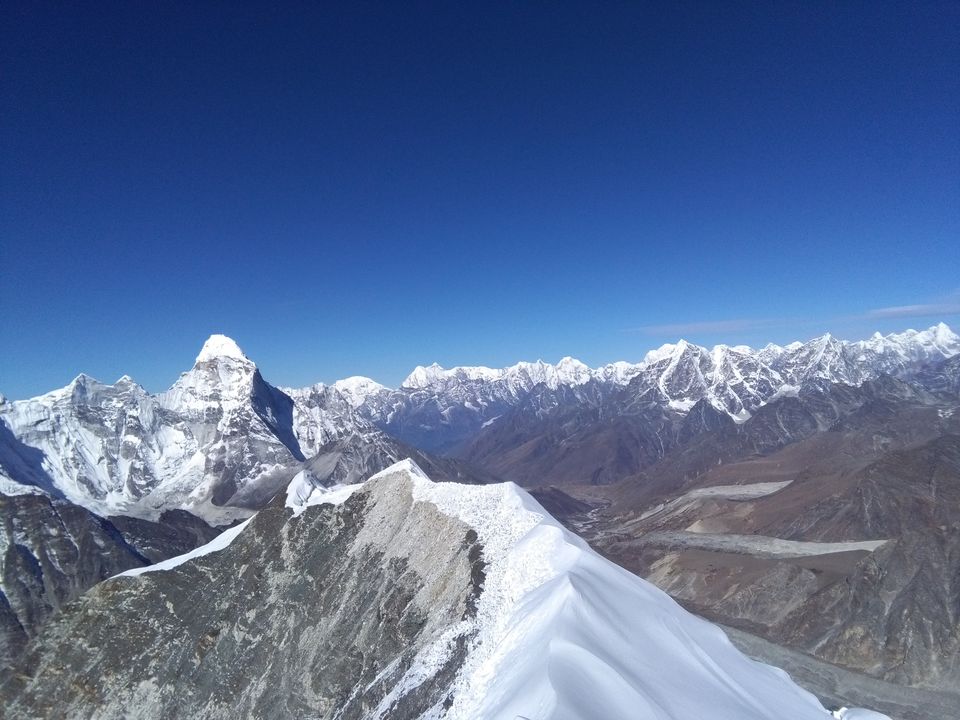 Lobuche Peak climbing situated just above the Lobuche village in Khumbu Region. This peak is not far from the Mt. Everest but only few kilometers nearer to the way of this world's highest mountain. Lobuche Peak has its two different summits, one is Lobuche East Peak (6119m) and the other is Lobuche West Peak (6145m).The route of Lobuche Peak climbing starts from Lobuche village via South bear and South Ridge. Both the Peaks of Lobuche are dramatic and very similar in geometry, forming three-ridged pyramid on each. They dominate the view from the Everest Base Camp trek while approaching Lobuche village located at the base of the Southeast shoulder of the Lobuche East Peak. The South and Southeast Ridges form a typical rock triangle extending to the Khumbu Glacier sideways moraine and easily identifiable from the trek and in particularly from the hill with stone memorials.
Day by Day Itinerary
Day 01: Arrival day in Kathmandu (1,300m/4,264 ft)
Day 02: Rock climbing course in Kathmandu or Half day guided city tours of Kathmandu (1,300m/4,264 ft)
Day 03: Fly to Lukla and Trek to Phakding: 3-4 (2,652m/8,700ft)
Day 04: Trek to Namche Bazaar: 5-6 (3440m/11,283ft)
Day 05: Acclimatize day at Namche
Day 06: Namche to Tengboche: 5 hours. (3,867m/12684ft) .
Day 07: Tengboche to Pheriche: 5-6 hours (3,867m/12684ft) .
Day 08: Acclimatize day
Day 09: Pheriche to Lubuche: 5-6 hours(4,928m/16164 ft)
Day 10: Trek to Lobuche base camp: 5
Day 11: Base camp to Lobuche high camp: 5
Day 12: Summit Day & trek down to Lobuche: 9-10 (4,928m/16164 ft)
Day 13: Lobuche to Namche Bazaar: 8 (3440m/11,283ft)
Day 14: Namche Bazaar to Lukla: 6-7 hrs (2,652m/8,700ft)
Day 15: Lukla to Kathmandu (1,300m/4,264 ft)
Day 16: Final departure