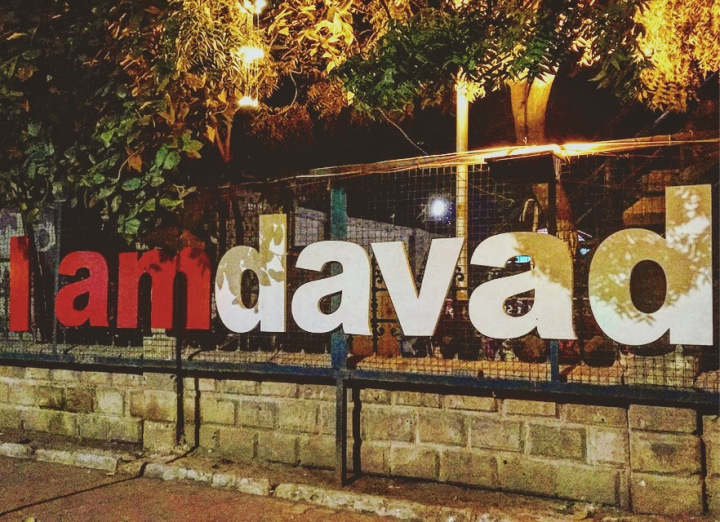 It's October 10th today and yesterday Ahmedabad has created a history as Canadian Singer-Songwriter, Bryan Adam performed live for the first time at Sardar Patel Stadium. With more than one lac people joined and the highest ticket value of appx 1lac for the round tables sold off. Amazing!! Western World are celebrating autumn and from today Ahmedabad people are all set to celebrate the world's longest traditional dance festival of Navratri for the next 9 days. The Gujju's Sunburn festival which surely should be on your list 🙂 Ahmedabad always have something great to offer for every age. Undoubtedly magical in every corner. Be it architecture or food or tradition. Let's explore the other side of Ahmedabad!! Don't pack your cameras yet buddy 😀
A LITTLE LONG DRIVE ON WEEKEND OR SUNDAY MORNING 🙂
18) Swaminarayan Akshardham Temple One of the biggest temples in India, and it is a major pilgrim destination that many people swarm to.
As the sun sets, take your seat in the outdoor amphitheater and experience the enlightenment that is the Sat-Chit-Anand Water Show. Transport yourself to the land of death and watch fearless Nachiketa confront Yama, the God of Death, and ultimately receive from him the knowledge of immortality and eternal happiness.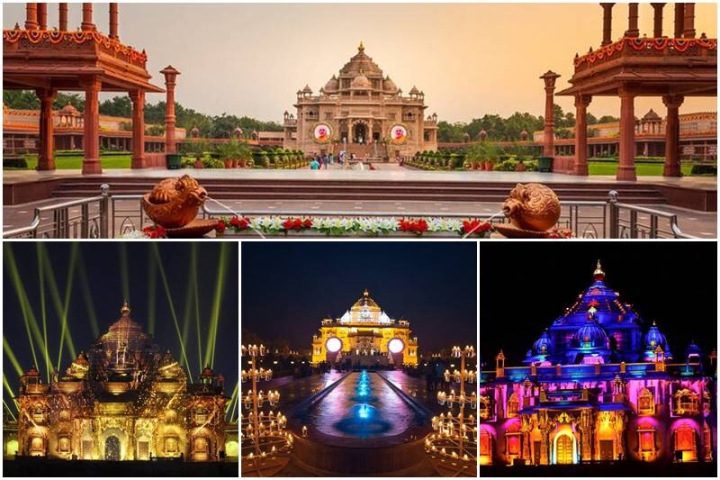 19) Mahudi Jain Temple, Mahudi Established by Jain monk, Buddhisagar Suri in 1917 CE. The place is a worth visited even if you do not want to person any religious ritualts. Away from city hush-bush, sit under the tree and read a book or have a time by yourself.
There is a belief of "Ring a Brass Bell" here. A big brass bell on a height of about 30 feet and devotees need to climb up to ring it and ask for the fulfillment of a wish. And once that wish is fulfill, you need to come back to ring it again 🙂 Well believe is all about, you can't argue with that. Though I am not one of those believer, I believe in God and that's it. No fancy offering to God. No fasting in the name of God. (Trust me I need to write a blog about this now. Long due. Just!).
Disclaimer: no offence is meant, apologies in advance if my views have hurt anybody sentiment.
Devotees offer sukhadi, a sweet to Ghantakarna Mahavir. After offering, it is consumed by devotees within the temple complex. Tradition forbids the carrying away of such offerings outside premises.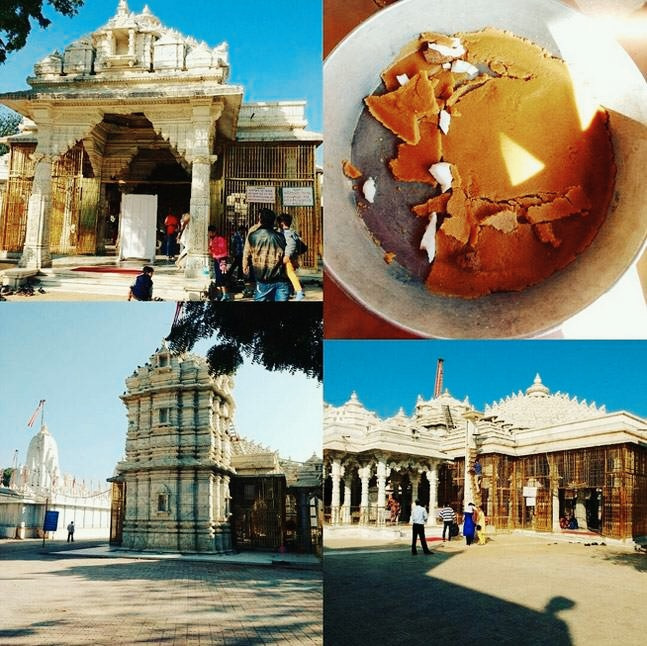 20) Auto World Vintage Car Museum, Nikol It is one of the biggest and largest home of automobiles in the country. Also, it's one of the best museums in the world. From Bentleys and Rolls-Royces to Daimler and Lincolns, you will witness all luxury vintage cars here.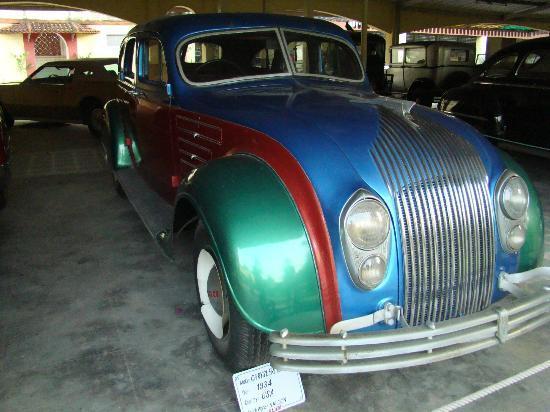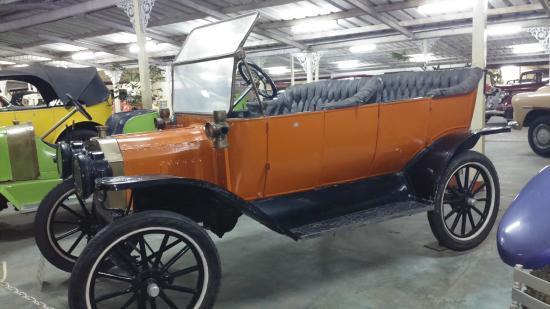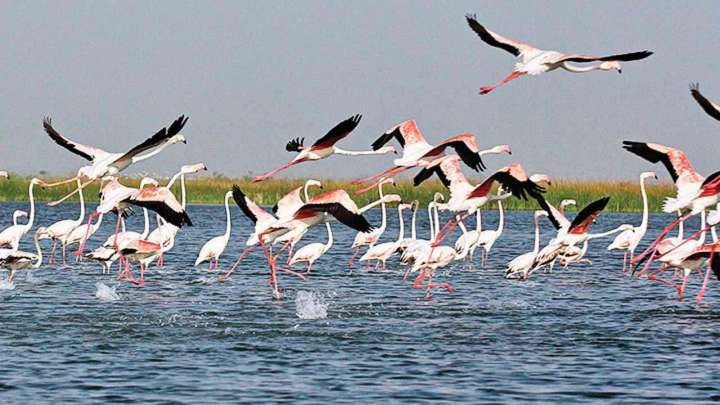 21) Polo Forest, Idar Appx 150 km from Ahmedabad and the best place for picnic and trekking. They have an eco-friendly camp of 30 AC luxury tents, each with rooms - beautifully furnished with natural materials - and an attached en-situ bathroom to make your stay comfortable. All tents have an extended deck - an ideal place to sit, relax and breathe in nature. The best weekend you could have.Best time to visit: October to March.
Nal Safari: Stategically situated at 20kms from Nal Sarovar, Nal Safari offers an African Panorama with over 115 weekend homes.
22) Nal Sarovar and Nal Safari, Sanand Declared as a Ramsar site on 24 September 2012. Since 2005 it is the only lake that has been declared as Ramsar site in India. Nal Sarovar Bird Sanctuary, consisting primarily of a 120.82-square-kilometre lake and ambient marshes, is situated about 64 km to the west of Ahmedabad near Sanand Village. The lake attracts over 210 species of birds in the winter, and harbors a variety of plants and animals.Best time to visit: October to March around 06:30 AM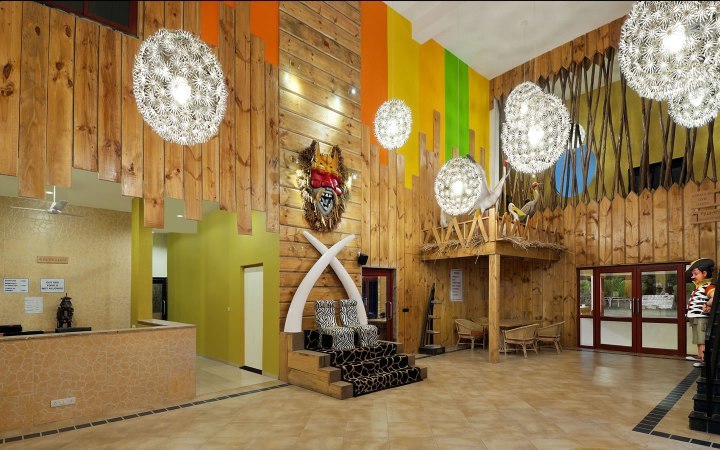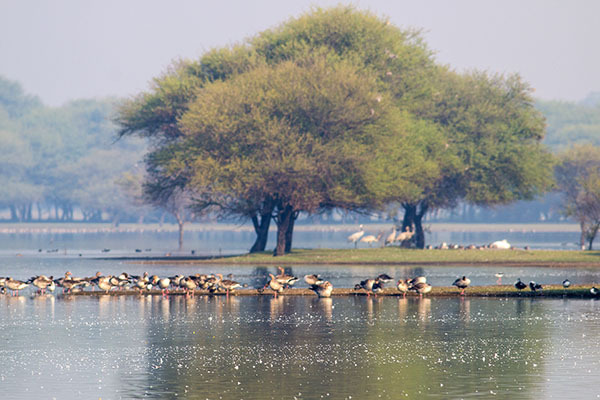 23) Thol Lake Bird Sanctuary, Kadi Another place for bird gazing lover. Pack your picnic bag and spend some time at lush green land. During winter time you will get a chance to watch migration birds here also.Best time to visit: October to March for cooler climate.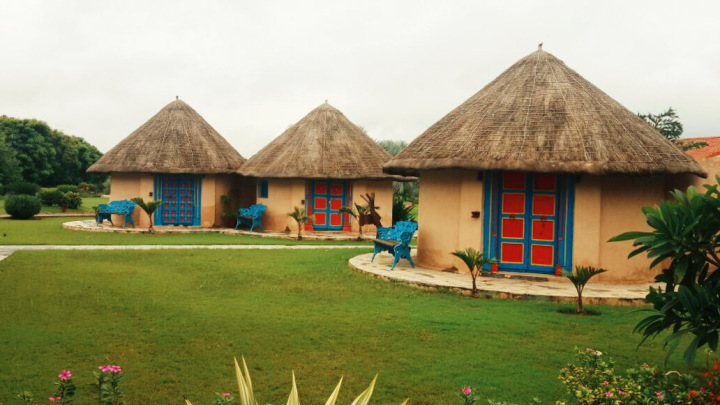 24) Parvati Hills, Himmatnagar Parvati Hills is an exceptional & tranquil landscape in the Northern part of Gujarat, located at a height of 200 ft above ground level overlooking 2000 acres in the natural beauty over "LARGEST TABLE TOP LAND" of India in Aravali Mountains and of green forests & villages of Gujarat nearby, only 125 km away from Ahmedabad. Being amidst of nature, Parvati hills experiences pleasant weather throughout the year. Its incomprehensible expanse of flat land, water-bodies, natural flora & fauna makes is ideal for adventure, leisure & nature education. The adventure park with a dozen obstacles and High Rope activities can be utilized for different types of training of the youth and corporate. If spending a vacation in serene nature rejuvenates you from inside, you should never compromise with the location.
INSIDER TIP: Greenwoods Lake Resort / Club Babylon / Stars Club / Narayani Resort / Madhuban Resort / Whistling Meadows Resort & Lawns (...and many more) These resorts are away from hush-bush of the city. They ensure that you feel renewed and rejuvenated after a weekend holiday there.
FOOD IS ART AND CULTURE. LET'S HAVE SOME HUNGER TALK!
Though the city is flooded with global range of cuisines, I have pick some of the best and rare one.
That's Seva Cafe, a experiment in 'peer to peer' generosity.
25) Seva Cafe: Living is Giving Imagine a restaurant where there are no prices on the menu and where the check reads Rs.0 with only this footnote: "Your meal was a gift from someone who came before you. To keep the chain of gifts alive, we invite you to pay it forward for those dine after you."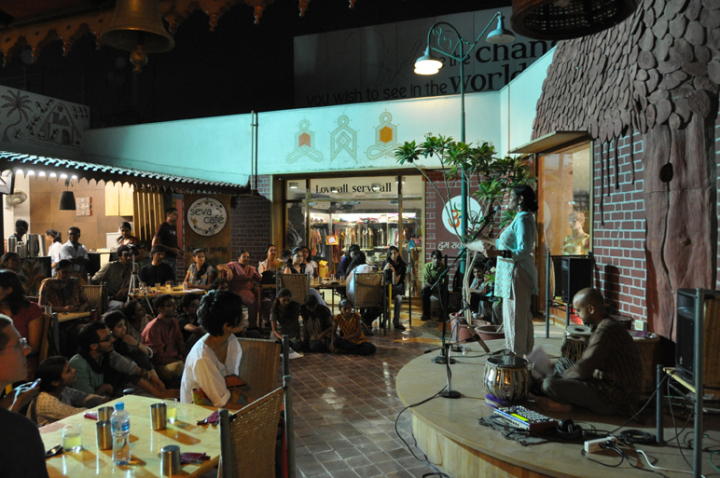 Driven by volunteers and operated by modest staff, meals are cooked and served with love, and offered to the guest as a genuine gift. To complete the full circle of giving and sustain this experiment, guests make contributions in the spirit of pay-it-forward to those who will come after them. In keeping this chain going, the generosity of both guests and volunteers helps to create a future that moves from transaction to trust, from self-oriented isolation to shared commitment, and from fear of scarcity to celebration of abundance.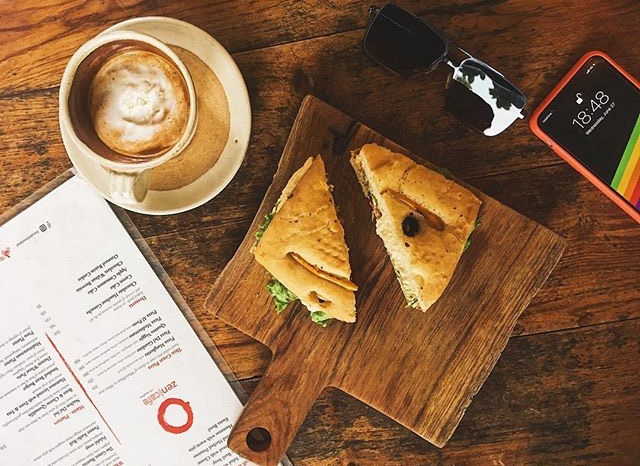 26) Zen Cafe Zen Cafe TDW and CEPT are the two best cafe you should visit for aromatic coffee, pizza platter and classic & gem ambiance. No doubt even after hundred cafes booming in town, this place still stand strong like rock (knock on wood).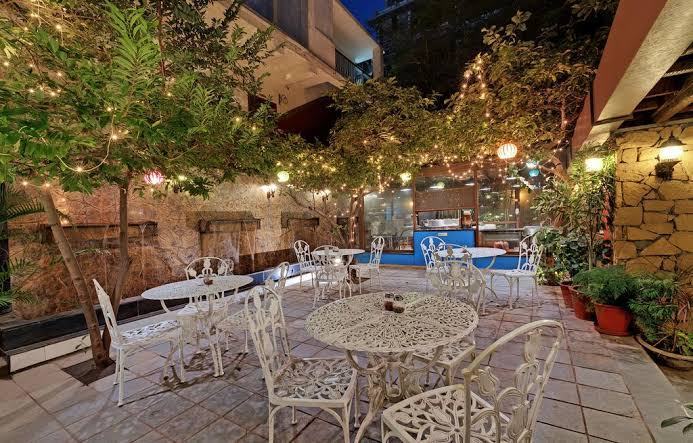 27) Welcome Heritage - Mani Mansion Nine decade old building (1923) converted into a Heritage Hotel and managed by the Welcome Heritage group. It is an interesting property, unlike a typical hotel, with 22 rooms. Mahatma Gandhi stayed in the building for a day many many many years ago. They serve pure vegetarian food and the ambiance is lit.
28) Water Side One of the cozy dining place in Ahmedabad exactly near Narmada Canal. This place is on my list for enjoying coffee and watching sun set.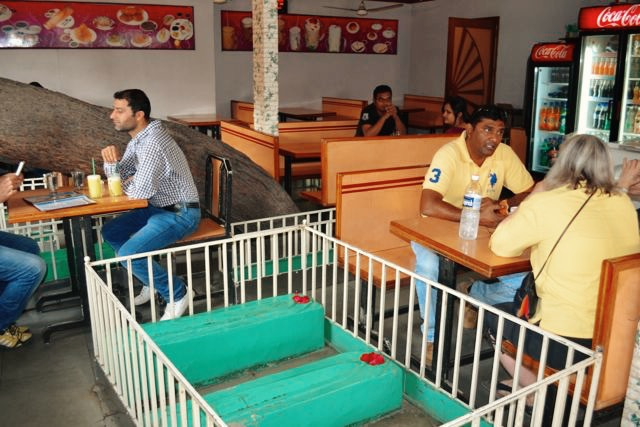 29) New Lucky Restaurant This 60+yrs old a little food joint that serves you food next to graves. The coffins are the remnants of a Muslim cemetery and the cafe has now become a popular hang-out for both young and old.
Insider tip: Do not miss utensils museum 'Vechaar' at Vishalla. The museum is widely known for its elegant collection of invaluable nutcrackers, utensils and nut cutters. Collection of around 2000 utensils, dated back to many centuries ago.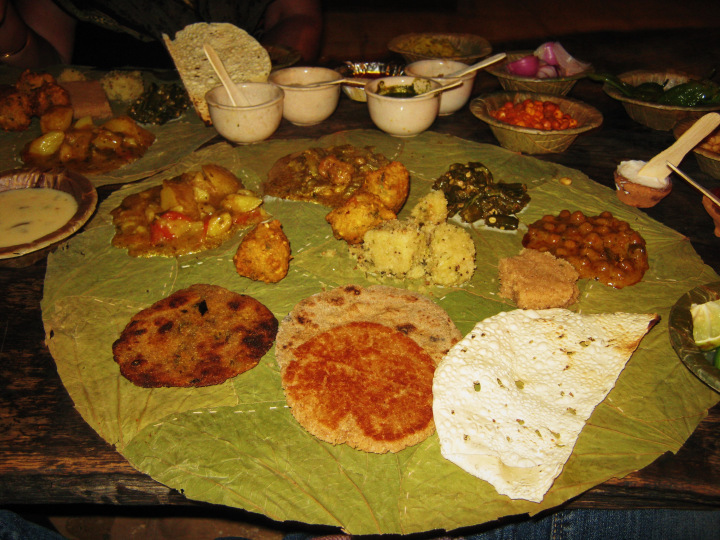 30) Traditional Gujju Thali Visited by almost all VIP's from Sachin Tendulkar to Narendra Modiji. Enjoy traditional food at Vishalla (a traditional restaurant founded in 1978 by Surendra Patel), Rajwadu, Gordhan Thaal, luxury silver thali dinner at Agashiye, House of MG and the new restaurant - Prasad Dining.
31) Manek Chowk The most famous night street market of Ahmedabad. It is a vegetable market in the morning and a jewelry market in the afternoon and food street in the night.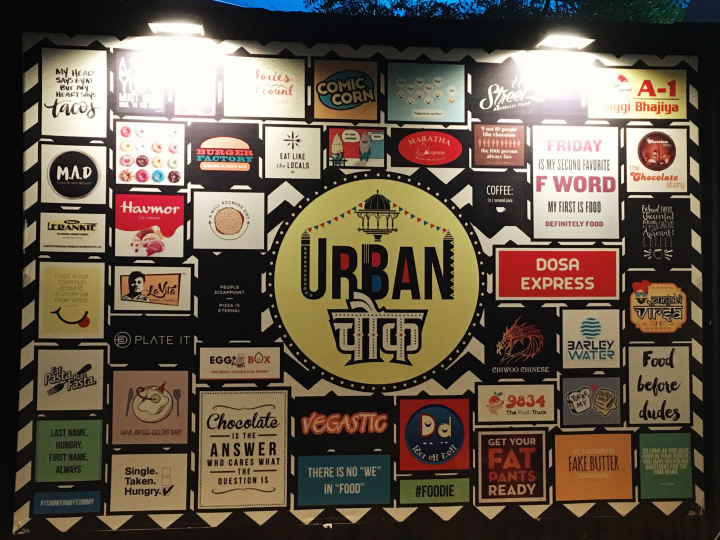 32) Food Trucks in Ahmedabad Flooded! The city is literally flooded with the Food Trucks (best thing we could ever ask for!). Urban Chowk still stands the best for me. There is this another one you will find at S.P.Ring Road side - The Garage Theme Food Truck
33) Sindhu Bhavan Road If you are from Ahmedabad or any other city of Gujarat, you need not any introduction. Rest people - this is Ahmedabad one of the best luxury gaga area - The Foodie Zone.
34) Law Garden Street shopping at Law Garden is one of the best you can pick. This place offers some amazing handicrafts and great collections of Lehenga Cholis, where you can easily bargain for anything you like.
Other than that if you are looking for budget shopping, hit National Handloom. From cute china bone kitchen amenities to home decor you name it, they have all!! There are many other street shopping you can find at S.G. Highway.
35) Balaji Agora Mall Though this place is a mall, but famously known for the indoor 5D adventure space!
36) Ahmedabad One Count this one of the best malls in Ahmedabad. The mall was first named as Alpha One. From grocery shopping to delicious food to luxury brand shop to movies and game zone, you get everything under one roof.
Best festivals celebrated in Ahmedabad:Insider tip: Stay near old city side to witness the out of the world experience. There are many who give their home for Airbnb during this time or you can stay in hotel.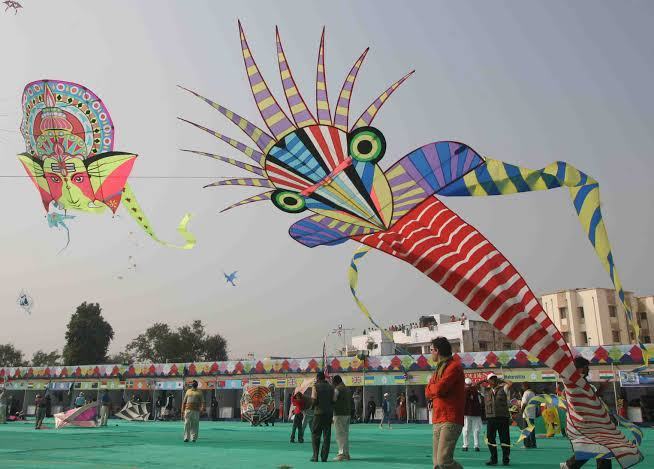 Uttarayan (Makar Sankranti) Ahmedabad is known as Kite Capital of Gujarat. The International Kite Festival takes place in Ahmedabad every year and attracts thousands of International participants. A day before Utarayan is known as "Katal ni Raat" which translate "night to kill". The biggest kite market in Ahmedabad is at Tankshal (near Manek Chowk) and here shops bustling with trade as people flock to buy their kites and bobbins. You can see some of the best kind of kites and other relevant materials here. Don't miss out on the enthusiasm in the crowd!!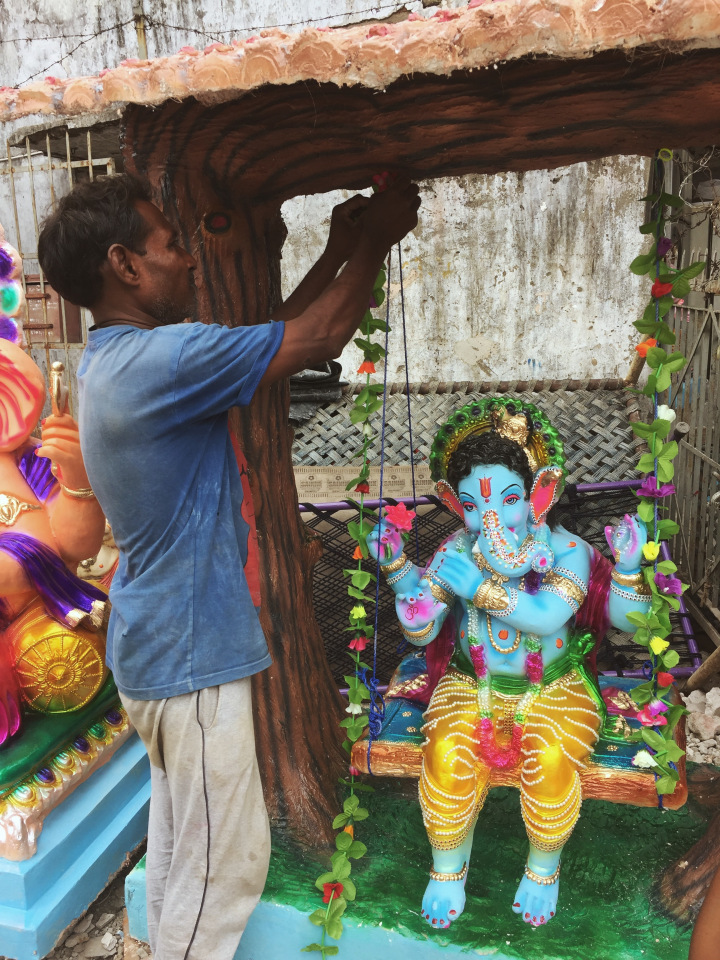 Ganesh Chaturthi The spirit of Ganeshotsav is not limited to Mumbai or Pune. Witness the Gulbai Tekra slum converted into Ganesh Gali during Ganeshotsav. - read the story here -
Insider Tip: Visit GMDC Ground, a Gujarat Tourism initiative to witness how thousands of people come together to do 'garba'.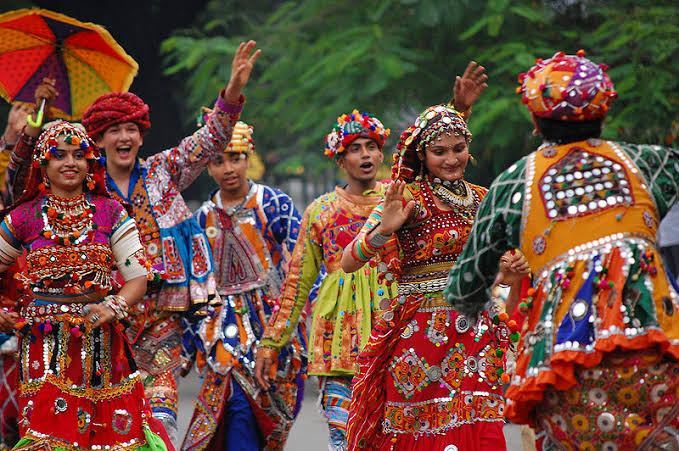 Navratri The Gujju's Sunburn. World's longest traditional dance festival. Drenched in colours and steeped in tradition, there's no place like Ahmedabad (Vadodara and Surat) in Gujarat to immerse yourself in the festive spirit of Navratri.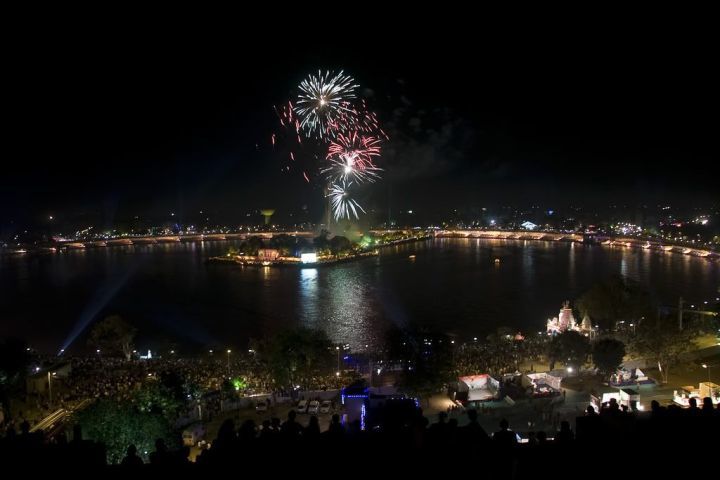 Diwali While the rest of the states in the country observes Diwali for two to three days, in Gujarat the celebrations can go up to nearly a week.
So buddy, next time when anyone tell ya' Ahmedabad is boring, you know what you need to say them!! 😀
Wishing you and your family a fantastic nine nights of devotion, spirituality, and happiness. May Maa shower her blessings over you. Happy Navratri.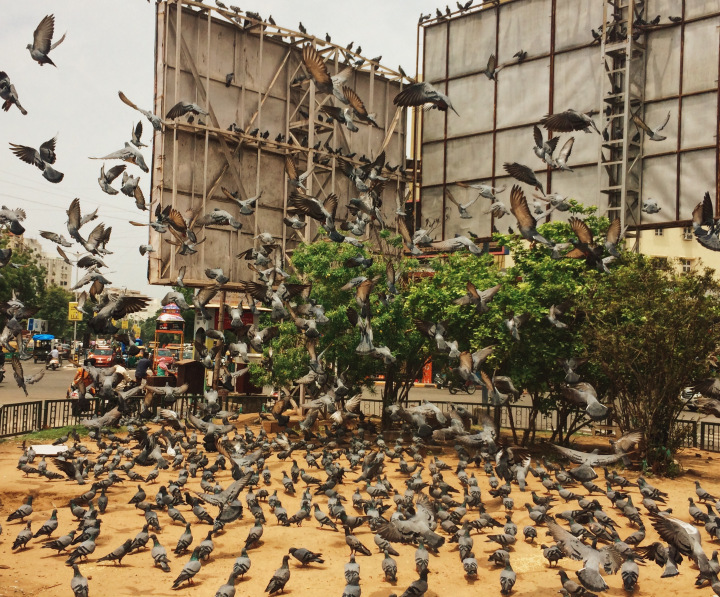 Feel free to add as many as you can. Best hideout spot away from city-hush bush or any traditional pick I have missed. Comment below or on facebook page and do not forget to follow my foodstagram page - Voyager Epicure and subscribe to Hungrito to discover the best food in the city and CityShor to get updates what Ahmedabad has in it's kitty.
...until next time! 🙂
Happy reading and be adventurous!★